In today's digital age, data is considered the new money, and industries across the board are harnessing its power to gain valuable insights and make informed decisions. The retail sector is no exception, data analytics revolutionizes the way retailers operate and connect with their customers. Speaking frankly, the role of data analytics in retail industry is undeniable.
In this article, we will explore how data analytics is transforming the retail industry, highlighting the benefits it could bring to businesses in this dynamic landscape.
1. What Is Retail Data Analytics (Terms You Need To Know)
1.1. What Is Data Analytics In Retail ?
Data analytics in retail (or retail analytics) is the process of collecting, analyzing, and researching data related to overall operations in retail. Based on empirical data, retail analytics helps predict trends and provide the basis for pricing decisions and new recommendations with visual illustrations instead of plain traditional texts.
Retail analytics uses a variety of data sources (big data), including point of sale (POS) systems, online stores, and purchase history tracking systems. From here, data analytics in the retail industry enables companies to understand and optimize supply chains, consumer behavior, sales trends, operational processes, and overall performance of the retail business. The company can then create personalized recommendations based on each customer's shopping experiences, tailoring product offerings, pricing, and even shopping policies accordingly.
On the administrative side, analytics helps retailers set up inventory levels, allocate employees, and capture market share appropriately based on trend forecasts. And the ultimate goal is to reduce costs, increase revenue, and improve customer satisfaction and loyalty.
1.2. Terms You Need To Know
To grasp the essence, we must first learn the most fundamental terminology.
We mentioned Big Data in the previous paragraph: Big Data, in general, refers to the immense amount, velocity, and diversity of data that exceeds the capabilities of traditional data processing methods, necessitating the use of modern tools and techniques to successfully collect, store, and analyze it.
In the retail industry, Big Data explicitly refers to huge and diversified amounts of data gathered from multiple sources such as consumer transactions, social media interactions, website analytics, and more.
And Retail data analytics is all about digging into the massive amount of data (Big Data) generated in the retail industry to uncover valuable insights. It's like having a retail detective that helps businesses understand customer behavior, optimize operations, and make smarter decisions using the power of big data.
By leveraging retail data analytics, businesses can unlock valuable insights from their data, and within this realm, there are four common types:
Descriptive Analytics
Descriptive analytics focuses on examining historical data to understand what has happened in the past. It helps retailers gain insights into key performance indicators (KPIs), customer behavior, sales trends, and overall business performance. By analyzing descriptive analytics, retailers can identify patterns, anomalies, and opportunities to make data-driven decisions.
Diagnostic Analytics
Diagnostic analytics goes beyond descriptive analytics by delving into the reasons behind past events and trends. It aims to uncover the "why" behind certain outcomes or patterns by analyzing relationships and correlations within the data. Retailers use diagnostic analytics to identify factors that influence customer behavior, sales performance, and operational inefficiencies, enabling them to address root causes and optimize their strategies.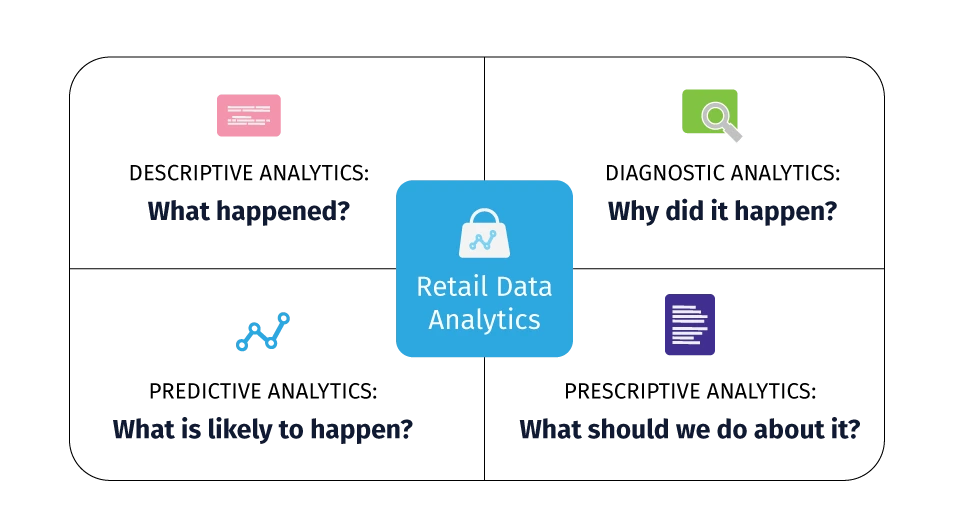 Predictive Analytics
Predictive analytics leverages historical data, statistical models, and machine learning algorithms to forecast future outcomes and behaviors. It helps retailers anticipate customer demand, predict sales trends, and make accurate inventory forecasts. By understanding potential scenarios and trends, retailers can proactively plan marketing campaigns, optimize pricing strategies, and improve supply chain management to stay ahead in the competitive retail landscape.
Prescriptive Analytics
Prescriptive analytics takes a proactive approach by suggesting actions and recommendations based on insights derived from descriptive, diagnostic, and predictive analytics. It combines data, algorithms, and optimization techniques to provide retailers with actionable intelligence. Prescriptive analytics enables retailers to make informed decisions on pricing, inventory management, marketing campaigns, and overall business strategies, aiming to maximize profitability and customer satisfaction.
To fully harness the potential of Big Data, retailers need to embrace the right mix of retail data analytics technology and develop a robust data strategy that aligns with their business goals, enabling them to unlock the rewards and stay ahead in the competitive retail landscape.
2. How Big Data Analytics Is Transforming The Retail Industry
Big data analytics is revolutionizing the retail industry, unlocking a myriad of benefits and transforming how businesses operate and thrive in the digital age. Let's delve into some of remarkable advantages of big data analysis and how it has practically applied in the real-world retail scenarios.
2.1. Enhanced Customer Insights
By analyzing vast amounts of customer data, including demographics, purchase history, online interactions, and social media behavior, retailers can gain deep insights into customer preferences, behaviors, and needs. This enables them to personalize marketing campaigns, tailor product offerings, and deliver exceptional customer experiences. Retailers can anticipate customer demands, provide targeted recommendations, and foster long-term customer loyalty.
2.2. Improved Inventory Management
Big data analytics empowers retailers to optimize inventory management processes. By analyzing historical sales data, market trends, and external factors such as weather patterns and social events, retailers can accurately forecast demand, adjust stock levels, and prevent stockouts or overstocking. This leads to improved inventory turnover, reduced costs, and enhanced operational efficiency.
2.3. Dynamic Pricing Strategies
Utilizing big data analytics, retailers can implement dynamic pricing strategies based on real-time market conditions, competitor pricing, customer behavior, and demand patterns. By dynamically adjusting prices, retailers can maximize revenue, optimize profit margins, and remain competitive in the ever-changing retail landscape. This approach enables retailers to offer personalized pricing, promotions, and discounts, catering to individual customer segments.
2.4. Fraud Detection and Prevention
In the retail sector, fraud detection and prevention are crucial tasks for big data analytics. Retailers can spot anomalies and patterns linked to fraudulent activity like identity theft, credit card fraud, and account takeover by evaluating transactional data, consumer behavior patterns, and fraud indicators. This makes it possible for prompt action, which lowers financial losses, preserves customer confidence, and keeps retail operations' integrity.
2.5. Operational Efficiency and Supply Chain Optimization
Big data analytics offers insights that enhance operational efficiency and optimize supply chain management. By analyzing data related to supplier performance, logistics, and inventory movement, retailers can identify bottlenecks, streamline processes, and improve overall supply chain visibility. This leads to cost savings, faster delivery times, and improved customer satisfaction through a seamless shopping experience.
Big data analytics gives merchants the practical ability to make data-driven decisions, respond swiftly to market changes, and gain a competitive advantage. Retailers can maximize the value of their data, develop tailored experiences, and enjoy long-term success in a sector that is becoming more dynamic and customer-focused by embracing this disruptive technology.
3. Revolutionize Your Retail Business With Synodus's Analytics Solutions
Drowning in a sea of data? Synodus's Analytics Solutions is here to rescue you. With our comprehensive suite of services, we provide retailers like you the expertise and tools to help your business thrive.
BI Dashboard & Reporting: We help you gain valuable insights at a glance with interactive dashboards and comprehensive reports. Synodus Solutions' BI Dashboard & Reporting service empowers you to track key performance indicators, monitor trends, and make data-driven decisions to optimize your retail operations.
Data Analytics Solutions: We assist you with fulfilling the role of data analytics in retail industry by uncovering hidden patterns and trends. Synodus Solutions' Data Analytics Solutions enable you to analyze vast amounts of data, identify customer preferences, optimize pricing strategies, and enhance inventory management, giving you a competitive edge in the retail landscape.
Data Warehouse Solutions: You could centralize and organize your data for seamless access and analysis with Synodus's data warehouse solutions. We provide a robust infrastructure, from which you could store, integrate and manage your data effectively. This ensures data integrity, scalability, and efficient data retrieval for your retail analytics initiatives.
Data Strategy & Roadmap Consulting: Craft a strategic data roadmap tailored to your retail business objectives. Synodus Solutions' Data Strategy & Roadmap Consulting service helps you define data-driven goals, assess your current data infrastructure, and develop a comprehensive strategy to harness the full potential of your data assets.
Don't let your data go untapped. With Synodus Solutions' expertise and tailored services, you can transform your retail business through data-driven insights and strategic decision-making. Reach out to us today and let us help you turn data into a strategic asset that drives your retail business forward.
We are sorry that this post was not useful for you!
Let us improve this post!
Tell us how we can improve this post?