Low code is roaming globally, and the tech market in Vietnam, like the rest of Asia, is adapting to this new captivating technology. Now, Vietnam tech vendors are reliable in providing low code custom development. If you are looking for an offshore partner, here's our guide about the top 5 Low Code Development Companies in Vietnam.
Why Should You Choose Vietnam For Low Code Custom Development
They Are Qualified Partner Of Top Low Code Platforms
Before getting qualified as low code developers, Vietnamese companies must work and discuss technology-wise with the platform providers. It is to ensure the said companies are well-equipped with expertise and needed infrastructure before they can help customers with low code applications.
The partnerships with the platforms also signal that these companies understand how low code technology works and the best way to leverage it for each project, business model, and niche industry. Therefore, you can trust their development and consultation. If you've already had a platform of choice, you should pick a low code development company that works well with it.
They Are Among The Highest Quality Developers
A quick search on Google will show that low code development companies in Southeast Asia, including Vietnam, are among the list of the top developers.

This is because low code development companies in Vietnam concentrate on delivering high-code quality and effective software development. Also, their talents vary from junior to professional level and in different price ranges, giving you more choices.
More Cost Effective Than Low Code Company In Other Locations
The average salary of low code developers in Western Countries can range from $50,000 to $70,000. Meanwhile, in Vietnam, the cost is 3x to 5x lower. However, this doesn't represent the quality of the services. The living standard and currency rate cause the differences in price. And thanks to this, many businesses exploit it by hiring offshore low code developers for their projects. It's much more cost-effective and brings the same quality.
Take a deep dive into the cost of other countries (such as Japan, Australia) and where to find a good low code developer!
Vietnamese Work Culture Is Proven
Hardworking, dedicated, and resilient all describe the work ethics of Vietnamese people. Their work culture emphasizes collectivism and respect, making them excellent at teamwork. This has been proven by Vietnamese developers' successful software development projects.
Despite the potential communication barrier, nowadays, many Vietnamese developers adopt English, Chinese, and Japanese as their second or third language. This opens the door for them to go global and provide in-depth technical expertise to solve business-critical issues anywhere without limitation.
5 Excellent Low Code Development Companies In Vietnam
Gather from the top reviews on trusted listing sites, here're the 5 contenders that leading the growing low code market in Vietnam and even, APAC.
Based in Hanoi with 250+ well-versed developers, Synodus offers end-to-end low code development services in Vietnam, from development to deployment and training. Working with many Vietnamese and global businesses, Synodus left a remarkable mark with their dedicated work ethics and result-driven low code delivery, resulting in 88% client satisfaction.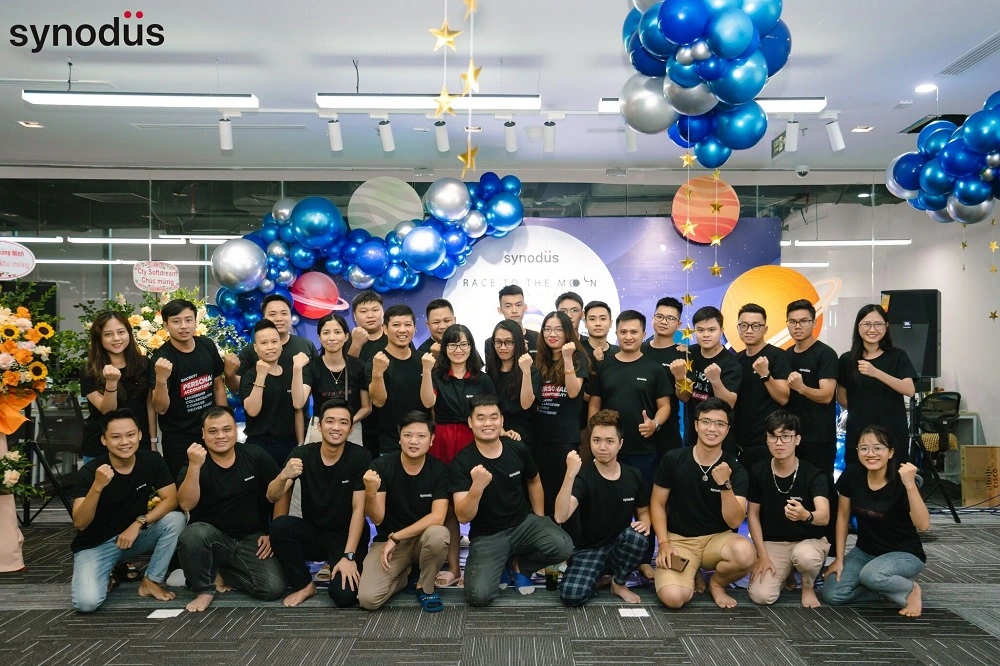 The team works with emerging leaders in the low code market, including Microsoft Power Platform, Salesforce Lightning, Sitecore, and a specific tool for finance businesses – Nuclent. With such diversity in choices of tools, Synodus utilizes the best aspect of low code, combining with agile methodology to convey rapid development within weeks. Learn how we built a Task management system for 2000+ users under 10 weeks!
What partnering with Synodus can bring to your business:
Web and mobile app development
MVP development for startups
Build internal tools and automation system for business of all sizes
Cloud and on-premises development
Legacy modernization
Low code integration
Data Analytics using low code
Our team has worked with multiple sectors, with an average rate of 5 stars on Clutch, ranging from finance, eCommerce, retail, manufacture, logistics, NGO to government sector and so much more! Transform your business today with a team of qualified low code developers!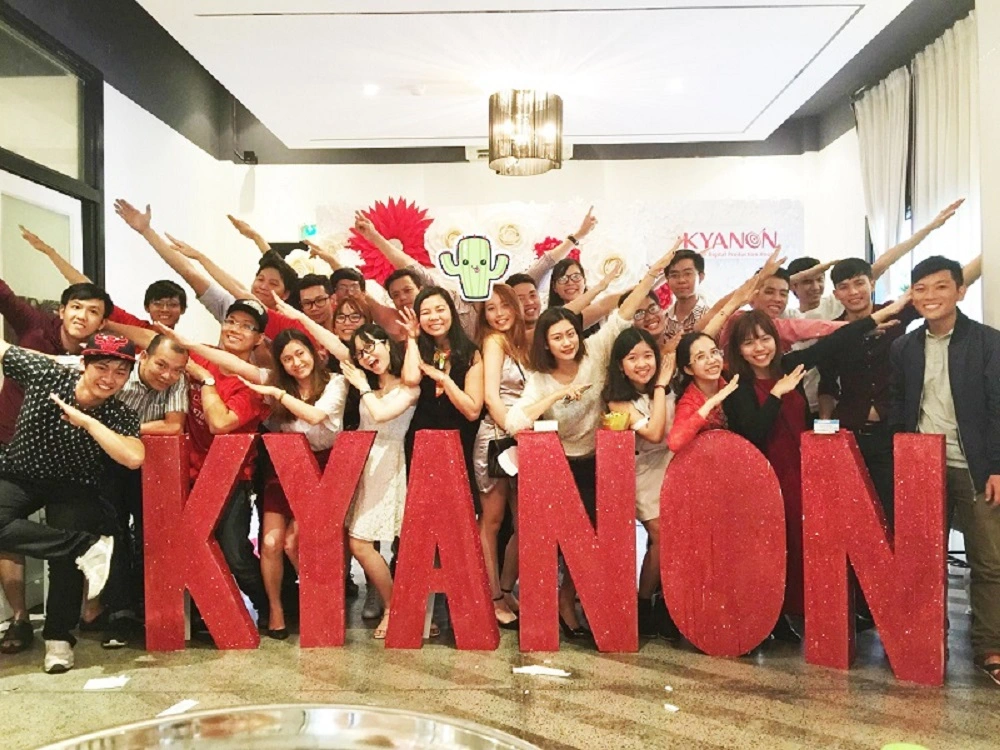 Based in Ho Chi Minh City, Kyanon Digital is a growing low code development company in Vietnam specializing in world-class digital solutions. They offer services and solutions to not only Vietnamese but also global clients.
Kyanon works with Zudy and Mendix's low code platform to develop fast, accessible, and integrative applications. Kyanon has over ten years of experience and a team of well-trained developers to help customers build low code apps from beginning to end.
What Kyanon Digital offers:
App Development
Cloud Development
Design multi-experience applications
Connect AI into low code applications
Intelligent Process Automation (IPA)
Data Integration
Kyanon Digital has successfully collaborated with over 100 clients like Size Stream Team, Memic, and Bip Bip in app development, low code and no code development. Their well-trained team leverage modern architecture with flexibility to build any low code-based applications from scratch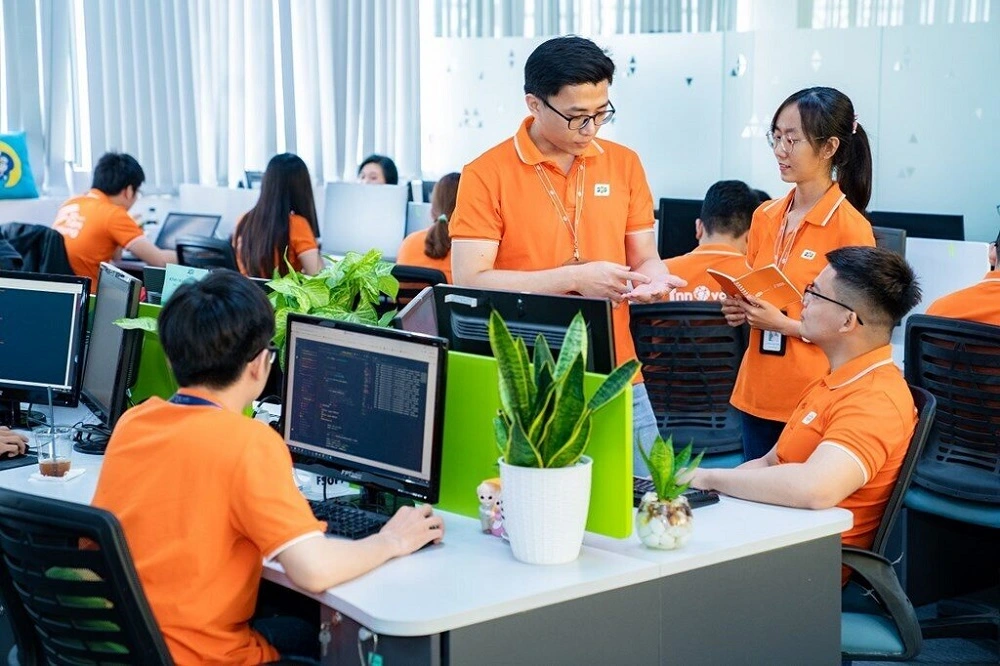 FPT Software is a distinguished tech company in Vietnam, and it is steadily leading in software development. It strives to help enterprises with tech solutions, accelerating agile processes and achieving flexibility. FPT Software's low code solutions suit small to medium-sized businesses who intend to upgrade their technology.
The service line of FPT Software includes:
End-to-end: Reseller, Assessments, Implementation, Global Rollout
Development: Digital Labs, Lotus Notes Transformation, Modernization & New Development
Managed services: Ticket Requests, Technical Upgrades, Authorization Management
As a part of a major low-code partner ecosystem, FPT works closely with big names in low code like Mendix, Appian, and PowerApps. Moreover, it is the first low code development company in Vietnam that owns two exclusive low code platforms:
FezyFlow concentrates on workflow management and digitalization. The final goal of FezyFlow is to help businesses tackle challenges regarding services, optimal solutions, and costs.
akaNox works on providing seamless migration, data fidelity, and enterprise services.
FPT Software has been working with clients in different sectors. Some of its outstanding customers are Honda, CTC, Olympus and NGK.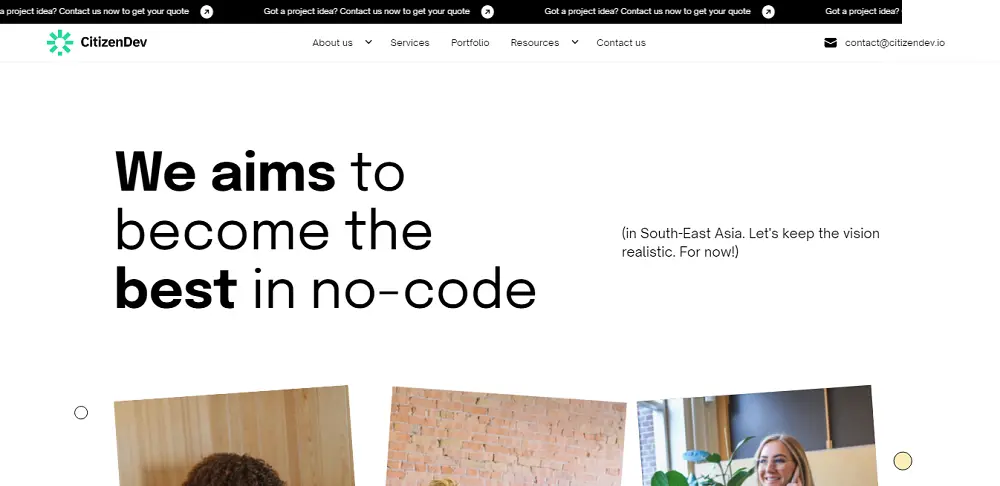 Citizen Dev is a new breeze to the Vietnamese tech market, pioneering in distributing low and no codes solution. This company has nearly 50 developers with strong technical backgrounds specializing in UI/UX design and product development. The newcomer of low code town firmly tackles platform challenges and limits while protecting applications from risks.
To help customers turn their ideas into real products, Citizen Dev works with various tools and platforms. Its three key partners are FlutterFlow, Bubble.io, and WordPress, with services like Website & Web App Development and Mobile App Development.
There might be not much on Citizen Dev's portfolio, but they have done some impressive use cases with CyberKid Vietnam, Aodec, Forex, and Greenchart.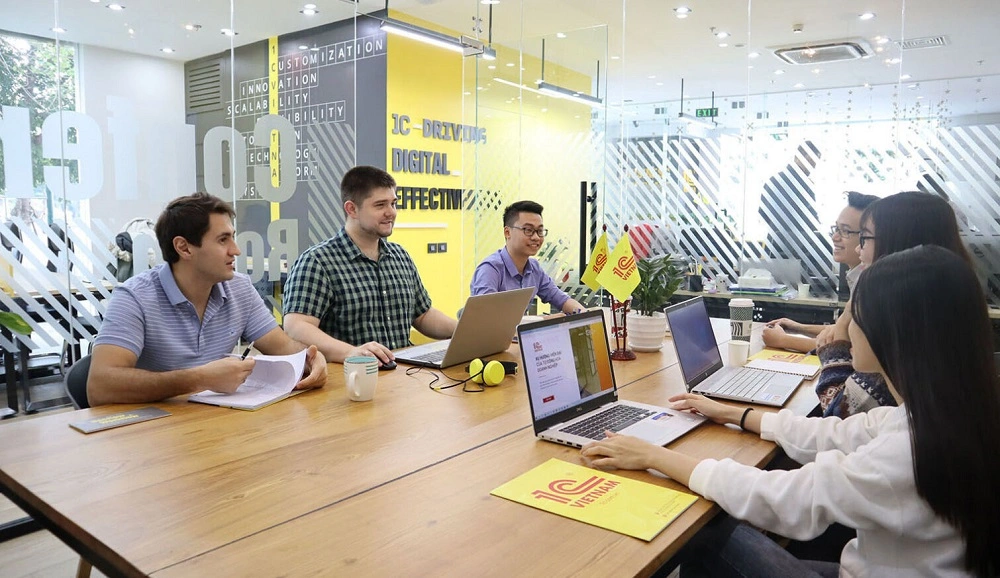 Unlike low code development companies in Vietnam above, 1C Vietnam solely provides their platform – 1C: Enterprise – as the main product.
The said platform provides tools to perform data transferring, connecting, and communicating with third parties. It also possesses an intelligent user interface, cross-platform capability, and robust security, while keeping up with the latest automation trend.
1C: Enterprise solutions are divided into 7, all translated into Vietnamese and specified for different enterprise-grade issues. The list includes:
1C: Company Management: for controlling and managing business processes;
1C: Document Management: for automating, spontaneously controlling jobs, and converting digital documents;
1C: Finance & Accounting: for delaying with accounting management and tax accounting;
1C: HRM & Payroll: for more effective human resource management;
1C: Retail Chain: for automating in-store procedures and management processes;
1C: Trade Management: for process control, analysis and planning, and effective enterprise management;
Accounting Suite: for freely customizing accounting management reports.
1C Vietnam centralizes Vietnamese enterprises as the core customers. You can recognize some big names, for example, VNPay, G7 Taxi, VinFa, BIC Vietnam, and many more.
Things To Consider When Choosing A Vietnamese Custom Low Code Services 
You can't just randomly pick a low code development company without setting a proper goal. Here are the criteria that might help your selection easier.
Use cases: List your potential use case(s) across the enterprise.
Low code platform: Choose a low code platform with all the necessary tools and adapts well to the intended use case(s).
Low code partner: Choose a custom low code development company in Vietnam supported by your designated platform.
Low code development experience: Have developers with the right expertise in certain aspects (process automation, integration, etc.)
Industry-focused experience: This would be a huge plus.
Development process: Weigh between agile methodology or waterfall approach in the partnership.
Communication method: Ensure clear and unified communication, especially when your enterprise opts for outsourcing.
Working hours: Choose a suitable time zone for cross-country teams.
Offered price: Determine a budget and try not to overrun it.
Maintenance contract: Know if the maintenance contract covers post-development training or any fees.
After getting yourself criteria to follow up, you'll need a plan on hiring a Vietnamese low code development company. Use this guideline as a reference:
Step 1: Understand your scope of work and requirements for the project.
Step 2: List low code development companies in Vietnam to weigh between them. This would help you find the vendor that matches your costs, platform of choice, and other requirements.
Step 3: Contact vendors on the list and ask them for portfolios for proof of experience. This will give you a look into their technical skill.
Step 4: Eliminate any vendor that doesn't match your criteria.
Step 5: Set up a second meeting and discuss further technical skills, collaboration, deadlines, pricing, and project requirements.
Wrapping Up
We hope our guide to top low code development companies in Vietnam helps you choose a suitable partner and execute future projects. Selecting a partner needs a lot of thorough consideration of expertise, price, collaboration, and many other criteria, so take your time, and Synodus is always here to consult you (without any fee, of course!)
---
More related posts from Low Code blog you shouldn't skip:
We are sorry that this post was not useful for you!
Let us improve this post!
Tell us how we can improve this post?