Fashion – in general – is going places. Therefore, blockchain-related things might present fashion-forward investors with a new, digital-centered world – starting with fashion NFT marketplaces.
Fashion NFTs are known as the tokenization of digital outfits through minting on the blockchain. People can trade those assets in tokens and products created by digital artists and fashion designers. For the fitting purpose, creators can build and showcase a 3D body scanner to help users try out new collections without shopping on-site.
As a result, the booming of fashion NFT marketplaces is inevitable, as for the convenient and fast-forward technology that benefits fashion enthusiasts in many ways. So, let's take a look at some of the most prominent Fashion NFT Marketplaces out there.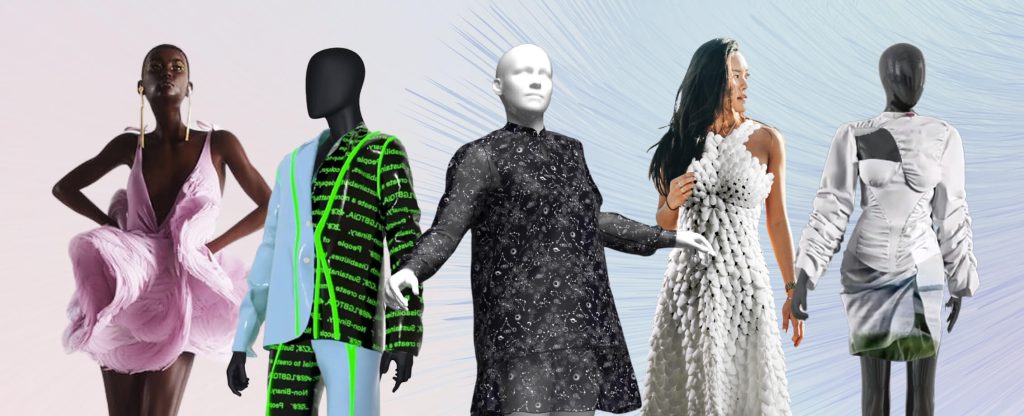 Top Fashion NFT Platforms That Every Fashion Designer Dreams Of
These fashion NFT marketplaces mentioned below are profitable and compatible with newbies and veterans. Some even have built-in tools and features to help creators design and fit their mockups.
Here are the top fashion NFT platforms:
Known Origin
Known Origin is one of the best fashion NFT marketplaces that you can check out due to its features that benefit centrally for digital artists and virtual fashion designers. To be more specific, creators can build, mint, and showcase their designs through auctions or exhibitions. Launched on April 2018, this platform is a trusty channel for designers to sell out tons of creations seamlessly and effortlessly.

This marketplace runs on the Ethereum blockchain, so to validate and transact your works, you will have to rely on the conducted ETH-based smart contract, which may include gas fees. Moreover, Known Origin only supports crypto payment, so you must connect this marketplace to your digital wallet.

Artists will receive 85% of the prior sales and 12.5% of the secondary sales. The platform will receive 15% of the primary sales, and 2.5% of the secondary sales. Sellers will receive 85% of the secondary sales.
The Fabricant Studio
First introduced in 2021, this fashion NFT marketplace is highly profitable for creators and investors in building the first-ever online NFT fashion community. In particular, anyone who enjoys style and the blockchain universe can participate in the system by producing, fitting, and trading fashion-forward designs through digital assets.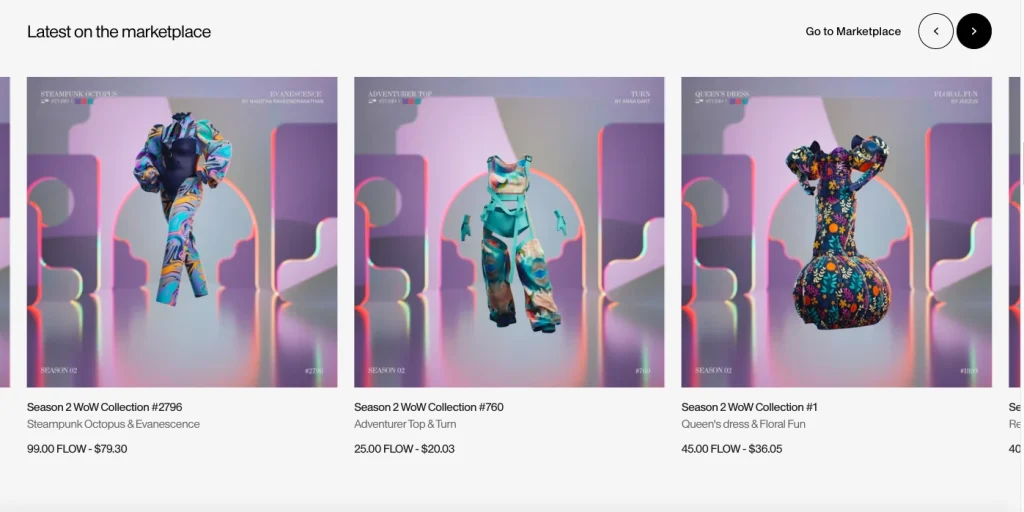 The Fabricant Studio intends to become the pioneer of the fashion universe, where everyone can have a fully loaded selection of clothing in their pocket. By having the feature of helping you choose the garment and colors for outfit design, which can directly monetize your wallet through buying and selling pieces of art

Running on Flow blockchain and being the community for fashion investors, this platform supports mainly for the sellers. First-time sales will be charged a 10% channel fee on the sale price, while the rest 90% will be divided equally between designers and artists contributing to the NFTs' development. The following sales will be charged a 5% fee, and sellers will receive 85% of secondary sales.
OpenSea
The platform has it all: from digital paintings to music samples, from games to exclusive gifts, and of course, fashion-related designs. OpenSea provides a peer-to-peer web3 feature for users to interact more directly and seamlessly. You will have to create and connect your digital wallet to OpenSea to start, preferably MetaMask, Trust Wallet and Coinbase Wallet.

Users can mint and upload outfit designs like any other assets on OpenSea, and it will do the rest: showcase your creations and help you set a profitable price for both parties participating. Having a user-friendly interface and low-price transactions, this is undoubtedly one of the best platforms for general NFT enthusiasts.

This platform runs on the Ethereum blockchain. Designers and artists can monetize through royalty fees, which may fluctuate due to transacting traffic. Moreover, gas fees and service fees might be included, and OpenSea will take 2.5% for each sale.
Designed as a usual eCommerce platform, this fashion NFT marketplace has the tools to fit the chosen design onto a previously scanned human body, which helps users in choosing the best outfits without going outside. Over 600 pieces of digital clothing are included, ranging from the usual fashion brands to digital-forward ones, which gives users a wide variety of choices.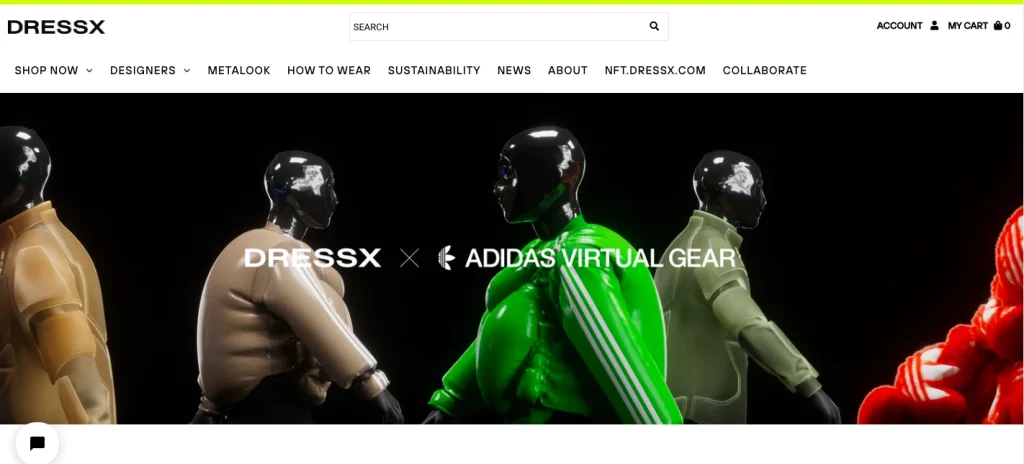 Recently, DRESSX has launched an app with AR technology integrated that allow virtual try-outs before purchase. Moreover, by partnering with Crypto.com, the future of limitless and secure trading is just outside the house. NFTs assets and collections that DRESSX provided will contribute to the development of fashion trends and digital demand shortly.

Running on the Flow blockchain network and collaborating with Crypto.com, DRESSX's royalty fees will be abided by the fee listed on Crypto.com. Primary sales and secondary sales will be charged a 1.99% fee, which will benefit both creators and sellers.
DIGITALAX
Launched on October 2020, DIGITALAX is an NFT-based open-source platform for fashion enthusiasts to trade, wear and collect digital fashion-related products in their communities. The marketplace serves as a virtual one-stop shop for everything NFT-and-fashion-related, which helps creators and investors to interact directly with each specific asset.

With the aid of VR and AR technology, DIGITALAX can offer users a bunch of options, notably the ability to try each outfit virtually through a scanning tool and a 3D model of the user. Moreover, by running on the Ethereum blockchain, this platform acts like any other fashion NFT marketplace – you can bid and acquire through auctions, and your final product will be shown digitally.

Creators and designers on DIGITALAX will receive 85% of revenue from primary sales, and 10% credit from secondary sales. The platform will receive 15% of revenue from primary sales, and 6% credit from secondary sales. Sellers will receive the rest 84%.
The Dematerialised
Running on a special blockchain network that focuses mainly on fashion and lifestyle like Lukso, The Dematerialised's approach to fashion designs, in general, is quite different from others. To be more specific, this platform reduces the importance of traditional shopping and consumerism, and creates a vision for fashion brands: transparency, equitability and creativity are the keys.
Moreover, The Dematerialised – as any other NFT marketplace – guarantees that each asset is unique, authentic and rare in the world of blockchain through a smart contract. By focusing on fashion creations in the form of NFT assets, this platform can help users mint, trade and collect the best virtual outfits from the most valuable fashion brands out there. 
This platform supports both fiat and cryptocurrency payment, so it's approachable for even non-crypto fashion enthusiasts. Creators will receive 85% of primary sales revenue, and 10% credit from secondary sales. The platform will receive 15% of primary sales revenue, and 5% credit from secondary sales. The seller will receive the rest 85%.
Tribute Brand
The vision of Tribute Brand is to create a "contactless and cyber" fashion mindset. Therefore, they consider the virtual world as "the way to renew fashion" by encouraging people to express their fashion-related preferences freely and creatively. This is due to the previous pandemic (Coronavirus) that virtual shopping and contactless payment are strongly advised.

With the help of 3D modeling and scanning technology, as well as an easy-to-use interface, users can experience a limitless, enjoyable and creative environment of fashion-related creations, without having to wait for the process of manufacturing and shipping. Moreover, the rarity of each asset is secure, as collections are sold in a limited number (no more than 100).

Running on the Ethereum blockchain, Tribute Brand can provide services like any other fashion NFT marketplace. The service fees that this platform may receive are fluctuated daily (no more than 5%), so the royalty fees that creators and sellers can acquire will be at least 85%.
Wrapping Up
The future of fashion may lie in the development of metaverse and digital-related products. Therefore, choosing the best fashion NFT marketplaces is one of the priority actions for both fashion enthusiasts and NFT investors to catch up with the latest trend in outfit designs. If you want to see more engaging blockchain-related articles, check Synodus.com out now for more.
Also, if you want to start developing your first NFT marketplace, we're here to help.
---
More related posts from our blockchain blog you shouldn't skip:
We are sorry that this post was not useful for you!
Let us improve this post!
Tell us how we can improve this post?