Navigating the vast landscape of rapid application development can be daunting, and low code is here to help. Introduce the Salesforce Low Code Development Platform – a beacon for businesses eager to simplify their digital endeavors. Merging the prowess of Salesforce with the ease of low-code development, this platform offers a suite of features that stand head and shoulders above its contemporaries.
Here, Synodus will decode the world of Salesforce Lightning, ensuring you can harness its full potential.
Introduction Of Salesforce Lightning Low Code Platform
Salesforce, a name synonymous with revolutionary customer relationship management (CRM) solutions, has long been revered as the backbone for businesses worldwide.
So, what magic does Salesforce wield? Through many years, Salesforce has expanded its tech expertise, creating meaningful applications for many use cases. For example, the Sales Cloud connects marketing to tangible sales leads, Tableau unveils data trends, and Slack for project management and team collaboration.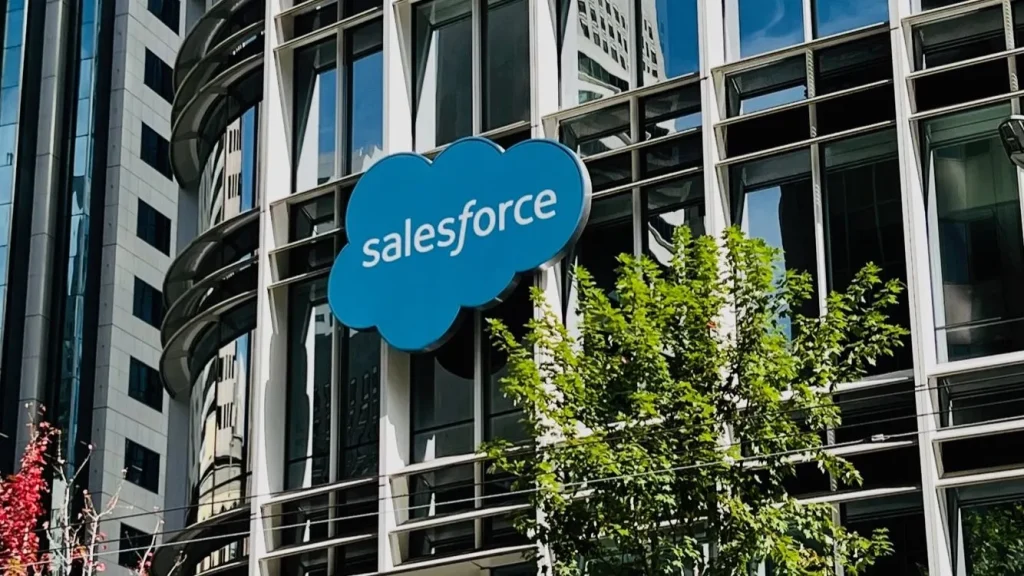 Yet, their crowning achievement is Salesforce Lightning, a low code platform. This innovative tool empowers businesses to tailor-make solutions, seamlessly bridging the gap between unique needs and out-of-the-box capabilities. With Salesforce Lightning, enterprises have the agility to adapt, evolve, and remain at the forefront of their industries.
Enter the realm of Salesforce's low code suite:
Salesforce Lightning App Builder: A user-friendly, drag-and-drop platform for crafting custom applications, from rudimentary forms to intricate workflows.
Salesforce Flow: A dynamic tool to automate diverse business processes, streamlining everything from approvals to intricate sequences.
Salesforce AppExchange: A treasure trove of customizable, ready-to-use applications catering to a wide array of business needs without the prerequisite of coding.
Salesforce Connect: Seamlessly unites Salesforce with external giants like SAP, Oracle, or Microsoft Dynamics, ensuring comprehensive data accessibility.
Salesforce Platform Events: Foster real-time, event-driven applications, orchestrating workflows for specific sales events.
Salesforce Custom Metadata Types: Customize metadata records, crafting tailored objects, fields, and relationships for organization-wide utility.
Features That Make Salesforce Lightning Stand Out In Low Code Development
Low code development platforms have revolutionized how organizations approach software development. They've paved the way for rapid application development without extensive coding. Features such as drag-and-drop code blocks, comprehensive design templates, multi-device compatibility, robust access controls, flexible hosting options, high customization capabilities, and advanced automation abilities form the bedrock of these platforms.
But what sets Salesforce Lightning apart in this saturated market are its unique offerings tailored for both administrators and developers:
1. Einstein Automate
At the heart of Salesforce's innovation lies Einstein Automate. It's not just another automation tool but is powered by artificial intelligence. This enables businesses to create workflows and bots to automate even the most intricate processes. Whether sifting through vast amounts of data to generate insightful forecasts or managing complex business processes, Einstein maximizes efficiency.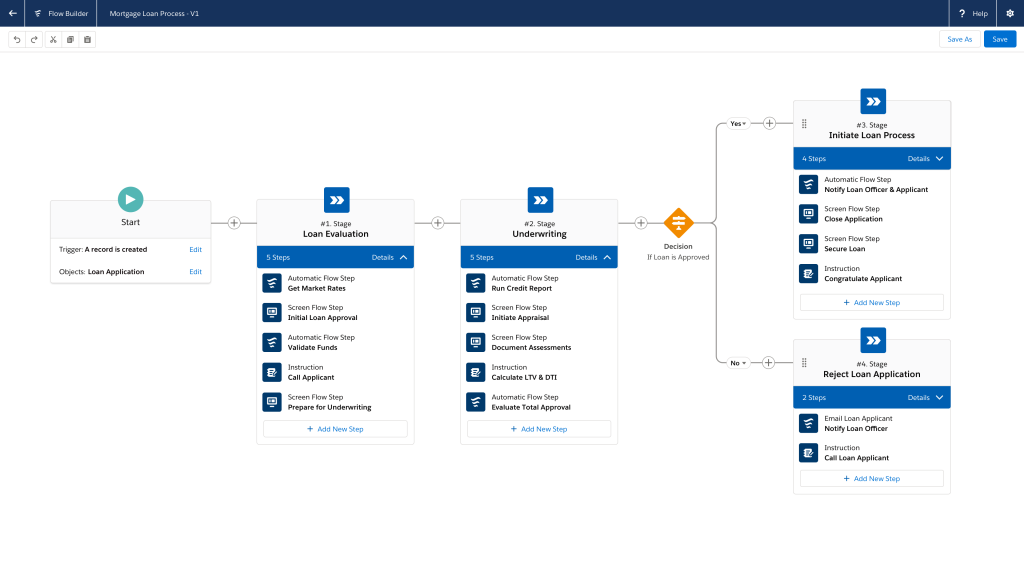 2. DevOps Center
As the name suggests, the DevOps Center is Salesforce's response to the growing need for a unified development and operations hub. It streamlines all phases of development from planning to deployment. Organizations can foster better collaboration and faster release cycles by centralizing these processes, enhancing the overall software development lifecycle.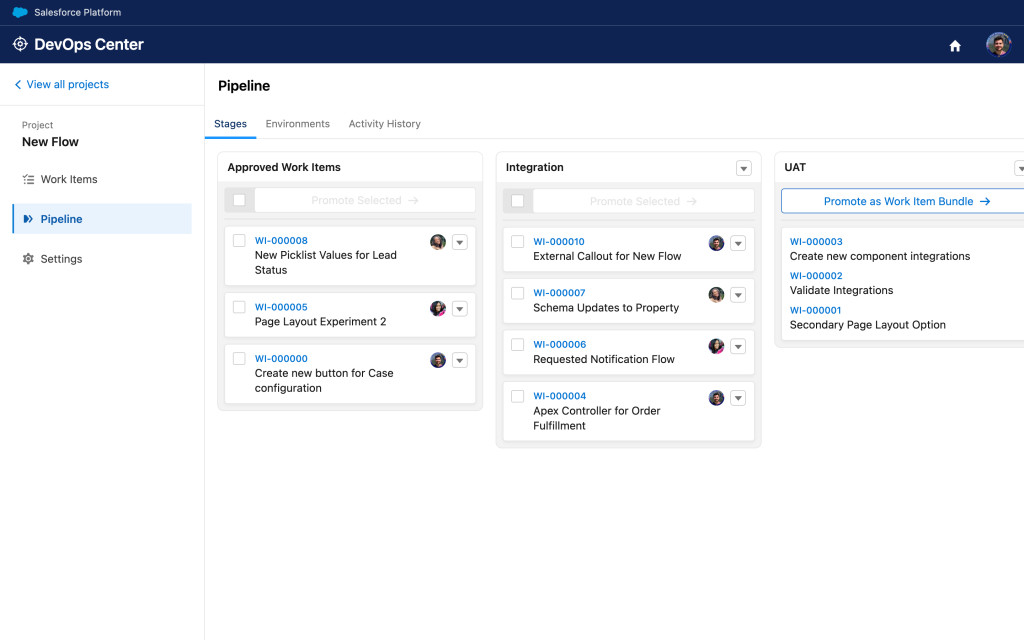 3. CLI Unification
The command-line interface (CLI) remains an indispensable tool in the development world. Salesforce's CLI Unification offers a single interface that can be used across various platforms, including Heroku, MuleSoft, and Tableau. This streamlines tasks and ensures that developers can work in a unified environment, regardless of the forum.
4. Meta-driven Development Model
Traditional software development often hinges on hardcoded practices. Salesforce Lightning, with its Meta-driven Development Model, focuses on designing applications based on metadata. This approach speeds up the development process and provides unparalleled flexibility. As businesses evolve, metadata-based applications can quickly adapt without extensive overhauls.
5. Customer Identity Plus
In the age of digital transformation, user experience is paramount. Salesforce Lightning's Customer Identity Plus ensures businesses can offer their users a seamless experience. By integrating an identity layer across all digital touchpoints, users no longer need separate logins for different channels. This centralization is especially beneficial for organizations with a large active user base, simplifying identity management.
Yet, Salesforce Low Code Platform Has Certain Downsides
With such high-performing features, Salesforce Lightning still prompts certain downsides (of course, not every solution is perfect, although we wish there were)
Overwhelming Speed of Development: One of the most pressing issues is the sheer pace of application releases. While Salesforce's low code, the software release rate can surpass the rigorous testing speed. Consequently, many applications may hit the market without thorough vetting, leading to potential performance issues, security vulnerabilities, or user experience shortfalls.
Testing Challenges: With Salesforce's frequent updates and the customizations introduced by low code developers, maintaining application integrity demands regular regression testing. Manual testing for such vast environments is impractical, and while automation seems the logical solution, the absence of developer resources to craft and manage automated tests presents another hurdle.
Customization Complexities: Salesforce's strength lies in its immense customization capabilities. Yet, this boon can quickly become a bane if not strategically approached. Sporadic, unplanned customizations can lead to unforeseen conflicts, especially in integrated environments.
Security Concerns: With the ease of integrating multiple platforms and data sources, ensuring robust security protocols becomes paramount. Low code developers might inadvertently introduce security gaps, especially when dealing with cross-platform data movement.
The Mismatch in Tool Sophistication: While Salesforce offers a user-friendly low code development platform, many associated tools, especially test automation ones, remain intricate. These tools often demand a developer's expertise, which can negate the advantages of using a low code approach in the first place.
What Can You Build With Salesforce Low Code?
With the platform, users can craft dynamic solutions to elevate operations, drive efficiency, and enhance both employee and customer experiences. Let's delve into the diverse use-cases you can accomplish with Salesforce Low Code:
1. Elevate Employee Experience With Apps
Not only does Salesforce Lightning help build sales and marketing-related applications, but you can also harness the power of it to enhance working experiences with employees-driven apps. Salesforce-based applications can be connected back-to-back internally and increase productivity cross-department.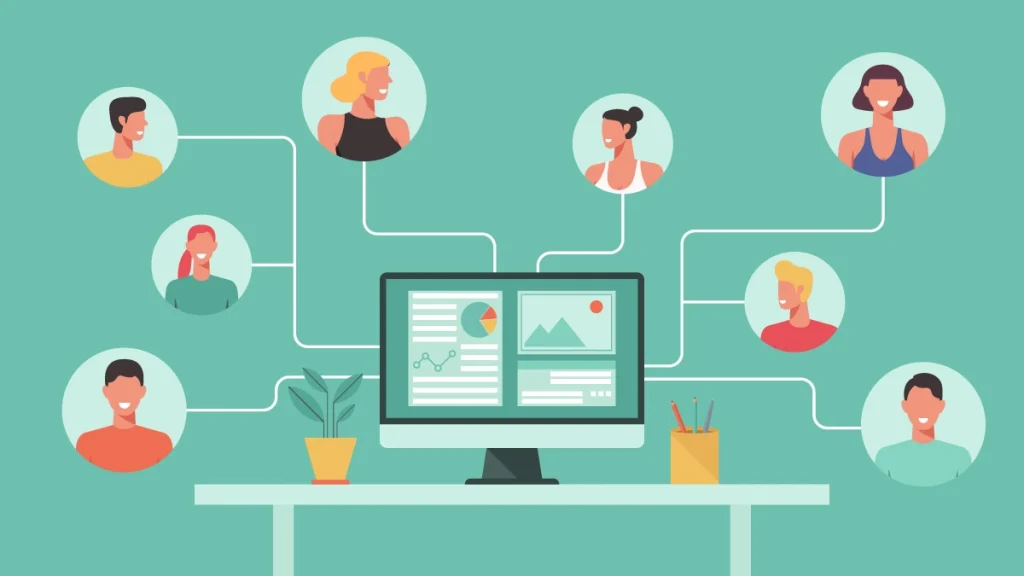 Examples of the types of app you can do with Lightning includes:
Mobile Intranet App
Web-based portals for swift self-service: onboarding, checking attendance, checking payroll, applying for leave requests, instant chat with HR/ admin/ IT support team.
Mobile applications
HRM system
Internal chat apps
Boost overall efficiency by designing employee-centric apps without the constraints of complex coding.
2. Extend Sales And Service Across Departments
Starting as a CRM software provider, of course, Salesforce Lightning won't waste their expertise. The team used what they have mastered and integrated it into their low code platform, allowing customers to tailor-made robust sales and customer management tools that best fit their needs.
What you can do with Salesforce Lightning for better customer management:
A centralized customer data management system that can be used across cross-departments.
Offer every employee a holistic, 360-degree view of customer interactions and history.
Seamlessly integrate with other Salesforce solutions such as Customer 360, Sales Cloud, Marketing Cloud, and more.
Embed AI into applications to analyze customer data automatically, gain insights, and plan strategy.
3. Digitize Traditional Business Processes
Transform your spreadsheet and paper-based workflow with an automatic one with artificial intelligence and extensive integration ability. With Salesforce, you can build a department to cross-department workflow tools, ensuring seamless data stream and pushing collaboration between teams.
Types of business process automation that Salesforce can work on:
Integrate predictive analytics into every sale and service application.
Incorporate data seamlessly, whether from databases, ERP systems, or IoT.
Marketing, Sales to Customer Services workflow
Simple ERP systems
Craft uniquely branded mobile apps tailored to business specifications.
4. Revolutionize Customer Experience With Apps
Don't just limit your Salesforce Lightning ability with internal applications. This agile low code platform can also support the creation process of the customer-facing app, allowing businesses to upgrade their services and respond faster to high expectations.
Some examples for your customers:
Self-service web portal that they can use to sign up, track orders, get vouchers, and chat with your executive.
AI chatbots or customer services agents.
Mobile shopping app.
Develop visually appealing applications using any coding language, ensuring flexibility.
Armed with Salesforce Low Code, the only limit is imagination. Whether you're looking to transform internal processes or redefine the customer journey, Salesforce provides the tools to make it a reality.
How These Brands Use Salesforce Lightning To Cater Business Needs
Several brands are tapping into Salesforce Lightning's robust capabilities to revolutionize their operational dynamics and enhance customer experiences, as evidenced by Gateway Genomics and a prominent US hotel chain.
Streamlined Inventory Management For Gateway Genomics
Based in California, Gateway Genomics is at the forefront of genetic testing, offering unique insights to families about their future children. With their burgeoning client base and a massive inventory of over 100,000 DNA tests, managing operations they have had become a convoluted task.
The company decided to create a specialized inventory management system closely integrated with their existing CRM.
With Salesforce Lightning's capabilities, Gateway Genomics achieved a robust and efficient platform that ensured 100% data accuracy and significantly reduced manual errors. Automation became a linchpin of their workflow, bringing about a notable surge in operational efficiency and providing a unified experience for their employees and customers.
Enhanced IoT Integration For A US Hotel Chain
With properties peppered across various cities in the United States, a prominent hotel chain grappled with the complex management of Wi-Fi locks across its establishments.
A blend of AWS IoT Cloud hardware and Salesforce CRM for the software segment was strategized to address this multifaceted challenge. This collaboration tapped into Salesforce Lightning's sophisticated features, creating a centralized platform. This platform equipped service managers, dispatcher managers, and service agents with real-time insights and facilitated prompt actions on incoming requests.
The outcome was transformative. Not only did the hotel chain witness enhanced operational efficiency, but there was also a marked improvement in customer satisfaction, thanks to quicker response times and more reliable service.
Salesforce Lightning Pricing Detail
Salesforce offers two primary packages tailored to cater to a broad range of needs:
Payment plan
Platform Starter
Platform Plus
Suitable for
Developing custom apps to boost productivity in sales, service, and marketing.
Extending Salesforce capabilities to all employees & departments.
Price
$25 USD/user/month (billed annually)
$100 USD/user/month (billed annually)
Features
– Access to 10 custom objects
– Lightning App Builder
– AppExchange
– Identity for Employees
– Customizable Reports and Dashboards
– Lightning Console (additional $25 USD/user/month)
– Access to 110 custom objects
– All features of Platform Starter and more. For an exhaustive list of features and comparisons, click here.
The low code platform also provides different support strategies:
Standard Success Plan: Included for everyone, featuring self-guided resources like Trailhead, webinars, and more.
Premier and Signature Success Plans: Avail expert support at additional fees, with benefits like round-the-clock support and expert coaching.
Other add-ons include:
External Apps: Custom portals and apps for partners and customers, starting at $15 USD/login/month or $35 USD/member/month (billed annually).
Shield: Enhance trust and compliance, starting at 10% of net spend.
Environments: Safely test apps in a replica of your organization, starting at 5% of net spend.
Synodus – Custom Low Code Development With Salesforce Lightning
Working with Salesforce Lightning, our team has developed low code-based applications service that drive productivity and efficiency for startups, SMEs, and enterprises. From mobile app, process automation, cloud development to internal tools, we help business transform their digital landscape using low code.
An extensive low code stack isn't enough! We harness agile development and transparent workflow to ensure the highest quality, from development to deployment.
Wrapping Up
Salesforce Lightning serves as a beacon of innovation in the CRM world, offering many tools tailored to meet diverse business needs. With its transparent pricing models, robust support structures, and the flexibility to expand capabilities, Salesforce is more than just a product; it's a partner in growth. Whether you're seeking enhanced customer experiences, streamlined business processes, or advanced analytics, Salesforce low code development platform provides the foundation for modern businesses to build their future success.
---
More related posts from Low Code blog you shouldn't skip:
We are sorry that this post was not useful for you!
Let us improve this post!
Tell us how we can improve this post?