Low code platforms are gaining traction, celebrated for their promise to streamline business operations and reduce development time. These benefits are hard to ignore, especially in a fast-paced business environment.
But how do you determine if integrating low code into your operations will be profitable for your specific business? The answer lies in calculating its Return on Investment (ROI). Understanding Low Code ROI is essential to measure profitability and make informed decisions about adopting new technologies.
Ready to make a data-driven decision on low code? Dive in!
They Say Low Code Boosts Overall ROI. The Question Is How?
1. Lower IT Input and Increase Output
Low code development is heralded for its cost-efficiency. Unlike traditional software development, which tends to be financially draining, especially with constant updates and feature additions, low code offers a more economical route.
It doesn't necessitate a hefty budget upfront due to its reduced development expenses. Impressively, nearly 70% of users, both professional and citizen developers, have reported mastering app creation within a month using low code platforms.
This approach negates the need to invest heavily in additional developer hires. Rather than channeling resources into continuous coding or onboarding new technical staff, businesses can now focus on mission-critical activities.
This, in turn, liberates your seasoned IT professionals to tackle intricate tasks demanding specialized expertise. With Rapid Application Development (RAD) infusion within low code, creating standard-compliant, near-perfect applications becomes attainable. Developers respond faster to business demand while maintaining and even improving the output quality.
2. Low Code Improves External Integration
Leveraging a robust architecture underpinned by RESTful Data APIs, compliant with Open API Initiative specifications, businesses can harness the power of low code to expand their enterprise system. This potent capability facilitates crafting task-specific apps and seamless connections with other systems, optimizing the low code ROI.
For instance, envision the automation of onboarding procedures for a new employee. Utilizing low code, assigning an employee ID could automatically trigger a series of processes – designating a desk, initializing payroll protocols, setting up an Outlook account, and even orchestrating a warm welcome with flowers on their first day.
With an extensive suite of these RESTful APIs, many low code tools can devise bespoke apps that harmoniously interact with other business-centric systems, from giants like Microsoft Power Apps to innovators like Mendix and OutSystems.
3. Using Low Code for Enterprise Software can Streamline Workflow Better
Not just developing apps, you can use low code BPA (business process automation) and RPA (robotic process automation) to create departmental and cross-department workflow. Low code provides a comprehensive management system by connecting the dots between teams and datapoints. At the same time, it offers leaders better visibility of the operation.
Such tools enable businesses to seamlessly tailor workflow, automate mundane tasks, and integrate legacy systems with new ones. Hence, it enhances both digital transformation and low code ROI.
4. Empower Non-technical Employees to Join Digital Transformation
Low code platforms cater to users across the experience spectrum, allowing even those without extensive technical knowledge to swiftly address pressing challenges. The user-friendly design, including point-and-click configurability, equips users to mold solutions to their precise needs.
Freeing employees from the shackles of repetitive tasks allows them to channel their energy towards more value-driven operations. There's an uptick in employee retention, a significant boost in output quality, and, most critically, an elevation in employee engagement. In this paradigm, the low code ROI becomes palpable as employees evolve into proactive contributors to an organization's digital transformation journey.
Ways To Estimate Your Low Code ROI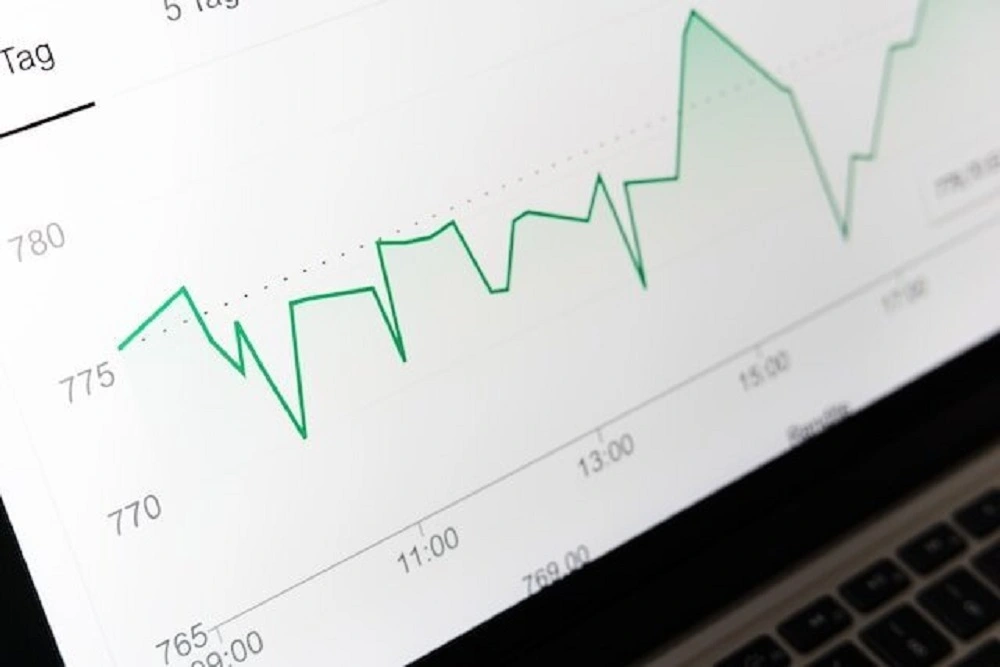 There's no denying the importance of determining the return on investment (ROI) for any business venture. When it comes to software development, the dynamics are no different.
Here 4 ways to calculate your software development ROI:
Assess the relevance and adaptability of software features in accordance with the investment.
Understand how software improves user experience, potentially boosting customer acquisition and retention. User-friendly interfaces and personalized touchpoints can spur loyalty and referrals.
Consider the hidden costs of operational risks like downtime, data breaches, or inefficiencies. Reliable software can diminish these risks, thus offering a hidden return.
Evaluating the level of data security and integration and how it impacts the company's properties.
Let's break it down into Low Code ROI!
1. IT Spending & Dependency
As its name implies, this metric focuses on the cost variant of your software project, which means how much you plan versus the actual IT spending. It answers three questions. Is your project overspending or underspending? How effectively do you allocate the budget? How does your spending affect the project performance and overall results?
Low code claims to reduce digital transformation costs by cutting down time and resources on mundane tasks, boosting development with its RAD, and conducting fast iteration. Yet, this low code ROI is necessary to calculate how much it impacts your technical performance.
Here's how to measure it:
Compare the cost and time to develop apps traditionally or using SaaS with building it with low code.
Estimate the human resources and other IT infrastructure required with and without low code.
Determine if the low code platform can deal with leftovers, delayed, and rejected projects. If it does, will it incur additional costs compared to other approaches?
Estimate the time and money required to manage, maintain, and update applications with and without low code.
Examine the IT output quality and response rate to IT requests before and after implementing low code.
Calculate the bandwidth developers have to work on mission-critical projects with or without low code.
2. Digital Transformation Benchmarks
This low code ROI will reflect how often and effectively your business adopts low code for building practical and usable applications. The benchmark quantifies your desired business object through the chosen digital transformation method.
How to measure it:
Compare how your digital transformation strategy and roadmap change before and after adopting low code.
How many departments can adopt low code into their work?
How your employees engage and participate with the chosen low code platform. Also, determine whether that interaction is voluntary or not.
Calculate how your business productivity is increased when integrating low code with other workplace tools.
3. Reducing Stress Factors
Backlog is perhaps one of the most known issues of IT departments. The demand for technical tools is increasing rapidly as businesses are racing for faster customer response, higher efficiency, and better decision-making using tech and data. Yet, IT resources are limited, and skillful developers are hard to hire.
This has put a toll on the IT department with a growing queue of requests. Developers have to work under no-end stress and constant chaos.
Low code can become a best-friend tool for developers (not just non-technical users and citizen developers). By cutting down on tedious parts, the IT team can focus on customization, making the application best fit the business model. At the same time, with its RAD, you can quickly build a prototype, nurturing the collaboration between IT and business users.
Yet, this low code ROI is tricky to measure:
Does your low code reduce the time IT spends creating prototypes, integrating data and workflow, feature enhancement, testing, documentation, and development? Compare it to your old digital method and see how big the gap is.
Will the IT department's contribution to digital transformation reduce or increase? Will this lead to team expansion or downsizing? Keep in mind that your developer might seek somewhere with more challenges once the job has been too easy.
Ask other departments how they feel about working with IT before and after having low code. Does IT respond faster to their requests? Are they satisfied with the delivery? Is the collaboration between their department and IT more seamless and improved?
Low Code Platform ROI Comparison
Besides measuring how low code impacts your digital transformation, productivity, and internal process, you must also consider how different platforms of choice can alter the return on investment. With so many low code platforms in the market, each will bring certain capabilities and excel in specific aspects (automation, mobile development, integration).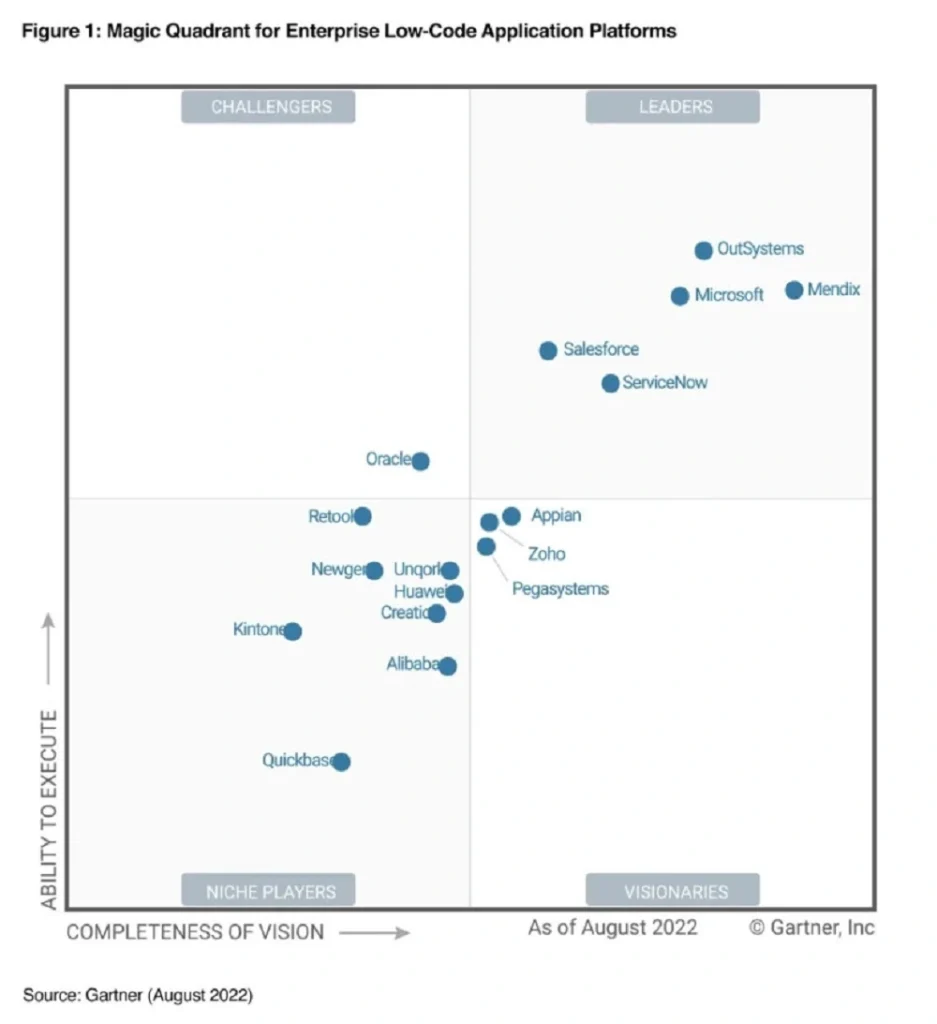 Hence, every few years, leading and challenging low code providers will apply Forrester TEI methodologies – a research and calculation method to determine the ROI and effect on cost/ performance/ time if a business employs the said platform.
Keep in mind that the vendor does not apply for the research simultaneously (We have put the year of study right next to each platform). These results are mainly for reference as they can change due to system upgrades and new feature releases.
For more details, you can click the name to learn more about cost-saving effects on IT resources, user satisfaction, productivity increase, impact on time-to-market, and many more.
| | | | | |
| --- | --- | --- | --- | --- |
| | ROI | Benefits PV | NVP | Payback |
| Power Platform (2022) | 502% | $31.08M | $25.92M | 11 months |
| Salesforce (2018) | 341% | $3.37M | $2.6M | 14 months |
| Appian (2023) | 257% | $5.92M | $4.26M | 6 months |
| Service Now (2021) | 230% | $10.13M | $7.06M | 9 months |
| Outsystems (2021) | 506% | $17.69M | $14.77M | 6 months |
| Pega (2020) | 598% | $13.9M | $11.9M | 3 months |
| Mendix (2020) | N/A | $20.52M | $19.82M | 6 months |
Estimating the ROI of low code platform is a multifaceted process. While the immediate financial implications are essential, it's equally important to consider the platform's broader strategic benefits, operational efficiencies, and long-term value additions. By meticulously measuring and evaluating these factors, businesses can comprehensively understand the true value and potential ROI that low-code platforms can deliver.
Wrapping Up
The digital landscape is ever evolving, with businesses constantly seeking innovative ways to adapt, enhance productivity, and better serve their customers. As we've navigated through the intricacies of low code platforms in this article, it's evident that these tools present a transformative approach to software development and integration.
Yet to understand how effective low code will be as a piece of your digital transformation journey, measuring its return on investment is paramount. Businesses can clearly understand their low code ROI through direct metrics like IT spending and more abstract ones like reduced stress factors.
---
More related posts from Low Code blog you shouldn't skip:
We are sorry that this post was not useful for you!
Let us improve this post!
Tell us how we can improve this post?