Digital transformation usually sounds significant, but it's actually a lot like looking for a house. You can purchase a house off the market, rent one or buy one from the ground up. In the world of tech solutions, off-the-shelf tools like SaaS have been used for years by businesses of all sizes, becoming an indispensable part of every department. Yet, despite the ease of use and many pros, many businesses still decide to scratch that and invest in custom software development.
In this article, we'll dive deep into the differences between SaaS vs Custom development, highlighting the best use case and the opportunity cost of each!
What Is SaaS?
SaaS, or Software-as-a-Service, refers to cloud-based solutions that can be accessed and directly used via the Internet without installation.
For the development, maintenance, and upgrade of the application, it's the vendor who stays behind the curtain. As a user and customer of SaaS, your only job is to use it without caring about the rest, hence the name "as-a-services." Think of a service where you can rent software to use, instead of buying it wholly (including the license) like some off-the-shelf software like the traditional Microsoft Office.
Since SaaS application is hosted in the cloud, all you need is a web browser to access them. By prompting convenience, SaaS is relatively the cheapest choice for digital transformation, encouraging many businesses to join the ride. To gain access to a ready-made solution, you simply pay a monthly fee.
To make it easier to grab this concept, here are some notable SaaS examples:
ClickUp: The all-in-one product management toolkit
Slack: cloud-based workplace communication application.
Monday: popular productivity application for software development, workflow, and task management.
SurveyMonkey: online survey creator tool
Asana: project management application
Mailchimp: marketing automation software
Instead Of Buying SaaS, Why Some Businesses Choose To Build?
If SaaS is cheaper and can be used instantly, why do many still bother with custom development? Aka, building a custom software solution from scratch: designing, developing, deploying, and maintaining? 
Whereas SaaS products seek to be a one-size-fits-all solution for a wide range of customers, a custom software solution allows you to receive a tool that is suited to your business, eliminating the need to adapt your procedures for a tool.
Despite being more costly and requiring time investment, many businesses still choose custom software for its flexibility. A one-of-a-kind solution that you can deploy on any desired operating system, integrate with any application without third-party permission, and earn freedom in design and features.
For some businesses such as healthcare, financial services, manufacturing, or government offices, data has become a susceptible and critical asset. Thus, to ensure a protected hub, they opt for custom software to prevent sharing a system with third parties or other companies.
A complex process, of course, comes with advanced and niche features that many SaaS don't offer, making custom software an absolute choice for many businesses when seeking help from technology to attract tangible business results.
In this case, the goal of using software isn't about automating tasks and improving performance but about opening more opportunities, driving positive changes, and altering business to a higher ground.
Compare The Usability Of SaaS Vs Custom Software: When To Use What
With such differences between custom software vs SaaS, it doesn't mean one outweighs the other. To best analyze the strengths and weaknesses of each solution, as well as learn when to adopt them best, dive into our side-by-side comparison.
SaaS
Custom software
What is it
Buy
Build
Hosting
On-cloud
Self-hosted, on-cloud or on-premises
Development complexity
Limited customization
High flexibility
Ownership
Vendor
You
Quality of the software
Depend on the vendor
Depend on the developers
Training and support
Under the management of the vendor. They usually provide training session (sometimes require additional fee) and instruction document (free)
You manage and decide on how to train, who to train and when to train. You should also assign your support team
Interface
Friendly, modern
You design
Scalability
Limited scalability
Grow along with the business
Integration
If the SaaS supports
Freedom of choice
Company compliance
Make for a broad user. It will not ensure that the template sites, cloud storages, processes, and security meet dozens of industry requirements and standards.
A system made on-demand hence you can alter any requirements and make it best fit your business model
Security
Medium to low
High
Maintenance & Upgrade
The vendor
You
Time to adopt
Instantly after purchase
Time-consuming, take months depend on the complexity
Pricing Model
Monthly/ Quarterly/ Yearly subscription (flat rate, usage-based or package), one-time installation fee, training fee. They also offer free trials but with limited features.
You can use in-house or outsourcing teams. With outsourcing the pricing model can be fixed price, time & materials or dedicated team. You mostly pay depending on the number of people on your project.
Investment
More affordable. Low at first but can add up in the long run
Big at first but can ease down in the long run
Potential risk

Security.
Lack of flexibility resulting in a low adoption rate and unscalable application.
The application does not work as expected, resulting in you having to buy another one.
Risk of incompatible with existing software

Risk of the software not performing well as expected after lengthy development.
Cost-overrun

When to use what

If your problem can easily be solved with a SaaS
You have limited resources
You need an instant solution

When you have enough resources to invest (human, finance, infrastructure)
You used SaaS before but failed
You have unique challenges and requirements that most SaaS can't solve.
You are willing to wait and invest time for building a solution
Question To Analyze Your Need & Make Decision
When deciding between custom software development and using Software as a Service (SaaS), it is important to consider the opportunity cost. To help you make an informed decision, here are some questions to determine how prepared your business is for either solution:
What is your financial situation? How much are you willing to invest? As much as we all want the best solution for our company, we need to depend on our budget to balance digital investment and money for other business aspects.
What is the timeline for this tool? Do you require an immediate answer, or can you wait for a custom solution to be developed and built?
What is your issue? Where is the bottleneck? Can a SaaS perfectly solve it? If yes, then you probably don't need to invest many resources in custom software. But if it can only solve less than 60% of your problem or you have to piece together multiple SaaS options for "the right one," custom is the answer.
What are your long-term objectives? How do you envision this solution serving your organization in a year? Will this solution be adaptable and changeable as your business develops and evolves? If not, is it worth the time and money to find a solution that will only last a year?
Synodus – Bespoke Solutions Development in APAC
Looking for a Development Partner?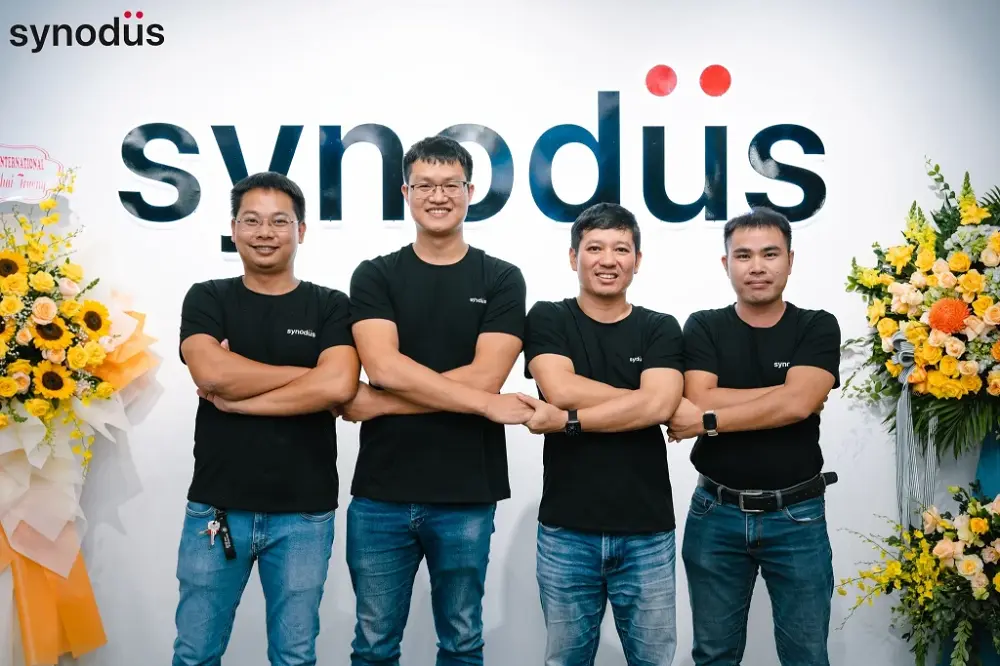 Synodus offer end-to-end custom services, where we are committed to supporting every step of your digital transformation journey.
From front-end to back-end, from cloud to on-premises, and from database to integration, we offer an extensive tech stack that has already delivered over 100 successful projects for clients worldwide.
But that's just the beginning! Our team of 250+ mavericks strive to become your strategic partner, leveraging the latest technologies of AI, machine learning, IoT, and low code to take your application to the next level. And with an impressive 88% client satisfaction rate, you can trust that we will exceed your expectations.
We aim to deliver state-of-the-art custom services with utmost transparency, dedicated experts, and high-performing tech infrastructure. Start your journey to digital transformation today!
Wrapping Up
In conclusion, both SaaS and custom development have their pros and cons. SaaS offers affordability, accessibility, and convenience, while custom development provides flexibility, scalability, and unique features. Depending on your business needs, budget, and long-term goals, you might choose one over the other or combine them both. To make the right decision, consult with experts and conduct analysis to assess your options thoroughly.
---
More related posts from Software Development blog blog you shouldn't skip:
We are sorry that this post was not useful for you!
Let us improve this post!
Tell us how we can improve this post?