Wix, Shopify, or Weebly. You might hear of them or intend to use one of them. These website builders allow non-technical users to easily build a simple website without writing code. However, upscaling these websites or adding advanced features will cause a system overload, forcing web owners to restart the building process. The starting-all-over-again process can be time-consuming and costly. This issue can be overcome easily with the help of a low code website builder.
Why Use A Low Code For Web Development Instead Of Website Builder?
In terms of purposes and function availability, website builders focus on user interface (UI) design. The functionalities offered by simple website builders might include some niche features, but website back-end capabilities are usually not supported and presented. Contrary to that, low-code website builders contain a broader, more extensive range of features. There are necessary tools that users can utilize for the creation of back-end, web applications, databases, and other digital products.
Speaking of integration capabilities, low code platforms allow connection to third-party services and APIs, payment gateways, messaging networks, and databases. You can also customize your API.
Like website builders, low code technology offers the drag-and-drop ability, in which you can pick a template, click on pre-designed elements and point them to places to make your interface.
Lastly, low code website builders are adaptable to a broader range of use cases than that of normal ones. Unlike website builders with limited functionalities, low code can handle more complex digital projects such as SPA and PWA.
Other Benefits Of Low Code Website Builder
Fast delivery: Using low code website builders helps mitigate code handwriting and other required procedural phases with the IT team, essentially reducing the development time;
Less burden put on IT team: Low code allows people from non-IT departments to handle their mundane technical issues by themselves, helping the IT team focus on more complex tasks;
Resources and cost savings: Customers of low code web development only need to pay for a subscription plan and build what they want from the resources provided by their partnership vendor;
Low maintenance costs: Organizations can save their money and the IT team face less burden as the website builder team has dealt with issues like bugs and legacy;
High standards: Users can build high-quality, responsive, accessible, interactive, and customer-satisfying projects by using reliable low code website builders;
Pleasing visual and user experience: Website builders keep up with trends, constantly update styles, and add more features to make their components fashionable all the time;
Improved teamwork: Low code website builders encourage employees from different departments to engage on the website-building process and contribute their talents to it;
Freedom in creativity: If the drag-and-drop doesn't serve your requirement, you can always customize by adding JavaScript, HTML, or CSS code (as most low code website builders support these).
Synodus Top Choices: 9 Best Low Code Website Builder
1. Bubble – For Responsive Website And Web Apps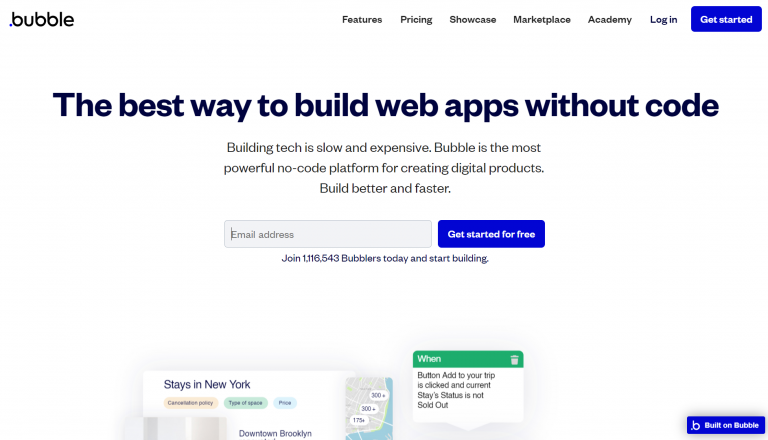 Bubble is an advanced low code website builder suitable even for users with no coding experience beforehand. It is a tool that is ideal for creating prototypes, launching internal tools and websites, and effectively scaling without investment in extra infrastructure.
Bubble is highly functional and customizable, thanks to its point-and-click editor interface. The low code platform also allows the quick and easy building of sleek and responsive web apps with over 800 plug-ins of third-party services, namely, Google, Facebook, and many more.
On the bright side, customers of Bubble can:
Have data automatically backed up on a powerful cloud hosting platform;
Deploy and host all the websites in a secure manner;
Connect with clients through forms and databases embedded on the website;
Integrate easily with billing software for digital payments.
However, Bubble has its shortcomings. Since Bubble is quite advanced, users must make some effort to learn how to use it. Free users can only use limited backup sources and pay for plug-ins in advance if they want to test them.
2. Webflow – For Complex Project, Professional Developers And Designers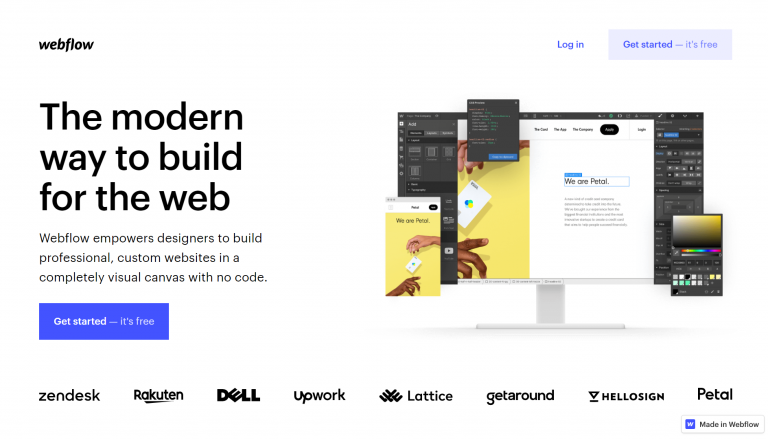 Webflow is rich in mobile-responsive and customizable templates that are easy to use. All the components on Webflow are reusable, easily updated, and modified across the website. Webflow also provides two separate user interfaces for content editing, and users can modify web content without coding. There are also built-in SEO tools to optimize websites for search engines.
This quick low code website builder has supported transforming over 100,000 small and large businesses, like Pacific Fuds, HelloSign, Dell, Rakuten, etc. Using Webflow can be advantageous in many ways, for example:
Create customized transitions and make semantic code on a visual designer;
Host website fast and scalable with advanced security;
Access to over 40 free available lessons bout layout, typography, interaction, and 3D transformation
Beneficial as it is, Webflow still has its downsides. The platform is quite advanced, so new users should take time to learn how to use it. Also, most CMS functions in Webflow are hindered.
3. Microsoft Power Pages – Low Code Web Builder For Enterprise-level Website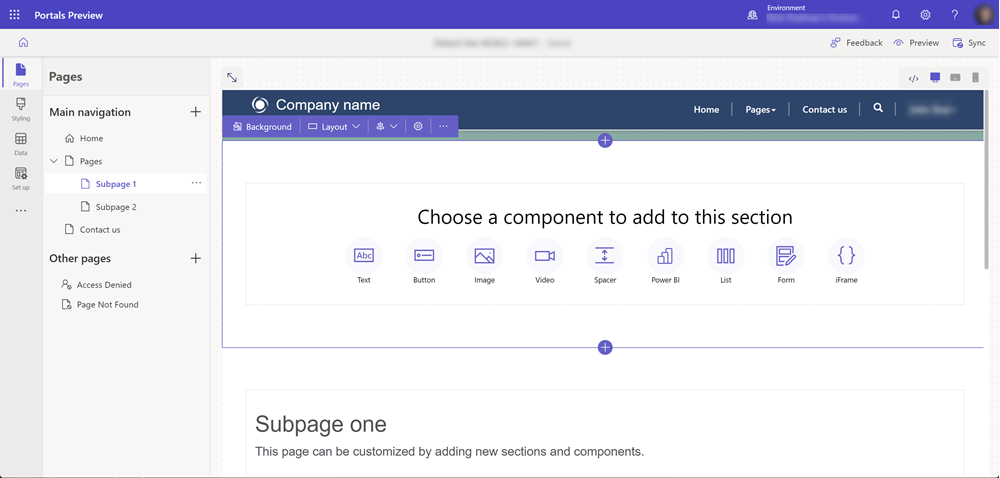 If your organization struggles to find a solution for low code web development, Microsoft Power Pages is the one. It's secure, suitable for enterprises, and is made for building, hosting, and managing modern public-oriented company websites. With Microsoft Power Pages, developers of different levels can rapidly design, modify, and launch websites that work on multiple devices.
Power Page is a new member of the Microsoft Power Platform ecosystem. Therefore, users can easily store business data on Microsoft Dataverse and use them for building sites, apps, workflows, and analytics with other Microsoft Power Platform components. The low code website builder offers an extensive gallery of customizable templates, a design studio with a smooth visual experience, and an integrated learning hub with instructions to build a site.
Users of this low code website builder might have opportunities to:
Work on 4 different workspaces for distinct tasks: Pages, Styling, Data, and Set Up;
Use Bootstrap to support the development of responsive, mobile-friendly, and multiple-form websites;
Collaborate with professional developers on Visual Studio Code and the Microsoft Power Platform CLI for powerful business websites.
It's great to have Microsoft Power Pages, but there are some cons to be aware of. Integrating with legacy systems and many other external third-party applications and services might be difficult.
4. WordPress – For Scaling Static, Personal And Publishing Website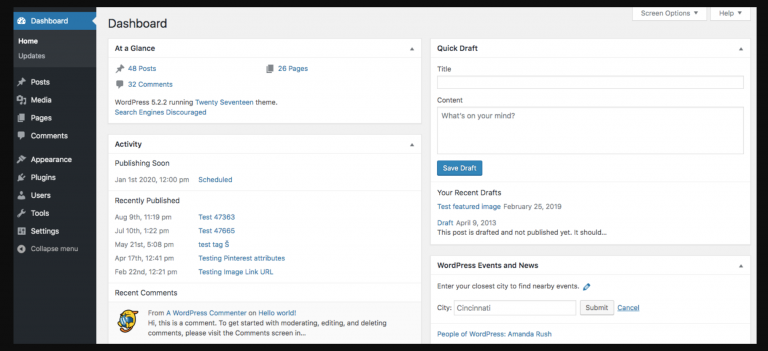 Known as the leading website builder in publishing and personal blogs, users of WordPress can easily create their websites from plug-ins and with or without code. With this low code web builder, you can:
Build websites on a responsive and scalable interface;
Build other types of web applications;
Integrate with thousands of widely used tools and plug-ins;
Use SEO plug-ins like YoastSEO for on-page content optimization;
Switch between 9,600 themes and multiple templates;
Access the website code and customize it to your liking.
On the contrary, there are not so many beginner-friendly features on WordPress, like drag-and-drop. Plus, there have not been many changes in its interface, making it less intuitive than other competitors. Familiarity with coding is needed if users want to refine their websites professionally. Also, WordPress might not offer much in-app support, but users can reach out for help on online chats and forums.
5. Dorik – Free Low Code Website Builder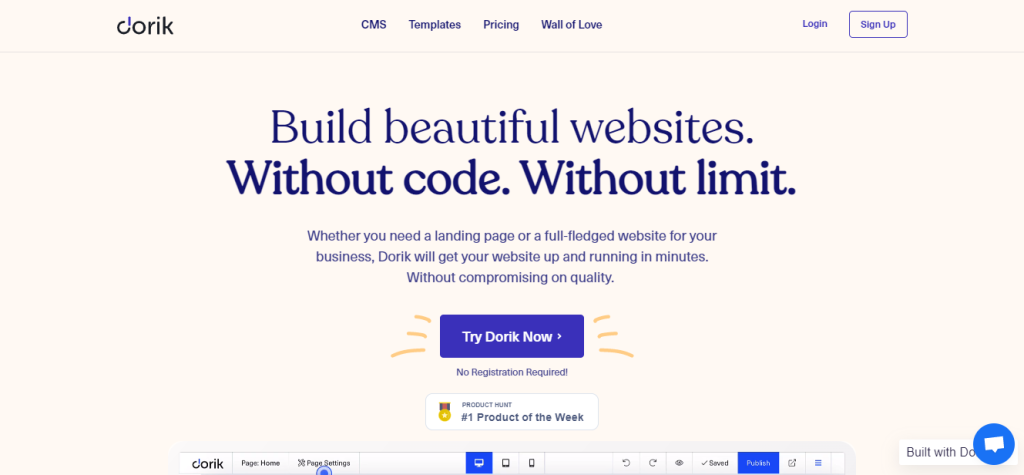 If you are a designer, maker, or a growing agency, Dorik is the low code web development option you cannot skip. It is trusted by over 12,000 makers, designers, and agencies in a span of 4 years since its establishment, and over 200,000 websites have been created since then.
The low code website builder comes with an intuitive drag-and-drop page editor. Dorik also offers web hosting, free SSL, and a Global CDN. The interface of Dorik is SEO-friendly, making it easy to add meta tags and optimize for mobile themes. When accessing websites made by Dorik, mobile users get a responsive web experience. The site also provides a password-protection feature to enhance security for visitors.
There are many benefits from Dorik to list:
Select from 25 pre-built templates, nearly 150 UI components, and over 20 elements for website making;
Fast and high-converting development of landing pages;
Offer paid subscriptions to the website and prioritize access for official members;
Insert customized HTML, CSS, and JS codes easily to Dorik;
Achieve free SSL certificates and seamlessly integrate with MailChimp, Integromat, and Zapier.
However, not every website builder is perfect. Dorik has a rather steep learning curve, and learning how to get around might take time. Also, with the same price range and type of paid plan, Dorik offers fewer benefits than its opponents, as the personal plan only provides 100 pages and 1 website.
6. Framer – For Responsive Website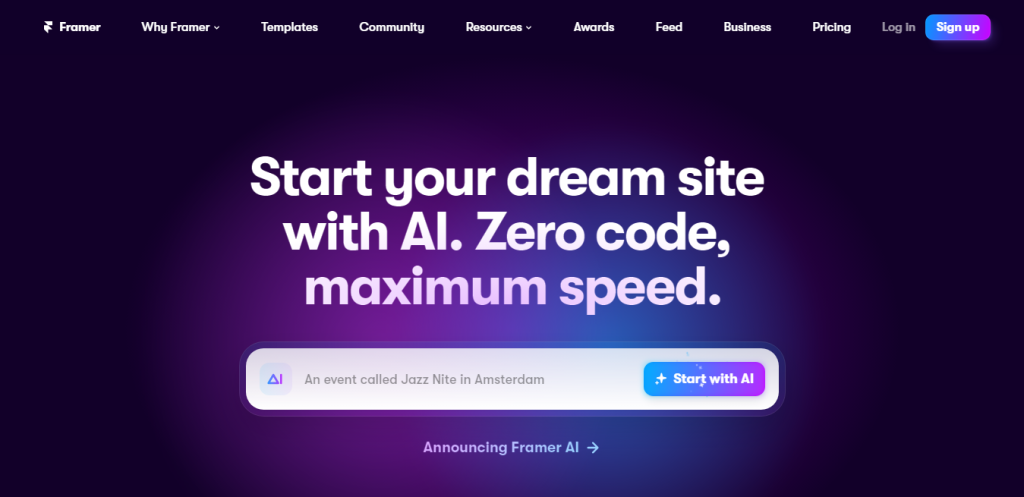 Framer is also a suitable low code website builder for designers and developers to create and customize responsive websites and prototypes.
The platform possesses a visual interface for website design. Users can access the library of advanced customization and integrate their webs with Sketch and Figma. If they want to make their websites more dynamic, interactive animations and transitions are available to do the job.
However, Framer's learning curve is steep for beginners, and getting used to the tool might take time. SEO options are also limited, making the optimization process more challenging.
7. Frappe Framework – Open-source Low Code Web Builder On Python & JavaScript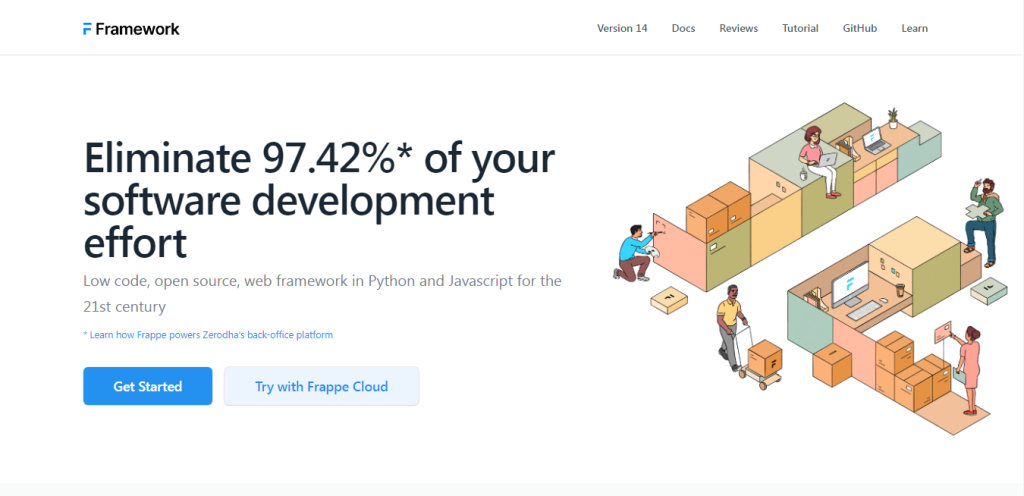 Frappe is an open-source low code web builder and framework written in Python and JavaScript. It is also the powerhouse of ERPNext, a free and open-source ERP for database-driven app development.
There are many perks of Frappe Framework that users can benefit from, namely:
Utilize the available library of features and regularly updated plug-ins;
Integrate easily and includes a REST API and Webhooks on all objects based on authentication;
Utilize meta-data for easy front-end development;
Include Bench – an all-in-one management tool for app updates, configuration, database migrations, and many more;
Host multiple sites on a single server;
Create extensible web apps;
8. TeleportHQ – For Headless Static Website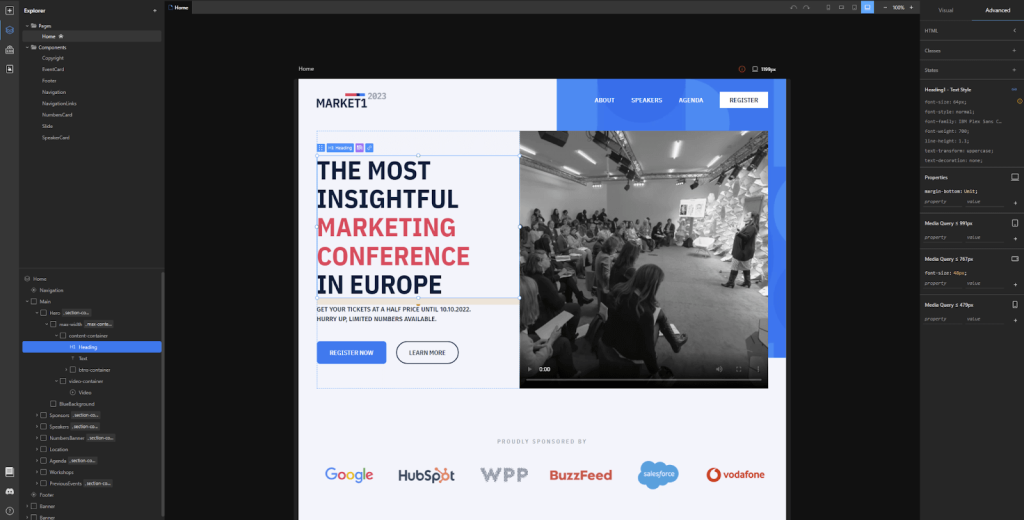 TeleportHQ is a powerful and smooth low code website builder that can create headless static websites. It enables seamless integration between IT developers with web designers.
Users can also create headless eCommerce, product prototypes, and component libraries on TeleportHQ. Some of this high performing low code web builder includes:
Design a real-time, fast, and content-driven project with the help of a powerful visual builder;
Reusable UI components;
Engage team members to work on projects simultaneously to save time and collaborate easily;
Deploy projects instantly with a simple click.
9. Startup – Low Code Web Builder For Startups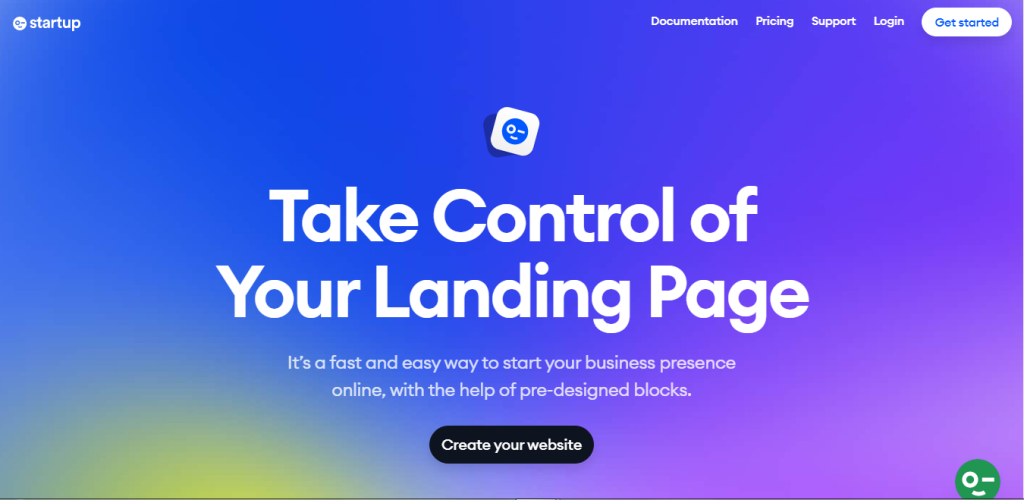 As you can tell by the name, Startup is the reliable go-to choice for new businesses as it allows building high-quality websites without requiring coding and technical background at a reasonable price.
In Startup, users can find many valuable features that help shorten the development time. For example:
Powerful and intuitive online editor;
Multiple customization options for fine-tuning details;
A broad collection of hand-crafted and well-designed components: blocks, units, and modules for unique projects;
Integration with Static.App for SSL certificates, media storage, custom domain name, and many other features;
Easy export with a simple click;
Quick creation and easy management of multi-page websites without leaving the site.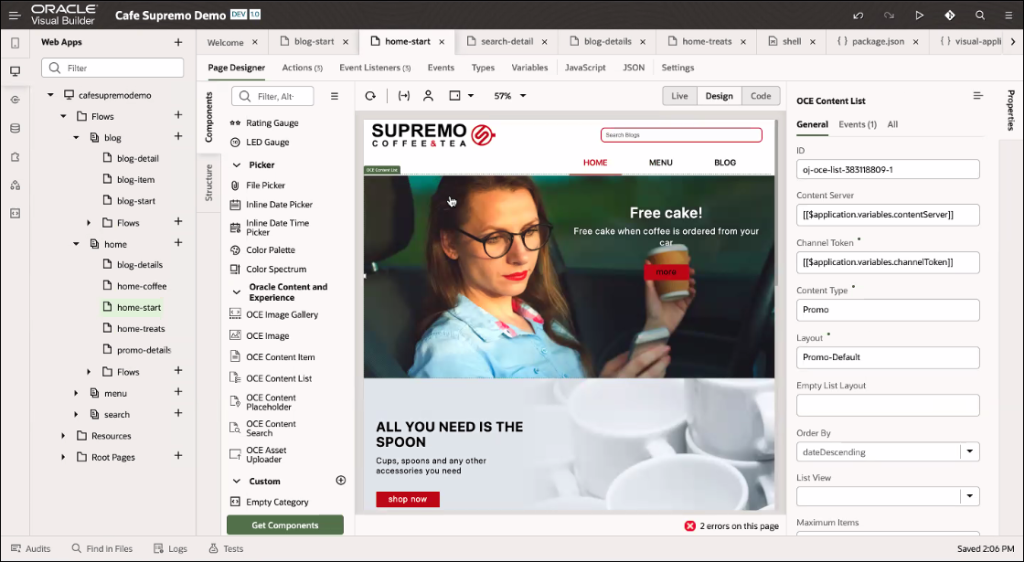 Oracle Site Builder is a legacy eCommerce solution with free access to SuiteApps and SSP application platform. New customers can find three levels of customization available on Oracel Site Builder, each provides a different range of features and customization capabilities.
For Basic Customization, the NetSuite Site Builder provides:
Basic themes and layouts eligible for customized modification;
Advanced Site Customization offers more sophisticated features:
Ability to modify HTML in site themes and layouts, customize the text in message, emails, and other areas;
Link various pages with each other;
Add promotion codes and currency values for eCommerce websites;
There is also Site Scripting, in which website hosts can:
Modify Site Builder and SuitCommerce Advanced web store
Attach scripts to submitted sales orders
Create SSP applications for the most optimized shopping experience on the website
Entirely replace the default pages with users' custom Web store assets.
Side-by-side Comparison
| | Price | Domain/ Hosting | eCommerce Support | Customization |
| --- | --- | --- | --- | --- |
| Bubble | $25 to $475/month | Yes | Yes | HTML, JavaScript, CSS. You need an API to connect your back-end code. |
| Webflow | From $15 to $45/month | Yes | Yes | HTML, JavaScript, CSS |
| Power Pages | $5 to $20/ user/ month | Yes | No | JavaScript, HTML, CSS. You need an API to connect your back-end code. |
| WordPress | From $4 to $45+/month | Yes | No | Both frontend and backend. |
| Dorik | Has free version. From $4 to $38.25/month | Yes | No | HTML, JavaScript |
| Framer | From $12 to $79+/per month | Yes | Yes | HTML, CSS, JavaScript |
| Frappe | Pay per package and features. You can check out the most suitable one here. | Yes | No | Python, JavaScript |
| TeleportHQ | Free version. From $19+/month for advanced features and scalability. | Yes | Yes | JavaScript |
| Startup | You can construct your website for free at the beginning or move up to Basic plan for less than $13 per month | No | No | JavaScript, HTML |
| Oracle Site | Contact vendor | Yes | Yes | JavaScript, TypeScript, YAML |
Criteria When Choosing A Good Low Code Website Builder
Choosing a suitable low code website builder requires many thorough considerations and a clear set of criteria that you expect from the future builder tool. Here are some factors to consider:
Ease of use: A good low code website builder will have a user-friendly workspace and an intuitive drag-and-drop interface. The more accessible users learn to navigate around, the faster users get to efficient and clean website development.
Features: This depends on what types of websites you intend to build and what you use them for. Some builders can outweigh others at eCommerce website development, while others are better at blog posting.
Customization options: The higher degree of customization you are granted, the more freedom you must match it with your brand image or style. Try to find a platform with a variety of templates and pre-built components.
Support and Resources: A good low code web building tool should have robust support in many forms, like forums, tutorials, and customer support. This will help you tackle an issue in no time if you encounter one.
Scalability: As your business grows, so does the website. Ensure that the low code website builder you use can add more features and functionalities when needed.
Hosting and domain registration: A good low code website builder should also integrate website hosting and domain registration. This is because it gives you administration to your website without paying separately for them.
FAQ
1. Can I build a website without coding?
Yes. Low code web builders provide drag-and-drop configuration so you can instantly build a simple website without coding. However, additional coding is required for performance optimization, responsive look, and advanced features. If you don't know how to leverage the technology, experts such as Synodus can help you with Web Development and Low Code Development.
2. Do low code website builders provide domain names?
Yes, most of them do, such as Bubble, Microsoft Power Pages, WordPress.
Wrapping Up
It's easy to see why low code website builders outweigh traditional predecessors, as they are fast, cost-effective, resources saving while allowing creativity for customization. From our 9 top choice lists of low code website builders above, we hope you can find the best solution that meets your business demand and budget. It's best to have a list of criteria you expect from your future low code builder and choose the one that ticks all the lines. If you are interested in getting more low-code insights, follow Synodus.
---
More related posts from Low Code blog you shouldn't skip:
We are sorry that this post was not useful for you!
Let us improve this post!
Tell us how we can improve this post?