Video analytics has revolutionized how businesses operate in retail sector. Retailers now can make data-driven decisions and enhance many parts of their operations thanks to video analytics, which draws insightful information from video footage by utilizing the power of artificial intelligence and machine learning. In this article, we will look at the benefits and applications of video analytics in retail, highlighting how it is changing the way merchants operate and survive in a competitive environment.
Video Analytics: What It Really Is?
Video analytics, in its simplest terms, is a technology that processes video in real time and transforms it into intelligent data. It automatically generates descriptions of what is happening in the video, known as metadata. It can identify and follow objects in the video stream, including people, cars, and other pertinent things. This intelligent information forms the basis for taking action, such as notifying security staff or adjusting the quality of the recording.
The beauty of video analytics lies in its practicality. Instead of manually reviewing hours of surveillance footage, video analytics efficiently analyzes the video data, allowing security personnel to focus on incidents that genuinely matter. This increases the efficiency of security monitoring and reduces the workload for security and management staff.
Video analytics lets you act upon the generated metadata when combined with a video management system (VMS). Setting up rules allows you to receive alerts for specific events of interest, streamlining the surveillance process.
Three main types of video analytics include fixed algorithm analytics, Artificial Intelligence (AI) learning algorithms, and facial recognition. Each of these processes the digital video signals using different algorithms to perform security-related functions.
In retail, video analytics is crucial in analyzing video footage to identify patterns, behaviors, and trends. It gives retailers valuable insights into customer behavior, operational efficiency, and security measures. By harnessing these insights, retailers can make data-driven decisions to improve their performance.
In summary, video analytics is a powerful technology that extracts meaningful information and insights from video footage. It enhances security monitoring, reduces manual effort, and enables data-driven decision-making for retailers in various aspects of their operations.
How Does Video Analytics Work?
Video analytics transforms raw video inputs into intelligent and understandable, which supports retailers' decision-making process. Here is how it works:
The software can be seamlessly integrated into various surveillance system components to implement video analytics, including CCTV cameras, network video recorders (NVRs), or video management software (VMS). These systems work together to compile the recorded information from cameras and facilitate the smooth operation of the analytics software.
When video cameras capture images, the data goes through a crucial stage of processing and analysis using algorithms. This is where the Video Management System (VMS) plays a vital role, as it acts as a central platform for compiling and organizing the recorded information from all the cameras, ensuring efficient data management.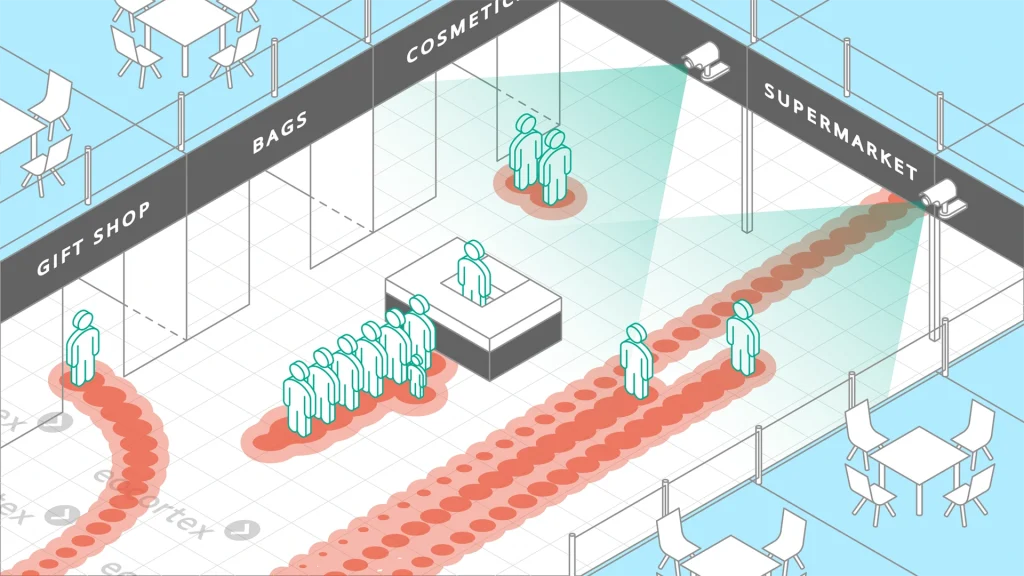 One of the remarkable aspects of video analytics is its ability to work in real time without requiring human intervention. Using advanced computer vision techniques, video analytics systems can detect and track objects, recognize faces, and identify events of interest. These systems continuously learn and enhance their analytical capabilities through machine learning algorithms, adapting to changing scenarios and improving accuracy.
To identify potential security threats, video analytics employs rule-based algorithms. These algorithms analyze individual freeze frames by asking specific questions to determine if there is a potential threat. By testing for particular outcomes, the software generates alerts for human operators to verify and take appropriate actions when necessary.
Benefits Of Video Analytics
Video analytics offers significant advantages for retailers, helping them make more data-driven decisions, enhance security measures, and improve overall store performance. Explore why retailers should consider implementing video analytics solutions as bellow:
Adopt Predictive Analytics and Enhance Customer Loyalty
Video analytics enables retailers to leverage predictive analytics, which helps in various aspects of store management. By analyzing historical data, such as inventory records, point-of-sale information, and customer behavior, retailers can determine the ideal staff size, identify high-performing shelves across different locations, and gain valuable product insights. This proactive approach optimizes operations and establishes brand loyalty among customers.
Proactive Security and Loss Prevention
Video analytics solutions go beyond traditional security measures by offering an intelligent interpretation of video data. These solutions provide advanced capabilities to identify potential threats and issues, improving overall security while delivering data-driven insights that enhance store performance in all areas. By investing in video analytics, retail chains can stay ahead of the competition and ensure a safer shopping environment.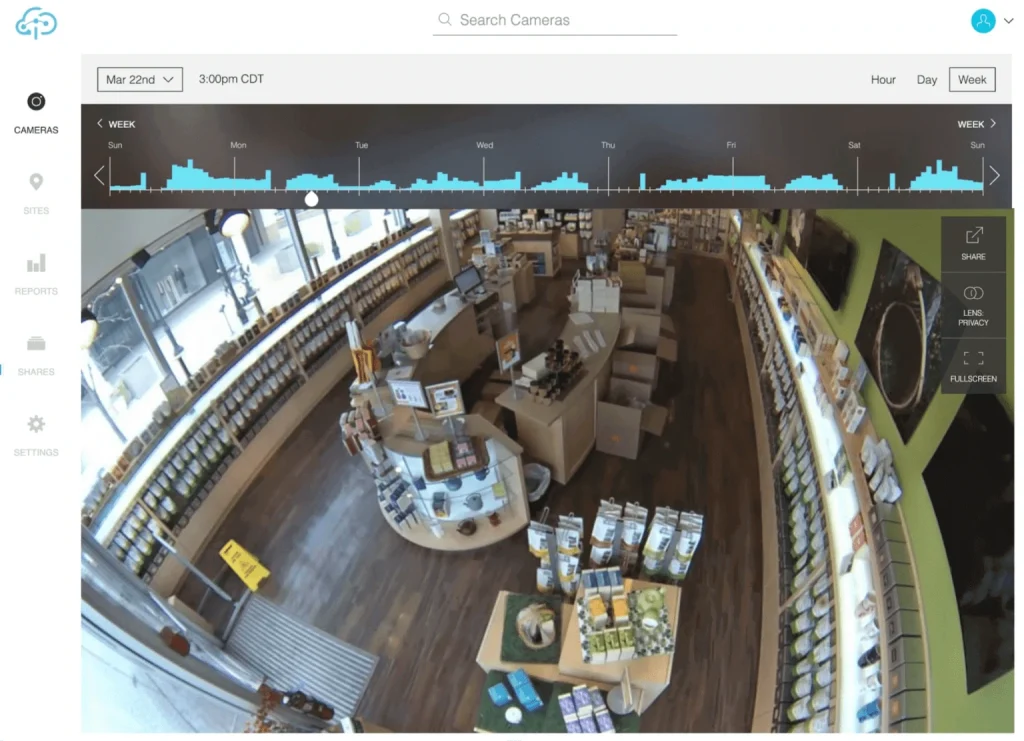 Address Evolving Consumer Preferences and Operational Challenges
Retail chains face significant challenges in maintaining operating margins due to shifting consumer preferences and the need to prioritize health and safety. The economic impact of the pandemic and the possibility of future lockdowns necessitate proactive solutions that can rapidly identify changes in consumer behavior, spot operational gaps in real-time, and integrate data from multiple sources for informed decision-making. Retail video analytics offers these capabilities, helping retailers navigate the changing landscape.
Plan A Shift From Descriptive Analytics To Predictive Analytics
By leveraging video analytics, retail chains can move beyond descriptive analytics, which focuses on understanding past events, to predictive analytics. More than descriptive analytics is needed in a world where brand loyalty is eroding, and customers have less tolerance for out-of-stocks, pricing inconsistencies, and poor customer service. Video analytics empowers retailers to answer crucial questions, such as determining the optimal staff size for specific time slots, identifying display units with higher sales performance across locations, and stocking appropriate products based on weather conditions.
Gain A Competitive Advantage Beyond Loss Prevention
Retail chains must invest in innovative technologies to meet rapidly changing consumer preferences. While investments in fulfillment centers, delivery management, and returns solutions can strain margins, video analytics presents an opportunity to go beyond traditional loss prevention measures and gain a competitive edge. Today, video analytics solutions offer data insights relevant to various retail departments, enabling retailers to justify the cost of implementation while boosting overall store performance. Moreover, these solutions can be seamlessly integrated with existing security camera infrastructure, simplifying implementation.
These advantages make video analytics a valuable investment for retail chains looking to thrive in an evolving industry landscape.
Applications of Video Analytics in the Retail Industry
Video analytics has emerged as a powerful tool for the retail industry, offering numerous benefits and applications. Retailers may improve their operations and acquire useful insights into customer behavior by utilizing cutting-edge deep learning algorithms. Following are some vital uses of video analytics in the retail sector:
Enhancing Customer Experience
Video analytics helps retailers understand customer behavior within their stores. Retailers can optimize store layouts and product placements by tracking customers' journeys, analyzing maritime routes, and detecting walking patterns. This data-driven approach improves customer experience, encourages frequent visits, and boosts customer loyalty.
Optimizing Product Placement
Real-time video analytics enables retailers to monitor product stock levels and ensure items are always available. By constantly replenishing products based on demand, retailers can prevent out-of-stock situations, increase customer satisfaction, and maximize sales.
Personalized Shopping Experience
Through AI-powered video analytics, retailers can gather data that helps personalize the shopping experience for each customer. By recommending relevant products, sending personalized promotions, and improving traffic flow within the store, retailers can create tailored experiences that meet individual customer needs.
Theft Prevention and Loss Reduction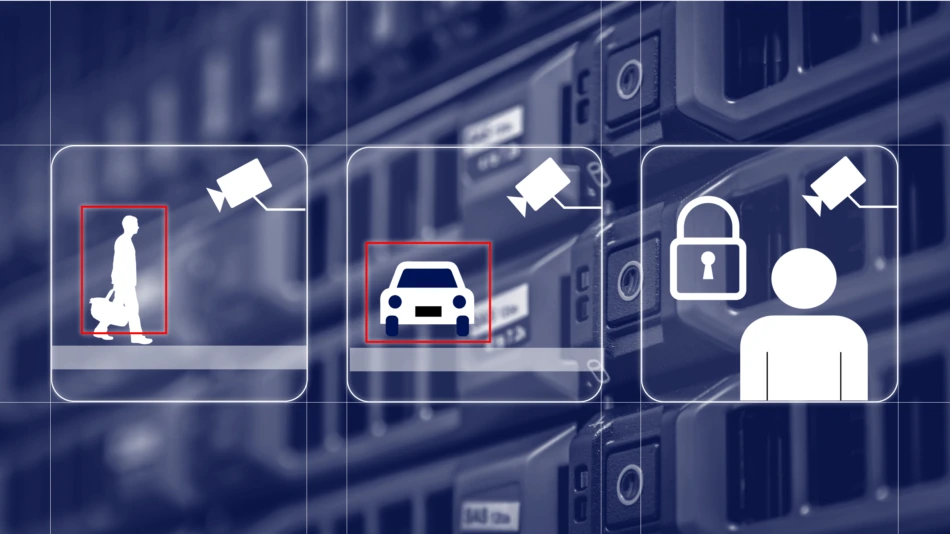 Video analytics plays a crucial role in improving security for retail stores. By leveraging intelligent video surveillance monitoring, retailers can reduce theft and losses. Automated systems can flag unusual behavior, track suspicious activities, and identify potential threats. This not only enhances the safety of the shopping environment but also frees up resources for other important tasks.
Employee Productivity Optimization
Video analytics solutions enable retailers to track key metrics and identify areas for improving employee productivity. By analyzing restocking time, customer interactions, and checkout support, retailers can optimize staffing decisions and assign employees to roles that best suit their skills and efficiency.
Video analytics applications in the retail industry go beyond security and loss prevention. Retailers can leverage video analytics to gain valuable insights into customer behavior, optimize store operations, and deliver a personalized and seamless shopping experience. This technology empowers retailers to stay ahead of the competition, adapt to changing consumer preferences, and drive business growth.
A notable example of video analytics use cases in retail is Amazon Go. This innovative grocery store concept utilizes accurate video analysis software and strategically placed sensors to track customer behavior. By eliminating checkouts and automatically charging customers for their purchases, Amazon Go simplifies the shopping experience and demonstrates the transformative power of video analytics in retail.
Wrapping Up
As we conclude our exploration of video analytics in the retail industry, it becomes evident that this technology holds immense potential for transforming the way retailers operate. The retail landscape continues to evolve, video analytics will undoubtedly play a pivotal role in shaping the future of retail, enabling retailers to thrive in an increasingly digital and data-centric world.
Embrace video analytics and unlock the power to revolutionize your retail business? Contact Synodus today for comprehensive consulting and execution in retail analytics!
We are sorry that this post was not useful for you!
Let us improve this post!
Tell us how we can improve this post?