If you're struggling with building a website, many web development platforms in the market can make the job easier for both non-coders and coders. Here's our list and review of the best-to-use 15 web builders in 2023.
1. WordPress
Being one of the most popular web builders that allows you to create a web without limitation, WordPress's flexibilities boost your full power in designing and functioning. WordPress is the backbone of more than 43% of websites on the internet. It is built with PHP.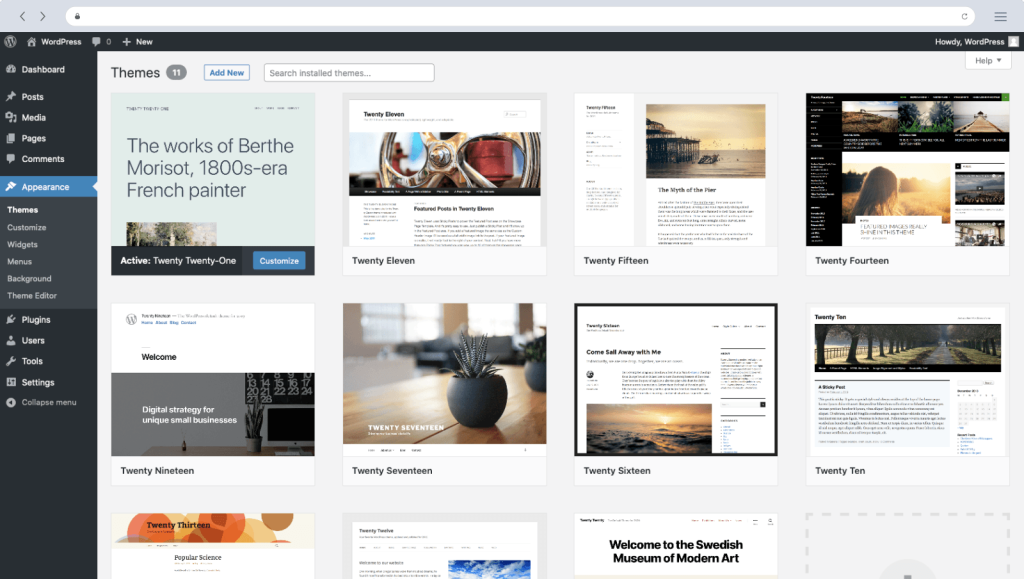 Pros
With dozens of site-building tools included, it's simple to install and get started.
Rich third-party plugins for using expanded features that are flexible and powerful.
A variety of site templates and themes are available for free.
SEO friendly and optimized for high SERP.
The community is strong and active, with thousands of developers contributing and reviewing WP.
It offers more than 58,000 free plugins
Cons
Requires professional coding ability when it comes to advanced settings.
It frequently updates that might interrupt and annoy your working process.
Because WordPress is a theme developed by third parties, it might cause confidential information from your website to leak.
Pricing
Basic – Free forever
Personal –$5/month
Premium –$8/month
Business – $25/month
E-commerce-$45/month 
Using WordPress, you can easily create a CMS that store your content (blog, media, documents), product information and even customer data. By doing this, you turn your basic website into a digital brochure, allowing customers to interact with your brand online.

This is what we do with our client – Rakumba – an interior manufacturer. Combining WordPress with Bootstrap, we created a modern website that showcase their products, designers and architecture styles. View the detailed case study here!
2. Weebly
Weebly is one of the most popular web development platforms among beginners. It is very simple and geared toward personal, business, and professional websites. Above all, it allows you to create site-building work without any coding experience; however, if you have coding experience, you can choose to edit the HTML/CSS.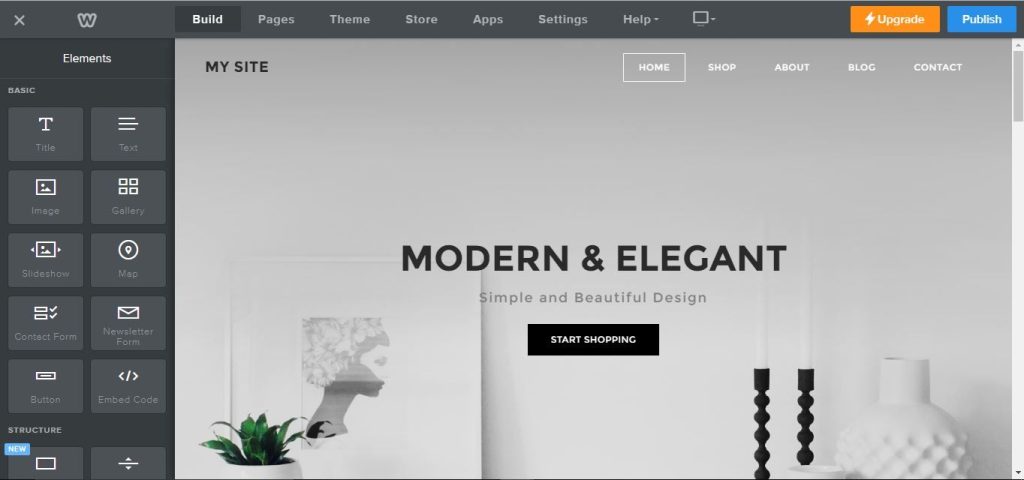 Pros
There are over 40 layout designs, including website maps and portfolios, to help you get started in web design and development.
Various information options, pop-ups, taskbars, lists, and email notifications help you manage your workflow.
The application allows you to switch between responsive and trendy templates/themes easily.
Weebly currently offers more than 100 free plugins
Cons
Weebly can be slow and buggy in building your website, and it lacks some useful features that other website builders do.
Pricing
Basic – Free
Connect – $4/month
Starter – $8/month
Pro- $12/month
Business – $25/month
3. GitHub
GitHub is the biggest programmers-social networking site that connects more than 40 million developers worldwide. It inspires them to find the best solutions from its open sources. Coding dashboards, project management, and bug tracking are other significant services.
Pros
The built-in review tools allow for seamless code review.
The project management tools help with project identification, assignment, and progress tracking.
Connect all personnel in the same industry and projects that use collaborative features.
Cons
The user interface could be simplified and improved. Downtime on GitHub is always inconvenient for developers. A bad merger is complicated to undo.
Pricing
Basic – Free
Pro – $7/month
Team – $9/month
4. Bootstrap
Bootstrap is one of the most powerful web development platforms for front-end developers to create beautiful website designs using HTML, CSS, and JS. It is well-liked by discerning technical users worldwide due to its advanced development features.
Pros
A fantastic resource for free templates, including custom components, frameworks, navigation bars, and experiments.
It's made primarily of default Bootstrap components and utilities, with minimal customization.
Team features and numerous support options are available.
Bootstrap does offer free plugin
Cons
You must be able to code. You'll be lost in Bootstrap if you don't have any coding knowledge.
It might not be as well-organized as you would like. Bootstrap is notoriously clumsy because it includes everything you could need with the web development process.
Pricing
Basic – Free
Pro – $15/month
Enterprise – $29/month
5. Shopify
Shopify, a well-known eCommerce website development platform, stands out for its ability to handle large and complex inventories, as well as its checkout customization, delivery options, and the simplicity with that you can add promotions to your pages and offer discount codes to your customers.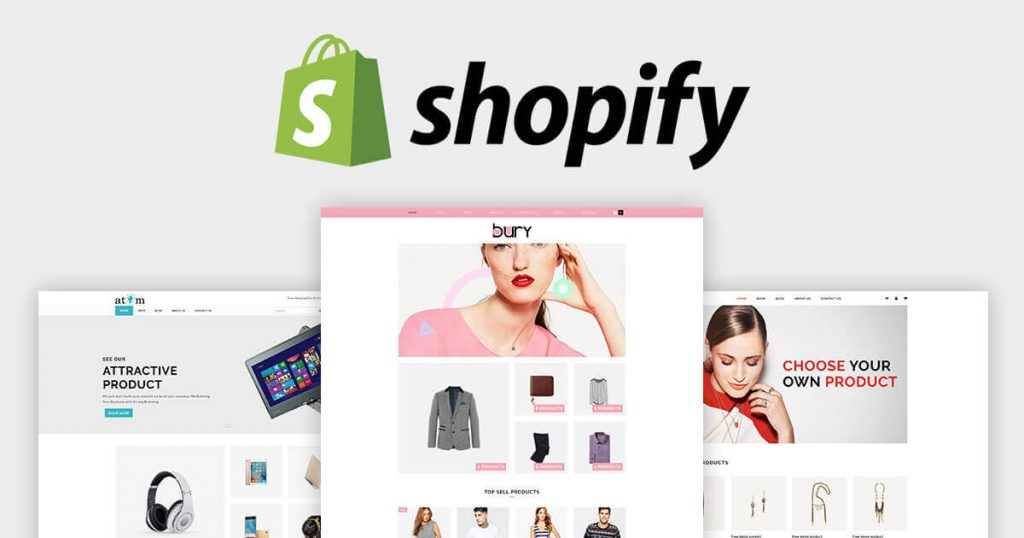 You'll be impressed by the effectiveness of its security tools, the number of multi-channel integrations it provides, and the variety of payment options available to you. You don't have to worry about installing updates, managing software, or keeping your online store's backups because Shopify is a fully hosted all-in-one solution.
Pros
Shopify Payments is available as a payment solution.
Third-party payment gateways can be added.
Shopify provides unlimited products, complete inventory management, simple marketing solutions, robust statistics, and hundreds of design options.
No need for coding.
Shopify has more than 4000 plugins, but only 1500 of them are free
Cons
Pricing. Hosting your online business on Shopify may cost you more than you anticipated.
Shopify's built-in software is lagging in many areas, which may result in an unpleasant blogging experience.
Pricing
14-day free trial for free
Basic – $29/month
$14/month for yearly payment.
6. BigCommerce
BigCommerce is a robust eCommerce website builder with excellent website builder functionality. It is also a premium hosted eCommerce solution that enables business owners to create an online store, customize it, and sell unlimited digital, physical, or service-based products. You can create and manage your store from anywhere if you have access to a web browser and the internet.
Pros
Has no transaction fees
Provides advanced features set, such as conversion rate-optimized themes, best-in-class SEO (URL structure, site speed, uptime), and 600+ product options.
Favorable for selling products with more advanced functionality than other tools.
Free themes prioritize conversion rate optimization with your web pages.
BigCommerce allows plugins and addons
Cons
Unlike some competitors, no shipping discounts are available on any plan.
The number of typefaces available in the free themes is extremely limited.
BigCommerce does not allow you to create intelligent product rules that automatically categorize your inventory.
Pricing
15-day free trial
Standard – $29.95/month
Plus – $79.95/month
Pro – $299.95/month and customized for enterprises.
7. Squarespace
With sophisticated, modern, and sleek templates, Squarespace creates stunning websites. It has high-quality designs. Squarespace understands how to make your site look amazing by providing ideas for creatives and those looking for true customization.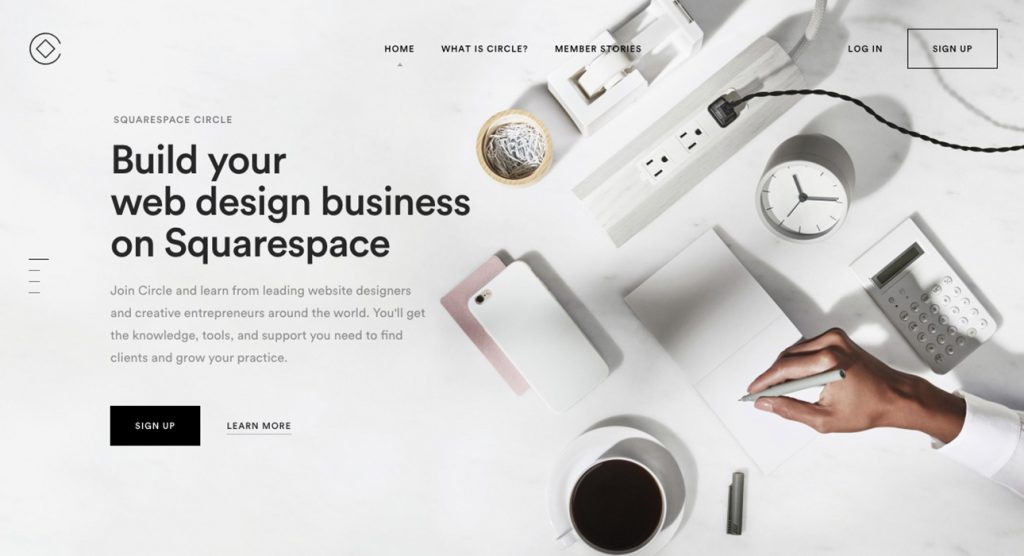 Squarespace's template designs are the best to create a visually impressive, standing-out web. However, it is not a case of style over substance; Squarespace also has a plethora of features to give your site the power it requires.
Pros
Includes enterprise-grade infrastructure for hosting your website
Offer hosting services, so you don't need to set one up yourself
Provide a wide range of professional and attractive templates
Squarespace has more than 350 free plugins
Cons
No phone support is available
Apps, plugins, and extensions from other developers are not supported.
This makes it difficult for newcomers to personalize their websites.
Pricing
14-day free trial for free
Personal – $16/month
Business – $23/month
Commerce (basic to advance) – $27 to $49/month
8. Wix
A website creation platform that allows users to build online websites using drag and drop. Wix works with HTML5, and you can quickly create a new website by drag and drop features. With its easy-to-use, Wix is among the best web development platforms for non-coders.
Pros
Excellent page speed
A massive collection of templates
Simple drag-and-drop interface
Wix App Market allows you to extend the functionality of your website.
Simple ways to promote your website
tens of thousands of extras
There is always help available.
Wix currently has 300+ plugins in their store
Cons
Templates cannot be swapped
Wix watermark and branding is contemporary in free plan
A paid plan is required to track and analyze the page
You cannot switch websites
Premium plans for one site only
Pricing
VIP – $24/ month
Unlimited – $12/month
Combo – $8/month
Connect domain – $4/month
9. React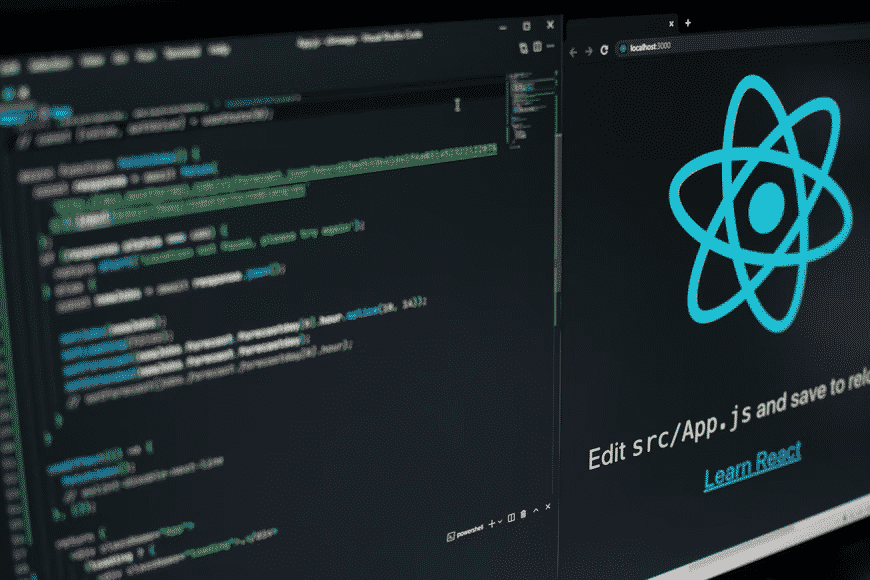 This is a UI components-based, open-source, front-end JavaScript library for creating user interfaces. The versatility of ReactJS is one of its key features. The developer uses React to describe how the interface's components appear in different states. The framework is the best option if you need to create enterprise-grade applications for your company. You can also use React Native for mobile app development.
Pros
This library is applicable to both server and mobile platforms.
The declarative programming method can shorten and clarify the code.
Friendly for new learners to use in a huge storage of documentation and training resources.
Cons
React technologies are kept up to date and accelerating rapidly, so there is no time to create adequate documentation.
Pricing
Free to use
10. jQuery
jQuery framework's library aids in the development of AJAX-based applications. It is a JavaScript library that is quick, small, and packed with features. With an easy-to-use API that works across a wide range of browsers, it simplifies HTML document traversal and manipulation, event handling, animation, and Ajax. jQuery has changed how millions of people write JavaScript due to its versatility and extensibility.
Pros
Code compactness, as well as the straightforward syntax
Open source and cross-browser compatibility
Personal and commercial use are both permitted.
Cons
CSS knowledge is required.
Unsuitable for large-scale projects.
Problem-solving
Pricing
Free for personal and commercial projects 
11. Laravel
Laravel is a technology stack tool in the Frameworks (Full Stack) category.
It is a framework for web development platforms with expressive, elegant syntax. It aims to simplify everyday tasks in most web projects, such as authentication, routing, sessions, and caching. Laravel is an open-source framework that has received 71.3K GitHub stars and 23.1K GitHub forks.
Laravel is a breath of fresh air. You can keep all team members in sync using Laravel's database-agnostic migrations and schema builder. It also offers incredible ORM, simple routing, a powerful queue library, and simple authentication you need for modern, maintainable PHP.
Pros
Since it is an open-source framework, it allows for the easy and free creation of large and complex websites.
Simple to use, and time saver when web development
Appropriate for small and medium-sized projects.
Using Laravel as a web development platform simplifies the creation of a digital platform.
Cons
Laravel lacks scalability and functionality for such platforms for large, complex projects.
Pricing
Between $3,000 and $250,000 for a project and range from anywhere between $20 and $100 per hour when hiring their developer. 
Using Laravel and JQuery, we also built a high-performing website for our real estate partner. Not just a static website, our solution allows users to explore the apartment complex in 360-degree view, by embedding SVG canvas and Flash paranoma player.

View the project!
12. Angular
It is a sophisticated multifunctional framework for creating MVC-style SPAs and web pages – one of the top web development platforms for mobile and desktop platforms. If you want to advance as a web developer, you should learn about Angular.
Pros
Component-based architecture increases developer productivity while maintaining high code quality.
TypeScript provides better tooling, cleaner code, and greater scalability.
High performance is ensured by built-in tools.
Cons
A fractured and churning community
It takes time to migrate legacy systems from AngularJS to Angular.
Angular is a verbose and complex word.
Pricing
Free version or Basic plan (need to contact the vendor)
13. Django
This free Python web application platform employs the MVC design pattern. The Django Software Foundation is behind the project. Django's unique feature is that it aids developers by speeding up the development process. It has an Object-Relational Mapping (ORM) layer for database access, sessions, routing, and multi-language support. It also ensures security while handling requests.
Pros
Implement Python, an extremely powerful and is used in the implementation of scientific computations
Better CDN connectivity and Content Management
Web developers created Django for web developers, which will address the general issues and problems that developers face.
Process of transmitting over the internet easier and faster
Cons
Not for small-sized projects
You cannot use your file structure
Not suitable for non-coders
Pricing
Basic – Free
For more functions – Hosts can charge between $30 and $600/ hour.
14. Express
ExpressJS is a Node.js web application framework that is lightweight and adaptable, and it provides a comprehensive set of features for web and mobile applications. With a plethora of HTTP utility methods and middleware at your disposal, building a robust API is quick and easy.
Express adds a thin layer of basic web application features while not interfering with the Node.js features you already know and love.
Pros
It provides some core framework functionality without interfering with Node's features.
Utilizes the asynchronous Node's secure performance
a powerful and elegant way to extend the functionality of your web applications
Cons
Difficult to understand Middleware concept, which built up Express.js.
The code development process should be simplified
Pricing
Solid|4 – free
Solid|8 – $99/month
Solid|12 – $199/month
Solid|E -custom pricing 
15. OpenCart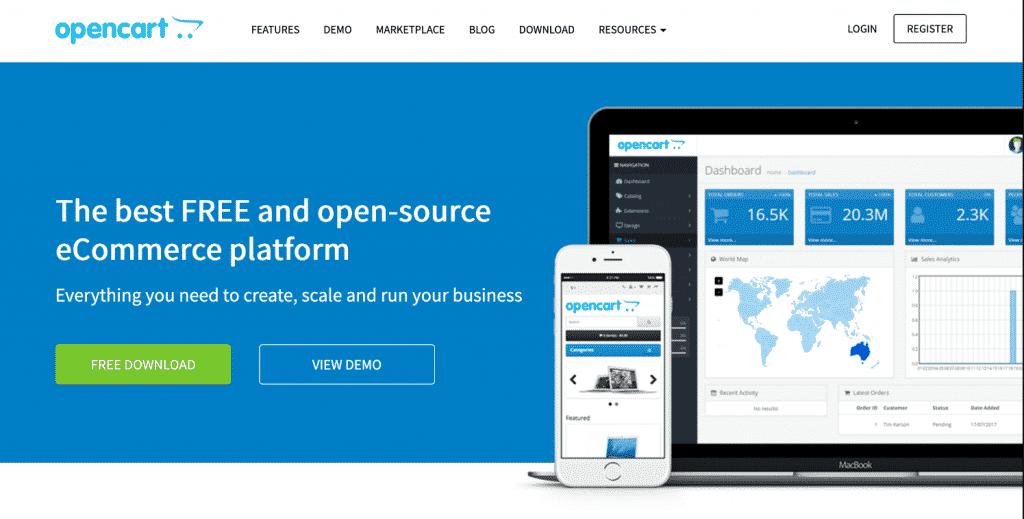 OpenCart is an open-source eCommerce platform that is free to download and update. It has a strong store management capability, so you can use its in-built SEO to manage customers, products, coupon codes, tax rules, orders, and more.
Furthermore, it allows you to select exceptional themes and modules to expand the functionality of your online store. In addition, you can access to dedicated commercial or free community support.
It is known for powering over 471,669 eCommerce businesses around the world and can integrate with the most popular payment gateways and shipping methods.
Pros
Consumers can develop sophisticated eCommerce websites or apps.
Available for free download
Highly adaptable
Several integrations
OpenCart provides more than 13000 additional extensions
Cons
The learning curve is steep.
Built-in features are limited, as is customer support.
Add-ons are frequently required.
Pricing
14-day trial and a 50% discount on the service for yearly payments.
Wrapping Up
Even though they are all great web development platforms to jump right in with attractive deals and functions, some significant ones will fit your business more perfectly than others. Considering the facts we gave, you will have a comprehensive view of each web development platform, from basic understanding to proficient application.
Want to get news about Web Development from Synodus? Subscribe to our daily newsletter or Follow us on LinkedIn, Twitter, and Youtube
---
More related posts from Web Development blog you shouldn't skip:
We are sorry that this post was not useful for you!
Let us improve this post!
Tell us how we can improve this post?