Partnering with a Data Analytics Agency or building an in-house team are two prospective options when it comes to gradually managing data for greater business purposes. Data has undeniably become a great asset of any companies, especially if you are working in any E-commerce or retail business, yet it has never been easy to manage, process data and generate insights from it.
It's high time you thought of a much more intelligent and effective way to do with your data. This blog may be a great help in case you keep wondering whether outsourced or handled in-house is a brilliant decision for your E-commerce business.
How Data Analytics Unlocks Profitable E-commerce Growth
No wonder E-commerce is flourishing more than ever, and this also means nearly all E-commerce retailers face the urge to harness the exponentially increasing volume of data, and thus get practical & intelligent insights to make better business decisions.
Here come the reasons why you should put data analytics your priority.
Enhance Shopping Experience
First, with data analytics, E-commerce retailers could enhance shopping experience. An endless supply of data in omnichannel would be a waste if it could not be handled and extracted effectively to get valuable insights. Predictive analytics can help companies develop new strategies to prevent shopping cart abandonment, lessen time to purchase and cater to budding trends.
Increase Shopping Personalization
According to the report "Customer Retention: Driving Emotion with Technology" published by Anex Cloud, 86% of consumers say that personalization is crucial to them when it comes to buying decisions. Big Data Analytics would help e-commerce businesses establish a 360-degree view of the customer; thus they could easily segment customers based on their gender, location, and social media presence. This would be a great help to create optimal marketing campaigns for each segment, to launch products that speak more directly to specific groups of customers, and to optimize the overall cost.
Optimize Pricing and Maximize Sales
As mentioned above, data analytics would help to better price optimization and generate maximum profit. It even helps marketers identify the optimal price of their products and learn about the stocks. Moreover, they can understand and analyze data to decide which section is the best performing to optimize or exclude through insights generated from data.
Improve Payment Security
The more payment methods are allowed, the more security issues may arise. These days, eCommerce stores not only need to offer a wide range of digital payment methods to improve conversion rates but also to improve payment security to meet the rising expectation from customers. Big Data can play a crucial role in detecting fraud activity and ensuring an amazing experience for customers.
Dynamic Customer Service
Customer satisfaction is the key to customer retention, in the short term and loyalty in the long term. Keeping every customer happy and satisfied with your service should always be the top priority of your business. In fact, adopting data analytics would identify when customer satisfaction or perception has changed so that E-commerce businesses could change the way they approach and improve customer service. You may agree that it would always be easier to change or improve if you could define areas for improvement.
Predict Trends and Forecast Demand
In order to take the lead in the market, you should always learn the trend to meet buyer's need and adapt it well to your business, and business intelligence could be a great help! With the trends and demand in your hand, you could have the right inventory for the future, make plans for upcoming events, seasonal changes, and keep up with emerging trends.
With the further help of machine learning and big data, it would be much easier for your business to offer various discounts to optimize pricing. You could decide when, how discounts should be offered, and how long they should last so that you could save additional costs and generate more revenue.  
In-house Vs. Partnering With Data Analytics Agency: Pros & Cons
Here comes a comparative analysis of two options for your business: Building an In-house team or partnering with a data analytics agency.
In-house Analytics: Pros & Cons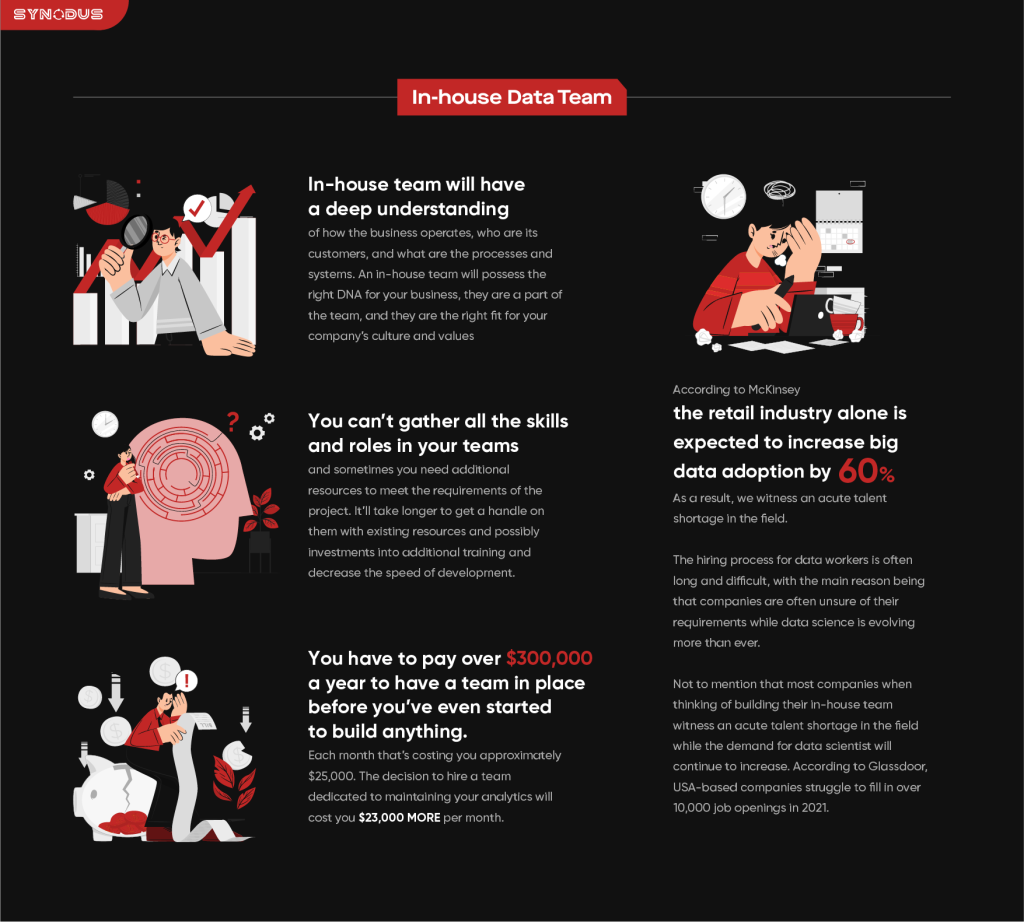 As more and more companies are aware of the importance of data and how we could gain insights to better make business decisions, they are now beginning to explore ways to build an in-house data team, even when they didn't have such infrastructure. For big players like Google, Netflix, or Facebook, building an in-house analytics team has never been an arduous task because they are already backed with enormous resources. However, it would be a totally different story for small and medium-sized enterprises: building an in-house team is often not an available option and it takes time to make the final decision whether "yes" or "not yet" when it comes to "in-house" solutions.
Have a look at the pros & cons of having an in-house team.
PROS
A deeper understanding of data and business
Building an in-house team means you are having a team that understands the company inside out. They would have a deeper understanding of how the business operates, who are its customers, and what are the processes and systems. Besides, in-house analysts would possess the right DNA for your business, they are a part of the team, and they are the right fit for your company's culture and values, so it would result in a shared software vision & values, and faster reaction time of the development team in implementing changes.
The team is always in-house to align themselves with business priorities. You and the data in-house team have visibility over the day-to-day progress and can react promptly if there are any stumbling blocks along the way.
Data Breach is a hidden risk that none of the businesses would like to run. If you have an in-house data analytics team, your business data, and materials ls aren't shared with third parties, which minimizes the chance of information lackage.
CONS
Hiring a well-qualified in-house team would never be an easy task for recruiters. The hiring process for data workers is often long and difficult, with the main reason being that companies are often unsure of their requirements while data science is evolving more than ever. Not to mention that going through many rounds would be disheartening for potential employees and it is likely that they can simply drop out because it cost them a lot of time and effort.
Limited skills and expertise
Even if you build your in-house analytics teams on your own, you can't gather all the skills and roles in your teams and sometimes you need additional resources to meet the requirements of the project. It'll take longer to get a handle on them with existing resources and possibly investments into additional training and decrease the speed of development.
High Cost (set-up cost + recruitment + and more)
The recruitment cost is just one kind of expense that your business needs to handle. Others may include payroll, taxes, insurance, training, and even IT infrastructure and it would put a lot of constraints on your financial situation.
Partnering With Data Analytics Agency: Pros & Cons
According to a recent report published by Allied Market Research, the global data analytics outsourcing market was already reached $5.9 billion in 2020 and it is expected to reach $60.34 billion by 2028, registering a CAGR of 34.0% from 2021 to 2028.
Undeniably, there is an emerging trend in outsourcing data analytics to expert service providers and here are the reasons why.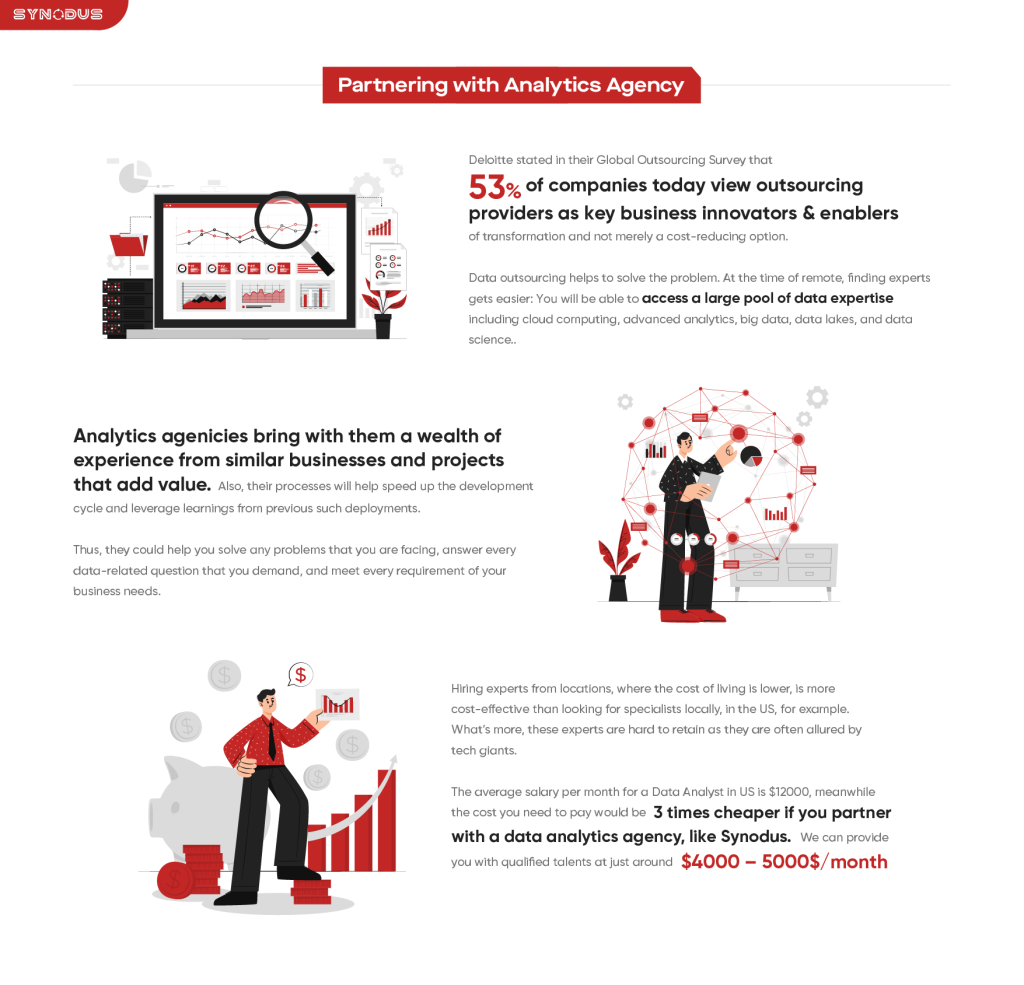 PROS
Quick access to a large pool of Data expertise
Partnering with a data analytics agency could help your business access a large pool of data expertise including cloud computing, advanced analytics, big data, data lakes, and data science, to name but a few. Thus, they could help you solve any problems that you are facing, answer every data-related question that you demand, and meet every requirement of your business needs.
Besides, companies specializing in data analytics outsourcing can use the latest tools & technologies and update them continually to ensure the best results delivered for the clients.
One of the advantages of working closely with a data analytics agency is that they have profound knowledge in a wide array of industries, so they can understand the insight you need to develop the right products and services. Finding a data analytics agency that has deep industry expertise can be a huge competitive advantage.
For example, if you are running an E-commerce fashion & apparel company, a prospective partner is expected to provide you with customer lifetime value analysis, store sales analysis in different E-commerce platforms, profitability analysis, or market basket analysis – all the metrics are very specific to your industry, similar to what Synodus have already provided to our customer.
Moreover, they could include the benchmark and an analysis of your business's situation compared with industry standards or other players in the market.
Reduce risk, cost and time so company has more resources for business operations
Hiring a data agency means your business could save money & time on unnecessary resources and focus on optimizing core business operations. Imagine that you trying to hire a new data professional, even a part-time one, the process would be very time-consuming, not to mention that it could be very expensive. Instead, you could rely on partnering with a data analytics agency, and you just only need to qualify the options of agencies right after you decide which agency is most suitable, they could start their work right without the need for training or coaching.
With the high expertise of data experts, you could save costs when you make smart business decisions based on insights gained from data. Additionally, you could avoid equipment and software costs as well by taking advantage of your selected agency's resources.
Besides, don't forget the risks and problems that may arise when your business relies on a service provider to take care of infrastructure setup & support, data management, and data analysis.  
CONS:
Risk of losing data management control
Compared to working with an in-house team when you can visibly control and manage data, partnering with a data analytics team may ask you to sacrifice one of the biggest resources, which is analytics models. Typically, you, as the customer, would give all the data to your partner and then receive answers to any questions that you demand. You would lack of models, approaches, frameworks, and configuration and never own logic or the algorithm behind it.
Another problem that your business may encounter is the question of which storage location is the best option for you & your partner: Choosing either storing data internally or in a hosted "shared" public cloud environment at the provider's data centre.
Additionally, issues can crop up if both teams forget to include key contracting terms such as termination, data governance, IP ownership, liability, metrics and SLAs, pricing model and additional capacity and renewal costs, and damage the cooperation during or at the end of the agreement.
If both parties do not set expectations clearly and have an agreement on how both teams communicate with each other, communication may easily break down and broaden the "gap". If your business solely relies on the partner to handle it all, you may never know exactly where you are going, how much time is left for the project, and when everything is done, you even cannot know how to check in on them to get more information. Hence, one thing to keep in mind when working with your partner is trying to collaborate, follow and make sure that you two are on the same page.  
Which Comes Out On Top: In-house Or Data Analytics Agency
Ultimately, the in-house vs outsourced IT debate largely comes down to scale. Smaller and mid-sized businesses will find that outsourced IT is more cost-effective and convenient than an in-house alternative. This choice offers more flexibility and greater security at low costs.
However, outsourced data centres aren't just for small and medium-sized companies. There are relevant examples of large international players, especially large banks, that have chosen to outsource their IT infrastructure, entrusting the service to high-level professionals.
What Can You Expect From a Data Analytics Agency
You may already acknowledge the importance and value of data. But it would only be the most valuable asset of your business when it's cleaned, processed, and analysed. With the pressure to continually prove ROI, companies are tasked with wading through immense amounts of data to understand what worked in the past and how to optimize for the future. It is no longer enough to just answer what happened.
As a result, it is the data analytics agency's role is to uncover the "whys" so we can confidently and predictably improve your future performance.
Data analytics consulting agencies help you understand and master data in your company processes every day. Each team is comprised of industrial expertise, tasked with creating actionable insights that give brands a competitive edge, hence helping your company grow faster and improve the decision-making process.
Besides that, an analytics agency also provides your business with data architecture, warehousing, engineering, and visualization. They may also provide data integration and can build front-end dashboards for data visualization. Thus, it's totally up to you & your specific needs to define the scope of work of your prospective analytics agency!
PRO TIPS:
In fact, one of the serious problems existing in the E-commerce business may originate from your data stored in different sources ranging from Facebook or Google Ads, transactions from POS to other support tools, so we suggest you better have experts manage and integrate these systems into a centralized platform instead of building in-house team on your own or thinking of other homegrown solutions!
If you are also thinking of hiring a data analytics partner for your product and find it hard to shortlist options, we would like to provide you with a checklist for your reference.
Your Checklist When Choosing a Data Analytics Agency
This checklist includes several key points that would help you consider every outsourcing solution much easier and thus give you a much more "pleasant headache".
One point to keep in mind is that no matter how many benefits you may gain from hiring an outsourcing agency, it would be better if you make decisions just only after you have already considered every factor. Cause reaching an unwise decision based on cursory reviews would result in failures, time loss, and of course, additional costs.
Define a Clear Scope of Work and Detailed Requirements
Nothing is better than careful preparation and finding an outsourcing analytics partner is not an exception. This means that before shortlisting a group of potential agencies, you need to have a clear requirement of what are your goals, what you really want to achieve, how long you would like to cooperate with each other, and so on.
So, we suggest that you had better write down every requirement and expectation that you would like your ideal partner to meet. In case you find it hard to write down technical work document to describe exactly what the partner needs to do; you may start with answering several simple questions like:
What is your exact need?
What are the problems that your business may be facing? What could be the best potential solutions to solve these problems?
What is the role that data plays in your business? For instance, do you need to use data to predict and manage your inventory? Or perhaps you may need to leverage data to scale an existing marketing channel.
Business priorities – Ultimately, you will need to think about what is a priority for your business now. This is where you should spend most of your time thinking and see how data and analytics syncs up with your main priority. Maybe you need to optimize your processes to reduce costs. Or perhaps you need to discover new market segments by leveraging customer data.
The more detailed you answer these questions, the more clearly you know which one would be your ideal partner for your business. No one knows your business better than you, and outsourcing should be regarded as an approach to help you solve your issues more effectively.
Hence, you need to let them know exactly what you want, so you can expect them to yield the best results possible.
Also, don't be afraid to ask questions and demand understandable answers from your selected data analytics agency because this is what you are paying for! What's more, when it comes to big data, there's no place for "the mystery of faith", this also means that your partner should be ready to answer every question and help you understand better each element of the project, possible stage of the project.
Experiences Should be Your Top Priority
When it comes to choosing a partner to help you solve data-related problems, expertise and relevant experience should be an important criterion in the hiring process.
Only when you already had a clear note full of requirements, should you start reaching out to the prospective partners. To make the process of shortlisting easier and faster, you need to have a list of criteria to evaluate, that may include:
Technical expertise
You are spending time, money, and effort on the hiring process, so you should carefully choose partners that possess the technical expertise that you require. The difference between hiring an outsourcing agency and building an in-house team on your own is that you could easily make use of highly qualified human resources, which is currently the missing piece in your business. They should be the ones that are able to help you, advise you and direct you the right way.
Skillsets
Technical expertise is important, but sometimes, it is even more important when your prospective partner could be equipped with a collection of soft skills. They should be attentive to details, responsible, and result driven. More importantly, they need to deliver work on time because it will lose significance regardless of its quality if they miss every deadline of the project.
Technology Roadmap
You should expect that outsourcing allows you to stay up-to-date with latest data trends and save a lot of money and time by providing you with a comprehensive technology roadmap so you can better adapt with data management changes in the future.
Experience in solving complex challenges
It would be great if your problems are like challenges that your prospective partner has overcome successfully. Such agencies can help you identify and solve problems in a short period of time. You can work through a process of examining the portfolios of the agencies to check if they have relevant experience in your industry. You also can connect with the former clients of the potential partners to get an overview of the advantages and disadvantages of partnering with the agency, so you can answer these questions well:
How do they communicate?
Do they deliver on what they promise?
Were there any issues due to incompetency or lack of knowledge in a given field?
Will they provide accurate results?
Agencies that have worked with big brands are always a good sign. But when inquiring, try to find out if they have worked with brands like yours in terms of size and industry.
Passion for your project
This should be regarded as an added point if they show enthusiasm and readiness to assist you with your current frustrations.
Based on your project, you may add or exclude several aforementioned factors, but the key takeaway is that you should never overlook the expertise and relevant experience of your partner of choice because it could significantly affect the project's result, be it negatively or positively.
Communicate Clearly about Budget
You should never underestimate this factor – budget. Before approaching any potential vendors, you need to figure out and estimate how much money you are willing to pay for them to tackle the problems. Clear communication (and even budget negotiation) between you and your selected partner is the first step to a fruitful collaboration.
One thing to consider is that if you expect superior services, then you must also acknowledge that you need to pay more than average!
Speak Your Language
Choose a partner, not just a provider.
A potential partner for your data outsourcing project should understand your business needs and provide options that could be aligned with both long-term and short-term goals.
They should acknowledge well your missions, values and what you need to achieve your goals, so they could deliver results the right way and meet up to your expectations! Besides, when collaborating with each other, you and your selected partner may have several disagreements or conflicts. In fact, this is a very normal part of human interaction, and this is a sign for you and your partner to have discussions to make sure that both parties have had all their say. In order to turn every conflict into better collaboration, you had better select a partner having a mindset of proactive approach and conflict resolution so that you could redirect damaging conflicts more beneficial cooperation for both sides.
Protect Your Data & Confidentiality
Privacy and data security are of critical importance for businesses, especially when you outsource and find yourself sharing sensitive data & business information with the partner. Operating and managing business may require you to collect customer data frequently for further analysis. Hence, you always have a data classification scheme that defines the data collected and where that data resides.
Any data loss or data breach may cost your business money and efforts and even have significantly negative impacts on your business.
Hence you should really pay attention to the process and the agreement between the two parties and most importantly, your promising partner should have the full capability of protecting all your sensitive data and preventing any data leaks from happening by using specific tools or getting certified skills to manage data. Moreover, the data analytics agency can even help you solidify data based on your requirements and purposes.
There are critical international security standards a trusted provider of data outsourcing must comply with:
Compliance with ISO 27001 is implementing administrative and physical controls that ensure confidentiality, integrity, and information assets availability.
Companies that accept card payments and store, process, and transmit cardholder data must comply with PCI DSS.
Compliance with HIPAA law is required if you work with medical data.
Also, your big data analytics partner should follow these best practices to ensure data security on big data business process outsourcing projects:
Implement static code analysers;
Implement vulnerability scans for third-party libraries;
Check whether traffic is encrypted and whether sensitive data is cached.
Choose a Flexible Partner
Flexibility is the key to stability. During Covid-19, we must aware better of how flexibility could help businesses survive and go through uncertain times. Hence, instead of choosing a partner that just goes strictly with a scope of work, you need to select a vendor that must be flexible enough to serve your urgent requirement and solve problems when arise.
Not to mention that your selected outsourcing vendor should be familiar with the difference in time zones and provide you with flexibility in terms of urgency and support. In order to optimize resources and efforts, you may request your selected agency to get an easy start with just 1 or 2-person team size before you can decide to augment at any time in need.
Key Takeaways:
It has never been easy to select a prospective partner for collaboration, but it would be helpful to have a checklist to guide you through the process of choosing the best data analytics provider where you can work, collaborate, and together drive your business's growth forward.
More importantly, this is just a suggested checklist, and you should customize it to fit well with your ambitions and frustrations to make the most out of it.
SYNODUS – Your Partner of Choice
If you are looking for outsourcing your analytics projects, do check Synodus. We help you connect, transform and visualize all your e-commerce data in one place.
Integrating the leading tools across e-commerce stores, marketing, marketplaces, and analytics has never been easier and you got our back!
Synodus proudly provides you with:
Proven expertise in retail analytics with sizeable, qualified talent
Intense focus on Data Security
Quick Result
User comes first
Technology Agnostic
If you think we are a good fit with your current requirements, don't hesitate to schedule a call with us so we could better understand your ambitions and frustrations with data to serve you well!
---
More related posts from Big data blog you shouldn't skip:
We are sorry that this post was not useful for you!
Let us improve this post!
Tell us how we can improve this post?