Low code is an emerging technology that has become popular in recent years. You can use low code to develop applications, AI software, and even automation tools. Because of this, people can mistake it for BPM software. What are the differences between BPM vs Low code? And which is better for automation and workflow optimization? Can you leverage the best of both worlds? It's all unveiled in this Synodus blog.
What Is BPM?
The methodology for assessing, improving, and speeding up your business processes or workflows is business process management or BPM. A business process is a series of tasks carried out repeatedly to accomplish a goal. Each business process is broken down into three categories: operational, managerial, and support, and it can take anywhere from a few minutes to many weeks.
Because BPM concentrates on the entire process rather than just a few jobs, there are fewer mistakes, fewer expenses, and better results. BPM makes it feasible to have a high-level picture of your company goals and optimize your operations at every stage by fusing performance, strategy, mapping, technology, and analysis.
BPM strives to integrate workflow optimization across a company for everyone's benefit as each function collaborates closely with one another.
What Is Low Code?
Low code development is a visual method of creating software that relies on minimal coding to develop applications, programs, and websites. This development solution employs drag-and-drop graphical modelers and point-and-click interface construction to quickly create low code apps rather than writing long lines of sophisticated code using traditional computing programming.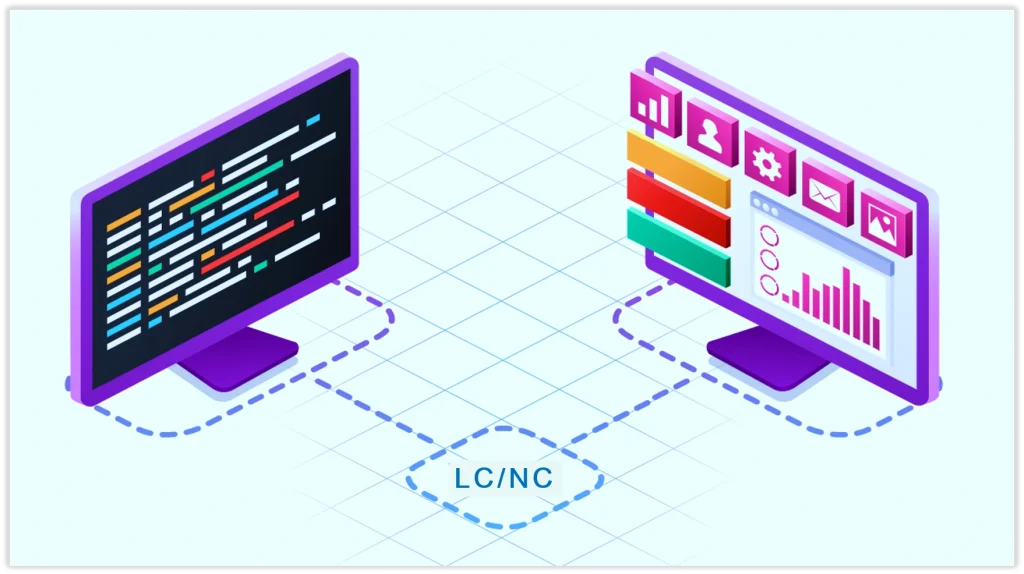 Low code development minimizes or gets rid of repetitive operations through automation and simplification. While low code makes it easier for non-technical employees to engage in digital projects, it can also give seasoned programmers flexibility on more challenging work. You can speed up the development of your lifecycle and complete more tasks in less time.
Differences Between BPM And Low Code Platform
Here are the differences between BPM vs low code platform in a nutshell to save your reading time but also precisely.
| | BPM | Low Code Platform |
| --- | --- | --- |
| Cost-effectiveness | Costly. Businesses typically pay six-figure installation costs and a yearly membership fee for BPM platforms. | Affordable. User-based pricing models enable users to create and distribute apps with a number of users while only paying for the services they use. |
| Installation process | Programming is required during setup. Change is challenging thereafter. | Drag and drop design combined with editable process templates. Quick creation and deployment of apps |
| User experience journey | IT support and specialized training for configurations | Little coding is required. Regular employees and citizen developers can create and utilize apps |
| Intergration | Depending on the solution, limited. Add-ons need to be installed by the software vendor. | Integration of APIs with third-party SaaS applications |
| Setup time | A maximum of six months (often on-site) | Instant registration (often using the cloud) |
| Purpose | Manage and automate operations and processes that are internal only. | Without expending a lot of highly experienced technical personnel, quickly construct business applications and accelerate business app development to get the right people involved in the application development process. |
| Features | A visual modeling interface with built-in features Ready-to-use code snippets Sandbox features Third-party APIs Integrations further | Built-in design Configuration tools Drag and drop features UI components Third-party API integrations |
| Who use it | Anyone who is involved in the process. Can be department only or cross department | Anyone within the companies |
| Platform examples | IBM Business Automation, Oracle BPM, Pipefy, Appian, Nintex,… | Creatio, Microsoft PowerApps, Salesforce Lightning, Mendix, OutSystems |
Challenges With Commercial BPM
There's nothing wrong with using commercial or off-the-shells BPM. Yet, it has certain disadvantages that make many companies choose customed BPM or low code BPM solutions:
Using too many solutions at a time: Businesses usually leverage BPM for a specific workflow with the hope that each will eventually fill the gap in management. Yet, this could lead to a disjointed outcome and wasting time switching between software.
Miscommunication in the team: Since there are many solutions, disrupted connections between members and data might leave a black hole in knowledge exchange, productivity, and collaboration efforts.
Inconsistent analysis: When teamwork and data are disjointed, tracking and analyzing your company's performance is challenging. Because of this, you cannot identify the problems and what to improve for the next BPM.
Poor buy-in: Sometimes, people expect BPM to solve any problems, as its name implies. However, most will be disappointed as they learn there isn't a one-size-fits-all solution, and they want to customize here and there.
Time-consuming operating with changes: At certain stages, you would need technical expertise to operate BPM when customization is needed.
Use Low Code To Improve Your BPM
Instead of using off-the-shelf BPM with all the mentioned downsides or spending thousands of dollars and months building a custom BPM from scratch (without any assurance that it will work wonderfully), utilizing low code for BPM is a game changer for many.
The combination of low code platform and BPM would assist your business to be more productive and efficient in the digital transformation era. With the pre-built code blocks from low code, you can skip many coding times and only make additional code when customizing. Low code gives you the freedom to develop any type of application.
The best part? Low code has the automation ability to support your BPM. Some platforms offer AI and machine learning capabilities that you can use for data analytics. Even though BPM vs low code are completely different, they can synergize.
Getting BPM and low code at once ensures your non-stop improvement in the marketplace because every employee can be an assistant to expert se developers when needed. As a result, almost no complicated process has to be taken.
If you use BPM separately, besides its existing benefits, some inefficiencies of siloed systems and manual labor can mess up your process.
How Low Code & BPM Work In Sync
Now that we have understood how low code can benefit BPM, let's see how the two distinct technologies can work in correlation.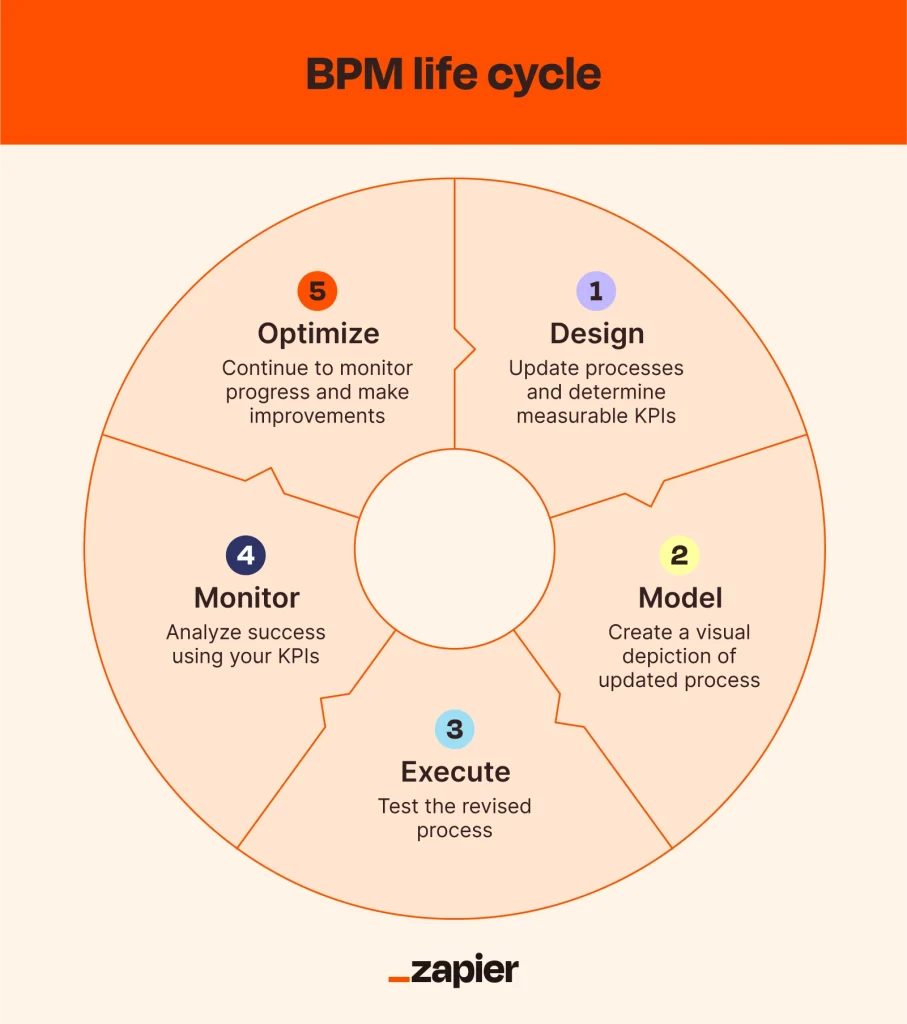 Keep in mind that BPM helps automate process, while low code is a development philosophy. Yet, this doesn't mean low code will come in way later in the development process.
During the discovery phase (what process I want to automate and where to improve), you can sketch your workflow using low code visual modelling tools. Make a simple POC or flowchart is possible with every low code platform.
Moving into the development, low code will boost the process faster, helping you move forward and customize only where needed.
For measurement and analysis, lots of low code tools are integrated with business intelligence and data analytics abilities. If you are going for one, they can help you visualize data, make reports and analyze performance.
With all the ability integrated into one platform, your BPM can be used for various purposes, and you don't have to switch between platforms. You can also manage all your BPM at one place, since they are built within the low code platform.
Wrapping Up
Users without coding skills can create complex business solutions with low code development tools, including BPM. Getting along with BPM can aid in making the daily, weekly, monthly, and yearly chores that you must complete simpler. Besides, implementing BPM vs low code can ensure your flexible and organized strategies.
---
More related posts from Low Code blog you shouldn't skip:
We are sorry that this post was not useful for you!
Let us improve this post!
Tell us how we can improve this post?