Customer Relationship Management (CRM) has always been a big deal for businesses. Without CRM, companies won't be able to build a relationship with their customers, create customer retention, and generate revenue. Companies have been implementing new technologies to retain their customers and revenue stream, and low code tech is one of them. Since then, brands and businesses have reached out to low code vendors, like Creatio, for scalable and effective CRM solutions.
Let's dive into Studio Creatio Low Code – an emerging way to use CRM – and get all the details about it with Synodus.com.
Introduction To Creatio Low Code Platform
Creatio was founded by Katherine Kostereva in 2014. Today, the company has opened branches in 14 countries, employed 700 people in 7 offices, and formed partnerships with over 700 companies.
The low code tool helps businesses build products that streamline operations, improve customer service, and enhance productivity. With the help of Creatio, processes and tasks are automated, customer interactions are managed, and data is properly stored.
Creatio is a great solution for app building, whether with or without the support of the IT team. Working with Creatio allows businesses more freedom and scalability, combining tools and automated operations to suit their needs best.
Two of their most widely known items are Studio Creatio and Creatio CRM.
Studio Creatio is a low-code platform for workflow automation and business app development. The products contain an easy-to-use UI builder and an intuitive drag-and-drop interface. Creatio low code helps reduce week-long procedures to only a few hours. Anyone with or without coding skills can easily use the platform as long as they know it well enough.
Creatio CRM is where automation gets created. Marketing Creatio offers automation for the marketing team in customer segmentation and multi-channel marketing campaigns. Sales Creatio automates the sale process and sale solutions. Service Creatio ensures a great customer experience and encourages customers to return your products.
Main Features Of Studio Creatio For Low Code Development
Like other fellows, Creatio possesses all the typical features of a standard low code platform. A collection of visual modeling tools to build in shorter development time, wide-ranged integration and APIs to create digital ecosystems, and AI to support making business decisions. It does have governance tools to remove shadow IT, abundant security features, and easy lifecycle management to develop apps safely and easily.
However, there are things that make it distinct from opponents.
1. Creatio's Sales And Marketing Domain Expertise
Starting as a CRM provider, Creatio understands every sales and marketing department's pain points and niche requirements. Embedding this expertise into the low code solutions, Creatio builds a robust landscape with extensive capabilities, allowing you to craft business-related applications and deal with marketing strategies, sales processes, and customer support.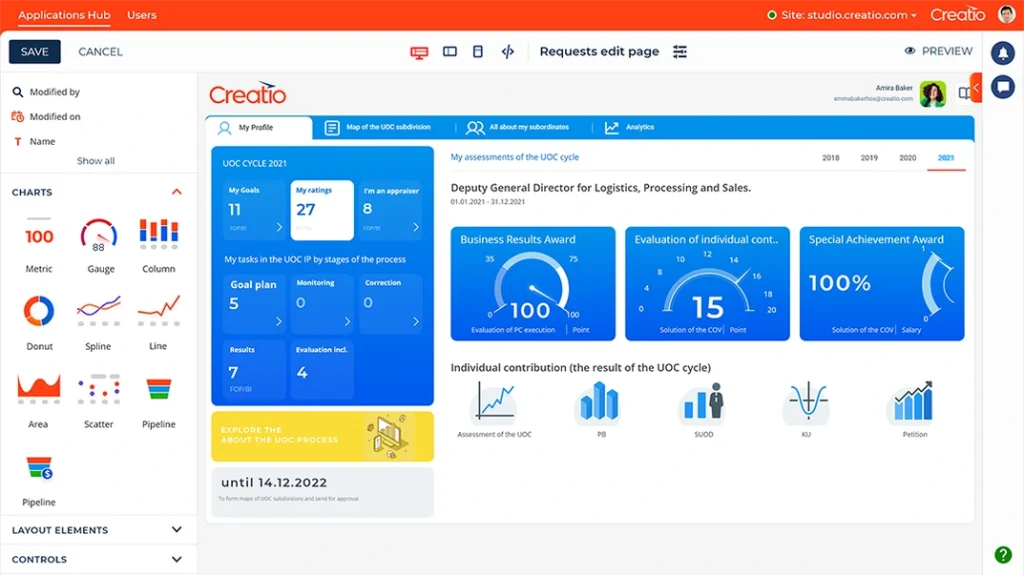 Using the tool, you can retain customers' interest by engaging them with a smooth process and faster response. This gives customers their entire attention and focus.
Notable features of Creatio for business applications include:
CRM: Customer database, Lead scoring & management, prospect segmentation, email marketing, call logging.
Financial CRM: Assets management and expense tracking
Sales tracking & analytics:
Sales automation: Campaign Management, Field Sales Management
2. BPM Ability
Creatio as a BPM software handles all the internal business processes, especially ones concerning personnel. It generates graphs based on each person's weekly and monthly progress from every department. From that, payroll and other tasks are managed following past data.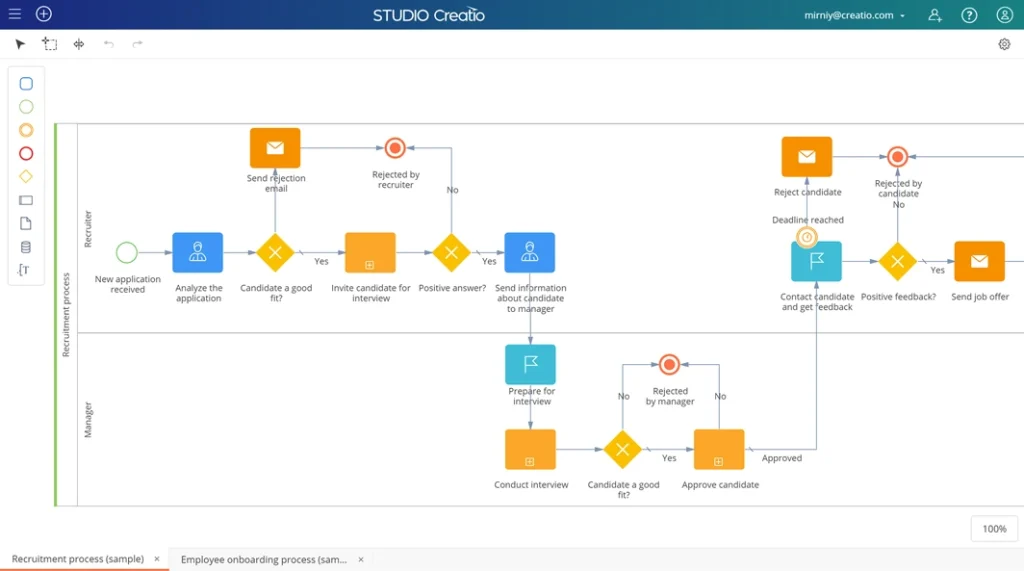 Some prominent BPM features include:
Access Control / Permissions
Alerts / Notifications
Business Process Automation
Business Rules Management
Process Change Tracking
Process Mapping
Process Modeling & Design
Visual Workflow Management
For more details on Creatio's features, you can see the full list here.
3. Support cloud-based Applications
Creatio is built to run on AWS and Azure, making it capable of supporting cloud-based applications. Besides flexibility, this also ensures scalability and security for businesses.
Not only that, Creatio offers on-site deployment, granting users full control of the program with direct access to the databases. Users, once granted, can set up complicated integrations and specify customized permissions. Moreover, power AI/ML models and other low code functionalities are provided by Creatio low code platform to help customers configure AI.
4. Marketplace For Plug-ins And Flexibility In Integration
Known as a part of the Creatio system, Creatio Marketplace is a massive collection of plug-ins, integrations, and industry-specific applications. Users can find all the necessary apps or plug-ins for their apps here. The Creatio partner program allows software vendors, developers, and software resellers to upload their shareable solutions and templates on the Creatio low-code platform.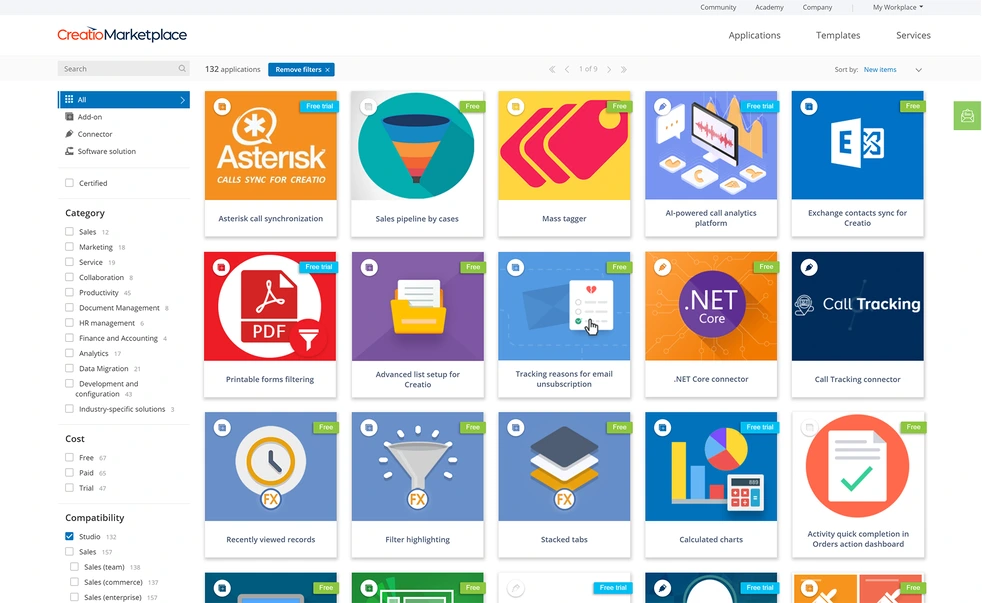 On Creatio Marketplace, users can find many fascinating new tools and features being updated regularly. For example, users can find FedEx Connector, a plug-in for order and shipment management. Another example is the Landigi connector, which allows users to develop and deploy high-conversion landing pages through templates and customization options.
5. ChatGPT Connector For Customer-centric Use Cases
ChatGPT has recently received attention and hype due to its incredible ability to generate human-like text. Now, ChatGPT can be found in marketing, customer service, content creation, and even low code. Creatio low code plans to integrate ChatGPT connector into its CRM products to support complex use cases.
ChatGPT prompt is said to be integrated into "communication panels", including customer-facing and communication interfaces like emails, chats, and phones. It would help generate specific templates for different purposes, like a copy-paste email prompt. Regarding customer service, it can provide customer support executives with suggestions while chatting with clients based on conversation.
What Can You Build With Studio Creatio
Creatio low code has engaged in some key use cases in distinctive sectors.
In Marketing and Sales, Creatio low code helps made 360-view dashboards, manages sophisticated cross-channel campaigns, and tracks real-time analytics. It also automates sales pipelines and improves marketing-to-sales handoffs.
Also, in the Service field, Creatio elevates efficiency through cross-channel communication management. AI is utilized to filter and address frequently occurring issues, as well as manage case lifecycles.
Creatio low code benefits Process management by enabling a wide range of workflows, simple visual tools, and collaboration capability. For suitable documentation, process flows can be automatically turned into PDFs.
Not only that, Project management, with the help of Creation, can smoothly manage resource allocation, track budget, and schedule projects.
Besides dealing with digital aspects, Creatio can help improve Human Resouces, from employee onboarding, performance evaluations, and talent management.
Supply chain and financial management also record improvement after integrating Creatio, especially in inventory management, order fulfillment, expense tracking, and budgeting.
How Brands Use Creatio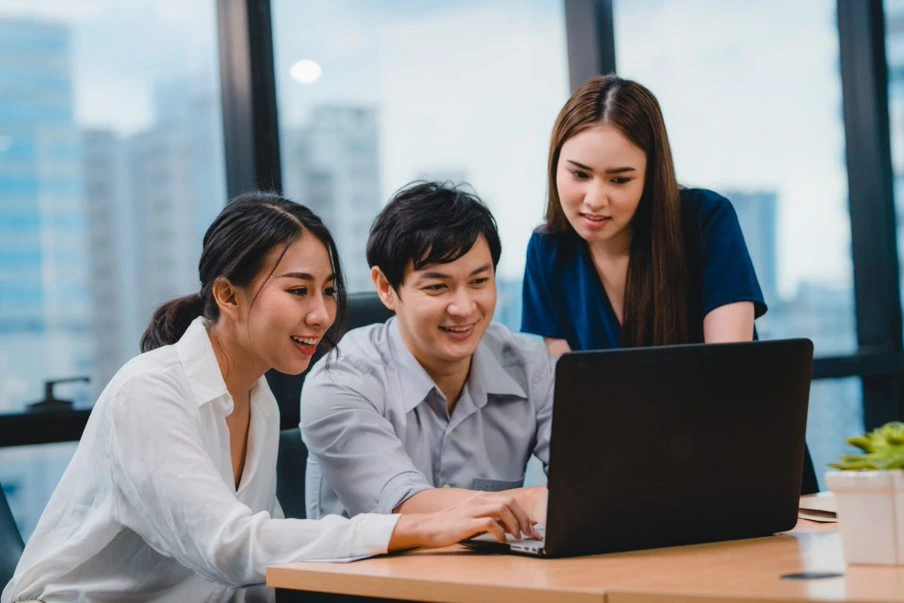 Creatio With OTP Bank Romania
OTP Bank Romania is the largest independent financial services provider in Central and Eastern Europe. It offers a multitude of banking services for both individual and corporate clients. Its manual processes and siloed teams challenged the bank, since they slowed down the scaling of customer onboarding. To tackle the issue, OPT Bank Romania required a powerful software solution for its end-to-end customer experience.
With Creatio's low code becoming the core of its business development strategy, a powerful BPM tool, CRM system, and many other business management processes had been installed. Digitalization and configured current account workflow were also added.
The business outcomes were striking as there was recorded increased productivity in nearly 900 employees. The transparency of back-office processes was also achieved, and improvement in risk management was present.
Creatio With DEP
Dealer eProcess (DEP) is the first online platform that offers Adaptive or Responsive (RESS) Website solutions, including websites, digital marketing, and SEO strategies. The dealer has worked closely with Jeep, BMW, Acura, Toyota, and many other brands. DEP was concerned about how fast-paced and personality-driven automotive sales were, so they searched for a solution to boost marketing, sales, and service processes. They also intended to improve the quality of data migration, global data access, ticket issuing, and update flows.
Creatio low code came to help and provided exactly what DEP needed. It delivered comprehensive business process management, customer feedback tracking for improved accountability, and data-based marketing tools for personalized campaigns. Besides that, immediate ticket issuing, omnichannel pathways, and automation of management processes were also brought into.
The result? Tickets are now processed in 24 hours with 98% operational efficiency. The average hold time now decreases to only 30 seconds, and customer satisfaction scored 98% on the NPS tool.
Creatio Pricing
Creatio offers 3 types of pricing for distinct customer groups.
| Package | Growth | Enterprise | Unlimited |
| --- | --- | --- | --- |
| Price | $25/user/month | $55/user/month | $85/user/month |
| Number of users | Starting with 5 | Starting with 5 | Starting with 50 |
| Applications | Unlimited | Unlimited | Unlimited |
| Workflows | 50K executed process elements | Unlimited | Unlimited |
| Database | 1GB per user | 2GB per user | Unlimited |
| Hosting | Cloud | Cloud/ On-premises | Cloud/ On-premises |
| Custom UI branding | No | Yes | Yes |
| Integrations | 10K API calls per user per day | Unlimited | Unlimited |
| Custom domain name | No | No | Yes |
| On-site deployment support | No | No | Yes |
For more detailed and comparison on each package, you can download the PDF here!
Wrapping Up
Studio Creatio low code is undeniably an outstanding tool for CRM in the age of new technology and agile development. It is the balanced combination of a standard low-code platform and up-to-date, unique features, great for CRM and other purposes. Given its success with previous partners, it's confident to say that Creatio low code is the suitable and trusted partner to tackle any CRM-related issues. We hope that our post helped you gain crucial insights about Studio Creatio, and don't forget to keep up with our upcoming posts.
---
More related posts from Low Code blog you shouldn't skip:
We are sorry that this post was not useful for you!
Let us improve this post!
Tell us how we can improve this post?