Pre-built templates, drag-and-drop features are one of many capabilities a low code platform can offer. Being an easy-to-use development environment with little to no programming activity, low code is gaining popularity among businesses for tech innovation. Shorter time to deployment, reduced cost and seamless workflow are just one of many low code benefits. Because of these, there are many low code platforms on the market, which can be hard to choose from. Learn the best Low Code Platforms and which will be most suited for startup, SME and enterprise in this Synodus blog.
What Is A Low Code Platform?
What is a low code platform? It's a tool using low code development approach with user-friendly features such as drag-and-drop elements, pre-built templates, plugins and customizable code to help users (from professionals, citizen developers to people with no coding expertise) develop an application.
Other common features of low code platform includes:
Integration with other system
Analytics tools, data dashboard
Support Cloud development
Allow multiple people working on the same project with real-time updates
Version control and access control
Price Comparison of the Top Low Code Platform
| Platforms | Use cases | Who used it | Price | G2 rate |
| --- | --- | --- | --- | --- |
| Studio Creatio | Process automation and Mobile App development | BNP Barias, Hershey, Air Alliance | Free and $25 for businesses | 4.6/5 |
| Microsoft PowerApps | Enterprise and professional-grade applications and process automation | Coca Cola, Campari Group, Toyota | From $5 to $20 depends on plans | 4.0/5 |
| OutSystem | High performance Cloud app development with AI | Western Union, Mercedes, Schneider Electric | Free for individual, custom price for businesses | 4.6/5 |
| Mendix | Low code platform that prioritizes teamwork with many developers' tools | BDC, Gemeente Rotterdam | Free version to $850 for enterprise | 4.4/5 |
| Zoho | Aims for rapid developments with AI | Lyft, Marriott | Free version to $25 and $400 for enterprise | 4.3/5 |
| Integrate.io | Build data analytics, data warehouse, ETL integration tools on cloud | Deloitte, 7-eleven, Heineken | Pay per function. Starts from $199/month. Have free version | 4.3/5 |
| Kissflow | Cloud-based business process and workflow management software | Pepsi, HubSpot, Saint-Gobain | From $15 to custom price for enterprise | 4.3/5 |
| Genexus | Use AI to automate and maintain enterprise-level applications | Mitta, Express Cargo | Contact vendor | 4.7/5 |
| Claris File Maker | Cloud and on-premises applications development | Net Gains Foundation, OceanX, Kinetic Lightning | From $21 to $43 | 4.4/5 |
| UI Bakery | Small and medium-sized business automation | Marshall Securities, Bandwidth | Free version. $49 to $249 for more features | 4.9/5 |
| Retool | Build internal tools and applications for any kinds of businesses | Amazon, Doordash, Hopin, Rakuten, Pinterest | Free version. From $10 to $50 for team and custom for enterprise | 4.7/5 |
| QuickBase | Process and workflow automation | P&G, Mondelez International | From $30 to custom price for enterprise | 4.5/5 |
| TrackVia | Turn paper-based and spreadsheet-based procedures into mobile applications | Downer, Utility Constructions, Northside Hospital | From $499 to $2,499 a month | 4.6/5 |
| Airtable | Create any kind of application and workflow using data and spreadsheet | Shopify, Time, Autodesk, Medium | Free version. From $10 to $20 for team and custom price for business | 4.6/5 |
Review List Of 25 Best Low Code Platform Development
Gartner analyzed and ranked all the low code platform leaders in the market into 4 categories: Leaders, Challengers, Niche Players and Visionaries.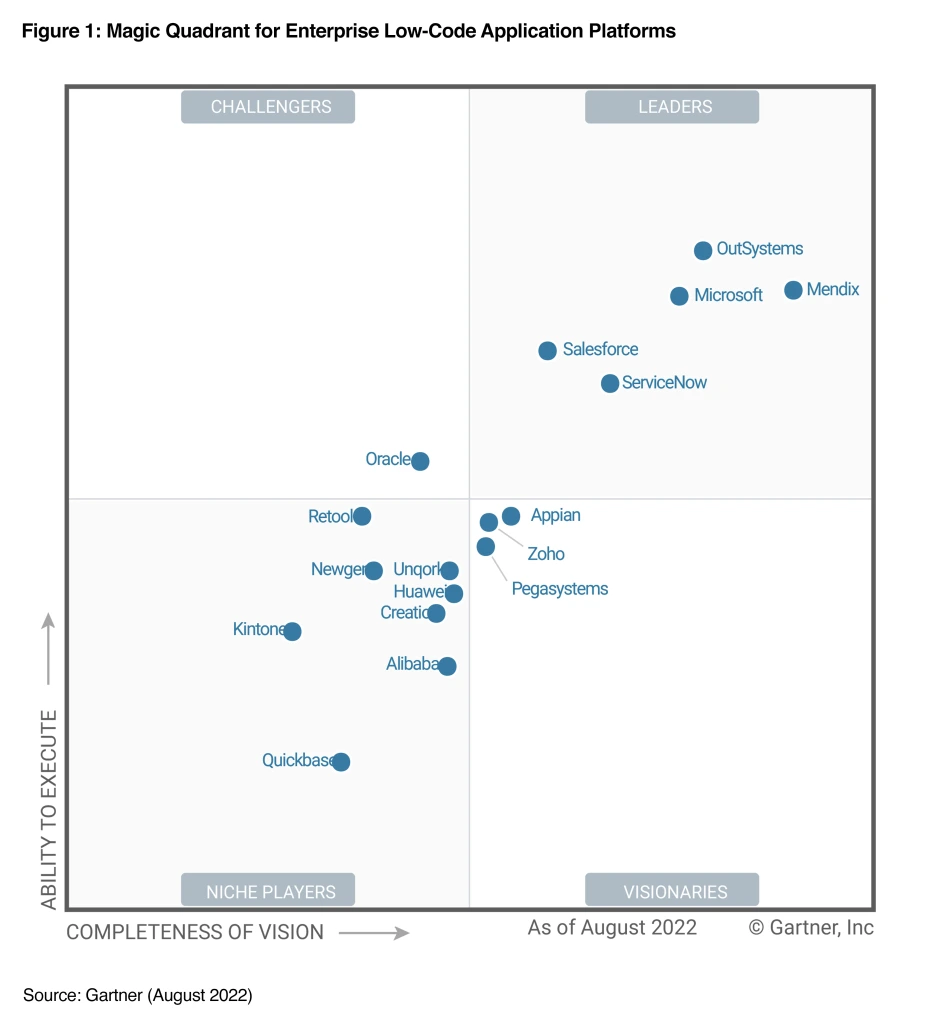 Let's jump into the detailed review!
Microsoft's low code platform, the PowerApps, aims to fasten the development process with fewer resources. This robust tool is the most suitable for enterprise and professional-grade applications, which might be too complex for other low code platforms to develop.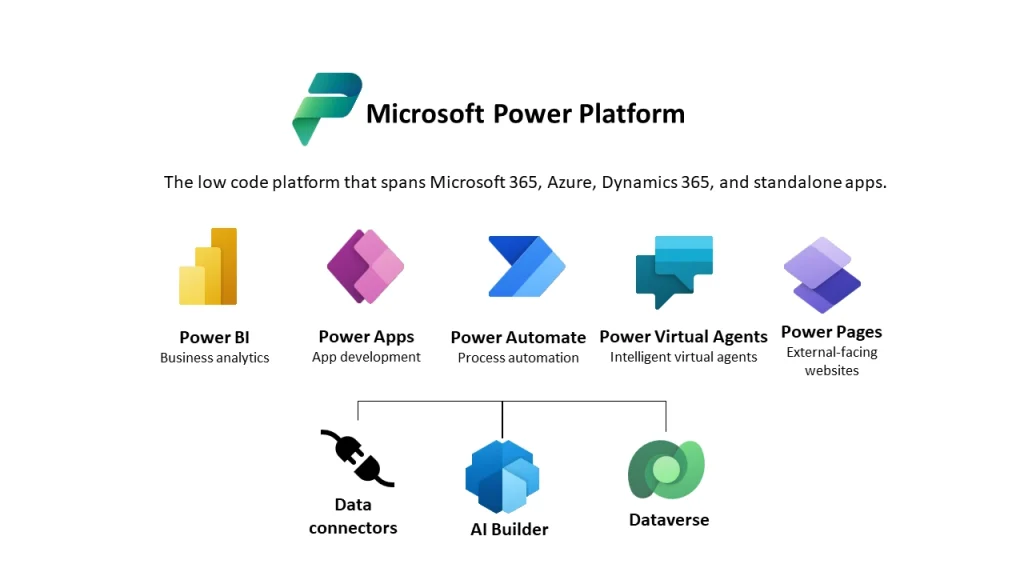 Because of this, many enterprises rely on Microsoft PowerApps for tech innovation and integrate this tool into Office Suite for every employee to use. Due to the app's pro-developer extensibility, its features can be expanded to meet specific requirements.
PowerApps Features
Pre-built templates, drag-and-drop blocks, and AI components are all in an easy-to-use interface.
Allow data integration with multiple sources and systems.
You'll be able to build web-based applications that run on all major mobile platforms, including iOS, Android, and Windows.
You can use Microsoft Azure with PowerApps to leverage the strengths of both tools for more comprehensive enterprise solutions.
Support AI Building, Process Automation development, and Application Programming
Pros
PowerApps' pre-built, code-free forms make it simpler to realize your ideas. This could be problematic if your app's requirements don't match that framework.
Simple integration with data systems.
As a bonus, tech-savvy people can benefit from the plethora of online learning resources and tutorials.
Suitable for both citizen developers and professionals.
Cons
PowerApps might come short in detecting mistakes.
Setting up and getting used to the Microsoft platform can be confusing at first
OutSystems develops cutting-edge applications to increase efficiency, with the primary goal being high performance. Strategic issues, such as application modernization, workplace innovation, business process automation, and customer experience transformation, can easily be solved with visual development tools driven by AI. When using this low code platform, you can be confident that your solutions will be safe, reliable, cloud-ready, and scalable.
OutSystems Features
Synchronize any preexisting database, system and tech stacks
Support cloud-native employment
There will be no proprietary technology shackling
Simulate sophisticated off-line actions
Incorporate the device's inherent features (GPS, barcode, etc.)
Pros
Connections between databases. By offering ready-to-use solutions, these connectors help developers save time.
Managing mistakes. Error handling is top-notch. When you make a mistake while programming, it immediately displays the error.
Cons
Web service is an area where OutSystems may stand to grow. Improve the processing of data types in web service input by supporting SOAP 1.2 and using them.
OutSystems should improve its database integration capabilities.
You might need to integrate it with CMS for better content management.
Mendix is a top low code platform that prioritizes teamwork over individual efforts throughout the app creation process. From initial concept and development through final deployment and ongoing maintenance, Mendix covers all the bases with its complete range of tools, GIT version control, robust JavaScript front-end, and Kanban interface for project management.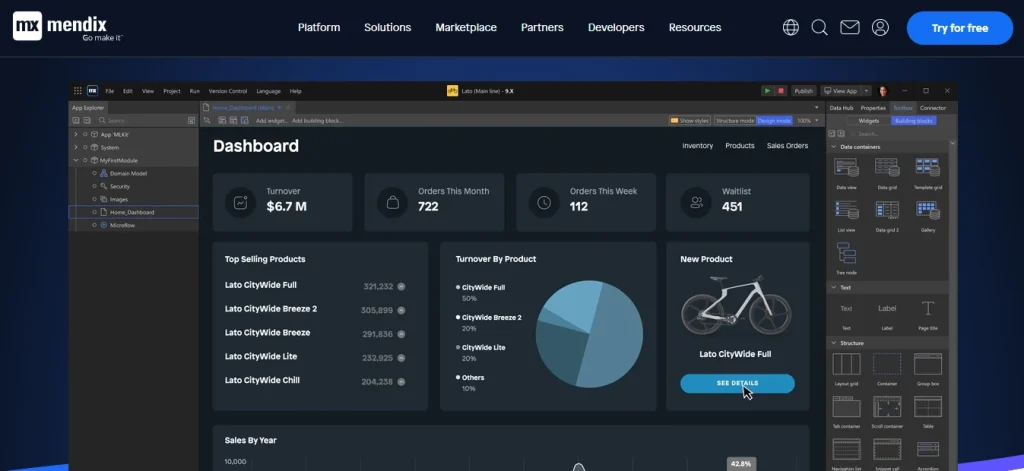 Mendix Features
Modalities for executing projects with agility.
Applications for visual modeling.
Support cloud-native deployment
They can integrate with multiple data systems with features such as control access to ensure top security
Mendix low code platform supports Enterprise App Development, Customer Experiences, Digital Transformation, Legacy Modernization, and Workflow Automation
Pros
Fast progress. Because of its low-code nature, Mendix facilitates a more rapid method of creating new applications.
The learning curve is not steep compared to other platforms. You can pick up the basics of Mendix by just diving in and playing around; there are also excellent tutorials available, and the community of developers is quite helpful.
Cross-platform and compatible with many systems. Also support developing PWA
Cons
In the realm of mobile technology, Mendix is improving. Though they have come a long way from Mendix 7, there is still some work to be done.
A little pricey. When it comes to pricing for medium-sized businesses, they could do better.
Studio Creatio is the easiest low code platform for managing processes using pre-built solutions and reusable templates for any complexity. This tool is equipped with a robust BPM engine that can perform multiple procedures at the same time, while its analytics system will detect bottlenecks and potential errors. Creatio mainly focuses on Process automation and Mobile App development.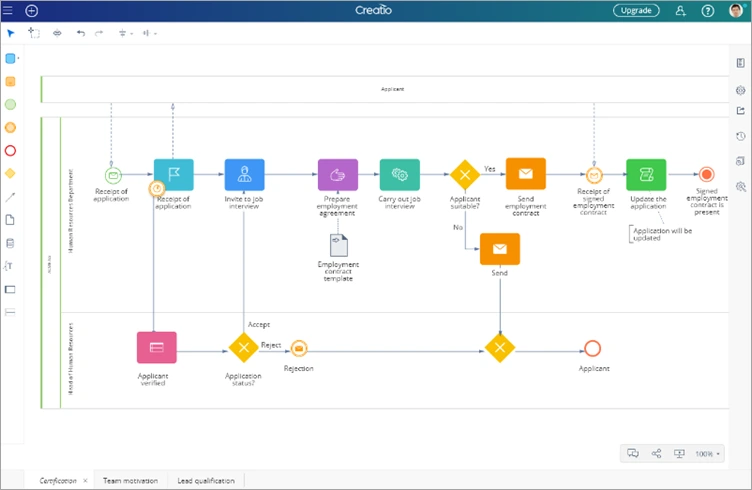 Studio Creatio Features
Creatio uses AI, data analytics, and machine learning to streamline company operations, improve decision-making using data, and shorten the learning curve for new analysts.
Customizable templates, dashboards, and design elements
Web services and pre-built connectors for third-party integration and migration
Library of add-ons for advanced features
It includes safety and management tools.
It includes tools that help quicken service delivery and simplify customer communication.
Pros
The pre-built features of Creatio are a wonderful place to begin.
Users in the organization may tailor the platform's workflow capabilities to their own requirements.
In terms of visual modeling interfaces, it is unrivaled.
Cons
It would be helpful if the documentation were more straightforward.
There is a wide range of potential applications, making it challenging to prioritize demands and allocate resources accordingly.
The Salesforce Platform is geared at creating and delivering scalable cloud applications with fully managed hardware provisioning and application stacks. It has pre-built features and services like business process automation, third-party app integration, responsive design, and more.
Salesforce also allows developers to produce dynamic UX applications rapidly by reusing components such as maps, calendars, buttons, and number input forms.
Salesforce Lightning Features
Salesforce thrives when creating a mobile app
Allow you to create personalized experiences for each user
In a flash, you can turn a spreadsheet into an app.
Optimizing your processes with embed visual workflow
Pros
Contacts and businesses may be organized using both user-defined and pre-defined fields.
Provides granular control over access for each user.
Easy-to-navigate, bug-free, and quickly-loading user interface.
Salesforce prioritizes security with its data mask and access control system.
Cons
The user interface might need some work.
Facilitating API integration should be more accessible.
ServiceNow is an enterprise-grade low code platform that expedites development and enhances productivity. With ServiceNow, developers and builders of varying skill levels can create low-code workflow apps at an impressive pace, thereby increasing efficiency. ServiceNow is highly regarded for its expansive capabilities that support scalable, reliable, and cloud-ready app development.
Features
Ability to build mission-critical apps quickly, utilizing both out-of-the-box components and custom-built workflows.
Allows integration with other workflows, reducing cost and complexity of automation.
The platform provides a self-service user experience with a responsive portal interface.
Supports AI Building, Process Automation development, and Application Programming.
A comprehensive set of tools, including Flow Designer, Service Portal, UI Builder, Mobile App Builder, and Automated Test Framework.
Pros
Out-of-the-box configuration and customization are intuitive and user-friendly.
Its dynamic features and custom workflows give the finance business teams more control, enabling efficient and seamless process management.
ServiceNow is compatible with many modules and systems, thus offering versatility.
Cons
Finding the right developers to implement solutions on ServiceNow can be more challenging than other platforms.
The Service Portal/CMS aligns differently from traditional web development standards, making portal site development difficult.
Oracle's Express (APEX) is a web-based low-code application generator that facilitates the rapid creation of database-driven and enterprise-level applications, both on-cloud and on-premises. The platform is fully customizable and can be published to end users through a URL. Survey Builder, Bug Tracking, P-Track Project Management, and other sample apps are just some pre-built examples and tools for increasing productivity that come with Oracle APEX.
APEX Features
Automated, Adaptive Search and Filtering
Quickly transforms your spreadsheet into apps with just a few clicks and coding
External Data sharing and datamart reporting
SaaS and EBS extensions
To take advantage of enhanced caching and speed, you can transform any APEX project into a Progressive Web App (PWA) with a simple switch.
Pros
Simple in both instruction and comprehension.
Allow multiple working on the same files and projects at the same time with real-time updates and auto saves, version control tools
Cons
There is no in-built report printing option.
Web development expertise is essential for anything complicated, even though many jobs may be completed with little to no coding. JavaScript, Cascading Style Sheets, and HTML are all tools that developers often rely on.
Appian is one of the best low code platforms that utilizes Full Stack Automation and enterprise low-code to speed up creating and deploying commercial apps. Using Appian, businesses may enhance their customer service, attain operational excellence, and streamline global risk and compliance.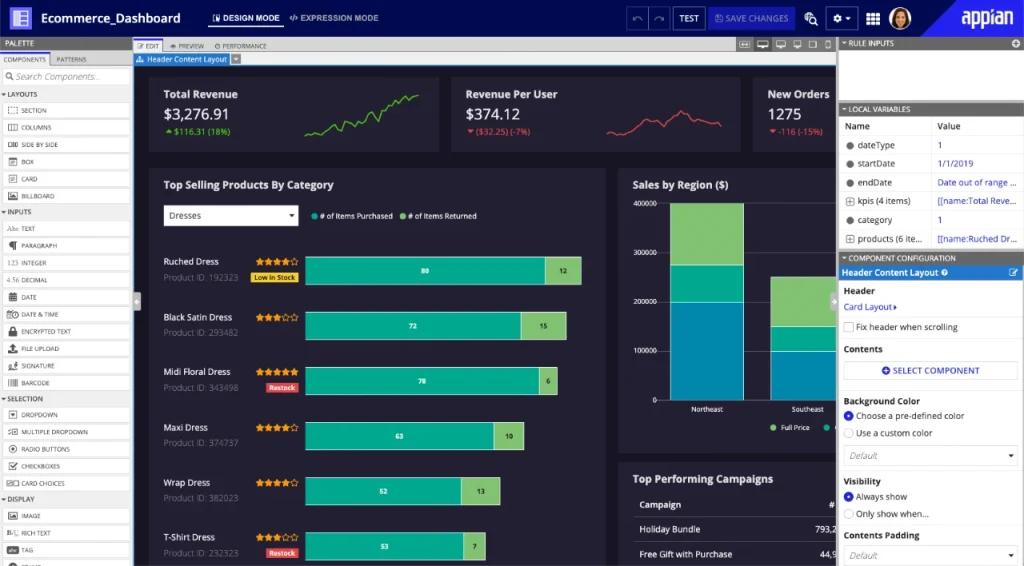 Appian Features
Methods of dragging and dropping.
It has AI functionality built right in.
Integration with Google Cloud, Amazon Web Services, and Microsoft Azure AI/ML platforms is provided without additional programming.
Data, systems, and online services across a company may be integrated with little coding.
Have data fabric features, process mining, API integration
It's a Python Low code Framework
Pros
Simplicity of operation
Stylish user interface
Simple to learn
Cons
Still need improvement in the timeline charts design
Zoho Creator is the best low code platform that enables businesses to create applications quickly. Its main goal is scalability. The platform offers tons of application builders, more than 550 low code integration tools, AI and real-time analytics systems to help companies develop a comprehensive solution package for any individuals.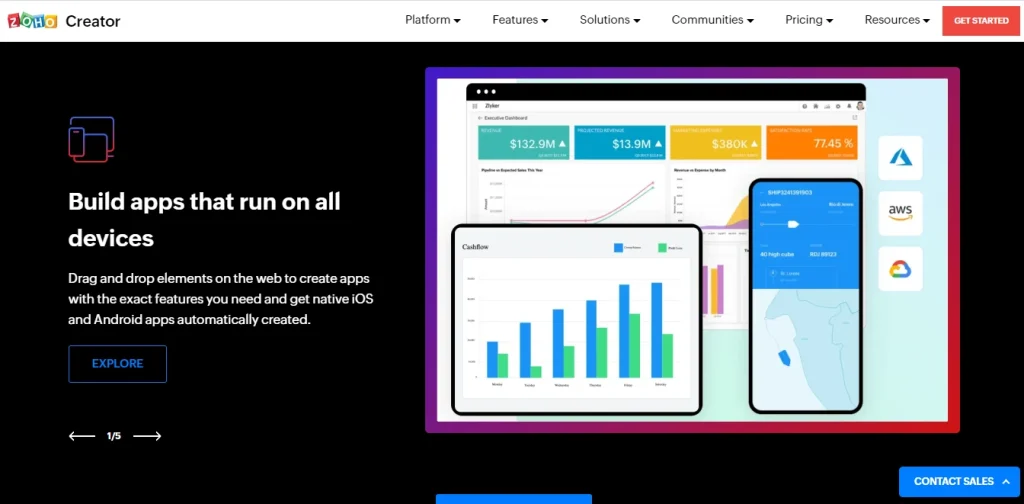 Zoho Features
Make more software in less time.
Link up with your company's data and coordinate efforts with other departments.
Construct illuminating reports.
Gain instant access to mobile software.
Zoho also offer many pre-built management templates for different industries such as catering, education, logistics, property, gym.
Pros
Safety features that cannot be breached.
Support offline working mode and they can sync their information once they regain access to the internet.
Teams can make informed choices using data analysis, reporting dashboards, and automated integration.
Cons
It might be challenging to utilize several programs that share similar points simultaneously while interfacing with third-party software.
Despite the system's user- and developer-friendliness, a low-code alternative for modifying the user interface is required.
Using Pega's single platform, developers can create enterprise-ready applications for customer relationship management (CRM), robotic process automation (RPA) and case management (CM) with ease.
Pega Platform provides a visual, low-code app creation experience and AI-powered decisioning for business stakeholders while enabling expert developers to construct apps using a model-driven methodology in a low-code setting.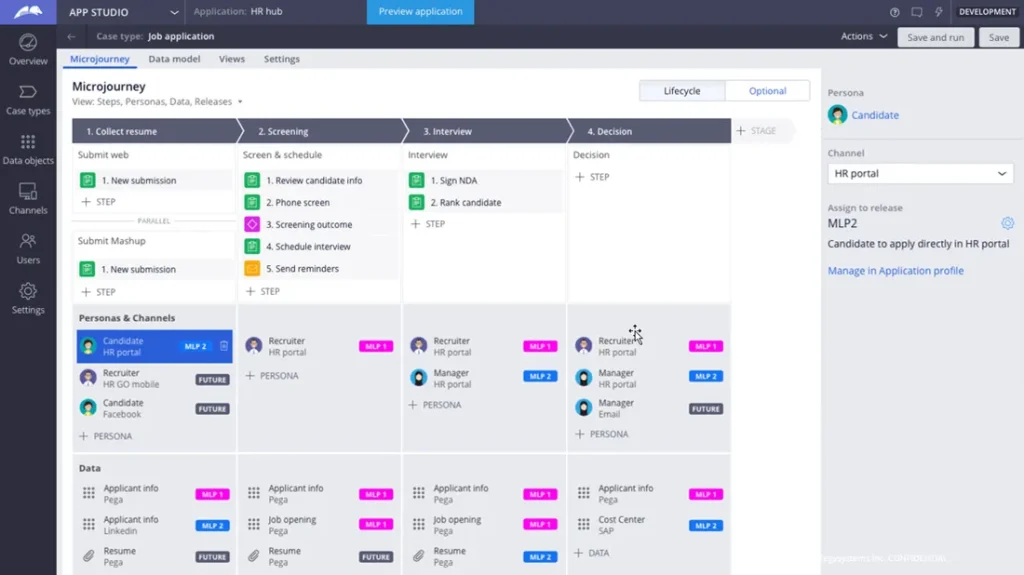 Pega Features
It's possible to create reports and dashboards from scratch or use pre-existing templates
An Adviser in Virtual Intelligence
Chatbots and Virtual Assistant
Agile workbench tool for seamless process automation
Pros
Highly effective and accessible even to those without formal education or experience in computer science.
Quickly upgrade to newer versions and provide bug fixes.
Cons
Problems arise after installing updates.
Need better reporting capabilities
Retool is one of the best low code platforms to build internal tools with pre-built components, allowing users to concentrate on UI assembly rather than UI creation. Apps can be built in minutes with more than 90 drag-and-drop components in Retool rather than hours researching the best React JavaScript element library.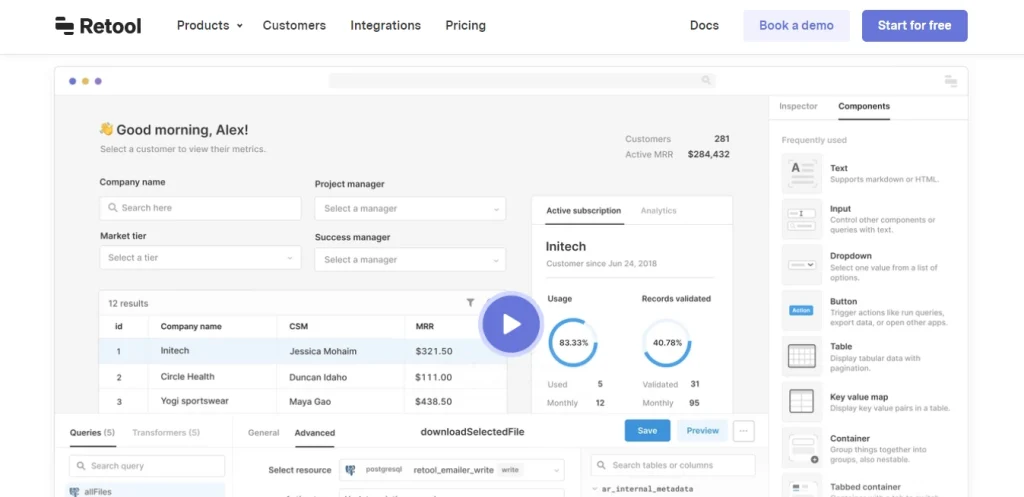 Retool Features
Utilize queries to access and modify information.
Almost everywhere in Retool may be used to create JavaScript code.
Tables, lists, charts, forms, wizards, maps, and so on are the fundamental elements from which all other internal tools are constructed.
It's possible to link up with just about any database or service with REST, GraphSQL, or gRPC API.
Integrate GIT version control
Pros
Integrate your data with Google Sheets
Data can be transformed and modified in real-time thanks to a code-free front-end design.
You can host your app on-premises behind your VPN
Cons
Perhaps more "better-looking" front-end UI components could be made available to make apps even more powerful.
Quickbase is a low-code platform for operational agility that streamlines and simplifies business processes. The supplier's stated mission is to assist businesses in removing fragmentation, fighting sluggish silos, and allowing them to better respond to customers' needs, motivate staff, and prepare for the future.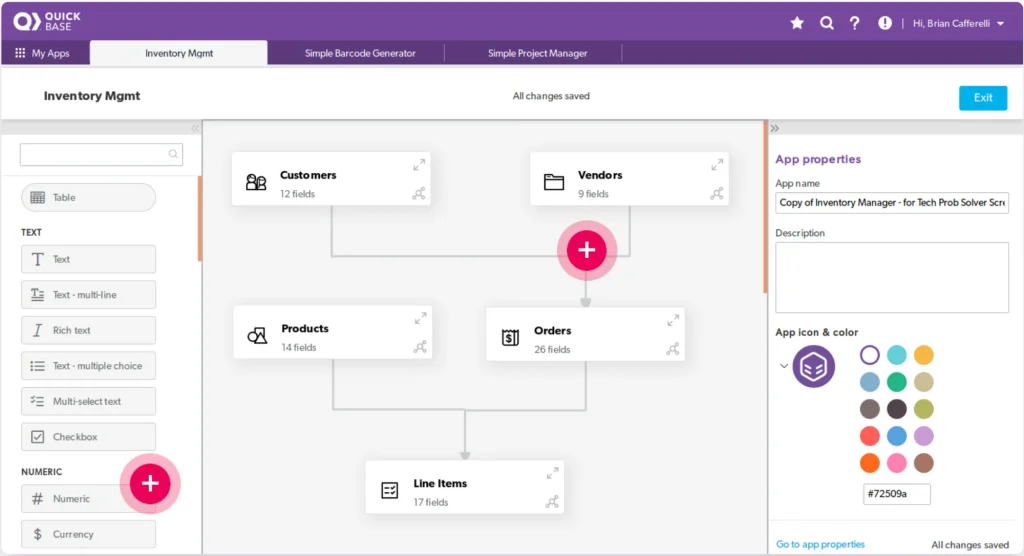 QuickBase Features
Scheduling Automation Audit Trail Management
Payments and Billing for Proposal Management
Administration of Expenditures Based on Bills of Materials
Helps with Work Order, Finance & Budget, Resources, Subcontractors, Employee and Contract Management
Pros
Data cleaning and report generation.
Editing and including new fields into the form.
Linking information from different databases.
Cons
A significant learning curve is required to achieve many individualized objectives, which is not very user-friendly.
The homepage and dashboard features are cumbersome and old-fashioned. It would be fantastic if there were more ways to personalize how the app works for each user.
Most of the time, you won't be able to change things like the font or color.
The platform offered by Integrate.io enables businesses to process and prepare data analytics, data warehouse, ETL integration in the cloud. Integrate.io provides a platform with feature-rich tools, a mature coding environment, and jargon that help organizations leverage big data without spending money on new gear, software, or staff.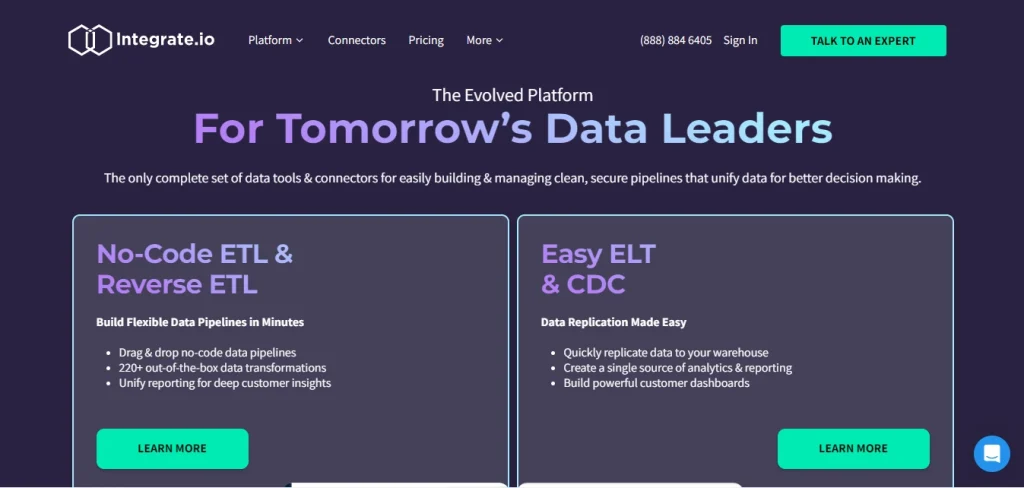 Integrate.io Features
As a result of low-code ETL and reverse ETL, teams may focus on other tasks instead of data preparation.
Using CDC and ELT to continuously and automatically replicate data to the data warehouse, allowing for real-time data access for all teams and systems.
Generate APIs for data sources instantly and use them in your apps and systems without requiring coding.
Analytics for data warehouses that record and provide light on the metadata
Pre-built data transformation components and access to several data storage options
Pros
Simple drag-and-drop interface.
The group that handles customer service is fantastic.
It's easy to integrate with other systems.
Cons
Debugging might be challenging when fault reports need to be more detailed.
It can be more user-friendly.
The intelligent, intuitive, and simple interface of Kissflow, a cloud-based business process and workflow management software, allows customers to build many automated business applications.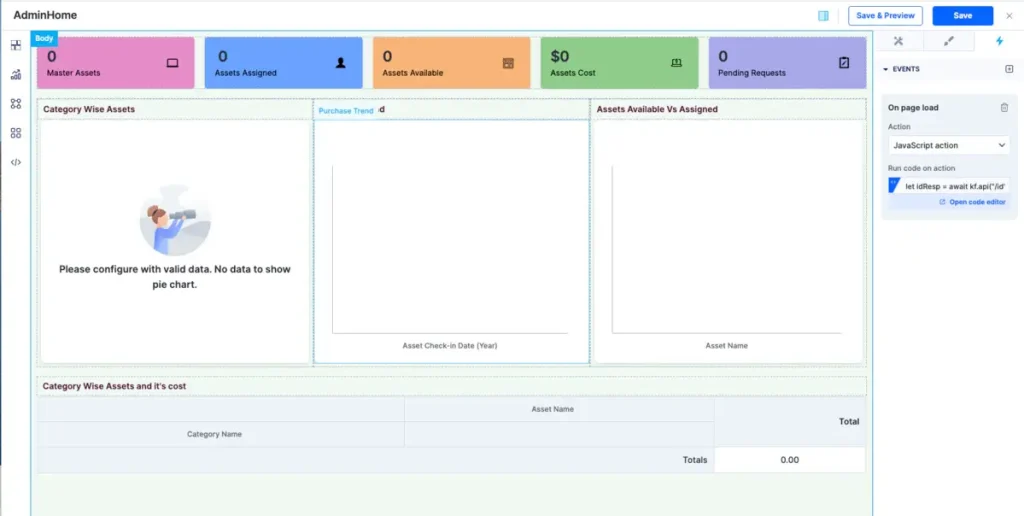 Kissflow Features
Easy-to-Use Workflow Generation via Drag-and-Drop
Customize pages with pre-built elements, widgets, forms, analytics dashboards and manage access permissions based on users' roles
Monitoring the Development of Processes
Apps for iOS and Android that include automatic escalation management
API Support for Dashboards
Provides a Developer Sandbox that helps identify bugs, design prototypes and streamline project management, ad-hoc request
Allow integration with an existing system such as ERP, CRM
Pros
Tasks allocated to you, processes in which you have engaged, and workflows awaiting approval from others are highlighted for quicker access and viewing.
Easy Access. Since KiSSFLOW is a cloud-based service, it may be accessed from any device with an internet connection.
Cons
Sometimes you can get failed notifications and messages.
GeneXus is an enterprise low code platform that leverages AI to automate and maintain applications in any systems, coding environments, and devices.
The tool focuses on being a low code development platform that promotes flexibility, high-performance and gives the user freedom to create. A corporate application and its accompanying multi-channel user experience may benefit significantly from GeneXus.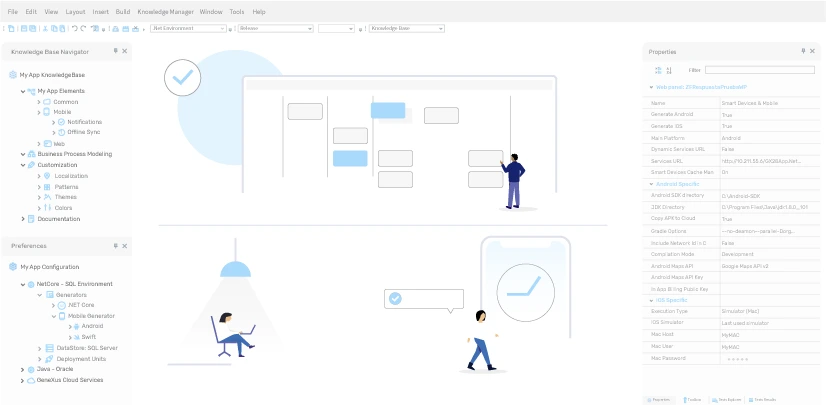 Genexus Features
BPM (Business Process Management) supports digital process automation utilizing unified BPM modeling.
Application deployment options include on-premises, cloud, and hybrid setups.
In addition, produced programs do not need any runtime and are priced per developer seat.
Creation of new programs with little to no input from the developer using AI.
Create a wide range of applications: responsive and progressive web apps, mobile native and hybrid apps, Apple Tv, chatbots & virtual assistants.
High security, great support for app scalability and expansion
Pros
Don't require additional costs during runtime.
Compatible with many tools, tech stacks, languages, technologies and system
Capable of functioning both locally and in the cloud.
Products for students, startups, ISVs, corporate development, and SAP technologies provide businesses of all sizes a place to begin.
Cons
There were a few snags during construction that were difficult to diagnose. It is relatively uncommon for deployments and runs to have issues that are difficult to diagnose.
Building a complex solution requires more time compared to other low code platforms
As a platform for creating apps, FileMaker offers both cloud and on-premises deployment options. It is accessible on Macs, PCs, iPads, iPhones, and Android devices through browsers.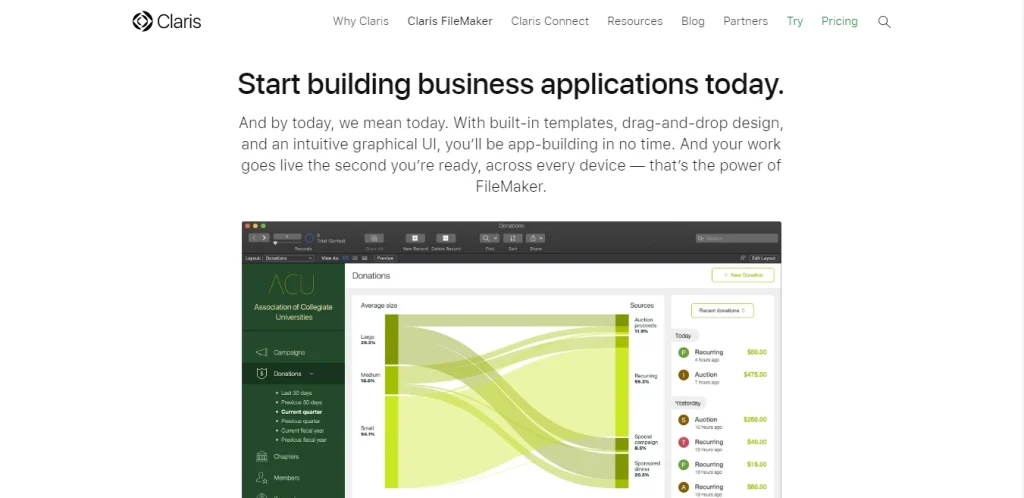 FileMaker Features
More than 50 component and button designs with drag-and-drop into a dashboards
Hosting may be done in the clouds or on-premises.
Setup of business logic, including several steps. In cases of more complex business logic, write your own (JS) code.
Automated processes to carry out recurring tasks and generate data-centric webhooks.
Granting access based on a user's role.
Tracking changes throughout time and keeping audit records.
Compatible with any data source and 3rd-party services documentation
Pros
Provides a quick data repository for items like "products," on top of which panels may be constructed with little effort.
Non-developers may use and maintain this because of the minimal learning curve.
It provides two straightforward settings (test and production) to maintain in sync.
Cons
It takes a lot of work to import or export data to other relational databases and to conduct queries using a standard query language.
One session at a time is the maximum allowed, which might be difficult for a team to work on it.
The interface may be disorganized, and the environment may be too complicated for its own good.
With UI Bakery's reasonable pricing for unlimited end-users, even the smallest and medium-sized businesses can automate their processes without relying on expensive in-house or outsourced development teams. This low code development platform offer more than 50 design components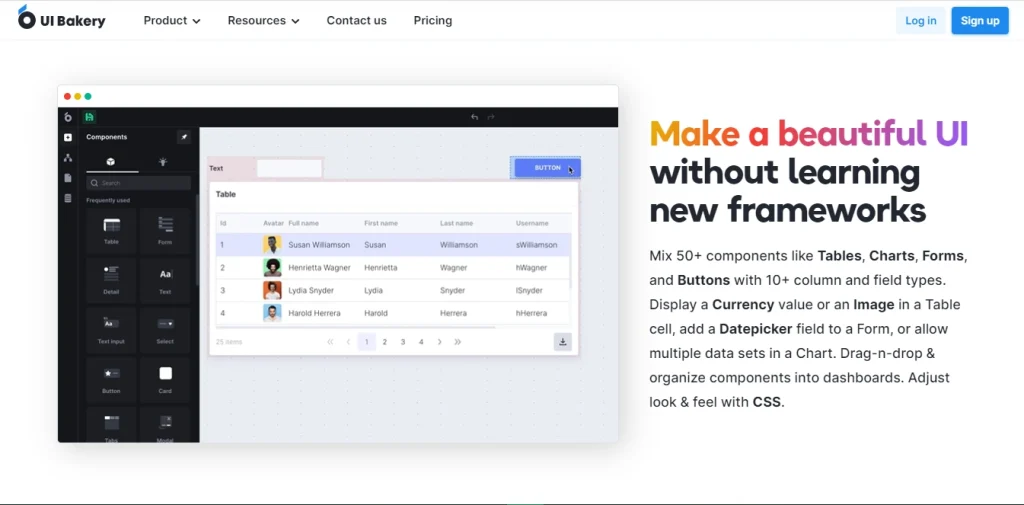 UI Bakery Features
An equitable pricing structure that allows for an unlimited number of customers.
Hosting may be done in the clouds or on-premises.
Setup of business logic, including several steps. In cases of more complex business logic, write your own (JS) code.
Automated processes to carry out recurring tasks and generate data-centric webhooks.
Granting access to software, websites, data sources, etc., based on a user's role.
Tracking changes throughout time and keeping audit records.
Pros
An intuitive interface, knowledgeable and helpful support staff, and rapid iteration based on user input.
It's simple to make HTTP requests and connect to a data source.
Cons
Creating a complex app with UI Bakery could be a good use of time.
It is impossible to go back and change anything (e.g., snapshots). Even though you can undo and redo actions, it's different.
LANSA's low-code development platform may help your team create corporate applications faster and more efficiently. You can have a wide range of functionality at your fingertips with LANSA.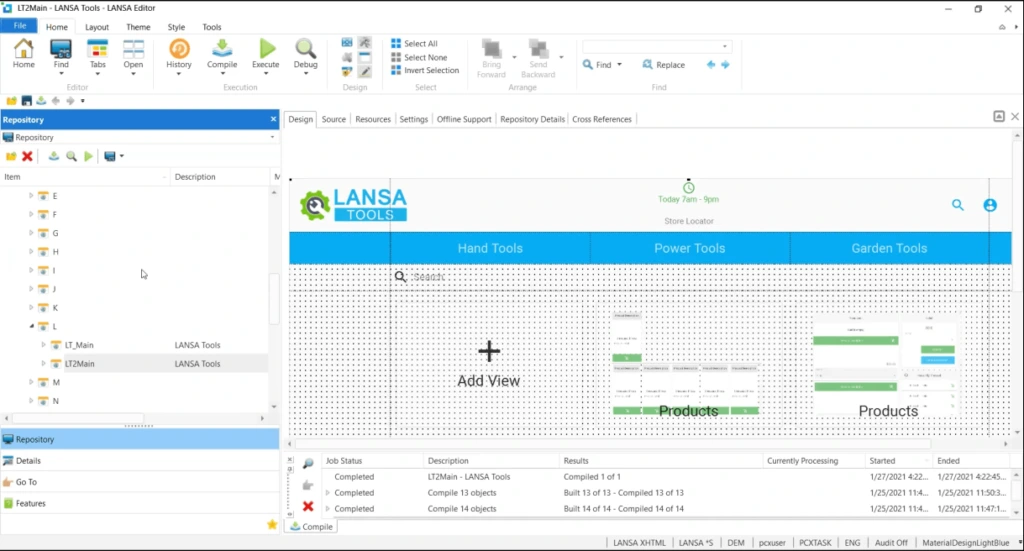 LANSA Features
Robust integrated development environment (IDE) that requires little to no coding for developing software for desktops, websites, and mobile devices.
Make applications with less effort and expense than ever before.
Extensive controls over testing, rollout, and integration.
Thousands of organizations use it across the globe.
Coding inside the IDE.
Pros
The user-friendly Integrated Development Environment (IDE) and VL's support for preexisting applications are also great features (as well as new ones).
The framework expedites the release of your application by taking care of the necessary plumbing, and the repository ensures that everything is in its proper place.
Cons
Very little help is available in the form of online documentation or a constant online presence if issues arise.
Helpless Debugger. One needs familiarity with the underlying ideas and language to use it effectively, and few prefabricated wizards are available.
The m-Power Development Platform is an all-in-one low-code solution for BI/reporting, process automation, and mobility. Compared to traditional low-code methods, it's a 4-step construction method that requires no code by default for most apps but supports low-code (or even full-code) for sophisticated ones. This offers complete customization without limitation and vendor lock-in.
m-Power Features
Easy Coupling. m-Power can be quickly and painlessly integrated with your current tools and any other programs you may use.
Adaptable by design. m-Power may be tailored to your specific business and software requirements and comes with various configuration choices.
Normal Robotics. m-intuitive Power's drag-and-drop workflow designer makes it simple to automate your business procedures.
There are no further costs for usage, users, distribution, data, or applications beyond the initial cost of licensing m-Power for a single database.
Pros
It has an accessible design with open libraries and top low code frameworks.
Fix the skills gap. If your company lacks the skills necessary to develop cutting-edge solutions, m-Power transforms your current staff into web developers by removing the need for them to learn how to code.
Increase your output (with your current resources)
Cons
It's not strong when supporting Android, iOS deployment.
When turning paper-based or spreadsheet-based procedures into efficient online and mobile applications, IT and business professionals rely on TrackVia more than any other low-code solution. Providing centralized, accurate, and real-time visibility, TrackVia makes it simple to automate any process's phases and integrate it with any system.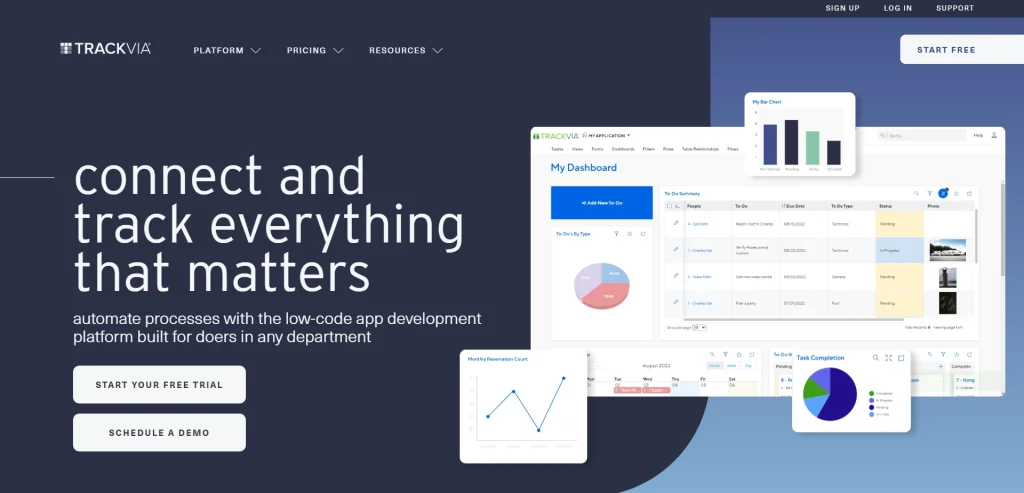 Trackvia Features
Visual modeling tools to facilitate the design of processes.
Application development using a drag-and-drop interface
Preventative measures against malicious software, data breaches, etc.
Software that helps administrators onboard and de-register people is called "access control management software."
A central database where components and even whole programs may be stored and reused
Pros
A streamlined design that's easy to utilize (UI).
Adaptive dashboards and a mobile-first approach.
Strong networks of support and assistance.
A cost-effective solution for small and medium-sized businesses.
Cons
Not the best choice for enterprise
Sometimes you can't change the default layout, which is a bit complicated and not entirely user-friendly
Airtable is a free low code platform for individuals. It allows users to create any kind of application and workflow using data and spreadsheet. Its interface contains building blocks to customize and model your application. Main features of Airtable:
You can integrate Airtable with other management tools: Salesforces, Slack, Jira, Outlook, Hootsuite
Offer templates for Product Launch, Product Roadmap, Sales CRM and OKR tracking
An easy-to-use interface
Multiple way to build data: Kanban, Gantt, Calendar, Grid, Gallery, Form
Provide data visualize, programming tool and migration system
Vinyl focuses on data integration and enables citizen developers to seamlessly work with professionals for powerful application development in the shortest time. You can use this low code platform on premise, on cloud and even on web services. Vinyl main features are:
Tool for professional developer, including connection to any data source, support for custom HTML Code, Data validation and testing tools
Built-in integration to any systems, management tools and devices
Other than development tools, Vinyl provides a plethora of advanced features, such as: User analytics, Performance Tracing, Application workbench, ETL and Cross data inheritance.
You can use Frappe for rapid development of web app, single page application, PWA and website using Python and JavaScript low code frameworks. The best part? Frappe is free and open-source
This low code platform not only offers visual interface, reusable code components, but also provides Figma plugin for smooth transition from design/ prototype to clean code.
TeleportHQ can instantly generate open-source code for React, Gatsby, Next, Vue, React Native, Stencil, Preact and Angular low code framework.
Building your database driven web apps with little or no coding using PHP low code framework of PHPRunner. Your pages will be easily navigated. You can search, edit, delete and export data in SQL, MySQL, Oracle, Postgre and Microsoft.
When Should You Use A Low Code Platform?
Low code platforms are said to be the future of development. Despite its robust features and simplicity, it should stay as a tool to support IT departments and encourage tech creation among citizen development, not a method to replace traditional development. There are many low code platform limitations, such as flexibility for complex applications and vendor lock-in.
Because of this, low code development is not always the top choice. You should consider it if:
1. If You Want To Improve The Efficiency Of IT Department
Low-code platforms improve IT departments' adaptability and responsiveness by reducing the need to write complex code. No longer will upper management be disheartened to see the application backlog and realize that they will be lucky to complete one-third of the goals set for them.
Low-code platforms also enable IT departments to make novel, incremental use of cloud services, where it's cost-effective, more secure, and come with service-level agreements and continuous availability.
Because low code development platforms save time and effort, development teams and business users can create more applications (of any complexity level) that streamline their work. These applications are drawn and configured. Thus, the development and maintenance times are drastically reduced.
2. If You Want To Enhance Teamwork And Communication
Using low-code platforms, you can gather a unique team with different backgrounds to work on a single project. Everyone from remote developers, citizen developers, and non-tech users can get involved in the process and deliver impactful input. Even designers can take advantage of the complete design systems supported by such low-code tools.
3. To Tackle A Lack Of Qualified IT Specialists
A shortage of skilled workers could cost businesses around the world $8.5 trillion in revenue.
Despite the abundance of software engineers, most are inexperienced juniors and freshers attracted by the "promised" high pay and secure future. Senior programmers with great experience are in high demand at most companies but are challenging to recruit. One study found that hiring a technical employee takes 50% longer than other occupations. Another key finding is that it typically takes 66 days to locate a suitable software expert.
As a result of the increased productivity afforded by low-code platforms, businesses can focus more on what matters and encourage employees to be creative instead of spending for a search in the labor market.
4. If You Want To Create A More Flexible Business Approach
Company leaders are trying to build what is known as a "composable enterprise model" with the help of automation solutions like low-code platforms.
The ability to foster highly adaptable work practices, implement co-creation processes, and capitalize on data is made possible by this modular paradigm. As a bonus, this model allows the company to speed up the product's time-to-market.
5. In Case Where Improved Business Intelligence Is Required
You can streamline your Business Intelligence efforts with the help of some enterprise low-code development platforms' robust data engineering and AI features.
How To Choose The Best Low Code Platforms
There are many options for low-code platforms, so picking the right one for your company may be challenging. But don't worry; the following guide will help you choose the best option:
1. Is It Reasonably Priced?
In this case, "reasonably priced" means it fits your budget. Especially for startups with limited finance, we understand you want a perfect platform, but it usually comes with a high price. When we examine the cost of low-code platforms, we may learn a few things:
Most of them operate on a subscription basis. The annual subscription is more cost-effective than the monthly one.
Numerous factors determine the price, including the ability to create applications, the number of users who can access those applications, the quality of support provided, the number of integrations such apps may use, and the availability of platform-specific capabilities.
One thing to remember about low-code platform costs is that the more functionality you want, the higher the price tag will be.
A wide range of low-code development platforms provides varying features and price structures. You may come across end-user pricing, which means you may have to pay more as your number of program users grows. Do some cost analysis, compare as many choices as possible, and identify your top requirements before the final decision.
2. How Simple Is It To Begin?
Even if a platform advertises itself as low-code, another technological setup is usually necessary to enable smooth and efficient integration with your company.
To create apps on specific platforms, you will first need to install software on your computers and then make it compatible with your system if required, in which many unpredicted obstacles might appear. Thus, remember to discuss this with your vendors and check if the two systems are compatible or if any additional action needs to be taken and how complex these actions are.
3. Does It Have The Functionality That Your Company Requires?
Keep in mind that a low-code development platform should assist your firm in accelerating or improving application development. However, it is critical to compare it to the many application types of your company needs for end-user experiences, workflow capabilities, and data requirements. It would be best to ascertain what the platform can and cannot perform, its strengths, shortcomings, and breadth.
These are typical:
Auto-scalability: The applications developed should automatically scale with the rising number of users and the organization's development.
Created-in security and stability: Low-code systems eliminate the need for frequent program crashes.
Continuous availability: Many low-code systems have above 99% uptime and availability, which is only possible in traditional development with significant effort.
4. Who Is This Platform Most Suited To?
Developers and business users are the two types of individuals that create applications. While some low code platforms benefit general users more, some will help the IT departments the most with advanced tools. Depending on what your focus is, choose a suitable one:
Developer-friendly: These platforms provide developers with quick prototyping capabilities, allowing them to produce highly competent, functioning software with minimum coding in a short period, with a few drawbacks. These low code platforms excel on code-related tools.
Non-tech-friendly for business users: These platforms enable people with little or no technical knowledge to construct apps. These low code platforms excel on easy-to-use interface and drag-and-drop features.
5. Which Deployment Environments Does The Low Code Platform Support?
Some low-code environments are limited in their deployment options. Therefore, if your applications need to be available to everyone, choose a low-code platform that supports cross-platform deployment.
Wrapping Up
Overall, low code platforms enable technical and non-technical people to create applications at a lower price in an easy-to-use and collaborative environment. With so many choices in the market, it's easy to get lost in the big sea. Choosing the most appropriate low-code platform for your business means that you need to consider its compatibility, features, end-users, pricing, integration, security, and scalability.
---
More related posts from Low Code blog you shouldn't skip:
We are sorry that this post was not useful for you!
Let us improve this post!
Tell us how we can improve this post?