Many companies have used web applications instead of basic and traditional websites to make their brand stand out and drive more engagement. Yet, the development process of web applications is much more complex and time-consuming than web pages. Did you know that with the help of emerging technology, you can instantly build a web app with a few drag-and-drop nowadays? These are called low code web app builders, a combination of rapid development and customization abilities, which Synodus will further explain in this article!
Why Should You Use Low Code For Web Application Development?

A low code web app builder is a platform that empowers non-programmers to create functional web applications, often reducing development time and costs by up to 90%. Rather than writing extensive lines of code, users can drag and drop pre-built widgets, such as forms, menus, and tables, to craft their applications. This simplifies the process and allows professional developers to reduce manual tasks, freeing up their time for customization and more complex problem-solving.
Now, let's delve into the advantages of adopting low code web application development:
Cost-Effectiveness: Traditional coding methods are resource-intensive and require a substantial budget. Low code platforms, however, require fewer resources, are beginner-friendly, and significantly reduce operational costs.
No Need for Advanced Programming Skills: With low code, you don't need to be a coding guru. Anyone from your developer to your marketing team can use low code web app builders effectively.
Shorter Deployment Time: Low code web app builders tackle the monotonous, time-consuming steps in web app development. These platforms enable non-technical users to create and test minimal viable products (MVPs).
Low Maintenance: By simplifying everyday development tasks, low code platforms reduce the burden of software maintenance. Developers can spend less time on maintenance and more time driving innovative work that brings greater business value.
Freedom to Focus on Business Innovations: Low code web application development gives the tech team more time to focus on impactful innovations. Moreover, it allows non-technical employees to turn their ideas into reality, creating a productive testing environment for new business solutions.
Basic Features Of A Low Code Web App Builder
These features streamline web app development and ensure optimal functionality and performance. Here are some of the key features you can expect:
Drag and Drop UI (User Interface): Low code web app builders utilize intuitive drag-and-drop technology that lets users design their web pages by simply moving elements around on the screen. This responsive technology automatically resizes web pages to fit various screen sizes, ensuring content and graphic consistency across smartphones, tablets, and computers.
Responsive Design: Low code web app builders can automatically adjust your web pages to fit any browser space, ensuring an optimal viewing experience for your users, regardless of their device.
Database Creation: Beyond creating aesthetically pleasing web pages, low code web app builders also provide tools to establish your back-end database. They offer seamless, code-free connections to the database, allowing users to create screens and web pages where data can be updated and viewed in various forms. This is possible through draggable widgets that enhance data management and user interaction.
Security: Low code web app builders prioritize the security of your information, offering a robust infrastructure designed to protect your data. They provide built-in tools and controls to ensure your web app is secured at the highest level, addressing one of the biggest challenges in web application development: information security.
Triggers and Workflows: Workflows are easily generated in a low code environment, offering high flexibility and customization without needing code. Users can set rules at both the browser and server levels. For example, if a user fills in a specific field in a form, other areas can be set to become mandatory, enhancing interactivity and automation in your web app.
API First Approach: Low code web app builders often adopt an API-first approach, meaning any database table or field you create is immediately reflected in the API. This feature facilitates seamless data access, updates, or views, provided you have the appropriate permissions.
Permissions: Advanced permissions are another standout feature of low code web app builders. You can set different permission levels for each table and record, deciding what information will be accessible to each user and what will be disclosed to the public.
Server-side and Client-side Code: Despite the low code nature of these platforms, they still cater to developers who prefer to code. Users can add HTML, CSS, or JavaScript code on the client-side and NodeJS on the server-side. This way, developers can harness the benefits of no-code options and coding when necessary.
Curated List Of Top 10 Low Code Web App Builder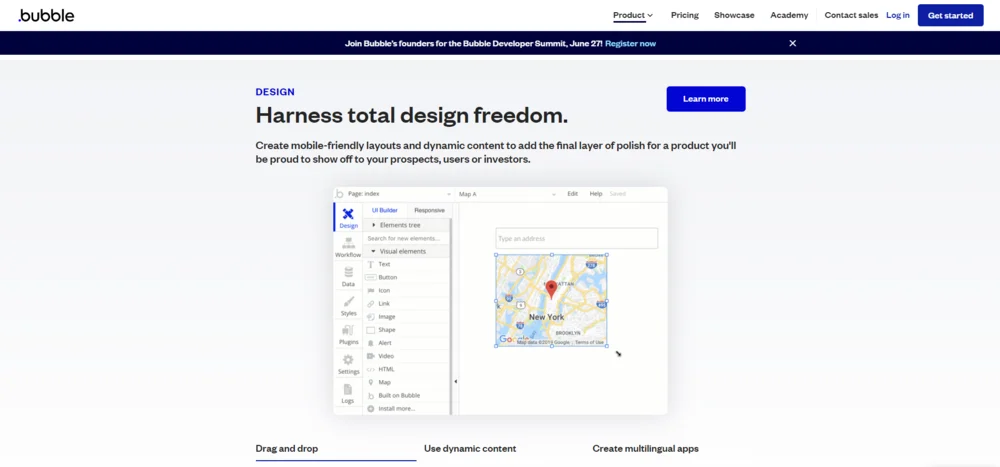 Primarily catering to the intermediate crowd, Bubble is a comprehensive low code web app builder with a strong focus on performance. This platform is perfect for building complex applications thanks to its robust functionality.
Bubble's user interface is a mix of complexity and power, offering a spectrum of features to facilitate the development process. One of its key highlights is its innate ability to easily integrate APIs, making it versatile for various application types.
Pricing: Offer free plan. Around $29/month for advanced features
Pros
Robust features cover almost every application development facet.
Its interface is built with an emphasis on easy API integrations, making it a standout choice for complex applications.
Cons
A steep learning curve that might take weeks or even months to overcome.
App responsiveness across different screen sizes can be challenging, requiring additional investment in design skills for a polished, professional look.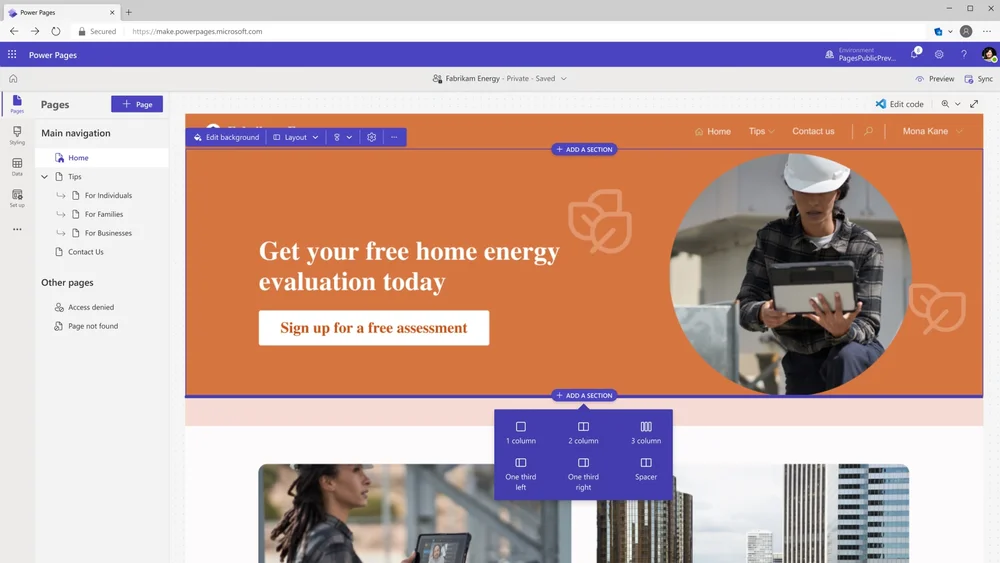 Known as one of the most prominent tools for enterprise-grade level, Microsoft Power Pages Platform has excellent capability to build robust web applications, from basic to Progessive Web Apps. This low code web app builder guarantees an easy-to-navigate interface, secure database, and powerful development environments.
Some highlights on Power Pages features:
Built-in design studio with feature-rich templates, components, and customizable themes to match your brand.
Responsive frameworks that automatically render across platforms.
Data will be stored in Microsoft Data for centralization and security.
Expand your features with pro-code tools such as GitHub, Visual Studio Code, and Azure DevOps
Fine-tune your layout with JavaScript, HTML, and CSS
Pricing: From $75 to $200/ month for a subscription plan. Or you can pay as you go.
Pros
You can utilize the Power ecosystems: Power Apps to build cloud-based applications, Power Automate to streamline your workflow, Power BI for analytics, and Power Virtual Agents to craft service workers. Learn more about Power Platform with our honest review!
Build engaging web apps for external and internal use.
Cons
Steep learning curve
Risk of heavily relying on vendor
To leverage the best of Power Pages, extra help is beneficial!
Bildr represents the intersection of design and function, offering a visual low code web app builder that enables users to build intuitive web apps and launch their SaaS products.
This platform prides itself on its visual interface that allows for extensive design flexibility. It facilitates easy connection to any APIs and extends the software with custom JavaScript. Moreover, Bildr's collaboration tools foster a productive work environment, allowing designers and developers to work harmoniously.
Pricing: Contact vendor
Pros
Unmatched level of flexibility and customization, meaning users can tailor their applications as per their needs.
A decentralized community support system via Discord is a bonus.
Cons
Bildr's learning curve is rather steep, posing a challenge for those without prior coding and web 3.0 knowledge.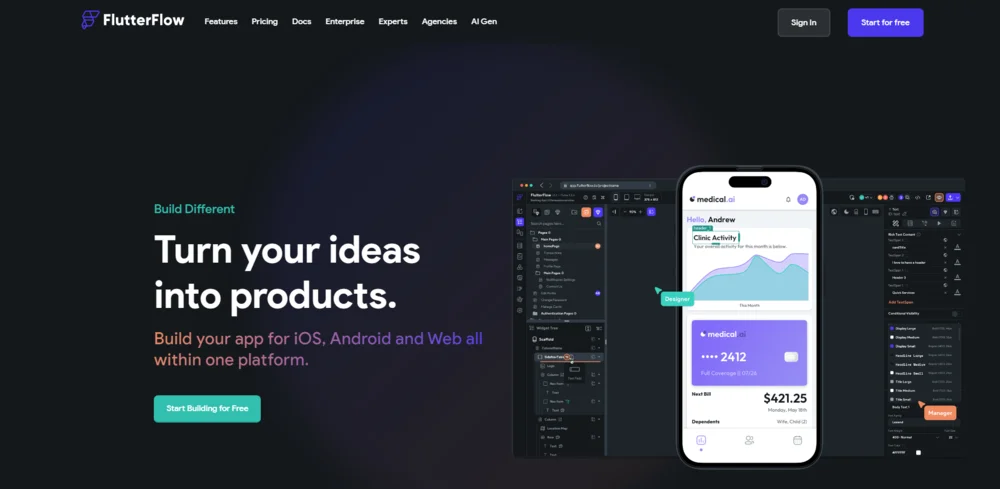 Creating and launching your web and mobile apps is a breeze with FlutterFlow. This low code web app development platform harnesses the power of the Flutter UI toolkit, bringing a future-proof approach to application development.
FlutterFlow's primary appeal lies in its ability to reduce development time and improve performance. You can create innovative apps with interactive, animated widgets, send push notifications, and collaborate with your team, all without writing a single line of code.
Pricing: From $18 to $42/ user/month
Pros
Rapid development time, native app performance, innovative apps with animated widgets
Robust team collaboration tools.
Cons
Lack of a workflow builder, which might limit some of its application development capabilities.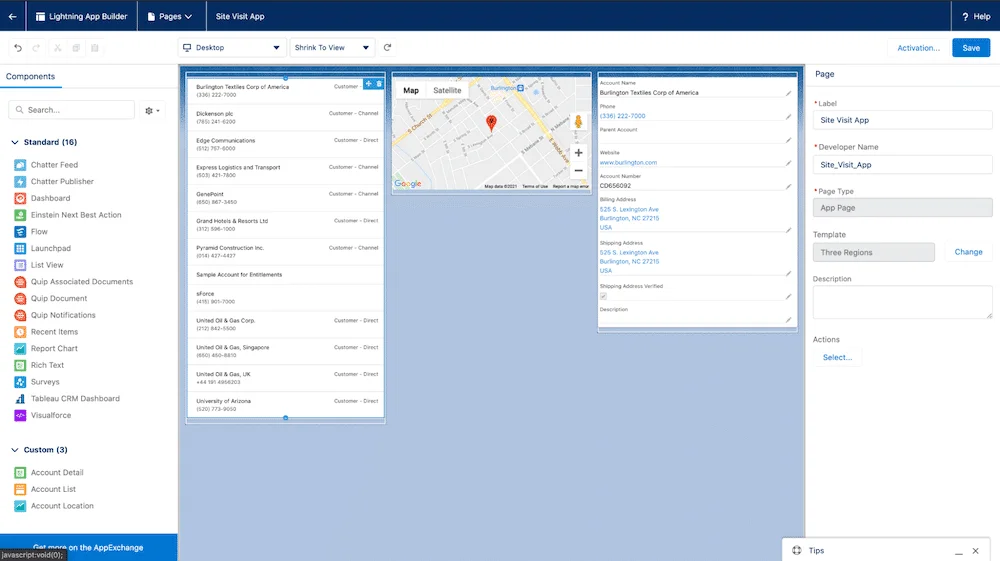 Salesforce Lightning shines bright in the landscape of low code development platforms, with a distinct emphasis on Customer Relationship Management (CRM). Launched in 2015, this tool introduced component-based development and several new features, making it an essential platform for businesses prioritizing customer interaction and satisfaction.
This low code web app builder comes with various innovative features, such as the Lightning Voice, allowing users to make voice calls with clients directly via Sales Cloud. Its Sales Path feature offers sales automation, designing the business' sales pipeline and accounting for inefficiencies, ensuring quick and efficient responses.
Pricing: Starts from $25/user to $100/user
Pros
Rapid app development through an intuitive interface and built-in reusable components.
AI integration support, aiding in analytics and lead generation for customer research.
Seamless integration with third-party features.
Salesforce Lightning's Locker Service ensures a robust approach to information privacy.
Cons
The platform is mainly CRM-focused for web apps, which might not serve all business needs.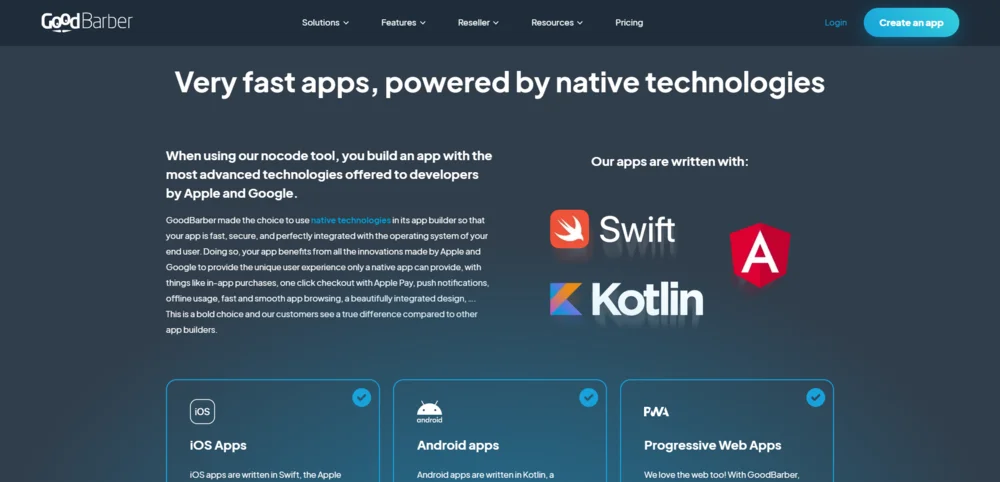 GoodBarber is a low code web app builder catering to the development of Progressive Web Apps (PWAs) and iOS/Android native apps. A user-friendly interface offers various integration options for e-commerce, social media marketing, blogging, and live broadcasting tools.
GoodBarber offers pre-made layouts that are fully responsive and easily customizable. Uploading your app to the Apple Store or Play Store is conveniently facilitated through the GoodBarber platform.
Pricing: From $27 to $210 per month.
Pros
Wide range of plugin support, including geolocation functionality and in-store checkout functions.
Multi-role management.
User-friendly drag-and-drop interface with a customizable dashboard.
Cons
Might not be ideal for complex or large-scale applications.
Frappe Framework, a low code DocType platform, simplifies the development of web applications. It employs Python and JavaScript frameworks with a metadata-driven approach, supported by MariaDB and PostgreSQL databases.
Frappe comes with essential modules for serious business application development. Everything in Frappe is a DocType, which can be defined easily without code. The platform comes with a rich single-page application, roles and permissions, and integration-friendly REST API and Webhooks.
Pricing: Open-source, free to use.
Pros
Metadata-first approach provides flexibility and easy customization.
Rich single-page application with built-in forms, list, search, and navigation.
Robust roles and permissions system.
Supports background tasks powered by Python RQ and socket.io support based on NodeJS.
SMTP and IMAP based email setup.
Cons
Frappe Framework might require a basic understanding of Python and JavaScript.
The learning curve can be steep for beginners.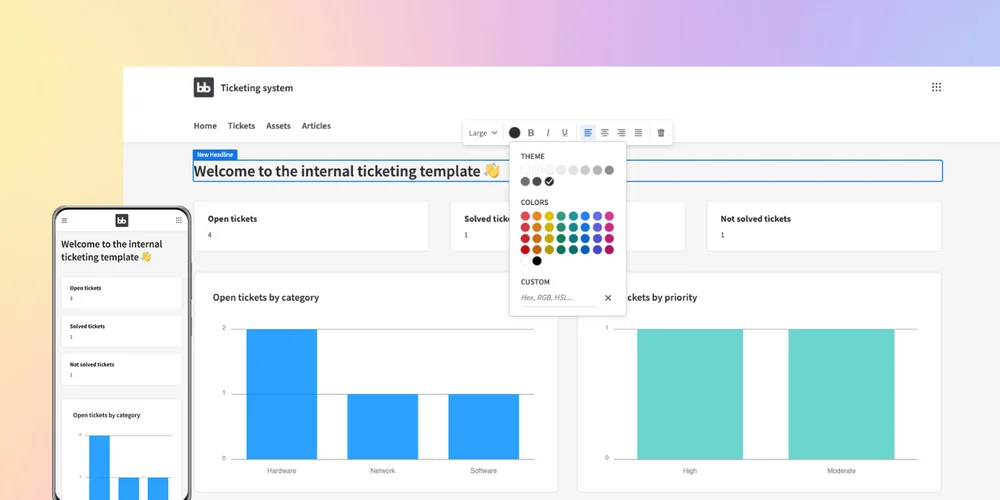 BudiBase, an open-source low code web app builder, comes with robust support for PostgreSQL, MySQL, MSSQL, MongoDB, Rest API, and Docker. It's aimed at swiftly building internal tools, processes, and admin panels, enhancing business performance and productivity.
The tool gives companies the flexibility and extensibility to host everything themselves, which is crucial for enterprises handling sensitive data. It offers built-in automation powered by webhooks and actions, comparable to Zapier. You can tailor it to any use case, such as automatic approval of leave requests or new inbound lead notifications.
Pricing: From $8 to $16+/per month
Pros
Open-source model, allowing complete control and access to the codebase.
The capacity to host everything in-house, ensuring data security.
Cons
Requires a certain degree of technical understanding to leverage its capabilities fully.
About open-source low code, we have a detailed review and comparision about every top platform on the market, you can get it at this article.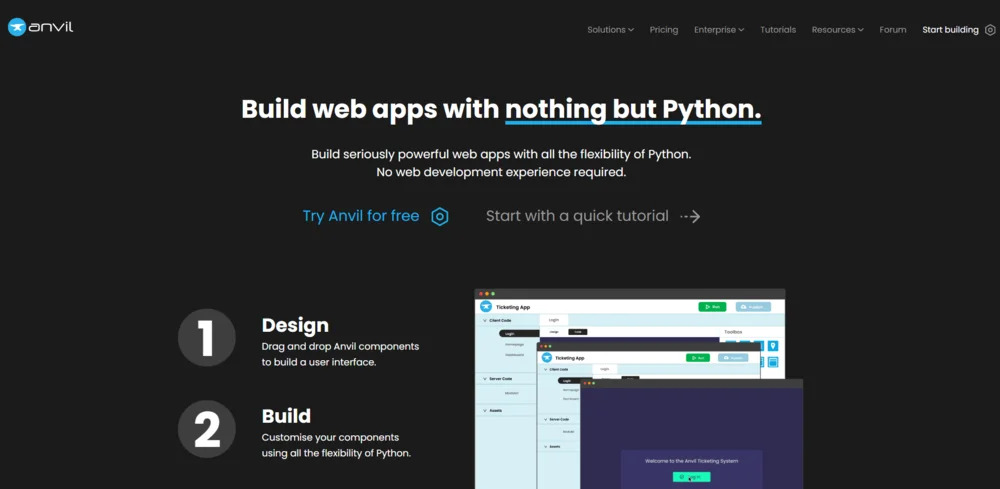 Anvil makes it possible to build web apps using Python, offering an accessible entry point to mobile software development. Anvil apps are designed to be mobile-ready, providing a hassle-free, responsive web app-building experience.
Anvil offers a drag-and-drop designer to construct your UI, eliminating the need for JavaScript or HTML. The apps created are Progressive Web Apps, which means they can be installed as apps on Android, iPhone, or Chromebook and work offline.
Pricing: $14 to $649/ month
Pros
Python-based, lowering the entry barrier for beginners.
Drag-and-drop designer, making UI construction easy.
Apps are mobile-ready and can work offline.
Cons
Limited to Python, which may not suit all development needs.
Convertigo is an open-source low code platform that offers a multitude of builders and tools for full-stack mobile and web application development.
This platform offers offline data and task scheduling, activity monitoring, API access controls and permissions, alerts/notifications, and collaborative development application features. Additionally, it provides a management audit trial and calendar management.
Pricing: $19 to $193/ month
Pros
Wide range of features for mobile and web application development.
Ensures data security and user authentication.
Offers offline data and task scheduling.
Cons
As an open-source tool, it may have a learning curve for beginners.
Wrapping Up
Each low code web application development tools offers unique strengths, such as rapid app development, user-friendly interfaces, open-source flexibility, powerful automation, Python-powered construction, and comprehensive features for full-stack development. Low-code platforms will play an increasingly important role as businesses evolve in creating efficient, effective, and bespoke applications that meet specific business needs. Making an informed decision on your organization's best low code web app builder can significantly enhance productivity and overall operational efficiency.
---
More related posts from Low Code blog you shouldn't skip:
We are sorry that this post was not useful for you!
Let us improve this post!
Tell us how we can improve this post?