Indeed, companies are gradually deploying low code as their technical solution. This new technology empowers citizen developers to create innovative apps without having coding knowledge beforehand. While allowing developers to make apps in a visually optimized environment, reducing reliance on writing code by hand. Promising as it sounds, low code security has been a real concern to IT leaders.
Dark Reading has surveyed 136 IT and cybersecurity leaders, and the result pointed out that over half of organizations are utilizing low code in several departments of their businesses. In the same survey, nearly 33% of IT experts agreed that the lack of governance on data access of low-code apps is the top security concern. Also, 26% of participants did not trust app-developing platforms.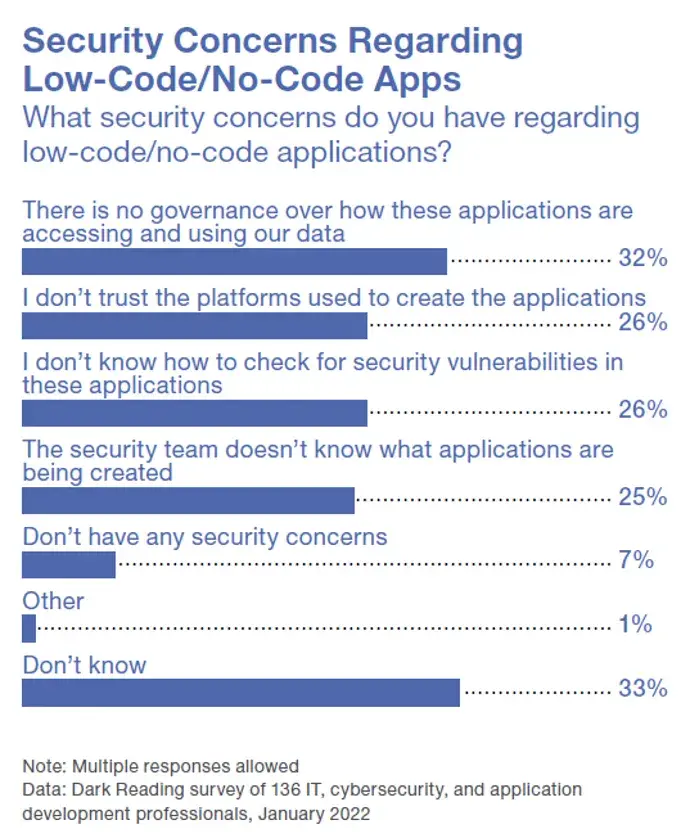 Given the insight above, Synodus shall break down the most common security challenges of low code and how to tackle these.
Why Does Low Code Security Concern CTOs?
Low code has altered digital transformation for many businesses by simplifying running and building apps. At the same time, this emerging development approach has opened a door for an era of citizen developers. The trend helps businesses utilize resources across organizations, foster collaboration between teams, and increase output.
Yet, the growth of citizen developers has led to specific concerns for CTOs and tech leaders. They worry about managing these groups of employees while still giving them space to be innovative. Remember that they are not professional developers, so how can tech leaders ensure they will safely monetize data and low code?
Besides, the nature of low code platforms is cloud-based. This technology excels at creating and supporting cloud applications. Hence, it prompts several questions:
Where will the data be saved? How will it be protected?
What happens to the data and applications once the business stops using a low code platform?
Unlike on-premises development, where all data is self-hosted, you will need third-party support when using low code.
Unlike SaaS, which provides a solution to adopt immediately and retrieve your data at any given moment, with low code, you spend time and resources to customize an application. So, before opting for low code, you should question whether you will need it for at least 3 to 5 years.
The desire to grow rapidly and scale with more digital tools can blind businesses to potential threats. It would be too late once you realize this and have already implemented dozens of departmental applications. Hence, learning the potential security issues and how to mitigate them early on is a tactical move to leverage the best of low code.
You Should Be Aware Of These Low Code Security Issues
How To Control Citizen Developers Effectively?
With such ease of use, deploying low code among enterprises has led to a surge of citizen developers. These developers are non-IT employees from marketing, sales, back offices, etc., creating apps for others or themselves. Gartner reported that 41% of companies are actively engaged in citizen development projects, and many are either considering or preparing to launch such projects.
Even though this is good for increasing productivity in digital transformation, it also comes with specific low code security concerns, like compliance or governance.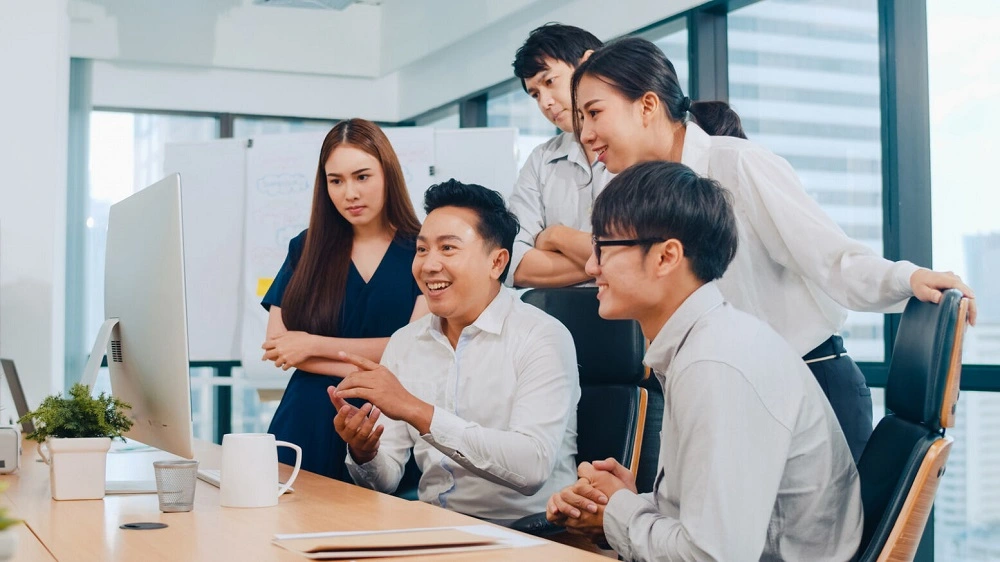 Low code technology indeed offers a lot of freedom, but the freedom can be overdriven to the point of the overall security being weakened. When a professional or a citizen developer creates an app that exposes an organization to security or compliance risks, it is the organization's responsibility to detect and fix threats in no time. The risk could be admin credentials being exposed, or sensitive data being sent to an uncontrolled location.
Lack Of Visibility Deep Down
Most low code platforms can't allow admins to view the source code and let them know the potential vulnerability associated with them. Security teams and developers don't know what is used, who creates it, whether business-critical apps are being developed using such tools, and whether they involve sensitive data.
Lack of visibility in low code also manifests in business users not knowing which app is being made or used. The answer to "How many applications do we have?" is simply unanswerable without proper measures.
Some platforms even allow their business users to create apps in folders that are not visible to admins. This leads to admins only knowing how many apps exist in that file without knowing what data the app contains.
To tame the possible low code security risk, citizen developers are required to carefully select resources and build apps with the said resources only. Data viewing, editing, and sharing are advised to undergo meticulous controls. Also, the virtual data layers in low code systems can provide necessary security control, granting access only to the right people. Developers can find other security compliance checks built in quality low code platforms, like PCI, HIPAA, and FedRAMP.
Challenging To Create Governance
Most IT leaders agree it's challenging to know how low code applications use data. Many applications store their data either on the platform's built-in storage or an external platform through a connector.
Moreover, low code platforms leave makers to bake their identities into the applications, resulting in application users triggering operations on the maker's behalf. Many business programs store their data in the creator's Dropbox or OneDrive account. Baked-in accounts can lead to a bigger problem when data is accidentally saved on a personal account but not a business one.
Possible low code security risks regarding governance also arise from data movers and operation stitchers. This is when applications link source and destination by either transmitting data between numerous sites or connecting an operation in one system to another external system.
Prompting Shadow IT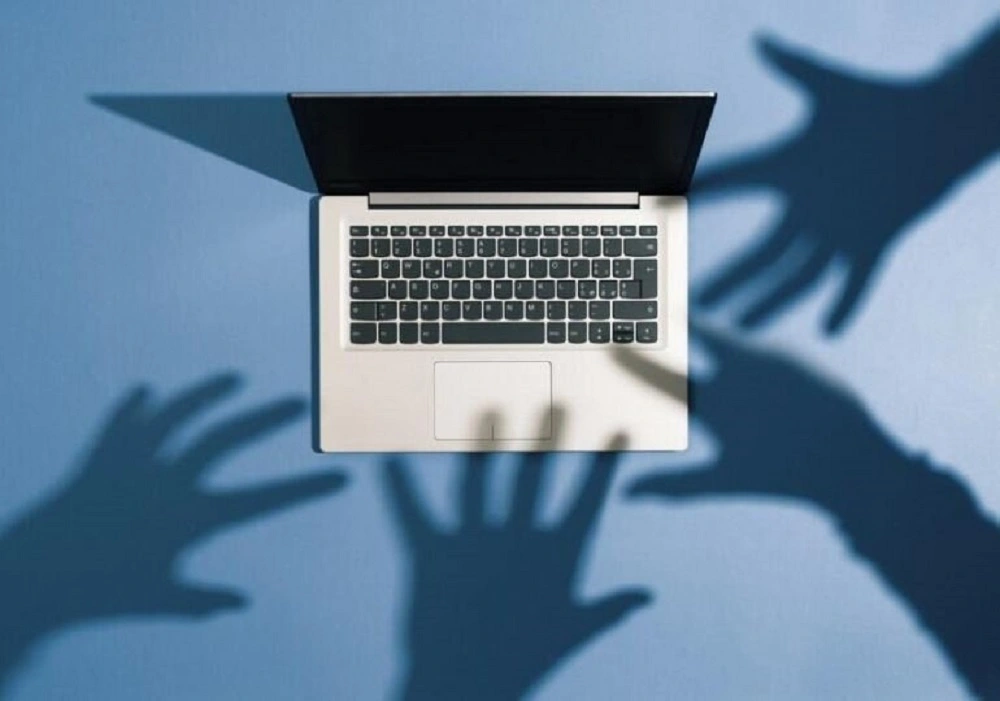 As low code development is expanding, so unsurprisingly is the rate of shadow IT. Shadow IT means using software, hardware, applications, and services that the IT department does not approve or acknowledge. This typically happens when enterprises implement low code without control or governance. In this case, it's when users are granted access to develop freely.
The excessive amount of shadow IT can detriment organizations in many ways.
It can prevent them from understanding and monitoring IT assets.
Using unauthorized applications and software can make it hard to identify threats, prevent data leaks, and mitigate security breaches.
Having more unnecessary apps can result in more failure, as they can turn into system vulnerabilities.
Shadow IT is one of the unpredictable factors in organizational processes. Low code apps acquired as shadow IT can't be traced and corrected when they are causing security issues. They don't follow the security guidelines of organizations. Organizations should disclose IT components to tackle this low code security issue, making them transparent before use.
Lack Of In-house Cybersecurity Expertise For Self-check
The ease of use of low code development platforms poses inherent low code security risk to any organization. People, especially ordinary users, can easily build apps right on low-code's intuitive interface, but they have no idea of the potential risks.
They also tend to create apps with a multitude of issues in authentication, data protection, misconfiguration, and more. They are also unlikely to know the essential measures to avoid those risks. Many of them are reportedly clueless about wizards that come with platforms.
OWASP conducted a list of the top 10 low code security risks, thus, educating organizations on the most common security risks and creating awareness among them.
Account Impersonation
Authorization Misuse
Data Leakage and Unexpected Consequences
Authentication and Secure Communication Failures
Security Misconfiguration
Injection Handling Failures
Vulnerable and Untrusted Components
Data and Secret Handling Failures
Asset Management Failures
Security Logging and Monitoring Failures
Tips To Wane The Effect Of Low Code Security Risks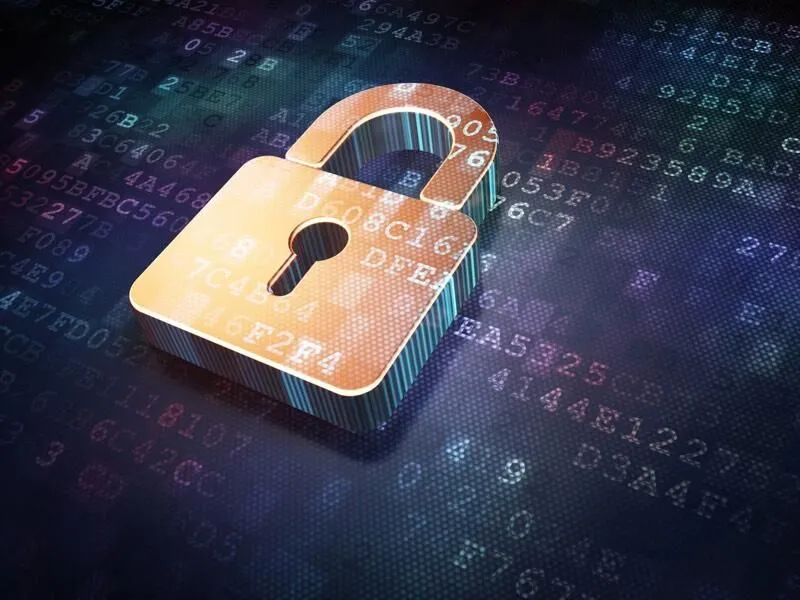 There are ways to mitigate low code platform security risks. Before doing anything with low code, equip yourself with these tips, as they can come in clutch to help you leverage the best of this technology.
Buy-in From IT And Security
Try to include IT and security leadership in implementing the low code platform. Their opinion will become of help, as they have a vast knowledge of suppliers, certifications, vulnerabilities, and policies. They ensure that the low code platform investment is worth every penny.
Supplier Documentation Request
If you are going to purchase from a third-party supplier, do research about them before settling down. Request their documentation of security testing, certifications, and available security controls.
Security Culture
You can help your organization understand the importance of low code security by enforcing it in every practice. Establish a clear, concise set of security policies, governance rules, and best practices. Once security practices become a norm, the chance of a security breach is reduced.
Threat Analysis And Modeling
Get your IT team to thoroughly analyze threats before implementing a low code platform. This step allows you and other enterprises to investigate all platform access points, identify potential threats, and ensure the platform's architecture poses no significant risks.
Static Code Analysis
Besides threat analysis, this can help you find any flawed code that might interact with unauthorized external sources and go against industry security standards.
Vulnerability Testing
Get the cybersecurity professionals to check whether your low code platform is secured. They can check whether access points are safe from hackers and data compromise.
Access Control
Get your IT team to thoroughly analyze threats before implementing a low code platform. This step allows you and other enterprises to investigate all platform access points, identify potential threats, and ensure the platform's architecture poses no significant risks.
Hosting
Make sure that the platform's data storage is safe and capable of restoring in the event of data loss and breach. Besides having your own IT and security teams, review your licensing agreement regularly so you know who to contact when a severe security issue happens.
Set Up A Sandbox
You can let your citizen developers play around by setting up a sandbox and offering them certain development resources under IT department control. From there, you can manage data access and avoid the risk of exposing them.
Some low code platforms provide built-in regulation compliance, while others offer a sandbox at the virtual data layer.
Despite Everything, Low Code Still Worth Considering
Remember that there's no perfect solution: SaaS is limited in customization, traditional development takes lots of resources, and low code also has its downside. Before refusing to adopt low code, consider some of its advantages compared to other digital transformation strategies. And, of course, keep in mind that all these risks mentioned above can be mitigated!
Joint opportunities from non and professional coders: Low code maximizes competency and collaboration within the organization. Citizen developers can build apps without previous coding experience, and professional coders can collaborate by supporting when necessary to optimize the low code app.
A cost-effective option for small and medium businesses: Said businesses develop their apps with fewer resources required and at a lower budget. With minimal resources needed for low code development, the deployment time is essentially shortened.
Fast development: Developers can quickly create MVPs, test prototypes, and re-design without re-coding, thanks to the reusable design components.
Quick integration: Low code platforms make integration, legacy modernization, and automation more accessible than ever. A website or app can be available quickly; digital business process automation can be enabled with API openness.
Adaptable solutions for businesses: Low code platforms provide faster development, more resilient solutions, and quicker adaptation to new requirements.
Wrapping Up
Perhaps security is the biggest downside of low code. It might seem concerning, but you can easily ease down and prevent these threats with the right approach. With our guide on 5 low code security threats, if you have any other questions, don't hesitate to contact our experts! Addressing these from early on is essential and can help you save many wasted resources.
---
More related posts from Low Code blog you shouldn't skip:
We are sorry that this post was not useful for you!
Let us improve this post!
Tell us how we can improve this post?