Tech talent shortage is happening, and it continues to impact every aspect of tech world. The question is, how could tech companies, especially tech starts-up cope with this situation? Navigating the tech talent shortage by attracting and retaining senior developers should be an option. This article will show you how to do with useful information and tips.
1. Top Tech Talent Shortage: Overview, Statistics, And Explanation
1.1. Overview Of Top Tech Talent Shortage
In today's tech world, the demand for top talent is exploding at a time when supply is increasingly threatened. Korn Ferry, a global organizational Consulting Firm, has predicted that by 2030, the tech industry labor-skill shortage will reach 4.3 million workers, leading to an unrealized output of $449.70 billion globally!
Long story short, talent is consistently becoming the primary challenge for tech leaders. A recent report by the Business Development Bank of Canada (BDC) indicates that at least 55% of Canadian tech leaders are "struggling to hire the employees they need".
The growing gap between supply and demand is bad. But it is worse when the tech industry has already been facing The Great Resignation since the early 2020s, followed by the Tech Lays-off in recent years.
1.2. Statistics Related To Tech Talent Shortage
Does the situation of tech talent shortage really happen worldwide?
And if yes, would the tech companies be severely impacted by this?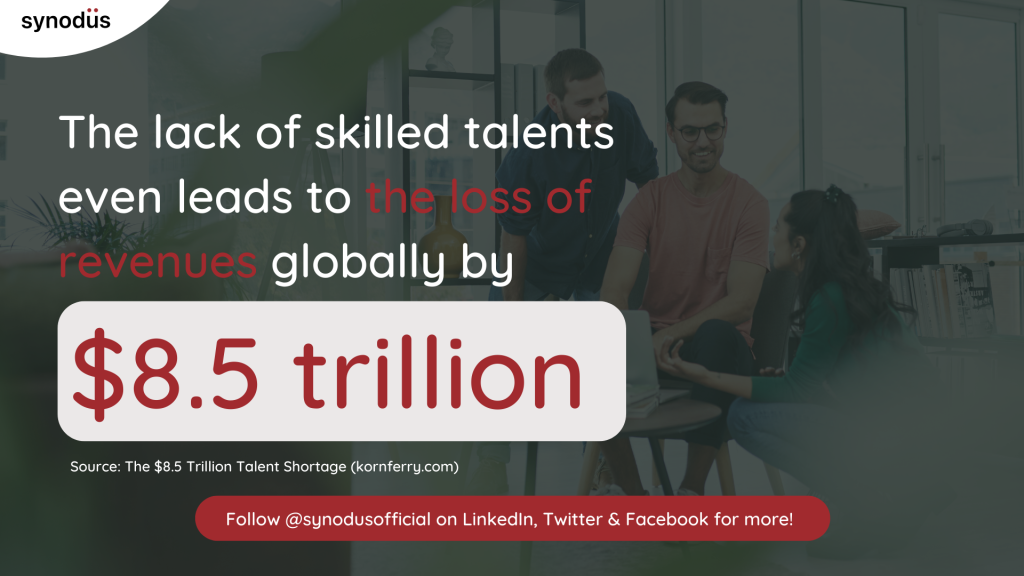 Here are the interesting statistics showing how dire the global talent shortage is globally:
Around 40 million technical jobs are unfulfilled due to a lack of skilled talents.
The US Labor Department indicates that by 2030, the global shortage of software engineers may reach up to 85.2 million.
While there is a decrease in tech talents, it is reported that job openings for tech positions including software developers, quality assurance analysts, and testers are continually growing during the period 2022 to 2030.
The lack of skilled talents even leads to the loss of revenues by $8.5 trillion globally.
From the statistics above, it is noted that there is a tech talent shortage in the United States and more. Recruiters and entrepreneurs in Europe have already increasingly felt the change in labour market. For example, Germany currently lacks around 100,000 IT specialists. In reality, Software development still is one of the most sought-after positions. In the United States, it's even considered a leader of the "Big Quits". However, this doesn't mean that developers leave their professional field entirely. Most of them just want to change their job because they are dissatisfied with their current position and think they can find something better elsewhere.
1.3. The Reasons Behind The Current Situation
A report indicates that better compensation, remote and flexible work setup are among the utmost factors to explain why developers chose to resign. The great resignation crisis might happen in earlier than we expected, around the early months of 2020, yet until now, the job market worldwide has just witnessed a strong impact from this crisis. Someone has called it as "the biggest challenge they might tackle in recruitment"
According to the U.S. Bureau Statisitics, around 4 million employees left their jobs in July 2021. 69% of companies are reporting talent shortages, according to a study by Manpower Group. One unexpected thing is those who are leading the great resignation crisis in tech are senior developers because they are in demand more than ever. They are constantly bombarded with job offers, and tech companies seem to competitively join in the "war for talents" while struggling to keep their existing employees by raising their wages, and offering more benefits. However, those actions are not sustainable cause the budget for the hiring of tech companies is not always that huge, they need to change their hiring strategies, and find their own ways to overcome the current situation without any loss.
If you, as an entrepreneur, or a founder of tech companies, are wondering how you could plan ahead, retain your current employees and hire new potential developers, this article is for you.
2. Hiring Strategies That Work During The Great Resignation
Tech companies have already suffered from tech talent shortages in different cases: Some of the companies got a lot of projects yet their employees cannot meet up to expectations, and some may find it difficult to hire developers, especially those at mid or senior levels. So, there is an urgent need for the BOD of the tech companies to come up with more applicable, efficient, and innovative hiring strategies that work.
2.1. Why should you hire Senior & Tech Leads?
When a tech company hires a Lead/Senior Developer, it also means to make a strong impact on its culture and success. If a Lead developer is defined as a senior-level developer, who is more skilled and experienced than the average developer, they would take more responsibilities for the projects assigned. Those responsibilities may include but are not limited to managing the whole development team of fresher, junior to mid-level developers, ensuring the projects are completed in a timely and efficient manager. That also means, if you find a well-fit Lead developer, there is no need for you to worry about the day-to-day coding and management, but only need to check up on lead developers for daily progress.
2.2. The Differences Between Lead Vs. Senior Developers
Some people might think these titles seem interchangeable, yet there are several distinct differences: While the tech-lead developer is more of a team facilitator, the senior developer is more hands-on with the technology side of things and will oversee building out core parts of systems.
Start with the problems of the tech companies: Survey after survey finds many tech companies having difficulties in hiring good quality seniors and technical leads, with the common complaint being that "there just aren't enough really good senior developers out there". However, to some extent, this may be true, but the apparent shortage is not as bad as it seems. The main reason is that these companies are filtering out many great candidates by still applying poor recruitment and evaluation processes. The other reason is that the companies may even not sure which qualities they use to qualify applicants so they turn out to hire the wrong candidates, who cannot meet up to their expectations and do not have the skills that the tech companies need.
For those reasons, it's time for any tech companies to review their current recruiting process and highly focus on creating an exceptional experience for potential candidates, as we all know finding and training newly qualified developers is costly and time-consuming.
To review the recruitment process, please ask your existing technical HR team about their work, their obstacles when approaching seniors and leads to understanding why you cannot find a suitable candidate.
Here is a checklist of things for you to consider:
Define your needs: You need to clarify clearly with your recruiters about your needs, how many developers at senior/lead levels you are expected to be on board, and what
Spot the best talent by several factors defined by your own company: You do not find the best one, you find the most suitable one with your company's culture and vision, so you need to make sure that you have a list of indicators to qualify your candidates.
And, please don't waste your time on a CV getting many warning signs such as: They accept to work at a very cheap price, they do not have any relevant experience on their resume, they have no/few repositories on Github/Stackorverflow/…
"So what I should look for in a candidate?", you may ask. As a senior/tech lead developer is definitely not an average one, so it is normal if you set higher standards to find the best talent for your company.
Those standards might include but are not limited to:
Exceptional Programming Skills (You should make also sure that the candidate is up to speed with current technologies/latest technologies)
Proficiency in specific stack/framework/libraries that your team will be using
Project Management Abilities (They should be able to suggest technical solutions for your problems and create a development plan)
People skills (it's very important for a Lead/Senior Developer – they should be familiar with working with team members, providing technical support and helping to resolve problems)
Excellent Communication
Problem Solving Skills
Write a detailed Job description: The more detailed job description is, the better you can attract potential candidates to apply!
You and your HR team should work on revamping your Job Description by defining your needs, listing the main responsibilities of the role, as well as what skills are needed.
Besides, you should consider including such information in your job description, such as Salary/Pay Rate, Working Hours, Job Responsibilities, Company Values (if any), Office Location (Do your company offer hybrid/remote working or not?), Required skills/software, Preferred Skills/Software
Understanding the cost of hiring a good lead/senior developer:
As you want someone who will make a strong impact on your bottom line, then you need to pay for that value. According to Payscale, the Average Lead Software Engineer Salary is $120,127/year, while ZipRecruiter reports that the average Senior Lead Developer Sary in US is $132,227/year or around $64/hour.
Hiring a tech team is hard, but hiring a good tech team? It is even harder. This is also true with finding good developers, especially at a senior or lead level. Instead of going through a costly and time-consuming hiring process, why don't you consider outsource your tech?
Let's do some math here.
You would most likely need around 7 to 10 developers to execute a project, one or two of them should be at the senior/tech lead level. With the work rate per hour mentioned above, it might cost you $77,000/month for the team salary only.
However, you could outsource your tech to an agency or a partner like Synodus, starting at just $30/hour for a developer at the senior/lead level, and you have your product built by a team of specialists with experiences over a wide range of industries. 
3. Hiring In-house Vs. Outsourcing – How To Decide?
As you have a growing demand for senior developers, hiring in-house vs outsourcing – which would be the most viable option for your company?
Speed of development: The speed of building in-house could be limited by human resources and time to recruit. However, this might be different when setting up everything with outsourcing teams. As they do have bench, which is a group of software engineers who are not currently working on any projects and are ready for their next assignments. They could join your project nearly as soon as possible and are ready to do their job.
Time to hire: According to a study from Glassdoor, the average interview process to hire software development engineers takes up to 40.8 days. Not to mention that you also wait for the new hire to serve their notice period at their current job before accepting your offer, and they also need time to get used to a new job, new teams, and their work responsibilities.
However, with an outsourcing agency, you could scale your team faster within 2 – 3 weeks.
Commitment Length: When hiring developers in-house, you commit to them and must maintain the agreements in your contract. If the employees do not pan out, you are back to square one in the recruiting cycle, possibly putting you back months in project completion. You also risk the turnover of employees, which doubles the problem.
Whereas, when outsourcing your tech, you have the benefits of receiving talent and expertise for the agreed requirements. No matter which models you choose, whether IT's Staff Augmentation, Software Outsourcing or Managed IT Services, you got the flexibility and scalability for your business objectives.
Management: When the hiring process is completed, you need to onboard and train your newly in-house employees. No surprise, it takes time and effort, yet this is also rewarding. Not to mention that there will be no time zone differences with an in-house team.
Regarding outsourcing teams, they are accustomed to getting on board quickly, being self-organized and independent, yet they are less likely to treat your project as their own. Hence, it's more difficult to find an engaged partner, who pours their mind fully into your project.
Additional Free & Cost: Once your project is over, agencies often do not charge you any. Only if there is additional work, will you need to pay them an hourly rate for the work done. An in-house team will keep draining company resources for payroll regardless of whether work is being done or not. Whereas, if you outsource, we make sure that you only pay for the work done!
In case you intend to outsource tasks to other agencies, here are several pain points of CTOs related to that: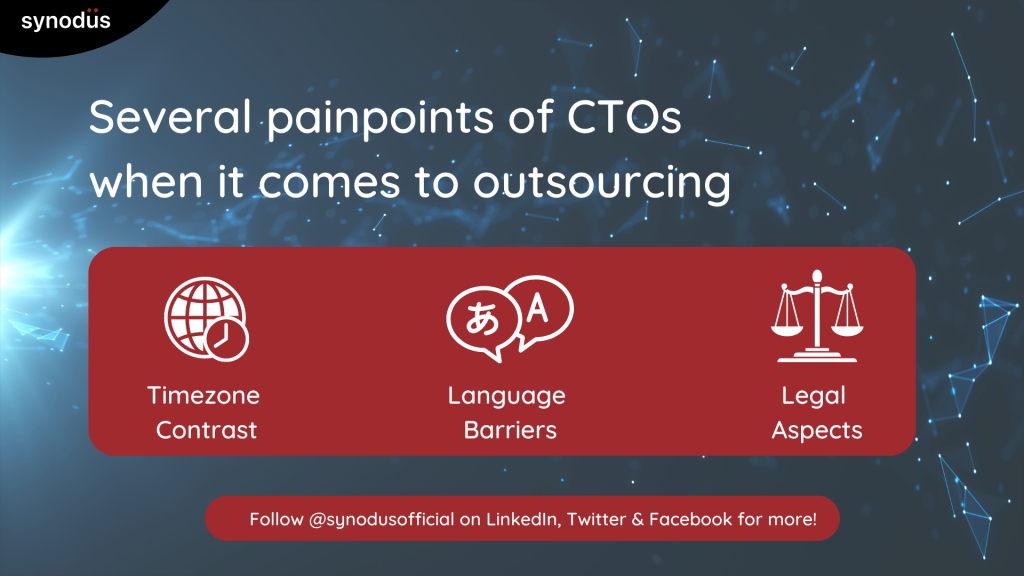 + Timezone Contrast: This is one of the biggest fears for any companies who are shortlisting agencies from other nations. However, imagine that you are in the U.S and you outsource your tech to us, which is about 12 hours ahead of you. As we are a day forward when you wake up in the morning, we have already completed all the tasks and are ready to discuss further or explain them to you. There is no better thing than great organization and teamwork, so whenever we work on any outsourcing project, we clarify a clear brief and detailed requirements, set up weekly catchups and provide immediate support and maintenance if any problems arise.
+ Language Barrier: Undeniably, communication difficulties would restrict essential feedback on different functions if you outsource your tech to another country. However, if you choose Vietnam as your go-to country for outsourcing, language barriers mostly no longer exist. Most IT workers in Vietnam nowadays can communicate in English easily. Here at Synodus, we make sure that you do not have any difficulties communicating with us, as our developers could communicate well and write easy-to-understand technical documents! Over 3 years, we have already served nearly 45+ clients, most of them are foreign brands.
+ Legal aspects: As we have had extensive experience working with international clients, we are truly aware of client data protection. We deliver a clear approach, establish clear expectations with our partners, and sign security agreements (if necessary). Here is what you could expect to get if you choose Synodus as your outsourcing partner:
A clear approach with deliverables and a plan with milestones & deadlines.
The contract with intellectual property rights, accountability, information security, and legal agreements.
4. Here's What Tech Companies Can Do More
Getting a clear hiring strategy is crucial. Yet it is more important to retain your IT professionals, so you could stop the bleeding first! That also means your company's focus should be equal to the existing team and talent acquisition.
The companies could consider deploying these strategies for better work experience:
Salaries & Bonuses: To stay competitive in the job market, companies should acknowledge that salaries will have to evolve too. Besides, rewarding them with financial bonuses, and appropriate celebrations is also a way to show how appreciate you are to your developers.
Flexibility: We don't talk about coffee bars, billiards tables, or things like that anymore. Flexibility means flexible job hours, remote/hybrid work environments, and more work-life balance.
Investment in further training and the employee journey: Empowering them with more opportunities to upskill or learn new technologies. Discuss with them about advancement opportunities for a job change or current expansion.
Showing trust – by giving developers responsibility. Give your tech team more autonomy in the way they do their work.

5. Why Outsourcing A Tech Agency Today Is The Most Efficient Way To Fill The Talent Gap And Benefit Your Company
Since the pandemic, companies have adapted to remote infrastructure with efficiency and productivity, and there is no need to strictly have a team physically in the workplace anymore. With a lot of modern communication tools, all the team members could easily communicate, discuss and collaborate with no deterrence.
With the ongoing situations mentioned above, it's high time your company outsourced tech agencies outside your border! As we believe, this is the most efficient way to fill the talent gap and benefit your company. You do not need to worry anymore about competing with limited talent that is in your area.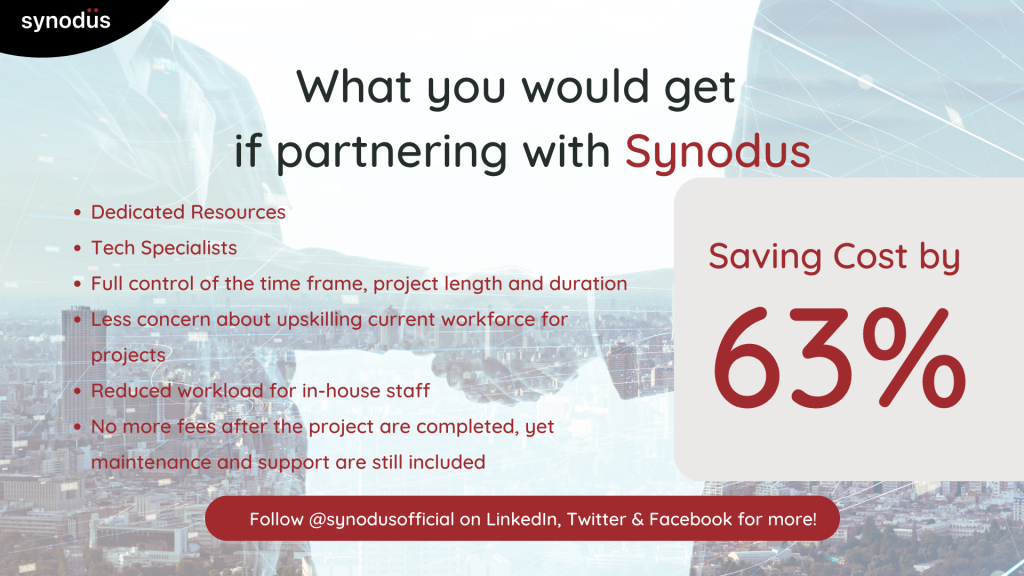 Here are what you could get if partnering with Synodus – your potential strategic technology partner:
Dedicated Resouces
Tech Specialists who are already working in a wide range of fields.
Full control of the time frame, project length and duration
Less concern about upskilling current workforce for projects
Reduced workload for in-house staff
Saving cost by 63%
No more fees after the project are completed, yet maintenance and support are still included
Dont's hesitate anymore! Let's contact us to discuss further!
We are sorry that this post was not useful for you!
Let us improve this post!
Tell us how we can improve this post?