Chatbots are programs that automate voice and text conversations to help companies build human-like conversations and respond to clients faster. Besides off-the-shells chatbots, low code is a good alternative among existing technology to customize and implement them in service departments or company websites. In this article, Synodus will walk you through the use of low code chatbot and top platforms that you can use. 
Types Of Chatbot
There are many chatbot types, which give you the options to build what is best for your business model. They allow organizations to engage with their target consumers in a real-time and customized manner without sacrificing automation.
1. Rule-based chatbots operate on the notion of a structured flow, which is sometimes depicted as a decision tree. They feature a less flexible conversation flow than AI-based bots but are easier to create for anyone who wants to design a chatbot. They can perform complicated tasks by utilizing many integrations and backend power-ups.
Designed chatbots to aid human interaction
Programmatic chatbots to totally replace human conversation.
Machine learning-chatbot creation has an information-gathering feature.
2. AI chatbots can understand natural human language because they use natural language processing (NLP) or are coupled with a large language model (LLM) such as OpenAI's GPT-3. They may or may not employ machine learning as well. The fundamental advantage of NLP chatbots is that they provide a more natural conversational experience to the individual with whom they engage. However, developing this type of chatbot is more complex and time-consuming.
A Shift In Chatbot Development
Many companies choose commercial chatbots to fight the demand for a customer services assistant. Some of the top choices include Zendesk or Chatfuel. Even though these tools are great, they might lack certain features and customization abilities to serve niche industries. Not to mention the integration ability to connect with other systems for a streamlined flow of information can sometimes be a chore. 
Because of this, many choose to tailor-make their chatbot directly connect to their CMS or customer services. Doing this allows you to create features and embed conversation flow that best matches your industry and business model.
At the same time, most customers can recognize a chatbot from miles away nowadays. This technology is no longer new. Customers can identify it through robotic conversations or a lack of empathy and emotion when interacting. This is when AI comes in clutch. AI-chatbot can mimic human behavior, making conservation more friendly and boosting engagement.
Why Low Code Is A Good Choice For Chatbot Development?
Low code is a software development approach that uses click-to-point configuration to boost the process faster. Using low code, you can choose pre-built code blocks and drag them into places, quickly creating an application without much coding. Thanks to its ease of use, citizen developers and business users without coding experience can also build a simple app.
Besides, low code is open for customization, allowing you to add new code lines and expand your apps.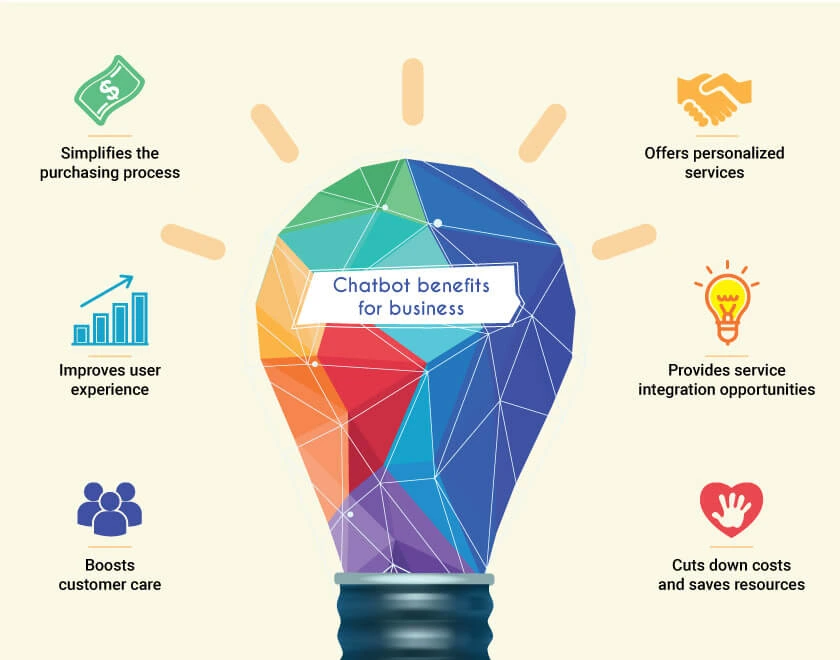 According to Gartner market research, low code application construction will account for over 65% of all app development functions by 2024, with around 66% of large organizations adopting at least four low code platforms. Here's why we're seeing an increase in the use of low code for chatbot creation.   
Advantage In Terms Of Cost
Most low code platforms are SaaS products, making them more affordable for business than traditional coding. You end up saving a lot of money on software development because of its greater accessibility.
Furthermore, some of these platforms include a pay-as-you-go strategy, which allows you to add discussions for a little fee if you exceed the monthly threshold. Many organizations are hesitant to invest in a chatbot unless they see tangible benefits. These pricing models assist us in resolving that issue.
Natural Language Processing And AI Capabilities
Although it may sound like rocket science, it is quite feasible. Low code development platforms can be used to create natural language and AI-driven chatbots. You don't have to focus on NLP-based bots when starting with bots. However, as you collect more data and scale, it becomes a crucial feature.
Integrations
Low code would simplify linking your chatbot with popular SaaS and on-premises enterprise system technologies. Creating a chatbot that is a perfect fit for your team's present tech stack would relieve the support team's workload and boost overall customer satisfaction.
For example, if your team uses Slack for internal communication and Hubspot as a Sales CRM, you may use chatbots to automate across these platforms.
Enhanced Customization
Personalization is required as the business expands. Low code allows you to micro-customize your chatbot while not affecting the load time of your website/app.
A media corporation, for example, would want a creative logo animation for its chatbot. Low code chatbots are ideal for them. Low code, in a nutshell, has democratized creativity by serving as a link between citizen developers, programmers, and domain experts.
Top Low Code Chatbot Platform
1. Power Virtual Agents – Generative AI And Conversational Chatbot
Created by Microsoft, this low code chatbot helps businesses create enterprise-level chatbots. Specialized in conversational chatbots, Power Virtual Agents embed AI to suggest design and chat content, improving both developer and customer experiences.
The best part about Power Virtual Agents is that it supports various use cases in 23 languages, not limited to customer services. From sales and marketing, human resources, IT support, finance to operations, you can craft any conversation. Microsoft can handle complex logic with its AI capabilities, adding human-like behavior into the conversation.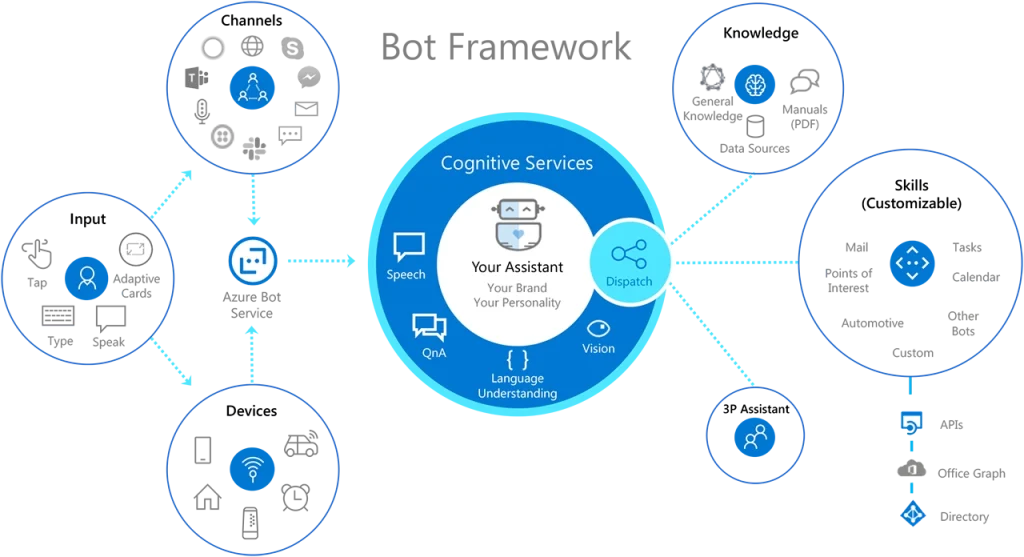 To expand your application, you can connect Power Virtual Agents with Power Pages, Power Automate, Power BI and Power Apps, all are parts of Microsoft Low Code Hub. For external applications, there are 1,000 prebuilt and custom data connectors to choose from.
Supported channel: Web, Facebook, Microsoft Teams
Pricing: $200/per month for 2000 sessions
G2 rate: 4.4/5
Qualified as the gold partner of Microsoft, Synodus offer Custom Low Code Development Services. If you are looking for a hand in creating Microsoft-based chatbot, our well-versed experts are here to help!
2. Landbot.io – Rule-based Chatbot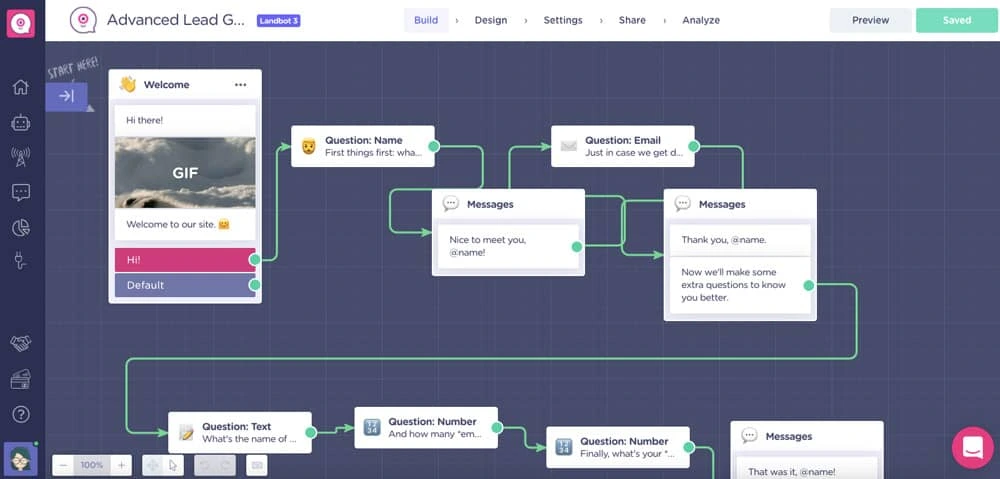 Landbot's chatbot builder offers customers an intuitive and versatile game-like construction experience that frequently reminds them of stacking lego blocks.
You can create and launch bots in minutes using this friendly low code chatbot. Its integration toolset includes fundamentals like Google Sheets, Calendly, Zapier, Slack, Webhooks, Segment, Salesforce, and Zendesk. Interactive UI components like carousels, enriched buttons, in-chat mini-forms, structured questions, and a sophisticated live chat manager are among the key features.
Landbot provides the most freedom with website chatbots (for example, chatbots for WordPress), allowing you to publish them without scripting in basic formats.
Supported channel: Web, WhatsApp, Facebook Messenger, and API
Pricing: from $30/month
G2 rate: 4.7/5
3. Dialogflow – AI-powered Low Code Chatbot
Using this tool, you can build natural language processing (NLP)-powered AI chatbots without starting from scratch. For example, the method eliminates the need to teach your bot the distinction between time, date, and location. It already knows; all you have to do is discuss it.
Dialogflow may be tailored to any size business, from a startup to a major corporation. Dialogflow CX (an advanced agent type appropriate for large or highly complicated agents) and Dialogflow ES (the standard agent type suitable for small and simple agents) are available as virtual agent services.
Channels: Facebook Messenger, Facebook Workplace, Hangouts Chat, LINE, Slack, Telegram.
Pricing: Complex pricing for paid plans
G2 rate: 4.3/5
4. Chatfuel – Facebook Messenger's Chatbot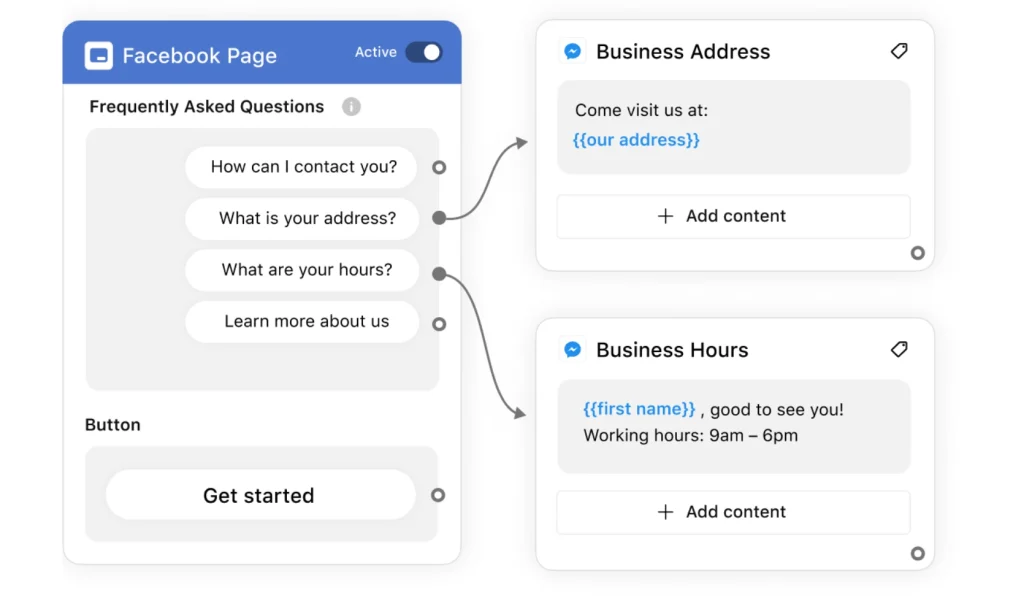 Chatfuel is dedicated solely to Facebook Messenger, with over 360,000 chatbots and over 17 million users worldwide.
It features a relatively simple visual interface that assists non-tech people in designing and building automated conversational processes. This enables you to deliver a message using text cards, image cards, carousels, and so on. While the low code chatbot builder may be used to construct a chatbot for any use case, the feature setup is especially beneficial for eCommerce firms.
About 50 languages and connections such as Google search, Bing search, JSON API, subscribe plugin, RSS import, Digest, IFTTT, Zapier, user input, and LiveChat are supported.
Channel: Facebook Messenger
Pricing: From $9.99/month (user-based pricing)
G2 rate: 4.5/5
5. Botsify – Build Chatbot For Your Website
Botsify is a simple low code chatbot platform that allows you to easily construct AI chatbots for your website or messaging app.
This tool has built-in NLP techniques, machine learning, and a drag-and-drop user interface that does not require coding knowledge. However, when compared to the competitors, its interface appears to be a bit out of date. Aside from the sheer number of channels, some of its most significant advantages include its intelligent chatbot templates and numerous connections, such as Shopify for eCommerce and Dashbot.io for analytics.
Channels: Web, Facebook Messenger, WhatsApp, Telegram, WordPress, SMS (Twilio)
Pricing range: From $49 per month
G2 rate: 4.3 out of 5
6. Botpress – Open-source Low Code Chatbot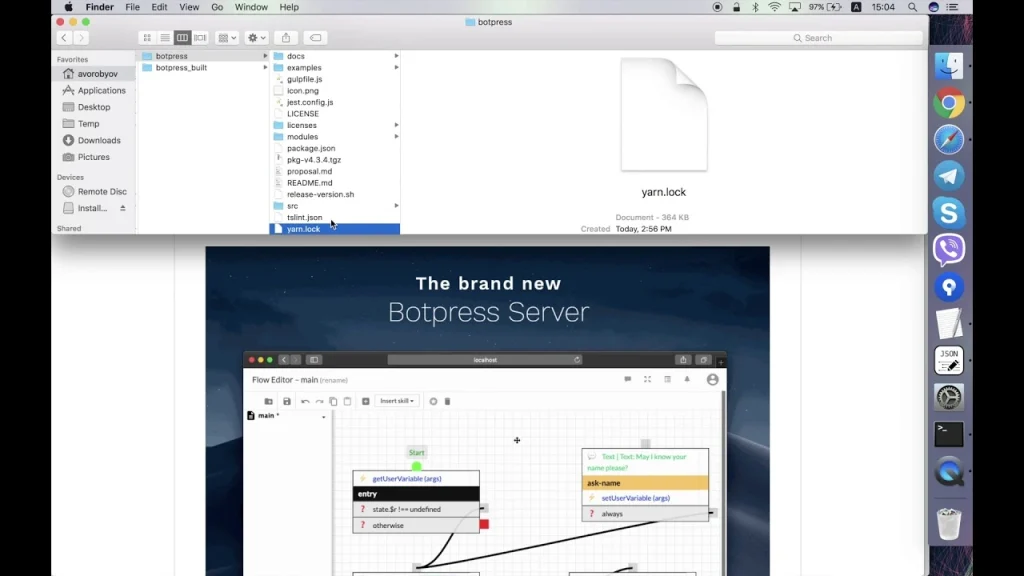 Botpress is an open-source artificial intelligence framework for developing text and pattern-based bots. It is intended for developers who wish to create AI-powered bots without the assistance of a team of data scientists and machine learning professionals. The platform is hosted on GitHub and includes a visual development UI for building intelligent chatbots.
Channels are installed and configured separately and independently in Botpress, allowing you complete control over the data exchanged between your chatbot and chat platforms. Botpress does not send messages to a third-party service.
Channels: Facebook Messenger, WordPress, Slack, Telegram, Twilio, and Vonage are just a few examples.
Price: Free
G2 rate: 4.6/5
7. Liveperson – Build Conversational Chatbot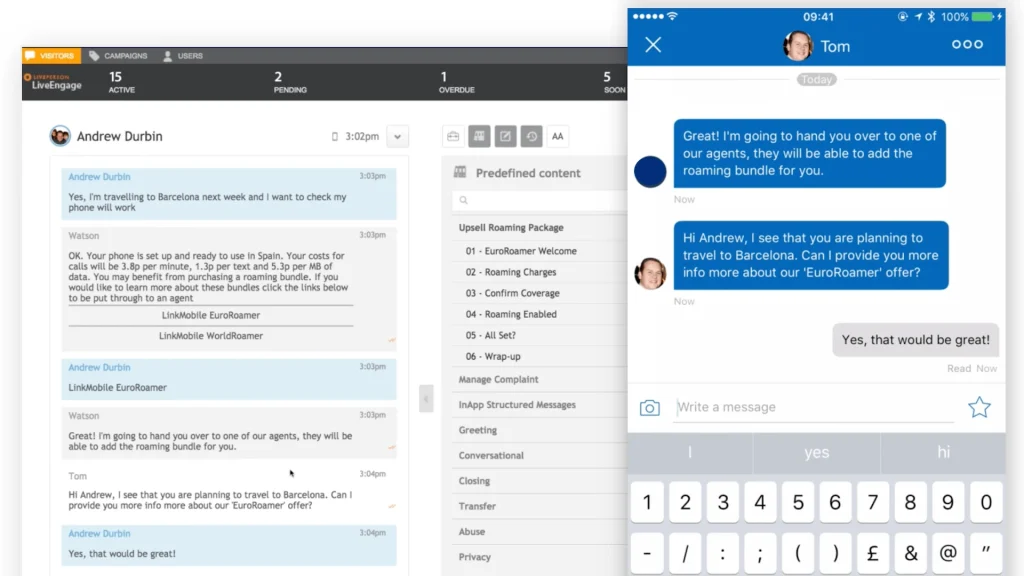 Their low code chatbot builder is a point-and-click interface with a guided assistant that guides users through the Chatbot creation process. They have an extensive library of templates for various business use cases and niche industries.
In addition, there is a subdomain for developers. To access variables and change data, you can add APIs and utilize the built-in scripting functions. Its lack of a free trial makes it less appealing to new enterprises. They compensate for this by increasing the number of possible integration channels. You should go for it if your company has an enormous scope of automation and chatbots.
Channels: Web Messaging, App Messaging, Email Messaging, SMS, Apple Business Chat, Google RBM, WhatsApp, Facebook Messenger, Instagram, and Twitter.
Price: Custom pricing is available after requesting a demo. There is no free plan or trial.
G2 rate: 4.4/5
8. Flow XO – Build Cloud Chatbot
This platform allows users to create a variety of complex AI chatbots, which can be linked to over 100 cloud apps. It is a no code platform, so you can build your chatbot without writing any code.
Flow XO includes a customization option that enables the execution of custom JavaScript and the passing of the result back into the flow. The Node.js JavaScript runtime is used to execute scripts. Their major use cases include taking payments using chatbots and giving new customers with onboarding experience.
Channels: Facebook Messenger, WhatsApp, Telegram, Slack, SMS.
Pricing: from $19/month to $25/month respectively
G2 rate: 4.4/5
9. Tars – Automate Your Chatbot
Tars' specialty is in its templates. The platform offers over 1300 predesigned templates for important businesses like government, insurance, real estate, mortgage, legal, and education.
Tars is a good alternative if you don't want to spend a lot of time developing your chatbot. They also integrate well with Zendesk, Google Calendar, and Hubspot. Aside from that, Tars offers paying users 24/7 live chat support to assist them in setting up and building automation.
Channels: Website and WhatsApp.
Pricing: Request a demo for further pricing details.
G2 rate: 4.7/5
10. Botcore – AI-enabled Chatbot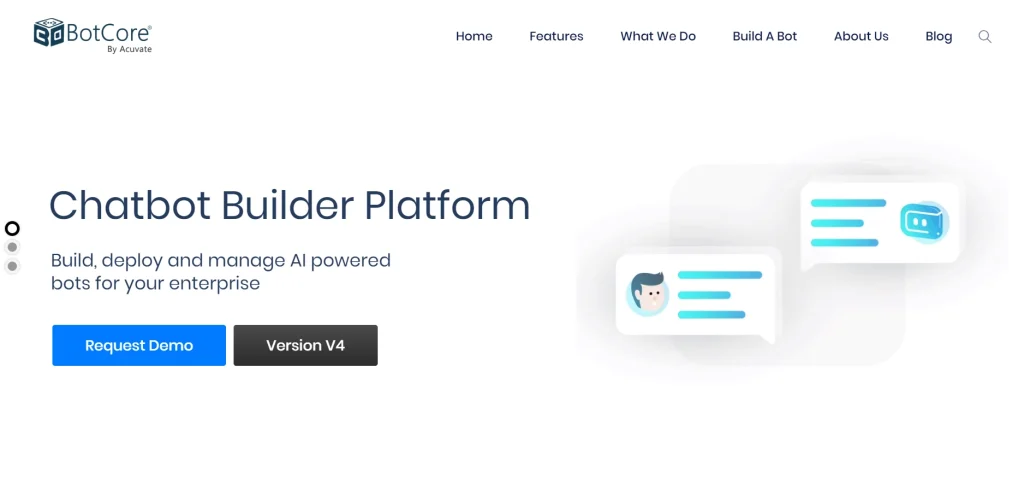 With BotCore software, you can quickly build and deploy AI-enabled chatbots. Its graphical interface with a drag-and-drop capability, pre-built templates, and an integrated knowledge graph consisting of multi-functional nodes, which is fully deployable on Microsoft Cloud, enables professional and citizen developers alike to create and deploy chatbots in a matter of days.
BotCore's impressive features include Message Definition Language (MDL), Natural language processing (NLP), Natural language understanding (NLU) and other machine learning technologies to comprehend context, learn from previous conversations, and reply to users in a human-like manner.
Channels: Facebook, WhatsApp, Teams, Slack, SMS, Telegram
Pricing: From $75 per month
G2 rate: 4.5/5
Before Choosing A Low Code Chatbot, Ask Yourself This
Choosing the correct software is critical for creating a low code chatbot that meets your objectives. Asking yourself first about the need of the project to find out the best suit to implement:
Ease Of Use
Is the software provided as a service, or will installation and upgrades require the involvement of IT?
Can business users or subject matter experts use the program easily?
Channels And Connections
Can the chatbot connect to your internal or third-party systems and services?
What channels can the chatbot be deployed?
Customizations And Authoring
What programming languages does the platform support for customization?
Is the software versatile enough to tailor the chatbot to your company's brand and voice
Is chatbot development restricted to the functionality of the software?
Analytics And Tracking
Is the software equipped with analytics to track the performance of the chatbot, client satisfaction levels, and subject usage?
Safety And Compliance
Is the program equipped with authentication, web channel security, single sign-on, or other security-enhancing features?
Can the software assist you achieve certification and compliance requirements?
A Few Things To Watch Out For
Familiarize yourself with frequent chatbot development issues or errors that may arise along the route. Many challenges can be avoided by planning ahead of time.
Assuming Your Chatbot Is Human
Most people will be aware that they are conversing with a chatbot, so include a scripted introduction that is genuine and informs them of how the chatbot may assist them. Similarly, decide which cues will alert the chatbot that it is time to engage human support.
Security Is Being Compromised
Because your chatbot opens new possibilities for online mischief, safeguarding the chatbot—and the data your clients enter the chatbot—is critical. Ensure that your chatbot has robust security features that will secure your organization and assist you in meeting compliance standards.
Ignoring Information
Your chatbot will generate and collect massive volumes of data. Don't throw away these priceless ideas. Determine who will gather results from your chatbot to analyze performance and concerns and select which new topics will be included.
Chatbot may seem like a simple application but doing it wrong can cost you time and negatively affect customer experiences. Hence, an extra hand from Microsoft expert can help your chatbot development much more efficiently and faster.

Our team are always ready for a quick chat!
Wrapping Up
Low code chatbot development combines traditional coding for customization with drag-and-drop to skip tedious coding tasks at the beginning. This makes creating conversational, rule-based or AI chatbots much more straightforward, allowing businesses to quickly implement and improve customer experience. The tools listed above are some that I believe are worth your further investigation. Make sure to see through all the features and their benefits to avoid choosing the wrong one.
---
More related posts from Low Code blog you shouldn't skip:
We are sorry that this post was not useful for you!
Let us improve this post!
Tell us how we can improve this post?