Are you curious to know about the average blockchain developer salaries around the world? Especially when it is evident that there is a rising demand for blockchain-related jobs?
According to Glassdoor, the average base salary for a blockchain developer in the U.S is $89,932 per year. However, the salaries might vary and differ based on locations, developers' levels and job descriptions. Read through this article and you could find the total pay, recent salaries shared and more!
The Rising Demand for Blockchain-based Roles
Blockchain has been the talk of the town in recent years. This catch-all term has already been globally acknowledged as being more than bitcoin.
Undeniably, the blockchain industry is one of the rapidly expanding industries. The reality has shown that many sectors have already leveraged this "one-of-a-kind" technology to solve identical problems and transform their businesses. Hence, it seems to be obvious that blockchain developers are in demand in the job market, and blockchain itself is listed as the most- in-demand hard skill for 2020 and beyond.
There are numerous data points that validate the rise in demand and salaries for blockchain professionals.
According to Glassdoor, a job review site, the demand for blockchain-based jobs rose 300% in 2019 compared to the previous year.
Hired, one of the largest recruiting companies, reported that global demand for blockchain developers is up by 517 percent year-over-year.(Source)
According to the report from Electric Capital, the number of full-time blockchain developers increased by 13% in 2019, and Smart Contracts, Infrastructure, and Defi ecosystems continue to grow even further. (Source)
Regarding salaries, in 2021, the US-national salary average for blockchain developers was $175,000 – compared to the $77,000 average for software developers.
The chart below from www.simplilearn.com shows blockchain developer salaries in key countries that offer the most blockchain-related opportunities.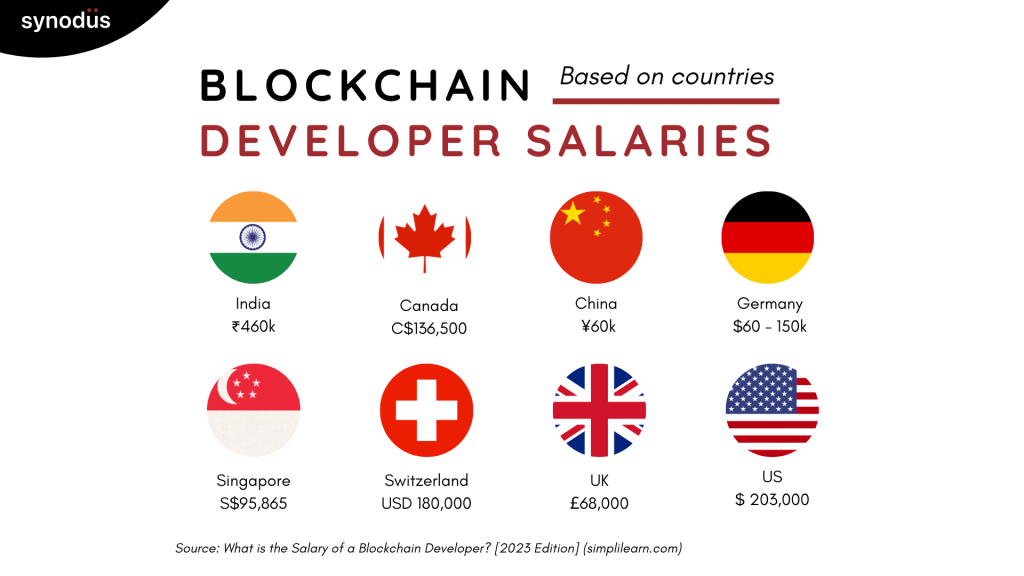 Who Is A Blockchain Developer?
A plethora of blockchain-related job descriptions, which describe the essential requirements, duties, responsibilities, and skills of a potential candidate, have been put on hundreds of job listing sites. As several job descriptions have stated, we may know that a blockchain developer is in charge of developing and optimizing blockchain protocols. They should also be familiar with the architecture of blockchain systems, smart contracts, and blockchain-enabled web app development.
However, there are two distinct blockchain career paths: One is to become a core blockchain developer, and the other is to be a blockchain software developer. Several differences include:
The core blockchain developer's role is to be involved in the whole product development process. Those tasks may include but are not limited to:
Design of blockchain protocols
Design of consensus protocols
Design of security patterns for the network
Design of the architecture
Supervision of the whole network.
Meanwhile, blockchain software developers have separate roles. They are primarily responsible for the development of web apps using protocols and structures already set up by core blockchain professionals. Their skit of roles may follow:
Smart Contracts Development
Development of front-end designs for Dapps
Backend development related to blockchain
Supervision the entire stack running their Dapps.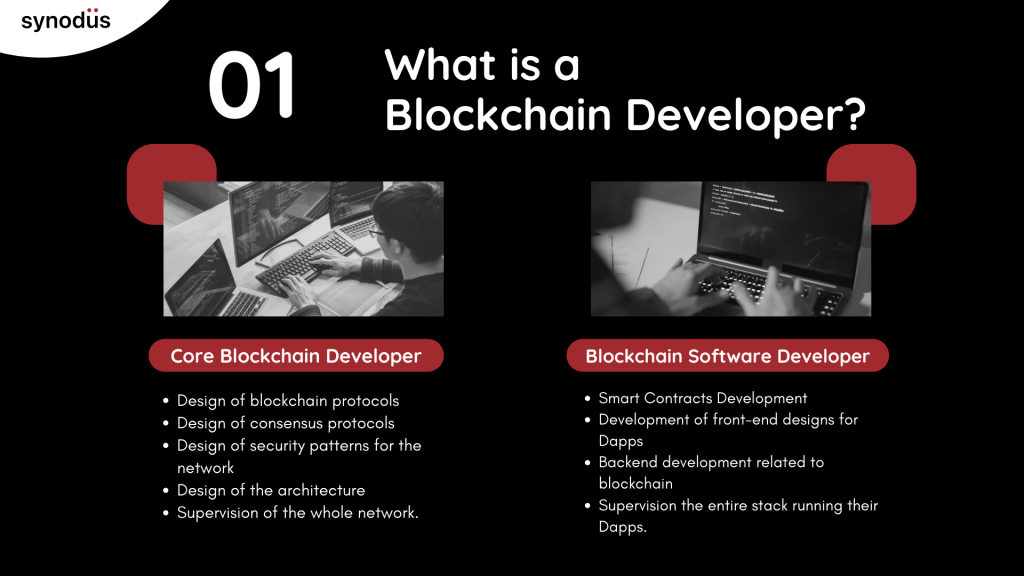 LinkedIn, the most popular professional networking platform, states that blockchain is the most in-demand job skills right now due to its potential to induce transformation. A beginner can learn almost everything about blockchain within only 2-3 months. However, it's not that easy to master and earn a blockchain-based job as most recruiters have a wide range of requirements related to those positions. Not to mention that an aspiring blockchain professional should deviate from conventions and always learn on the go, as blockchain is a continuously evolving technology.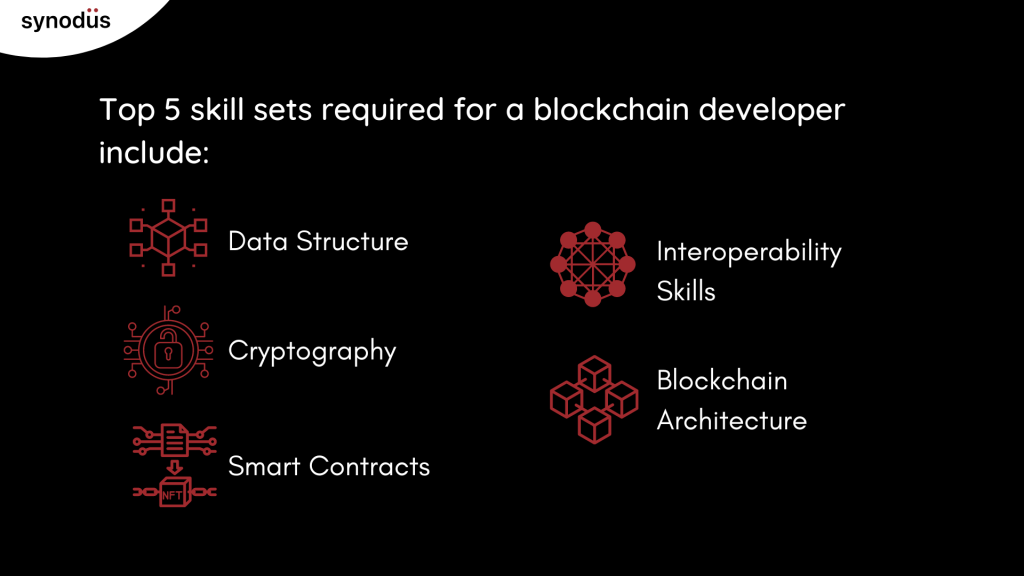 Blockchain-based Salaries Based On Locations
A chart collected by Glassdoor shows blockchain jobs distribution globally, in which most of the jobs opening based in major technological and financial hubs: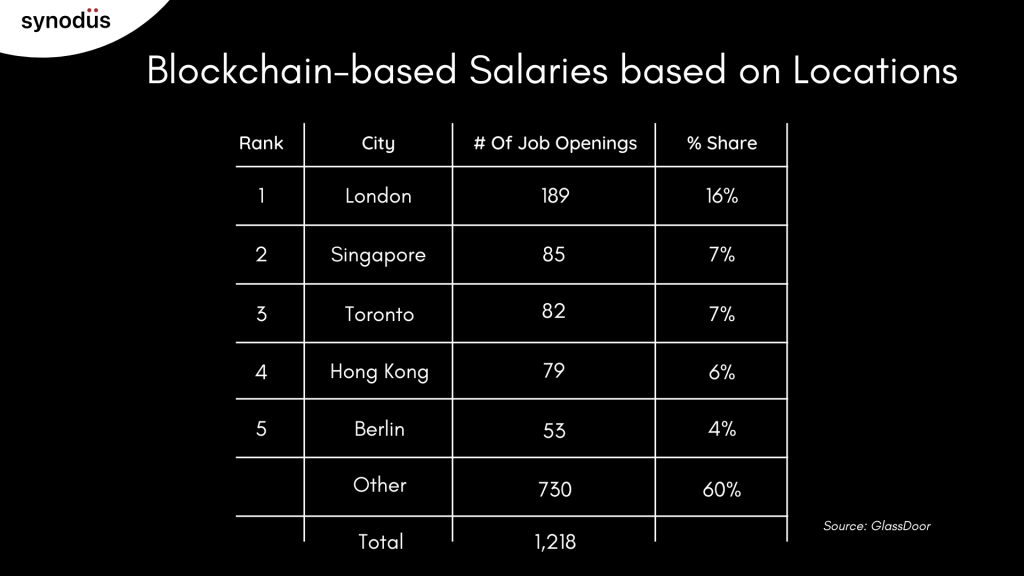 It's no surprise that London is leading with 16%, followed by Singapore, Toronto, Hong Kong, and Berlin as there have already been many implementations of blockchain technology in UK Banking since 2015.
Statistics of blockchain-based salaries in some notable countries:
United States
In the U.S, the top five cities having the most blockchain job openings are New York City, San Francisco, San Jose, Chicago, and Seattle, which are all known for their financial and technical expertise. These five cities account for 59% of open blockchain jobs nationwide.
A blockchain developer in the U.S. could earn around $154,550 per year, according to a report from Ziprecruiter (Source). However, it should be noted that junior developers tend to make less than middle or senior developers. While senior-level developers can earn up to $231.500, freshers and junior developers can only earn around $123,817.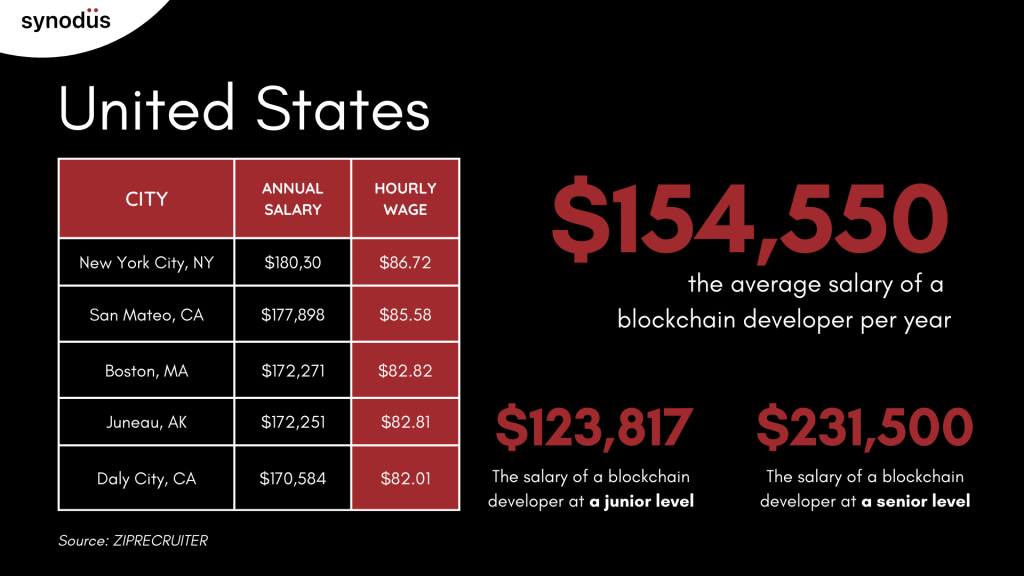 New York City is the highest-paying city for blockchain developers with an annual salary of $180,380 (approximately $86/hour). The difference between the first and the 10th city is not that huge, around 7% so it also means switching location to any of these 10 could still be very beneficial to developers.
Europe
Europe is the third-largest consumer of blockchain developers worldwide, just after the US and Canada. The average blockchain developer's salary across Europe is around $50,000 to $150,000 per year. When compared with the U.S and Canada, blockchain developers tend to earn less, obviously because there is a shorter difference in supply and demand in Europe.
However, the demand for blockchain experts is expected to increase by approximately 115% soon, which also means the higher compensation for them.
China
China is expected to see an explosion in the blockchain market as there are already thousands of blockchain-based start-ups, government agencies, and tech firms. Blockchain professionals earn 2.5x of national average salaries in major cities in China. Per Chainnews reports that "hundreds of companies across the country are hiring blockchain staff, with monthly salaries starting at USD 2,865"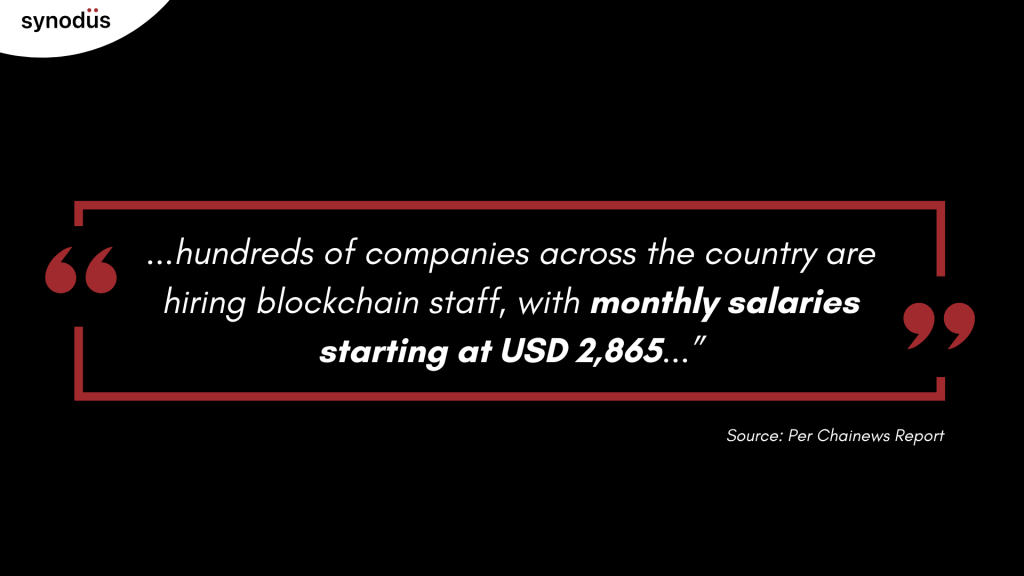 Demand for blockchain talents keeps raising high as not only tech giants like Alibaba, Baidu, and Tencent, but SMEs, start-ups, and government agencies also enter the fray. It's no surprise that in the years to come, the salaries of blockchain developers are growing continuously as the hunt for specialist talent is insatiable.
India
Bengaluru is the leading city with the most blockchain-related job opportunities in India, followed by Gurgaon, Mumbai, Hyderabad, Pune, and Chennai, according to the Indeed report.
In India, it is witnessed that the presence of remote jobs is growing as well. Many companies accept remote positions with 37% of people working remotely while that number is around 15% at companies in other countries.
The salary of blockchain developers in India is seen to be 50-100% higher than other developer jobs. The salary of a blockchain specialist based in India ranges between 5,00,000 and 30,00,000 LPA, and the average salary is around ₹801,938 per annum.
Blockchain Job Salaries Based On Levels
The salary of a blockchain developer depends on not only the location but also the experience level. As stated above, in the exact location, it has already a considerable difference between fresher/junior level to middle/senior level.
Junior Blockchain Developers (0-3 years)
Junior Developers are those who have less than 3 years of experience; they graduate from universities and enter the job market for 1-2 years.
The demand for hiring junior developers also differs in countries. While junior developers can earn between $89,000 and $103,730 per year in the United States and Canada, in Europe, the range of salaries for juniors is between $13,577 and $30,000 per year.
Middle Blockchain Developers (4-8 years)
There are several reasons why middle blockchain developers are always in high demand, not just in any location but worldwide. Hiring a middle blockchain developer means that you don't need to pay for them as much as when you hire a senior one, yet they are still qualified enough to complete the tasks assigned and deliver a high-quality product.
The average salary of these experts is around $105,000, and those developers can expect much more than that with various bonuses and compensation. In the U.S, a middle one could earn up to $170,308 per year.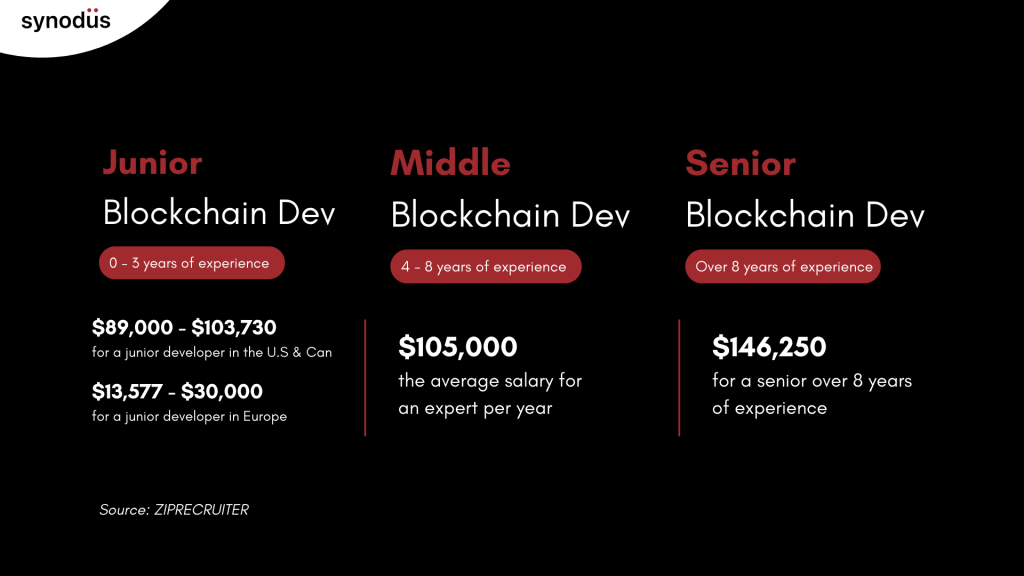 Senior Blockchain Developers (Over 8 years)
Blockchain developers at a senior level often find their jobs in tech giants, or big corporations because not many start-ups can pay for them. At this level, they are required to solve and support technical problems and take the lead in guiding the whole team to plan, build and deploy the products.
Compared to developers at 2 levels above, finding a senior blockchain developer is not that easy, so many companies have already attracted seniors by offering various bonuses apart from salaries. Seniors could relocate to the new place with the whole company, be allowed to work remotely, if necessary,…
The average salary for a developer with over 8 years of experience is around $146,250 per year.
Salaries Based On Job Descriptions
The talent pool in the blockchain industry is still limited. Hence, it seems obvious that blockchain developer salaries keep increasing as the demand for people working in this niche continues to grow.
A CNBC study stated that blockchain developers could get a salary that's comparable with AI Developers, which is very high. One thing to keep in mind is that you do not need to have a technical background to join in this niche since over 40% of the jobs in blockchain are non-technical, such as design, marketing & sales, legal & regulatory roles.
Below are the salaries based on different job titles for your reference:
Blockchain Developer
This job is undeniably the most popular in the blockchain. They take responsibility for developing blockchain-empowered applications. Hence, they are required to have good technical skills. Understanding architecture, cryptography, data structure and web development is a must, while getting experience with several programming languages such as C++, Python, and .NET is a big plus.
An average blockchain developer could earn around $100,979 per year, according to Glassdoor.
Blockchain Architect
A blockchain architect is responsible for assigning, designing, and connecting various blockchain solutions. They must cooperate with multiple departments, such as network administrators, IT Operations, developers, and UX Designers.
People working under this title may earn $81,129 on average per year.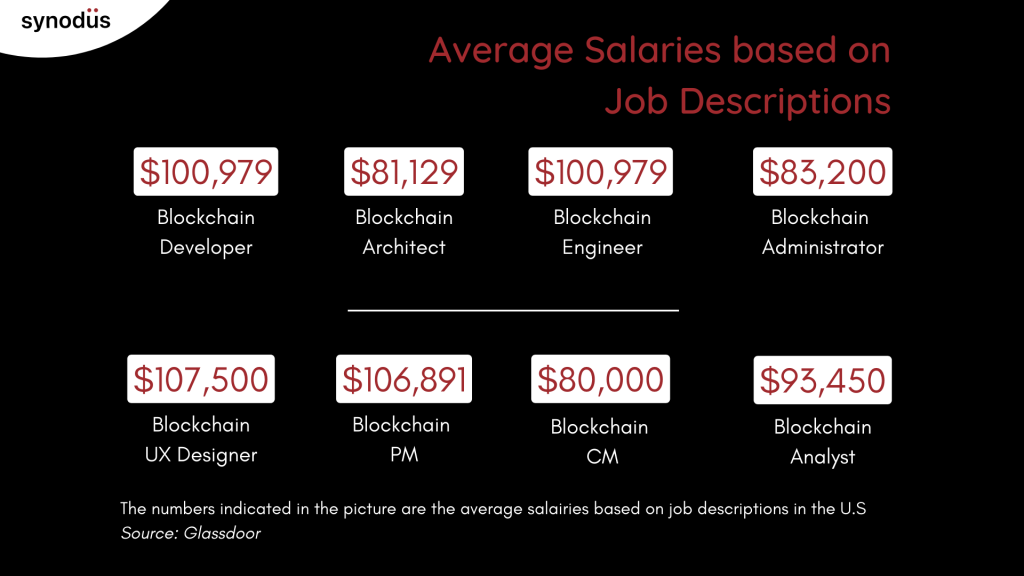 Blockchain Administrator
Blockchain Administrator's crucial duty is to create, develop and maintain the operation of blockchain infrastructure. They are expectedly experienced in using Linux, Unix, bitcoin protocol, and high-level programming languages.
The average blockchain administrator's salary is $83,200 per year.
Blockchain Project Manager
The blockchain Project Manager's objective is to develop connections between the company and blockchain professionals and manage projects from ideation to shipping to production. The average blockchain project manager's salary is $106,891 per year.
Blockchain UX Designer
Blockchain UX Designer's focus is to build and develop a unique, simple, and user-friendly interface that keeps users engaged, be it NFT Marketplace or Crypto Trading Platforms. They are often paid around $107,500 per year for their work.
Blockchain Engineer
Blockchain engineers' primary objective is to create an application that reflects the technological aspect of a company. These specialists work on executing and creating a digital blockchain for business solutions.
The average blockchain salary for the blockchain engineer role is $107,975 per year.
Blockchain Analyst
As an analyst, a person must develop effective business strategies, processes, and potential areas for improvement. To work as a blockchain analyst, accumulating comprehensive knowledge of blockchain and related technical skills is also a must.
Per year, they are often paid $93,450 on average.
Blockchain Community Manager
This is one of the non-technical roles in the blockchain niche because it is much more related to marketing & sales. As a blockchain community manager, your primary focus is to answer any client's questions. You also need to track, present and develop strategies for better statistics over various platforms.
You are often paid $80,000 on average per year for this position.
Why Should Vietnam Be On Your List Of Outsourcing Blockchain Talent
We curated this guide to help you better understand the demand for blockchain jobs and the average blockchain developer salary worldwide so you could better optimize your hiring strategies for your blockchain projects.
As the demand for blockchain talents continues to grow in some hot spots like the U.S, Europe countries, and even several Asia countries, it is much more competitive in the hunt for blockchain talents. Hence, you may consider Vietnam your go-to country for hunting blockchain professionals.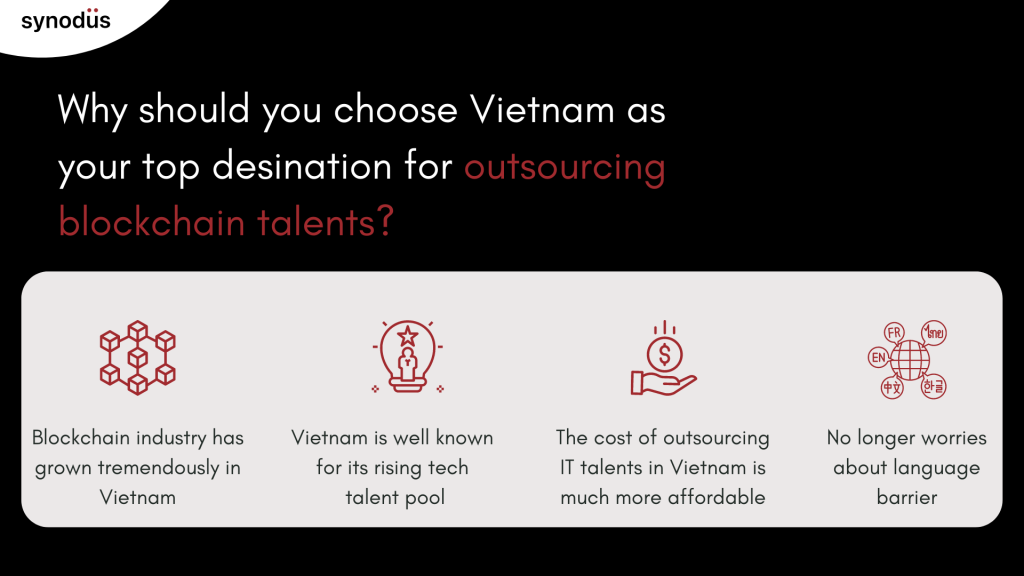 The blockchain industry has grown in Vietnam, many developers have decided to switch their jobs from mobile/web app development to blockchain-related roles as they absorbed new technologies quickly, especially in the field of blockchain games. When it comes to technical skills:
Vietnam ranks 29th above France in terms of Skillvalue Worldwide in the Developer Skills Chart of Skill Value Report in 2018.
Vietnamese coders have the 11th highest rating in the World according to the Developer Skills Charts of Topcoder Report in 2022.
Besides, outsourcing IT talents in Vietnam is about 90% cheaper than developing software products in-house in the U.S, according to CIO Magazine. It is about one-third and one-seventh times more reasonable compared to India. This still seems true when applied to the blockchain niche. Indeed, the hourly rate of a blockchain developer is negotiated between 25 and 40 USD per hour. At Synodus, you could hire an experienced blockchain developer with the expected tech stacks and skillsets, starting at 30 USD.
Moreover, Vietnam is considered an excellent location for outsourcing due to its socio-economic stability. Vietnam has been politically stable for more than 30 years, with the only party in power. This country has also witnessed a steady growth in GDP, no matter how the Covid-19 pandemic impacted the global economy.
Language is no longer a matter when working with Vietnamese IT talents anymore, as most IT workers in Vietnam nowadays can communicate in English easily. So, if you are worried about communication, the so-called language barrier is almost non-existent.
Work With Synodus
Synodus is a one-stop IT outsourcing service in APAC with 300+ mavericks in blockchain implementations, web & mobile app development, data analytics & digital transformation. With over 5 years of experience in the blockchain industry, we have got accountable achievements:
A 5.0 rating on Clutch, joining the list of top 10 Vietnam Blockchain Start-ups & Companies (listed by Clutch)
23 ongoing & completed blockchain projects in different industries: Finance & Banking, Game, Retail, Education, Government Sectors,…
87% blockchain start-ups raised successfully more than $5M
What you will get if you choose us to outsource your tech:
A reliable tech partner assists you from the early days to growth and beyond
50+ blockchain mavericks with go-getters' spirit and the right mind-set
Ready-made solutions accelerate time to market
Dedicated team scalability and flexibility
Transparent cooperation and pricing
Save up to 63% on your development cost
---
More related posts from our Blockchain blog you shouldn't skip:
We are sorry that this post was not useful for you!
Let us improve this post!
Tell us how we can improve this post?