The goal of realtors has long been to place classified ads in local newspapers and magazines. Real estate web development has evolved into an effective support tool for individuals or businesses involved in the real estate industry. With a real estate website, you can easily promote to customers, collect leads and implement effective accompanying marketing strategies.
Why Do You Need A Real Estate Website?
1. Increase Leads
There are numerous channels, platforms, and websites on the Internet where your customers will go to find their wanted products. Do you want to lose your potential leads? Then, create a website to assist you with engaging customers and capturing potential customers. The goal here is to generate enough traffic to deliver enough clients. The website must be optimized to achieve these results, and the most effective methods will be discussed below.
2. Build Your Brand
Would you buy real estate from an unknown agent? Same for your customer, when buying a property with such high costs, you need time to consider and choose between agents. The better you manage your reputation, the more you are trusted. In this digital age, a website for online presence is the easiest way to keep in touch and build your name.
However, there will not always be completely happy and satisfied customers. So, you must remain focused and keep track of all online reviews. Build credibility by being truthful and demonstrating your expertise while sharing custom content on your website.
It would be best if you also considered starting a blog. Use your website to its full potential — testimonials, awards, and accolades help establish and maintain your reputation.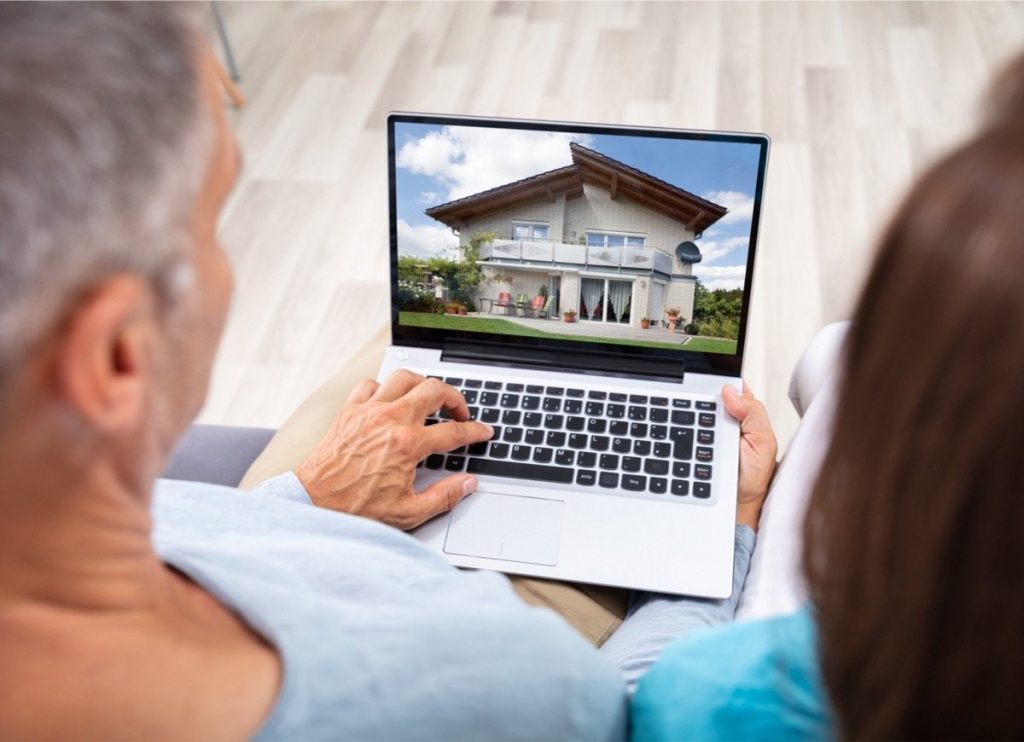 Every real estate agent is a brand that conveys a specific message to target clients. A website is thus more than just a pretty brochure or a profile page. Besides quality design, your website should be a reliable means of supporting that message. It is improved by engaging in brand awareness activities such as:
Investing wisely in brand-related advertising
Providing pertinent information that piques the reader's interest
Making connections with audience members and working with opinion leaders
3. Time Saving
The most important aspect of a realtor's job is to close deals, which entails handling paperwork, accompanying clients to properties, guiding them through staging and preparing their homes for sale, and staying in touch with them after the deal via email and other means. If you have a feature-rich, beautiful, lead-generating custom website, you can focus on these activities and fulfill your primary duties and responsibilities.
Moreover, your time will be effectively optimized when the procedures, the process of viewing products, consulting, and selling are fully updated with detailed information on the website. Customers will feel more secure contacting, buying, and selling on a detailed, clear, trustworthy website.
With such, you and your clients don't have to waste time on the unqualified property.
4. Update Your Information
Users should naturally be provided with information on what properties are for sale in the area and what is currently on the market on your real estate website. A real estate website with excellent local content and a user-friendly search experience will generate traffic. Customers will be impressed by your professionalism and trend updates as well.
Required Features For A Functional Real Estate Website
1. Original And Smart Domain
It is also critical to select an effective domain name for your website. This decision is typically made only once, so you'd better make no mistakes and connect your business to the market on the first try, so here are some pointers to consider:
Maintain a short, professional tone consistent with your brand identity.
Make use of accurate estate-related keywords.
Unless your reputation is well-established, avoid using your name.
Avoid using acronyms or abbreviations.
Check that the spelling is correct.
Purchase misspelled variations of your domain to prevent users from being redirected to other websites when attempting to contact you.
2. SEO-friendly
A real estate agent willing to demonstrate their expertise through a blog on their website can gain more trust. Having a blog may also assist in capturing more leads.
Search engine optimization is concerned with making your site or blog content more relevant and appealing to search engines. Involving third-party SEO specialists who can formulate detailed recommendations on improving your site's visibility in search engines via organic or algorithmic search results is frequently a good idea. Although giants like Zillow, Trulia, and Realtor.com dominate the real estate market, you still have a chance of ranking high in Google if you focus on local rankings and adjust your SEO strategy.
3. Intuitive Navigation
A real estate website typically contains so much information that it can be challenging to navigate. However, a good user experience implies that people do not have to waste time figuring out how to navigate your website. Intuitive navigation is knowing where to find the information you're looking for.
Navigation is an essential part of your real estate website requirements. It promotes ease and efficiency, not just design aesthetics. It heavily relies on usability research. Once your well-organized real estate web development treats customers right, they will be pleased to move to the next step.
4. Responsive Design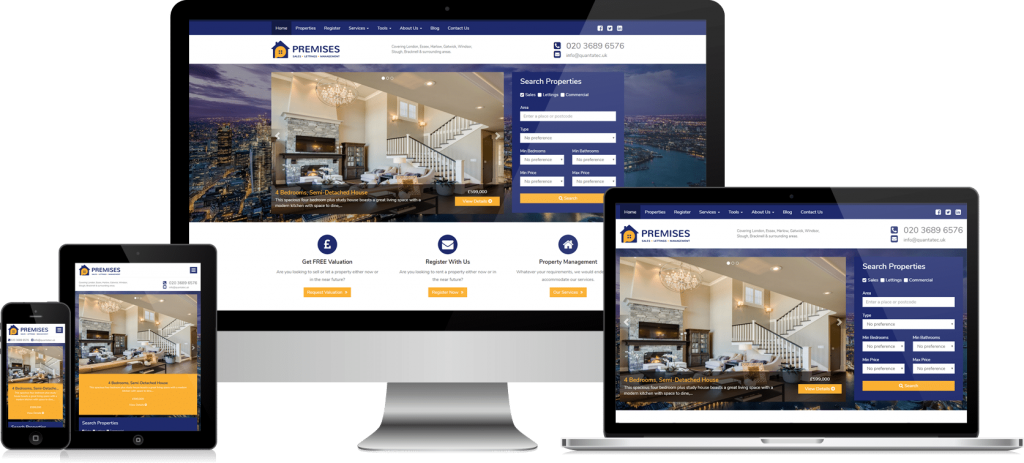 Developing a website that responds to any user's device with different screen sizes and dimensions is essential. Responsive Web Design is comprised of three fundamental components:
Media Queries are flexible
Grid-based layouts.
Adaptable media
Real estate websites should be mobile-friendly and optimized for all platforms (iOS, Android, and Windows) and devices. Your website needs to adjust automatically to the screen size to make it look great.
Ensure proper functionality by including the following on your site:
A page with contact information
A page about us
Users can access any page from any other page.
A visually appealing, informative, and interactive menu
The best viewing and interaction experience
5. Messaging Support
Buyers must communicate their requirements to find the perfect place, while sellers and real estate agents must adequately respond to these inquiries. As a result, an integrated messaging tool should be convenient for everyone. It can be a live chat, which is the quickest way to get feedback, or a direct text, voice, and video messaging system for contacting property owners or realtors.
6. Use Clear Images To Show Your Estate
Though intuitive navigation and responsive design ensure a positive user experience for your website's visitors, the success of a site is measured by the number of deals closed with its assistance. However, prospective buyers or tenants must first express their interest. Professional-looking property images pique this interest. Relevant and high-resolution images speak for themselves, so it's a good idea to set strict size, format, and resolution requirements for photos on your platform.
Also Consider These Add-on
1. Listing And Mapping Feature
An excellent real estate agent website should provide users with access to MLS data.
MLSs are locally available property databases, enabling sellers and property owners to make their property visible and accessible to multiple agents. MLS integration connects a real estate agent's website to the local MLS database.
The disadvantage of this type of integration is that access is not exclusive, even though the entire process is conveniently managed and configured. Internet Data Exchange (IDX) allows you to pull listing data from MLSs and incorporate it into your website.
2. Optimized Search Filters
Real estate property and rental searches must yield relevant results. To accomplish this, you must provide users with a comprehensive set of search filters, including listing type (buying, renting, or selling), price, home type, number of bedrooms, amenities, facilities, year of construction, and others. A special tool will enable users to map out the location where they want to find a property.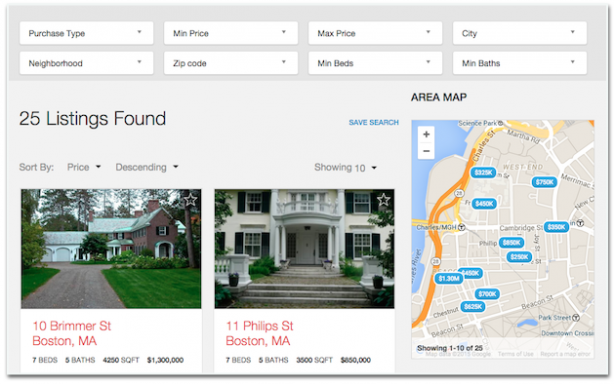 3. Calculator Tool
A financial tool calculating how much a buyer/renter will need to buy/rent a property can be a huge plus for your web. Considering factors such as annual income, taxes, mortgage loan term, and interest rate for your calculation feature. It's also great when the cost difference between buying and renting a real estate asset is displayed.
4. Video Or Virtual Excursions
A tour of a chosen home reveals even more about a real estate asset than the most detailed and high-quality images. A video excursion is a great option, but Augmented and Virtual Reality technologies, on the other hand, can provide users with general but comprehensive information about exterior and interior modeling.
However, this can be expensive, so consider the needs carefully.   
One of our real estate client has built an embedded paranoma view on their website, providing their customers a 360-degree view on the project landscape and inside the apartment.

To make it possible, we create a friendly interface, guiding the customer to navigate the tool and powering it with robust Lavarel and JQuery framework! View the project
5. Calendar For Booking
By integrating a calendar tool into your real estate platform, users can check real estate agents' availability and schedule meetings to look over the property. Property owners, realtors, and customers can access, view, and edit the calendar. Furthermore, for added convenience, you can enable user-profile synchronization with external sources such as Google Calendar or Apple Calendar.
The Process Of Real Estate Web Development
1. Estimate Your Needs
To be successful, your real estate website's structure must be well-planned and designed. So, from the start, list the basic and advanced features you want to include to alleviate the problem. Then, define your purpose for creating a website, your primary goals, and your target audience.
2. Define Your Resources
When your business and personal goals are transparent, specify the price range you expect the website development to fall. With that in mind, you should get your money's worth. You can choose a software development company with which to collaborate. A strong partnership and a willingness to engage in dialogue and exchange ideas are essential for achieving better end results.
3. Create Your Wireframe And Mockups
The structure of your website is taking shape at this point. Wireframing, mockup and design prototyping are all beneficial for further development. A high-performance website requires planning, so your logo, color scheme, images, and other user interface elements must be arranged sequentially and consistently on each page. Because users' complete tasks in a specific order, organize elements to reflect that order and assist users in navigating your content.
Remember to consider UX/UI at the same time too.
4. Move To Coding
After finishing your design, it's time to take care of back-end and front-end development. Back-end will work on how your web processes data, responds to action, and how your site works. While the front-end will work on the interface, how your user can interact with the site. Multiple programming languages and web frameworks are available for your real estate web development.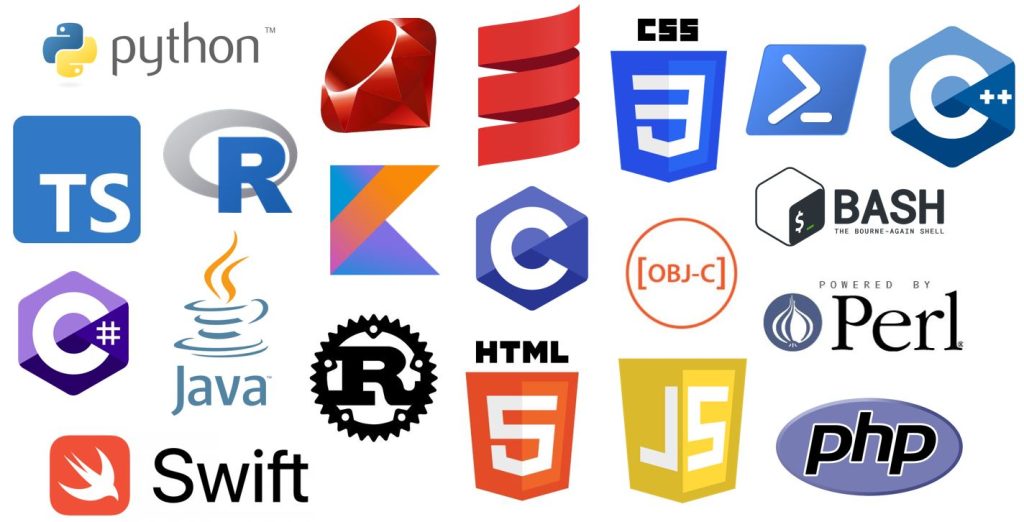 Some are full-stack, which means they can work both front-end and back-end: such as Java. Or you can use ReactJS for the front-end and NodeJS for the back-end. Consult with your technical web developer or web agency to choose the best fit for your site.
5. Testing And Launching
Skilled assurance engineers must now review all previous work. As a result, the real estate website is guaranteed to be user-friendly and to provide a flawless experience to property owners, buyers, tenants, and realtors who visit it.
How Much Does Real Estate Website Development Cost?
Depending on the complexity of your website, the cost can be different. For example, a web that only lists properties with basic features: view pictures, chatbot, and search filter will be cheaper and take less time to develop than a web with virtual add-ons, calendar booking, and mapping.
A website can take anywhere from 1 month to 1 year to develop. We have estimated the average cost to hire a local web development team for your real estate site.
Eastern Europe: around 50$/hr. Your total can range from $75,000-$105,000
Central and Western Europe: around $100/hr. Your total can range from $150,000-$210,000
USA: around 150$/hr. Your total can range from $225,000-$315,000
Australia: around $100/hr. Your total can range from $150,000-$210,000
There's a more cost-effective solution, which is hiring an offshore developer from top IT countries such as India, Vietnam, and Ukraine. This means you will work remotely with a team of experts; communication might be a barrier but not a limitation.
These offshore web agencies, such as Synodus – the leading IT Outsourcing and Web Development in Vietnam, can range between 15$ to 50$/ hr. The most important part is that they have the same expertise and rich IT knowledge as local development companies. In some cases, they might even excel.
At Synodus, we have successfully delivered hundreds of custom responsive, lightning-fast, secure web pages, including real estate sites. View our portfolio and consult with our vetted developers for your best solutions.
Wrapping Up
This detailed and complete package guideline about real estate web development should be viewed as a means of encouraging prospective clients to make purchasing decisions. Seeking goods and services that have real value will favor clients. Do not forget to consider the real estate web development cost and requirements for long-term business performance.
Want to get news about Web Development? Subscribe to our daily newsletter or Follow us on LinkedIn, Twitter, and Youtube
---
More related posts from Web Development blog you shouldn't skip:
We are sorry that this post was not useful for you!
Let us improve this post!
Tell us how we can improve this post?