7
minutes read
Since the Internet has accelerated in our society, businesses have been in the race to gain more engagement and traffic while enhancing their user experiences. With that trend, new digital technology also flourished alongside. And one of the most popular is progressive web applications (PWAs). You might have heard about or are using it daily or thinking about developing one. Check out the top list of 22 best progressive web apps examples and what to learn from in 2023.
Twitter
Based in San Francisco, California, and now owned by Elon Musk, Twitter is an online social network that allows users to read, message, and update information by "tweets." Twitter Lite PWA is one of the most famous progressive web apps examples, which was also launched the earliest. It was released in 2017 and then used by developers as a model. The said model helps combine web and native app functionality for a more mobile-friendly app.
Twitter Lite PWA can update quickly while consuming less bandwidth than usual web apps. It also helps optimize the browser by integrating route-based code splitting.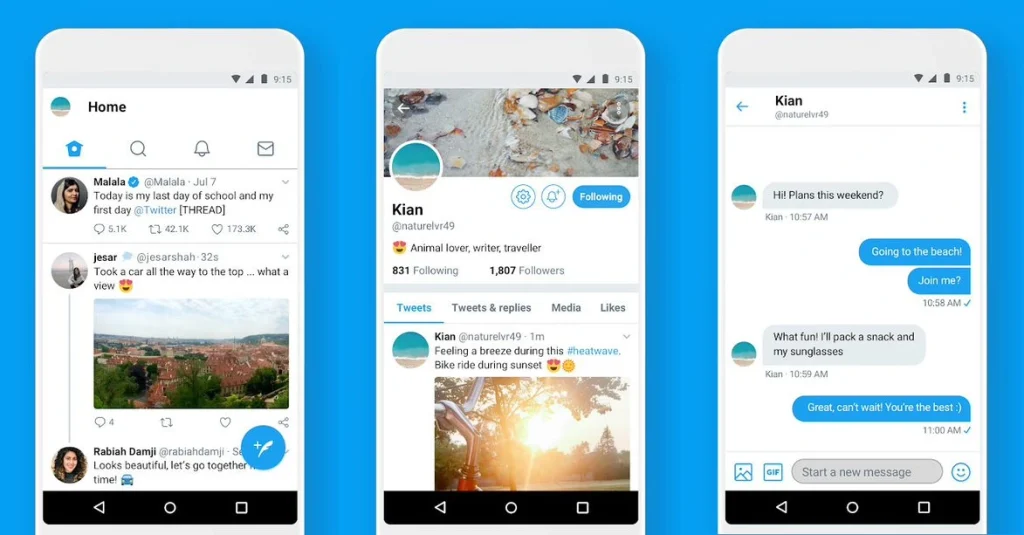 The goal of the Twitter Lite PWA, according to Google, was to boost the re-engagement of its 250,000 daily users with an average of four app visits per day. Developers focused on lowering data consumption and improving user engagement and instant loading. Learn how Twitter built their PWA.
The result was outstanding, including:
65% increase in page views per session;
75% of Tweets being sent;
20% surge in bounce rate.
Airbnb
Another example of PWA comes from the accommodation sector. Airbnb, as in "Air Bed and Breakfast," is a marketplace that connects people wanting to rent out their homes or properties to travelers and people looking for accommodations. It offers convenience in renting and tourist experiences around the world.
The development of Airbnb's PWA came around late 2018 when the company struggled to retain a stable traffic rate. The developers discovered that Airbnb's native app would be of no use since users are unlikely to download an app they rarely use. Therefore, they decided to switch to the progressive web app.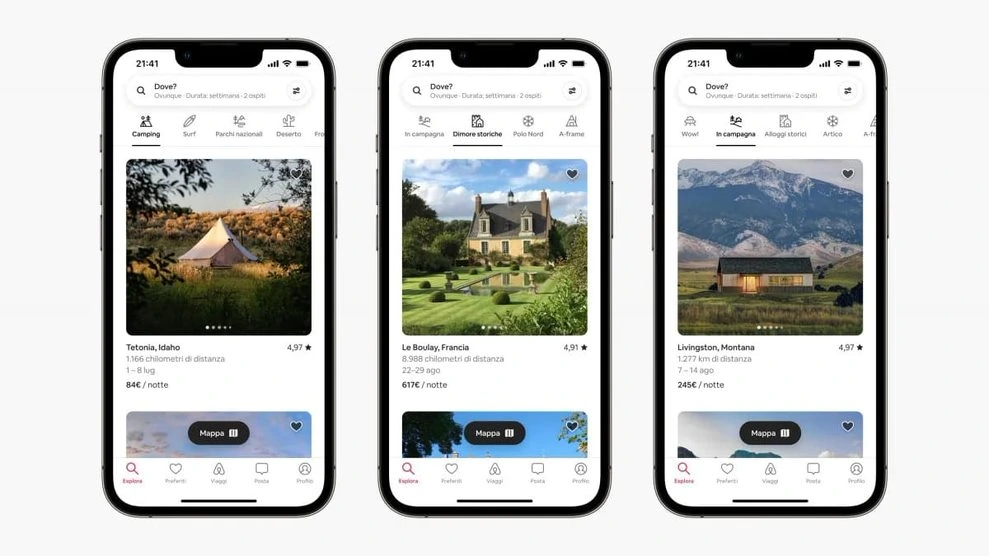 The progressive web application provides push notifications like a native app and fast responses to user actions. Airbnb's PWA also sticks to a handy slide menu, bottom navigation, and a logging tab bar for account registration. Moreover, the PWA can perform effectively on any screen size and device.
The PWA project has attained considerable results during its initiation, including:
The conversion rate witnessed a 25% rise;
Minimized loading times from 11.9 seconds down to 4.69 seconds;
Approximate 5.5 seconds of loading time on average.
Clipchamp
Clipchamp is an in-browser online video editor that enables anyone to produce compelling stories through video. With over 12 million creators internationally, Clipchamp is used for simple video editing with intuitive tools and practical features.
To fulfill the vision, Clipchamp's development team comes up with an innovative solution known as one of the progressive web apps examples relating to content editing.
The PWA was built on a fully in-browser solution where all the challenging video processing tasks are done locally. Users can easily access the app with social login, as does export video. Clipchamp also advertised its PWA installation prompts in the toolbar and as a pop-up alert in our menu navigation.
Clipchamp's PWA has been doing well since its release. It has:
Recorded 9% higher retention with PWA users than with standard desktop users;
Reached the installation increase rate at 97% per month after its release 5 months before;
Improved performance to 2.3 times.
Spotify
Spotify is an online streaming service that gives listeners access to millions of songs, podcasts, videos, and content from global creators. It is one of the most popular progressive web apps with millions of monthly users.
Spotify's PWA design was created to boost conversion from free to premium among customers after experiencing the product. The core feature of Spotify, which makes it appealing to the public, allows users to send or embed an interactive playlist to other listeners.
After the deployment of Spotify's PWA design, the company has gained a whopping result:
Free-to-paid conversion rose from 26.6% in 2015 to a record-breaking 46% in 2019;
30% surge of monthly active users by the end of 2019;
Increase 40% average listening hours per month;
58.4% free-to-paid conversion by the end of 2021.
Rakuten
Known as one of the largest eCommerce companies in Japan, Rakuten is also one of the examples of progressive web apps. Rakuten offers a wide range of everyday items, namely groceries, medicine, healthcare, kitchen utensils, and more. The development team's goal was to improve mobile customer retention and re-engagement.
To do that, the PWA has been equipped with installability for more traffic, visitor retention, conversions, and sales per customer. The PWA also included a custom guide for those who haven't been familiar with PWA, instructing them on how to install PWA on mobile devices.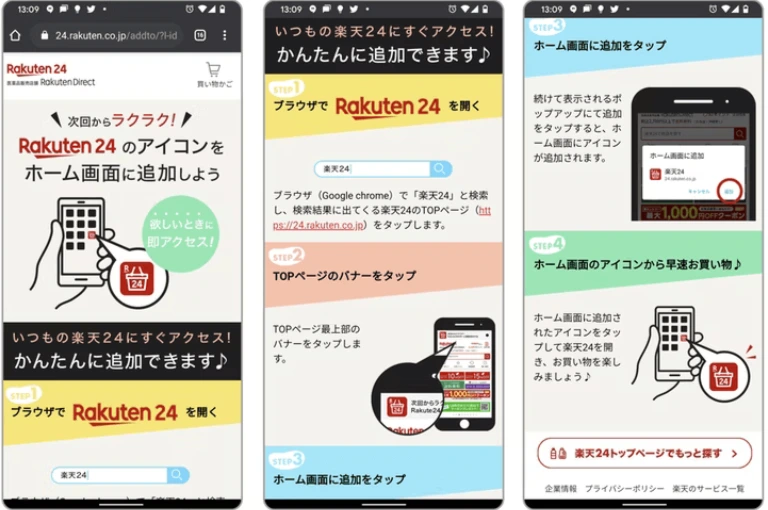 Rakuten's PWA can ensure smooth working even with a bad Internet connection. Moreover, it ensured the automatic process of supporting multiple browsers. Learn how Rakuten built their PWA
Overall, the PWA has brought Rakuten outstanding business results after only a month, including:
310% increase in visit frequency per user;
450% rise in visitor retention rate;
A 150% surge in sales per customer;
200% increase in conversion rate.
BMW
We have another example of a progressive web app from a car manufacturer. Bayerische Motoren Werke AG, abbreviated as BMW, is a multinational luxury vehicle and motorcycle manufacturer in Munich, Germany. BMW wants a progressive web app to help web visitors navigate more easily and access endless content quickly.
Through BMW's PWA, users can reach out to articles, stories, and podcasts on a classy user interface design. They can swipe through immersive content loops when accessing the website on a mobile device, creating a selection with a nearly never-ending effect.
The experience has proved itself useful with:
The number of new customers increased by 50%;
The average page loading time is 4 times faster;
The number of people visiting the BMW sale page raised 4 times;
Organic traffic grew by 49% thanks to the new SEO optimization.
The Washington Post
Known as a renowned American daily newspaper, The Washington Post is also one of the best examples of PWA. By April 2022, the Post has delivered the news to an estimated 61 million unique visitors. Its progressive web app was used to boost the retention of the Post, given that 83.2% of its readers are on mobile devices.
To be more precise, the progressive web app utilizes its AMP framework to enhance fast page loading when a user clicks on a link in an article, all related links on the page load in the background to promote further reading among readers.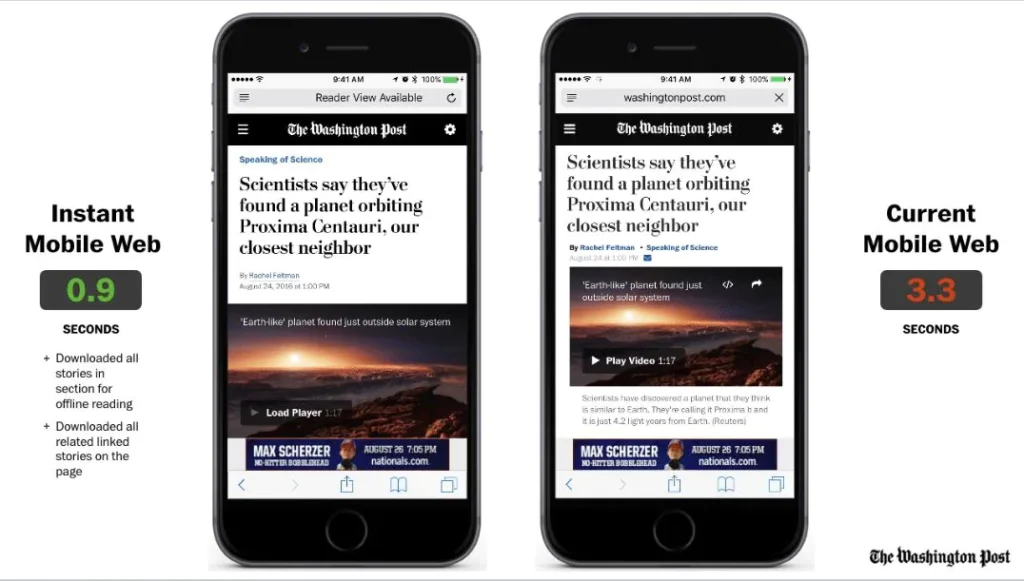 Learn how BMW built their Progressive Web Application. Ever since the Post's progressive web app was released, certain achievement has been gained:
The page loading time has increased by 90%;
When compared to a responsive website, AMP content loaded 88% faster in PWA;
23% of mobile readers returned to reading within 7 days.
Trivago
Trivago is a travel metasearch engine that can compare accommodation prices and offers from various online booking sites.
Learning from its own mistake in mobile app growth, the brand decided to develop one of the best progressive web apps in the hope of better user engagement and user search. Each functionality was gradually released, from offline working, push notification to "Add to Home Screen."
Trivago's progressive web app has low, minimal-data usage, making price comparisons between nearly 200 booking sites faster than ever. The site also has a map users can view while checking accommodations and real hotel reviews. Users' previous searches can be referred to save time and bandwidth.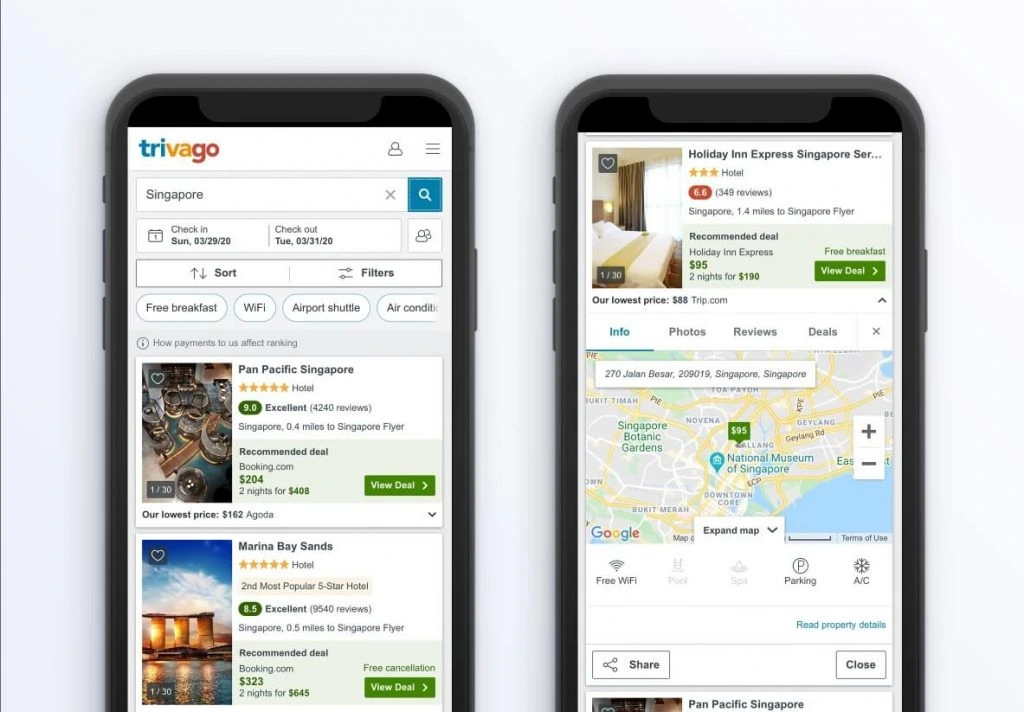 After Trivago's PWA was released, it successfully gained:
150% of an upsurge in user engagement;
97% increase in clicks from hotel results to offer pages based on Google's report;
67% of disconnected users return to the site when they are online again.
AliExpress
Originating from China and owned by the Alibaba Group, AliExpress quickly rose to an outstanding online retail service and a direct competitor against Amazon.
As AliExpress' native app downloads could not live up to the expectation, the developers released the store's new progressive web app to help with market adaptation. It was released in over 230 nations to provide a mobile-like, installation-free experience.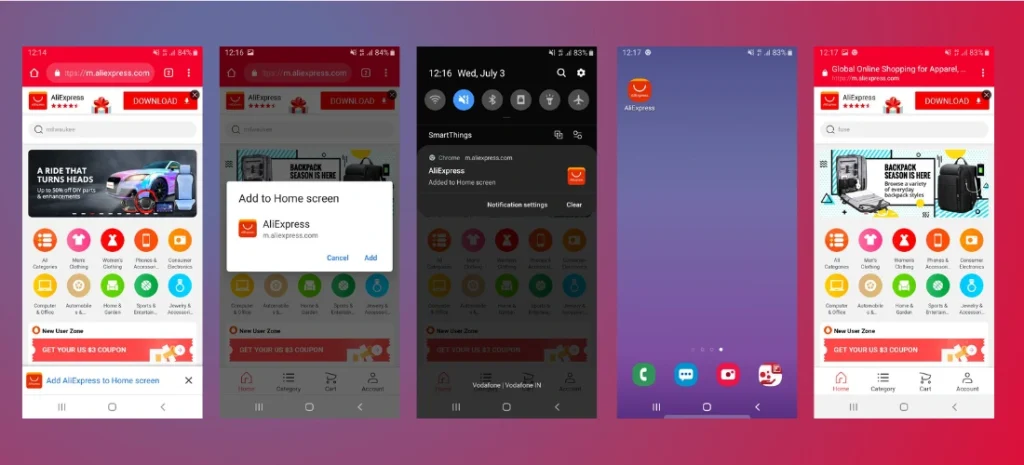 By the end of 2020, the international deployment has achieved success:
The sign-up rate grew by 104%;
The cross-browser session rate rose by 74% overall;
The number of page visits per session by users doubled.
Uber
Uber is among the entrepreneurs with the best progressive web apps, as this booking app is devoted to delivering an outstanding cross-platform user experience. Uber's PWA, or m.uber, was officially launched in July 2019 and deemed a viable alternative to their native app.
Unlike Uber's native app, Uber's PWA is lightweight as it only takes up 50 kB of storage space. It can load very quickly even when the Internet connection is immensely weak. The booking process is extremely fast.
The results after the PWA launch are impressive, including:
2-second core content loading;
The number of customers booking cars exclusively through the app accounted for 30%;
17-kilobyte vendor bundle for smooth usage even in a slow mobile data package.
Jumia
Jumia is a Pan-African tech company that provides an eCommerce marketplace, logistics service, and payment service. It entered the travel industry via Jumia Travel, building on the success of its online marketplace. This event marked the birth of Jumia's first PWA in 2016, delivering an app-like experience to users through modern web capabilities.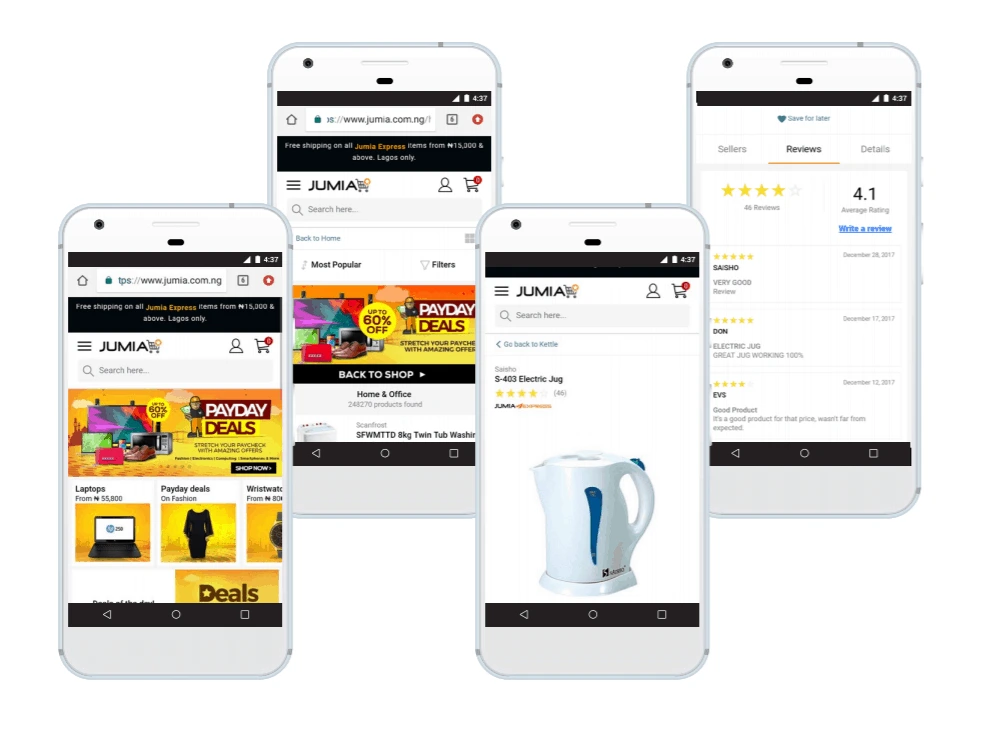 Jumia Travel's PWA optimized data better than the native app to complete their first transaction. The said PWA consumes 25 times less memory, and the update is easy to penetrate. Mobile users of Jumia Travel can be redirected to Travelstart on the PWA where they can book flights, hotel accommodations, and cars for rent. Given the erratic Internet connection of many of its users, Jumia also focused on building the offline working mode.
Learn how Jumia build their PWA. After the launch of PWA, Jumia gained:
33% increase in conversion rates;
12x time traffic to the PWA;
A 50% decrease in bounce rate.
Tinder
When it comes to matchmaking, Tinder is no stranger, as millions are actively using this app monthly. Tinder is the world's most popular dating app across the globe that is ideal for meeting new people, with 55 billion matches. Tinder's PWA has been called out as one of the best progressive web apps examples.
Released in 2017, the app has reported faster page loading and better user engagement. Users could swipe, message, and purchase easily while spending more time on the app.
The benefits of progressive app development were instantly observed after its deployment:
Data investment was reduced from 30 MB on its native app to only 2.8 MB on the PWA;
Loading time was halved from 11.91 seconds to 4.69 seconds;
The PWA was 90% smaller than the native app, yet with higher engagement.
Wego
Wego provides a best-in-class search and booking experience by displaying a combination of local and international airfares and hotels. It is the biggest travel-related site in the Asia Pacific and Middle East.
To help its customers with the convenience of booking hotel rooms and flights, Wego's developers came up with a PWA solution using AMP technology. This progressive web app delivers speedy responses with accurate search results. The app is designed with a minimalistic interface and is not space intensive.
Wego's PWA has brought specific positive statistics, including:
A 20% drop in bounce rates;
Advertisement click-through rate had increased three times;
A 50% increase in iOS-based conversions;
95% more conversions were done on the PWA.
Treebo
If you are Indian or have been to India before, you might recognize Treebo Hotels. It is a budget hotel chain that operates on a franchising model.
Treebo's PWA is considered one of the best progressive web apps with fast loading regardless of flakey network connections. The PWA also supports low-end devices, meaning a broad spectrum of users is supported. Treebo is also integrated with progressive rendering and server-side rendering.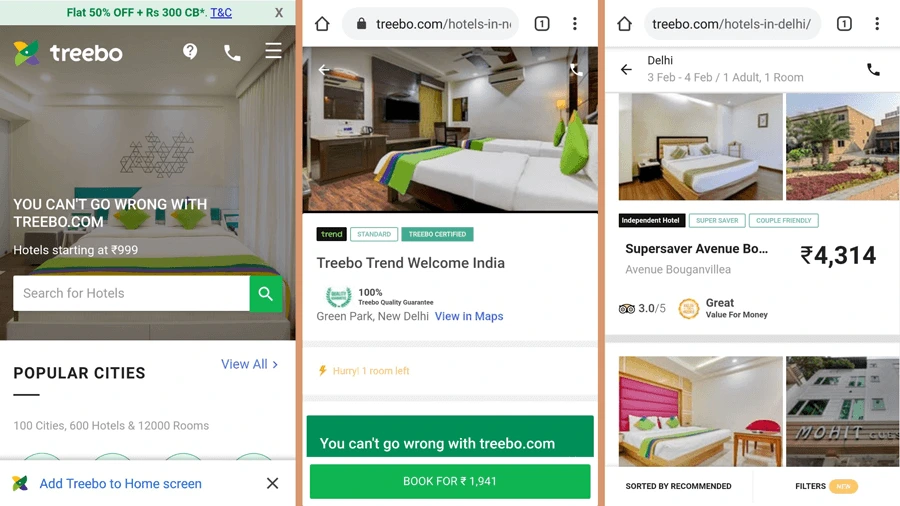 Ever since its deployment, Treebo's PWA has claimed specific achievements:
The click-through rate increased by five times;
Conversion rates rose threefold.
Nikkei
Don't confuse yourself with the Nikkei stock; this is a leading news media brand in Japan and the world's largest financial newspaper. In November 2017, Nikkei released its progressive web app to reduce loading time, improve reader interaction, and increase user engagement.
Learn how Nikkei built their progressive web app. The PWA was launched to make the app more mobile-friendly than its website precedent.
Twice better Speed Index;
75% faster loading rate with prefetch;
Organic traffic increased 2.3 times;
Daily active users raised by 49%;
Page views per session doubled.
Orange
Orange is Poland's major provider of telecommunication services. They also offer IT and integration services, leased lines, and other telecommunications value-added services and equipment.
Understanding users' struggles in terms of digital speed, Orange developed its own PWA to improve key performance indicators and deliver a more engaging and fascinating experience. With the support of Next.js and Workbox, this is one of the prominent examples of progressive web apps.
Orange's PWA was capable of automatic server-side rendering, data prefetching, and code splitting. This upgrade has gained applauding achievements, including:
30% faster loading time than the old site;
The conversion rate on mobile devices increased by 52%;
The bounce rate jumped by 12%;
The session depth improved by 18%.
Flipkart
eCommerce has had another competitor joining the game named Flipkart from India. Flipkart's PWA first appeared in 2015 through Flipkart Lite, aiming to make shopping accessible among Indian regardless of Internet connection.
Users can scroll down through the app, view categories, offers, discounts, and bestsellers, and are likely to browse and spend more time on the app. The app was equipped with a consistent update. Users have a streamlined online purchase process and accurate search capability when using PWA.
Learn how Flipkart built their PWA with ReactJS. This new PWA has resulted in:
40% higher user engagement;
3x more time spent on Flipkart Lite than on the native app by users;
60% of customers uninstalling native app came back to the PWA;
70% increase in conversions.
Pinterest
We can't finish discussing progressive web apps examples without mentioning Pinterest. By the end of 2021, Pinterest had gathered nearly 400 million users. However, only half of them utilized the native app.
In 2019, Pinterest released its own PWA, which has brought much convenience to its users:
40% rise in visitor time to that of the mobile website;
44% upsurge in advertisement revenue rate;
60% increase in user engagement;
Decreased loading time from 23 seconds to 5.6 seconds.
Telegram
Speaking of data safety and security, Telegram is a renowned app for keeping that promise with its users. Besides a growing cloud-based messaging platform, Telegram is also one of the progressive web app examples that have increasingly become well-known to everyone.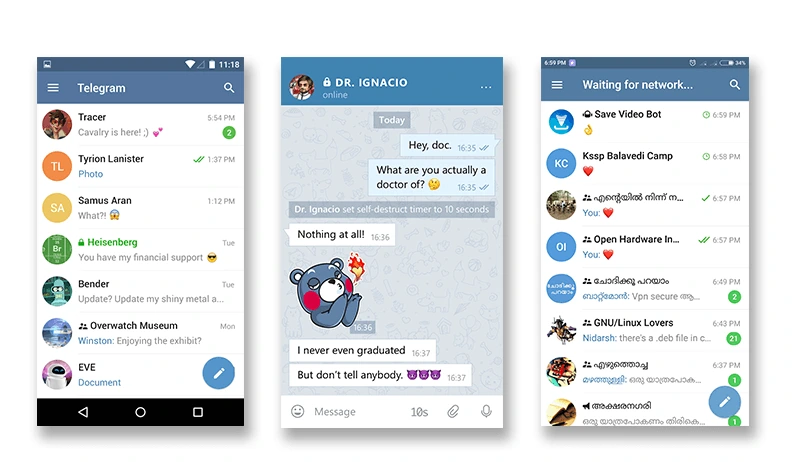 Telegram's PWA is prone to change adaptively. The app is secured with HTTPS, and its JavaScript is enhanced using Service Worker. Telegram's users can install the app on iOS or Android and use it even when there is no Internet connection.
After the PWA launch, Telegram has witnessed improvements, namely:
50% rise in retention rate;
40% year-on-year user base growth;
+175% increase in monthly active users since 2018;
More than 50% of sessions per user.
Zoom
Zoom's PWA was released in 2021 to replace the Zoom extension on Chrome from the company. Even though Zoom joined the progressive web apps world later than other top brands, its applications still have many robust features. Yet, their PWA is still being developed.
Users have to download an app from the app store or add extensions on Chrome to use Zoom on mobile and desktop seamlessly. This can be frustrating since many people only occasionally use this video chatting tool. With the new PWA, users can now use some of the main features available on the desktop software or mobile app on the Chrome web browser
Learn how to set up Zoom PWA on your Chrome Browser.
Youtube
Another late progressive web app example is Youtube. Their PWA was released in early 2021 for quicker access to users.
However, Youtube PWA only has basic features and lacks many advanced ones compared to their mobile applications. The most noticeable ones are offline and download capability, which are the two main benefits of PWA that Youtube PWA doesn't offer.
Flipboard
Last but not least, Flipboard is a social media and content curation tool that allows its users to create personalized digital magazines and share creative ideas. Flipboard comprises content from various sources (news organizations, blogs, social networks, etc.) and allows its users to create their news feeds.
The PWA helps save articles for offline reading, receive push notifications, and access the network in any Internet connection. Clipboard's PWA is designed to be fast and responsive, even on low-end devices. This progressive web app is a solution for those who want a quick and easy way to find information.
Flipboard has grown to become the most popular source of local news in the United States and Canada;
Flipboard users spend an average of 9 to 12 minutes reading the news;
The number of magazines produced has increased from 11,000 in 2018 to 28 million by 2022.
Wrapping Up
With the list of 22 best progressive web apps examples from top brands, Synodus hope you can find some clearance and view point on why many companies leverage this technology for their digital landscape. One thing we have noticed is that PWA is popular among enterprise and big businesses, while the small ones are still hesitated. PWA is still relatively new, so it's understandable. You can read this blog to learn more about PWA architecture and how can it bring better user experiences.   
We are sorry that this post was not useful for you!
Let us improve this post!
Tell us how we can improve this post?