Part 1: A Brief History Of Multi-millionaire Empire: How It Disrupts The Fashion Market
Starting from $0 revenue in the founding year of 2011, The ICONIC has reported $370.5M in revenue in 2018, according to InsideRetail.com. This online fashion platform, which has attracted one million visitors monthly, is expected to witness a booming growth in web sales ranging from $250M to $500M in years to come. The sales strategy of the ICONIC focuses on developing the home market; hence e-commerce NET sales are undoubtedly generated chiefly in Australia, and only a tiny share of revenue comes from other countries, like New Zealand.
The ICONIC has currently stocked over 700 brands, including Australian labels (like P.E Nation, Sass & Bide, Camilia, and Marc,…) and international brands (like Nike, Levi's, Calvin Klein, Adidas, MAC, and more) with more than 45,000 different fashion products available so that it could provide customers with a plethora of choices and options for shopping.
To redefine the future of retail in Australia and New Zealand, as The ICONIC has done since 2011, leadership & human resources are two vital factors.
Adam Jacobs, one of the ICONIC's founders, reminisced about their early days:
"If you think back to the first space, to having two million items of fashion, that's within six months in 2012 – that was really, really high. It was super hard to do, and no one slept a whole lot. We worked tooth and nail to make sure the customer experience was maintained the whole time."

Adam Jacobs, one of the ICONIC's founders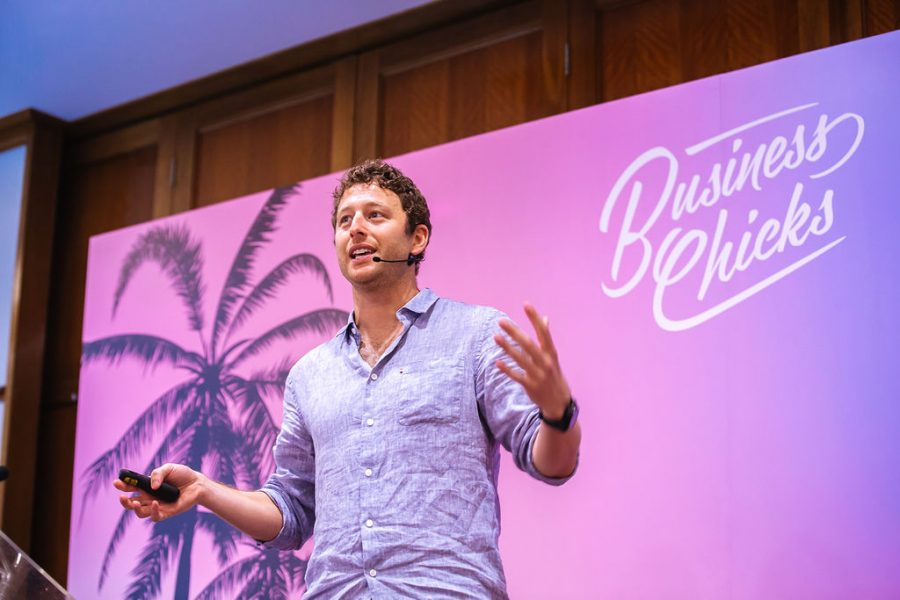 At The ICONIC, it is all about & around people. Its mission is to create a seamless and inspiring shopping experience for its customers, make them feel confident, and create a more sustainable and healthier world. And all the people working for The ICONIC has nailed this mission since Day 1. They have witnessed incredible success & tremendous wins during the past years thanks to the customer-centric approach with highly effective customer service & delivery options and returns policies.
"Brands are built by what you do, not what you say. The Iconic wasn't built by television, bus, or radio ads – you might have seen those things, but that's not where our brand was built. It was built in that warehouse at midnight when every staff member worked to get the parcel out on time. They're the stories you tell your friends about."

Adam Jacobs in his interview with TheCEOMagazine.com
Part 2: The ICONIC – Where Customer Analytics Never Goes Out Of Fashion
In this part, we will discover the recipe behind the success of The ICONIC – one of the biggest E-commerce giants in Australia.
The ICONIC has gone a long way since they started brainstorming names for their business. They launched an online platform in 2011 when E-commerce at that time was as notorious for month-long delivery and discounted items. With consistent approaches, they have shaken up the status quo and notched up soaring success: the ICONIC moved warehouses every three months, and their later space was always four times bigger than the previous location.
So, what are the "consistent approaches" mentioned above that lead to their incredible growth?
Concisely, the answer is: The ability to leverage data analytics to enhance customer experience (CX) and build data-driven management for every aspect of their business.
The answer seems so simple but keeping it consistent over the years has never been a simple task to tackle. To understand why, let's get back a bit to the overview of the global E-commerce market:
There has been a significant rise in the number of online shoppers, and the global e-commerce growth rate for 2022 is forecast at 12.2 percent, bringing global E-commerce sales worldwide to $5.542 trillion. The expansion in technological advances has offered consumers more convenient ways to access, making it a prime destination for brands to extend their reach, yet more complicated when it comes to competition in the market. Several analyses that you might want to know about customer behaviours:
E-commerce was growing fast before the Covid-19 hit. But the pandemic accelerated E-commerce growth years into the future, pushing more consumers to spend more time on online shopping and more frequently. 67% of consumers report that they shop differently during Covid-19. According to a survey of about 3.700 consumers in nine emerging and developed countries, half of the survey's respondents have shifted to online shopping more than ever.
The E-commerce platform has changed the way people search, with more and more people (83% of people partaking in the survey, to be exact) making purchases on mobiles rather than computers.
Zero moments of truth refer to the buying process when the customers intently research products before purchase. Instead of search engines, consumers nowadays prefer to search on several E-commerce sites before determining to add products to their carts.
As much as 56% of shoppers expect product availability to determine their affinity towards purchasing brands. This means you can no longer keep the conventional approach and underestimate the importance of selling products on the Internet. Your business should ensure you have it all on the plate to fulfill the customers' needs and expectations.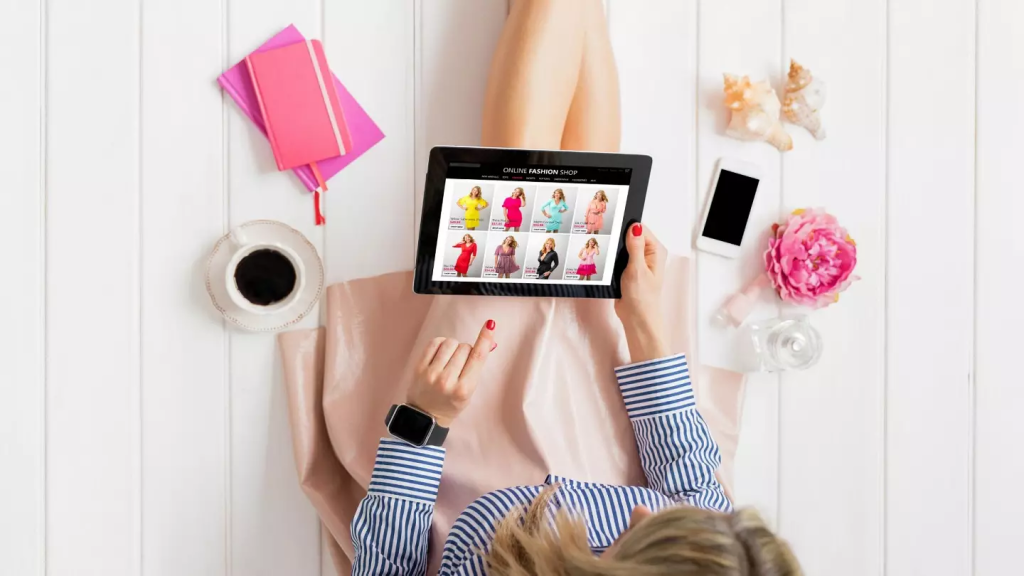 The consumers' mindset has changed, and their purchasing decisions are affected by myriad factors. However, in reality, you might hear of the incredible success stories and wonder what they did. So, here is an example of THE ICONIC and what they have done consistently over the past years to win the heart of the customers and tempt them to do shopping over and over here, not anywhere else.
2.1. They help customers identify and then buy what they really want
The main difference between a brick-and-mortar store and an online platform, like The ICONIC is how the two kinds of stores create human touch to engage with customers fully.
To influence every shopper's decision, E-commerce retailers should do their utmost to create digital touch points that can excite and convert visitors into customers. And the ICONIC has been a prime example with the adoption of data analytics intrinsically woven into marketing and merchandising strategies to understand its customers better.
According to Mr. Saagar, their intention of applying data analytics to every decision-making is to make it easier for their customers to buy what they actually want. By understanding customers, they can harness the power of technology to update features and upgrade the customer experience on their platform.
For example, The ICONIC has introduced and utilized the "snap to shop" feature, allowing customers to upload photos of their desired items like clothing or accessories onto the website. Then the website would produce a feed of equivalent products with a wide range of prices and various brands for customers to choose from.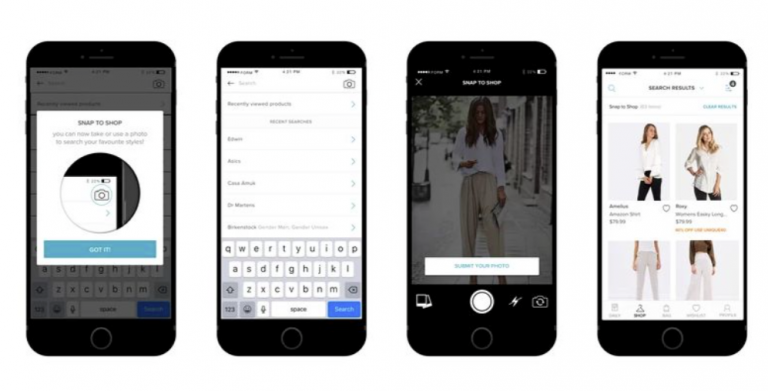 Image: The "Snap-to-shop" feature of the ICONIC
This feature has been a success and significantly contributes to a better online shopping experience because it helps translate real-world requirements into the digital world, saving shoppers a lot of time and effort of shoppers. Imagine that on the way to work, you just saw someone have a pair of shoes you like, and you want to buy them, but you have no clue of the brand or where to buy them, just a picture of it. Now, you could upload the image on the platform of the ICONIC, and the algorithm would help to produce suggestions for you.
Another feature called "Visualize AR" (Visualize Augmented Reality) was also released by the ICONIC. This feature is brought to narrow the online and in-store shopping experience gap. Now online shoppers could virtually try on a pair of sneakers or a watch on their hand and see whether it looks well or not on them.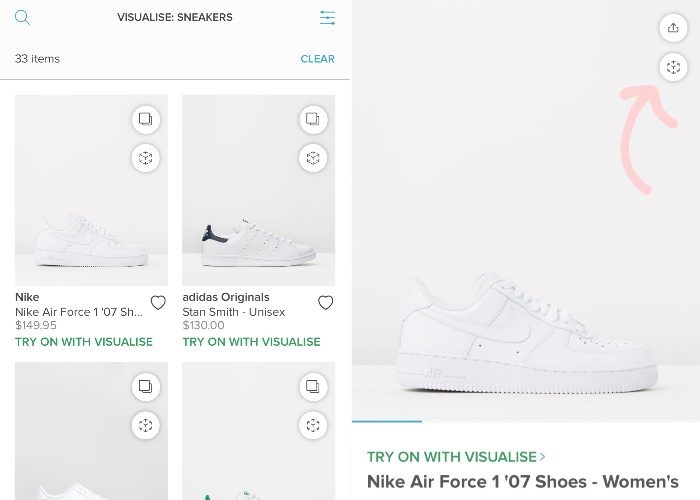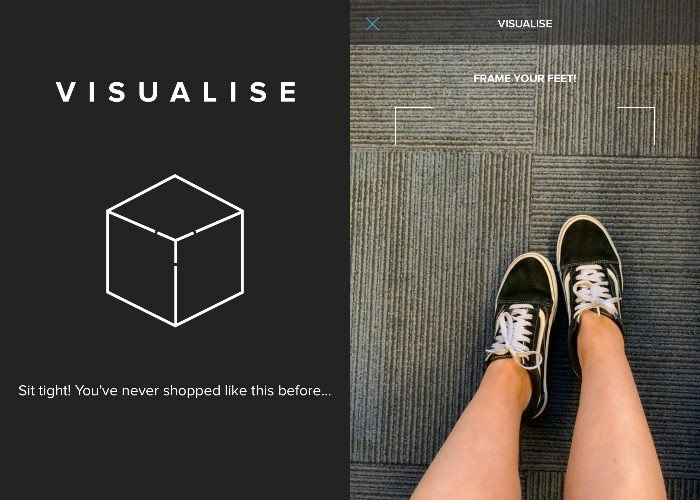 Image: How the feature "Visualize AR" looks like – source: THE ICONIC
"You can open up the app, compare and pick the shoes that you want, and you will immediately see how they look on you," Mr Saagar says.
From the point of view of customers, we do believe that these features built by the ICONIC are helpful and do inspire them to shop more and to offer them with a lot of "suitable" products aligned with their preferences, not to mention that it could save a lot of money, time & efforts for shopping.
And you, do you think so too?
2.2. The ICONIC improved their understanding of the customer journey
As mentioned above about the digital touchpoints, the ICONIC has relentlessly invested in customer engagement channels such as email, SMS, and web to ensure that their customers would have an optimum experience across their platforms.
Instead of dividing their resources into too many channels without measuring efficiency, the ICONIC team has done a lot of research and analysis to identify that they should prioritize app-user acquisition and engagement since app users were amongst their most valuable customers.
They optimized deep branch links in the user flows to drive users to their app from different channels: mobile, web, desktop, and email, offering them an in-app exclusive experience and promotion.
"To do this, we have leveraged journey banners across key points of our customer's path to purchase with relevant calls to action, including app-exclusive experiences and offers. We know that once we get customers to our app, we see higher engagement across our entire ICONIC offering. This includes increased visits to the site and increased repurchase rates."

Melle Staelenberg – Director of Customer Marketing at The ICONIC .
These strategies have helped The ICONIC build the best-in-class user experience, drive growth across platforms, and increase the traffic from email to app by 10%.
2.3. Personalization is key to retaining customers
In the midst of digital chaos, retaining customers has never been easy. Within just a click, the customer can connect with myriad choices and offers; hence, their expectations are higher than ever. For retailers, they need to change their strategy – with something more customer-driven, something more personalized.
Here is a lesson learned after Covid-19 and the surge in digital behaviours raising the bar: Personalization matters more than ever. Yet, it is not enough. You cannot make any changes, and you cannot personalize the customer experience without the excellent use of data.
Fortunately, The ICONIC has done this well by leveraging data and turning them into profitable assets.
"Instead of saying 'pull the data out of the website database and put it into this table in the data warehouse,' we say, 'look at the metadata and dynamically construct the query that pulls the data out of that table." – Maxwell told iTnews.
Step 1, The ICONIC has shifted its website onto AWS (Amazon Web Services) to address business growth because of the current infrastructure's inability to scale. During the process, they also noticed that the current data was also unavailable to the whole business, resulting in the situation that staff and the IT team calculated things in their ways, and the company primarily relied on Excel spreadsheets. So, the goal was to open up the data for the entire business.
The team of Maxwell has helped the business get near real-time data in its data warehouse. In addition, they also learned how to visualize real-item data and make the most of it for the wider business. And they chose Tableau, which had the added benefit of reducing the strain on the BI (Business Intelligence) and IT teams. A collection of people across every division having the licenses to use software called "Analyst guild" was also formed to serve as the entry point for their department.
Step 2, after they got a well-worked data warehouse with the help of Tableau, they continued implementing a tracking tool for user behaviour, with the intention of making the online shopping experience as personal as possible.
They believe that customer segmentation is crucial and the more detailed the segmentation is, the more customized experience the ICONIC can offer through website & app.
"If we can have more detailed segments, we can give people a more customised website and app experience," Maxwell said.
Besides, at The ICONIC, their data team even clusters products into groups based on their brand and product category combination.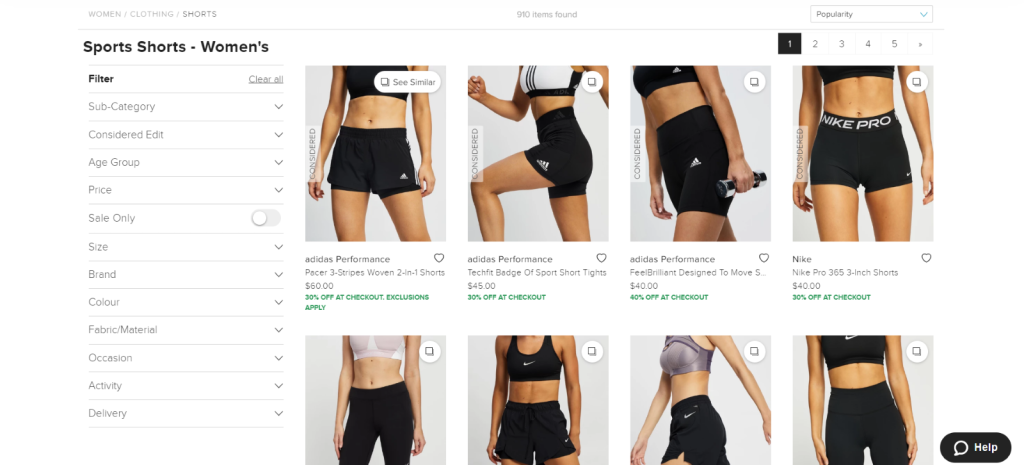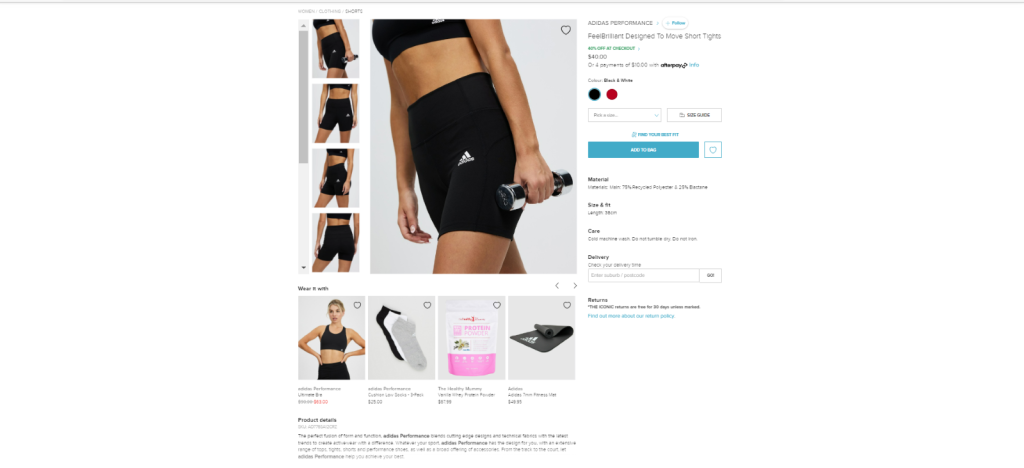 Image: How the ICONIC organizes its category and suggests suitable products based on visitors' search
"This kind of combination comes up in product clusters. We would then use a finite set of these clusters and make a decision based on a unique combination of five attributes – the brand, the product category, the subcategory, the fashionable level and the price point level for a particular customer."
And then the algorithm sits at the customer level, so it is able to treat each customer as an individual journey.
2.4. Customer feedback is important
At The ICONIC, they believe that if they focus on the customer experience first, everything, including growth, and profitability, may follow. So, they tried their best to collect data available from every channel:
Data from customer emails & calls
Data from Net Promoter Score Survey (NPS survey) and other ad-hoc surveys
Data from Product Reviews
Data from Appstore/Google play Reviews
Data from User testing
Data from "Share your ideas" on the ICONIC homepage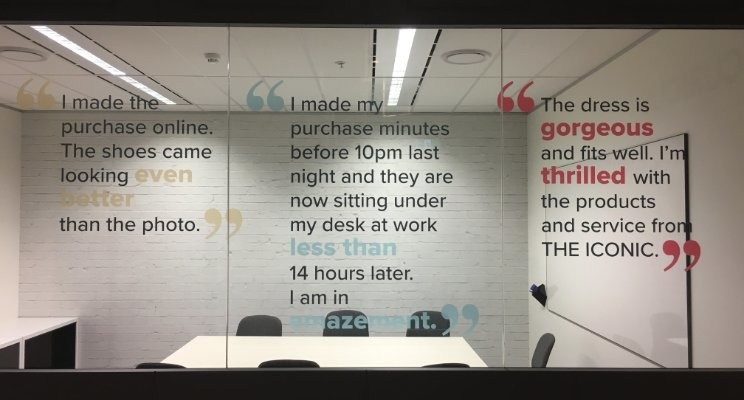 Image: A meeting room at THE ICONIC – They value their Customer feedback so much as they use it as office decor!
Collecting data is essential but understanding what to do with it is even more. The ICONIC has worked together as a company to fix customer pain points, reach out to customers who may have a less than fantastic experience via Customer Service call-backs and follow-ups, and surprise and delight customers… These actions are not only because they want better to understand the emotional drive behind customers' behaviours and to consistently improve their shoppers' experience when shopping online at The ICONIC.
2.5. Data sharing enables better decision-making across the organization
This means that at the ICONIC, they have already made data available to everyone. Even though employees work in different divisions across the company, they can see how other departments perform. This also helps different departments understand each other's expectations and goals and share the same mindset.
For example, the buying team can be well aware of what the marketing team has planned for the next three months, while the marketing team can build a more informed marketing strategy for the latest brands in the pipeline.
When "people from the marketing, creative, and merchandising divisions are not blocked off in separate silos from the data analytics team", everything seems more transparent than ever.
Part 3: Take The ICONIC's Cure And Get To Know Your Customers Right
The ICONIC has undergone a data transformation journey via data-driven automation and unifying business insights and achieved significant productivity wins. More importantly, they have learned how to use data effectively to delve into customer insights and make informed business decisions without inhibiting gut instinct. The result is that they have inspired the customer-centric approach across every division of their business, enhancing customer experience and making online shopping a personalized and joyful experience for any visitors.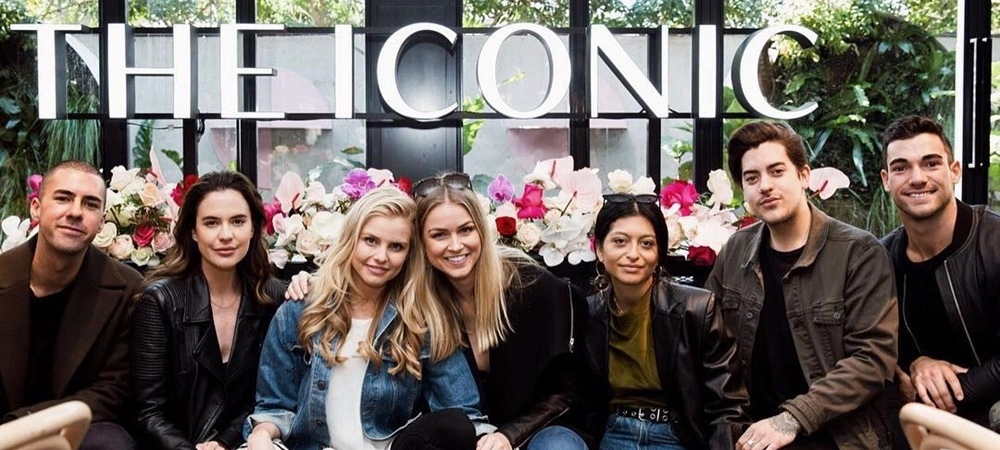 Not just the ICONIC, many leading businesses out there, either operating in a brick-and-mortar store or on E-commerce platforms, have found an irresistible urge to let data lead every decision across their business and have chosen to invest in either building an in-house team or partnering with a data analytics agency. Either way is acceptable, but what you should well acknowledge is that to stay on top of the market, data investment is indispensable. Your business had better start as soon as possible!
We are sorry that this post was not useful for you!
Let us improve this post!
Tell us how we can improve this post?