Are you looking to increase efficiency in your business operations? Harnessing the power of low code and internal tools could be your answer. These tools have revolutionized the business world, allowing us to create custom software without extensive coding. As a result, businesses function has become more streamlined, and overall efficiency has improved significantly.
With a wide variety of platforms available on the market, choosing the one that best suits your needs can be daunting. Synodus will guide you through the top 9 low code internal tools. We'll shed light on their functionalities, advantages, and how they stack against each other.
How Low Code Is Changing The Internal Tools Conundrum
Internal tools have emerged as a game-changer in the business landscape, addressing the problem that companies have long grappled with. Traditionally, companies use internal tools for various purposes, from automating tasks, boosting CRM, analyzing data, or processing documents.
However, the use of off-the-shelf software has limitations. They can perfectly solve many problems, but not all, especially if it's a niche problem that only an industry/ your company faces.
Approximately 55% of companies build internal tools specifically for their operational teams. Despite this investment, the resultant internal tools often fall short, lack a clear revenue link, have weak user feedback, and provide insufficient data to improve the tools.
Enter low code internal tools. This new generation of tools promises efficient solutions that bring functionality to the forefront. They reduce development time by up to 80%. This speed is crucial for businesses, especially during this digital-driven age. An estimated 40% of project managers believes that up to half of internal processes can be automated using these platforms.
The best part? Even non-technical users can build apps with low code after having proper training, thanks to their pre-built code and drag-and-drop elements. Companies looking to implement a low-code strategy should focus on training citizen developers instead of hiring new staff, as these employees are already well-acquainted with the team, company culture, goals, and business processes.
The Benefits of Low Code Internal Tools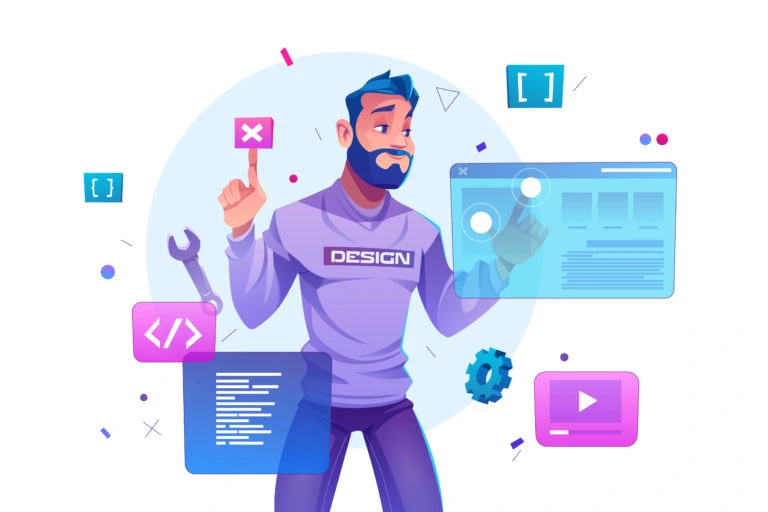 Low code internal tools offer significant benefits in transforming business operations, leading to greater efficiency and cost savings. Some of the key advantages:
Accelerated Problem-Solving: Low code platforms enable more employees (both technical and non-technical) to participate in the development, leading to quicker solutions and less reliance on DevOps teams.
Business Workflow Automation: Low code tools can automate routine tasks, streamlining business processes and improving productivity.
Reduce Costs: By simplifying the coding process, low code tools significantly cut the costs associated with development.
Independence for Business Teams: Low code platforms empower business teams to build their solutions without constantly relying on developer resources.
Flexibility for any businesses-sized: Low code platforms provide affordable and quick solutions for all businesses. Meanwhile, startups can use them to create minimum viable products (MVPs) swiftly and cost-effectively.
Test-bed for Large Businesses: Large businesses can use low code platforms to test hypotheses, create landing pages, and develop internal corporate websites, freeing up developer time for complex tasks.
In essence, low code internal tools are a powerful solution for businesses of all sizes, providing the means to accelerate development, reduce costs, and promote business agility. They're paving the way for a future where companies can operate more autonomously and efficiently.
Top 9 Low Code Internal Tools to Use
If you are looking for an enterprise-grade low code platform to build your internal tools, Power Platform is the ultimate choice. With the combination of Power Apps (to build applications) and Power Automate (for automation abilities), there is no limit to what internal tools you can build.
Pros
Hosting on cloud and on-premises. Build web-based and mobile applications.
Allow to build multi-stage business process flows.
Integrate with other Microsoft systems for seamless operation and data transform: 365, Office, SharePoint, Teams.
Connect to multiple systems and data sources.
Easy to navigate interface, which is suitable for both technical and non-technical.
A vast library of pre-designed components and templates.
Cons
Deployment of Microsoft PowerApps might be confusing at first
Debugging on PowerApps usually falls short, compared to others low code platform.
As the gold partner of Microsoft PowerApps, Synodus provides end-to-end custom low code development, ranging from internal application, process automation tools to mobile app development.

Leveraging state-of-the-art technology with transparent communication, our pools of well-versed experts are ready to digitally transform your business, whether you are a startup or an enterprise! Share your idea with our team!
This powerful low code internal tool is designed to help teams quickly create custom applications, dashboards, and more. The platform's core strengths lie in its robust integration capabilities and customizability, while it has some areas that could be improved upon.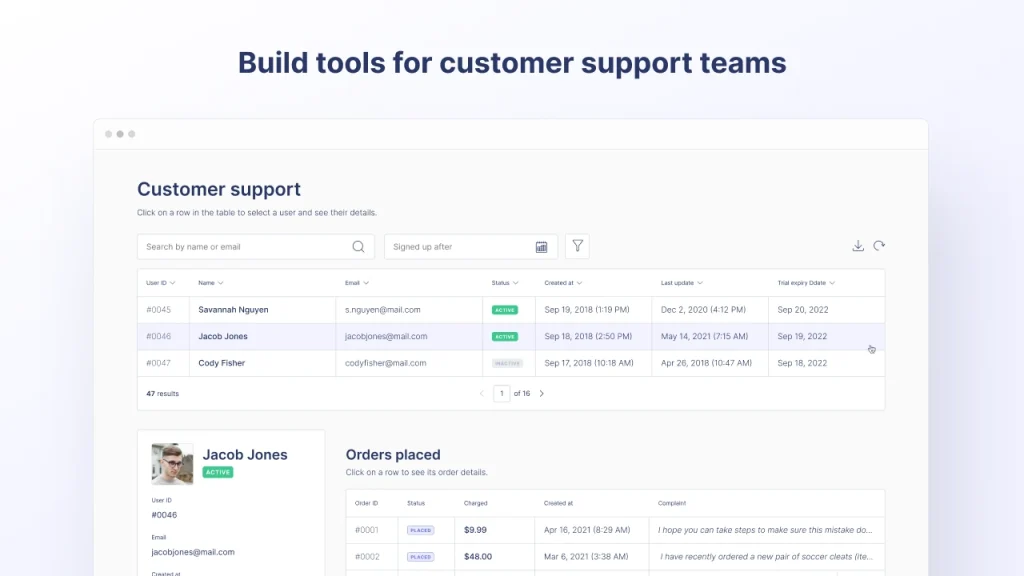 Pros
The convenient drag-and-drop building blocks with tables, lists, maps, forms, wizards, and charts (around 100+ components)
Over 40 ready-made app templates to get started.
Broad integration capabilities with databases, REST and third-party APIs.
Developers can flexibly customize in JavaScript.
Vibrant support community and comprehensive documentation for assistance.
High level of data security.
Support on-premises hosting.
Cons
A lack of responsive design can be challenging for mobile users.
Deployment is restricted to Docker or Kubernetes, which may not suit all users.
UI Bakery shines with its user-friendly interface, customizable design system, and near-limitless API integration capabilities. This low code tool is best for building internal tools for small to medium size businesses, thanks to its reasonable pricing with unlimited end-user.
Pros
Allow hosting on cloud and on-premises.
Easily connected to both SQL and NoSQL databases.
Support version control and instant deployment with a click.
Around 50 built-in front-end components
Nearly limitless data connection and API integration capabilities for enhanced functionality.
The ability to add JavaScript code offers additional customization options.
Enthusiastic customer support through various channels and educational resources for users.
Cons
Custom app branding is not available for free.
The limited number of ready-made templates could be expanded for a better user experience.
Budibase is an open-source low code internal tool that empowers technical teams to quickly build internal tools, admin panels, and processes.
Pros
The open-source model allows access to a vast community of developers and users.
Enables rapid application development with a wide range of customizable features.
Support multiple ways to connect to databases: RestAPI, CSV, or use Bubibase's built-in database.
Responsive design across mobile, desktop, and tablet.
No subscription cost making it affordable for organizations of all sizes.
Support self-host via Docker, Kubernetes, and Digital Ocean.
Cons
The open-source model might entail additional hosting costs.
Due to its nature, it requires users to have a solid technical background, which might not be suitable for non-technical users.
This versatile open-source low code for internal tools that can be hosted locally or on the cloud. The tool is compatible with numerous databases such as MySQL, PostgreSQL, MongoDB, and Cloud Firestone.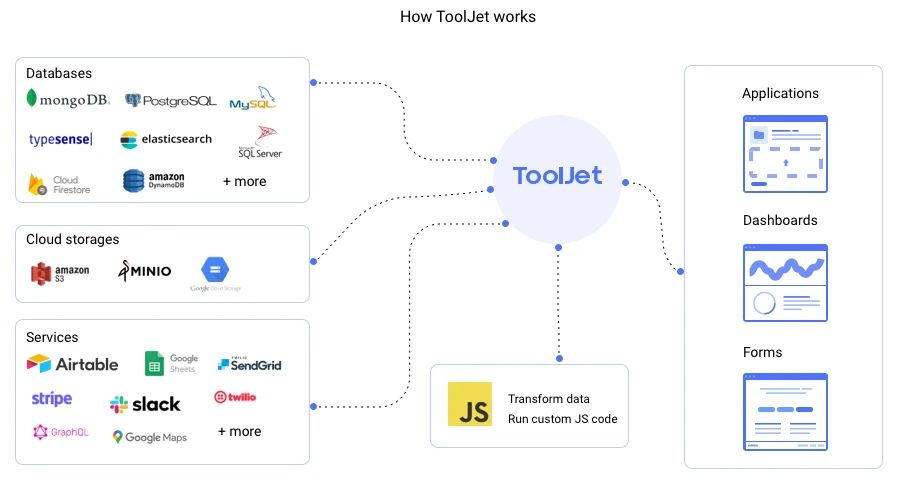 Pros
Robust set of pre-built widgets such as tables, charts, forms, etc.
Real-time updates, access control, allowing multiple access at a time, version control, and automatic deployment.
You can customize your connectors and scalable databases.
Create and manage different environments for testing, development, and production.
Suitable for enterprise-grade applications.
Cons
The open-source nature might require additional costs for hosting.
The learning curve can be steep for non-technical users due to the requirement of a technical background.
DronaHQ is a cloud-based low code internal tool that can build operational apps and digital journeys on top of any API and database. Even though it is efficient and feature-rich, certain aspects may only cater to some user needs.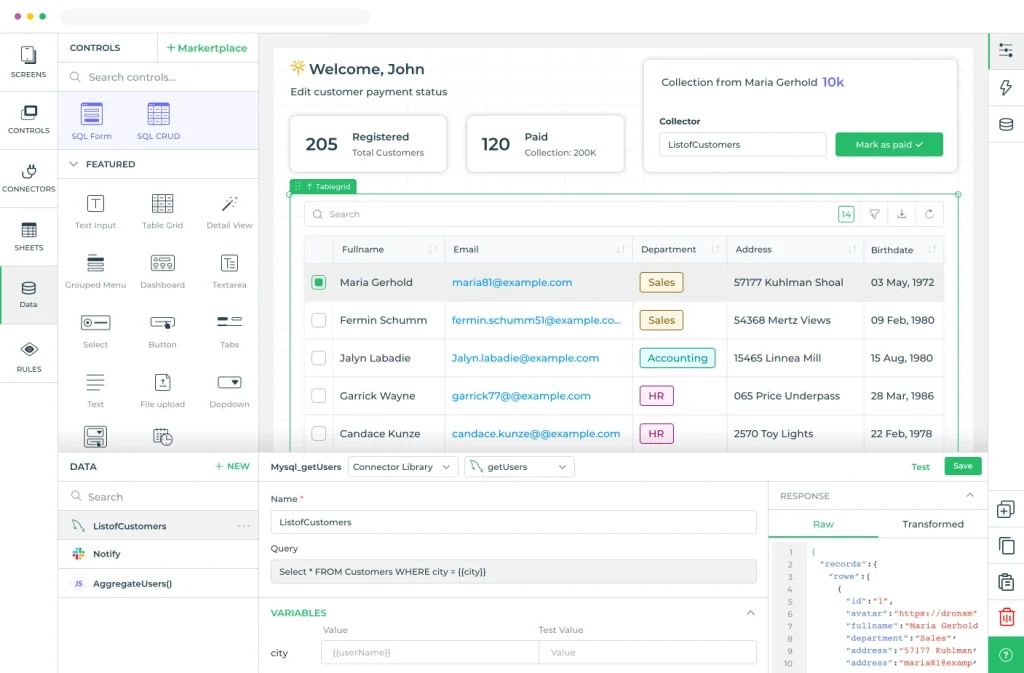 Pros
Advanced logic-building automation capabilities provide enhanced customization.
Offers a high level of customization through custom code, allowing for bespoke app designs.
DronaHQ's usage-based pricing makes it a cost-effective choice compared to competitors offering user-based pricing.
150+ built-in design elements include Tablegrid, Card list, Dashboard, Chart, and Form.
Apps created on DronaHQ are automatically accessible as web apps and mobile apps.
You can use JavaSrcipt to manipulate data and build your UI components.
Cons
Some level of coding is required, which may pose a challenge for non-technical users.
The learning curve can be steep for those unfamiliar with low-code platforms.
This open-source low code internal tool has nearly 28K stars on GitHub. Beyond basic features like other low code platforms, Appsmith has certain aspects that make it stand out.
Pros
Git-based version control.
Built-in JavaScript editor and libraries.
Extend your app's functionality with reusable and customizable code blocks.
Around 45+ UI widgets.
Connect to any data source on-cloud or self-host. You can also integrate with SaaS/BaaS platforms through Appsmith's API.
Cons
Requires a certain level of technical knowledge, which could be challenging for non-technical users.
Some users find the user interface less intuitive compared to other tools.
Forest Admin is a niche low code platform that helps developers focus on admin panel development. Thanks to this, the tool suits businesses of all sizes and any industry, as their focus isn't divine.
Pros
Quick set-up owing to various built-in features like CRUD, search, analytics dashboards, and roles and permissions.
A User-friendly drag-and-drop layout editor makes it easy to customize the tools.
Ensures high privacy as user data remains invisible to Forest Admin servers.
Cons
The platform targets developers and thus requires some coding and technical knowledge, which can be challenging for non-tech users.
Advanced features such as SSO, enforced 2FA, white labeling, or custom domains are only included in the premium plans.
Using their APIs, databases, and business apps, Internal provides a platform for teams to develop internal tools. Its no-code approach and flexible customization suit many use cases.
Pros
Intuitive drag-and-drop interface facilitates accessible tool building, even for those with limited technical knowledge.
All builder features, including a range of pre-built UI components, are available even within the free plan.
You can connect to your Google Sheet for application development
Cons
The platform has limited templates available, which can be restrictive for users looking for quick deployment.
It does not offer the ability to use a custom domain, which may be necessary for some businesses.
Detailed Comparison of All The Top Platforms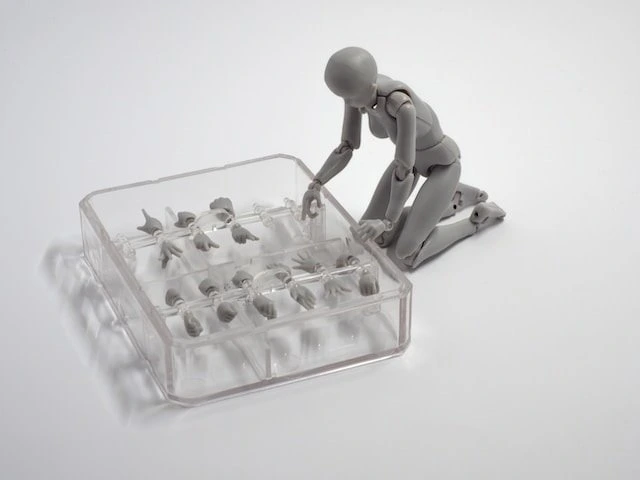 | Platform | Supported Databases | Third-party Integration | Interface Design | Component Library | Pricing |
| --- | --- | --- | --- | --- | --- |
| Retool | Extensive (22) | Wide range (24) | Precise positioning, non-overlapping elements | Extensive (100+) | Free version From $5 to $50/ month |
| UI Bakery | Wide support (16) | Moderate number (8) | Precise positioning, non-overlapping elements | Considerable (50+) | Free version From $50 to $249/ month |
| Bubibase | Extensive (22) | Fair number (9) | Precise positioning, non-overlapping elements | Good variety (45+) | Free version From $8 to $16/user/month |
| Tooljet | Broad support (19) | Considerable range (20) | Overlapping design akin to PowerPoint | Good variety (50+) | Free version From $32/user/ month |
| DronaHQ | Extensive (22) | Limited number (2) | Overlapping design akin to PowerPoint | Extensive (150+) | Free version From $10 to $25/user/ month |
| Appsmith | Broad support (19) | Wide range (19) | Nested positioning, configurable layout | Good variety (40+) | Free version $20/ user/month |
| Forest Admin | Limited (9) | Good range (20) | Precise positioning, non-overlapping elements | Moderate variety (30+) | Free version Contact for advanced features |
| Internal | Moderate support (10) | Moderate number (7) | Nested positioning, configurable layout | Limited range (30+) | Free version From $5 to $50/ user/month |
| Microsoft PowerApps | Broad support (22) | Wide range (41) | Overlapping design akin to PowerPoint | Extensive (110+) | From $5 to $20/ per user/month |
Choosing an internal low code platform depends heavily on your unique requirements. While some tools excel in certain areas, others may provide a more balanced package. It is crucial to assess each platform's alignment with your business needs.
How to Know Which Low Code Internal Tool Is Best to Use?
Selecting the right low-code internal tool builder for your business requires carefully assessing various factors. Let's go through the key criteria you should consider:
User Experience: Look for an intuitive interface that simplifies onboarding and development. It's crucial that the platform is user-friendly and offers a pleasant experience.
Responsive Design: The tool should support responsive design to ensure your apps work seamlessly on all device sizes – from mobiles to desktops.
Predefined Components & Templates: A rich library of ready-to-use UI components and templates accelerate the development process by enabling you to build applications without starting from scratch.
Third-party Integrations: The ability to connect with various data sources like APIs, databases, and other business applications is essential to provide your apps with the necessary functionality and data accessibility.
Custom Code: While low code platforms aim to minimize coding, adding custom code when needed gives you the flexibility to create more complex functionalities.
Customer Support: Consider the support options offered by the platform vendor, including email support, community forums, phone calls, and video tutorials
Documentation: Comprehensive, easy-to-understand tutorials and documentation can make the learning curve smoother and faster.
Branding: Look for a platform that allows you to customize your internal tools' look and feel to match your brand. This feature may come with additional costs depending on the platform.
Deployment & Hosting: Ensure that the tool allows for smooth deployment and hosting of your internal applications.
Security: Your data's safety is paramount. Examine where your data will be stored and the platform's measures to secure it.
Price: Evaluate the pricing structure. It could be a flat monthly/yearly subscription or a per-user/app model. Choose a platform that offers the best value for your budget and needs.
Wrapping Up
It's essential to remember that the best low code internal tools align seamlessly with your business needs and goals. Each tool has unique strengths and potential drawbacks; your choice will depend on the features you value most. Ensure your chosen tool promotes efficient and effective app development and fits well within your business environment. As the popularity of low-code and no-code platforms continues to rise, staying informed about these tools will empower you to make the best decisions for your business' technological growth.
We are sorry that this post was not useful for you!
Let us improve this post!
Tell us how we can improve this post?