8
minutes read
Behavioral analytics tool is changing how businesses become more profitable and serve their customers better. Your business needs to know these things if you want to keep up with the trends in the digital era.
To get there, you need high-quality tools that help predict customer behavior and provide actionable insight into what your customers want. A good tool will give you advantages over others, allowing your business to target customers with more precision and fewer distractions.
What Is Behavioral Analytics?
User behavioral analytics is a combination of data science and psychology, which analyzes how people interact with your product or service, what they do and don't like about it, and how they interpret different elements of your offering. The goal is to predict future behavior by analyzing past behavior and making decisions based on this information. The data collected might include:
What percentage of users click through an ad?
How many times do they visit the site?
How long do they spend on each page, and which pages are most popular at any given time?
User behavior analytics helps you make better moves for your business by giving insights into who's using the product (both directly and indirectly), where they come from (geographic location), and what content works best for them (e-commerce). Applying a behavioral analytics tool makes your website or app more effective and efficient by understanding what motivates users to visit and how you can improve their experience.
Benefits Of User Behavioral Analytics In Business
Behavioral analytics has a wide range of uses, from improving customer experience to increasing sales. The benefits of behavioral analytics can help you:
Improve user retention by showing relevant content at the right time, based on what they've been doing online (for example, if someone is looking for information about a specific topic in an app, they might see an ad promoting that same topic)
Improving e-commerce conversions by determining which types of products are selling well, and what might be preventing them from doing so;
Identifying which parts of your website are performing well (and which aren't) so that you can focus on improving those areas;
Creating targeted marketing campaigns based on previous user behavior;
Improving website search results by using behavioral data gathered over time to predict which searches will produce higher clickthrough rates
Increasing traffic to a website by tweaking certain settings based on real-time feedback from users.
5 Steps To Leverage User Behavioral Analytics In Your Business
Using behavioral analytics for beginners can be overwhelming since you need to make different adjustments to align and adopt the tool for your organization effectively.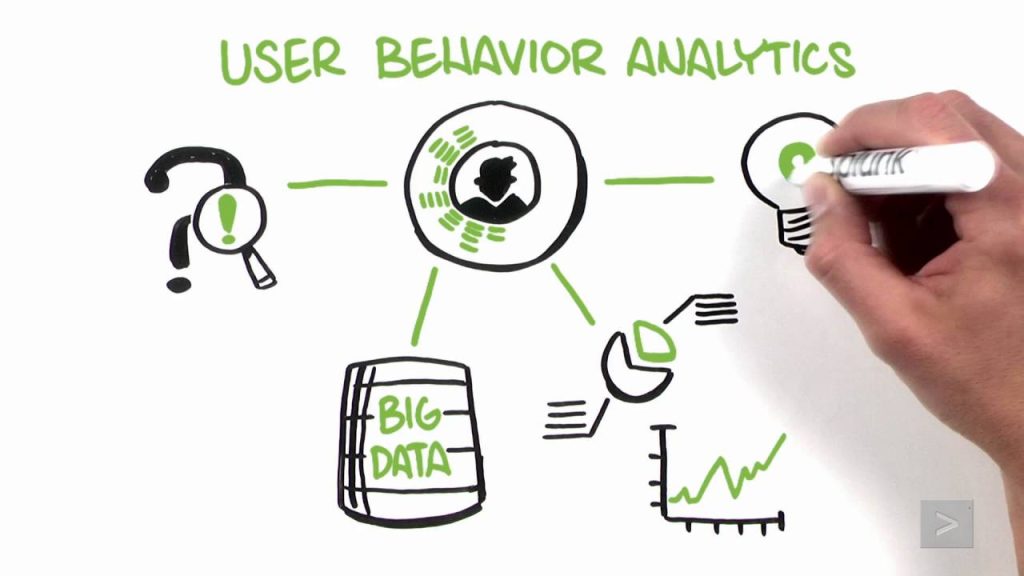 You may face potential technical challenges while collecting data from a tracker. Also, it requires close collaboration across internal teams to ensure the work can be done smoothly.
Whether you're starting from scratch or have already implemented a behavioral analytics tool, here are five steps you can take to leverage user behavioral analytics in your business:
1. Select goals and metrics
Before you begin, you need to decide what data you want to track – what are you trying to achieve? This article will guide your choice of tools that sync with your business objectives and determine which questions you ask during your analysis.
For example:
Suppose you want to understand why people leave your site or whether they're returning after a delay in their purchase process. In that case, you may want to track the user journeys to take action and prevent further problems from occurring immediately.
Or you may want to know how many new users sign up for your service each month. Measuring the metric against total signups may be more effective than just new customers who haven't purchased before.
In behavioral analytics, many business owners often consider goals and results as a whole. However, it would be better if you set goals focusing on measurement instead of goals aiming at specific results. For example, "keeping the churn rate below 5%" seems to be more a result than an analytics goal.
The adjusted goal of this situation might be "follow the user journey to detect the churn potential", which centers on the measurement process. Ultimately, the behavioral analytics goal is to capture data and online behaviors of customers to analyze and then make needed improvements.
2. Map out the paths
Once you've chosen your goals and metrics, it's time to map out the paths taken by users. This will involve creating a list of user actions across your platform to ensure your products are successful. While customers visit your site, you can see where they are heading toward when they leave – or whether there are any bottlenecks along.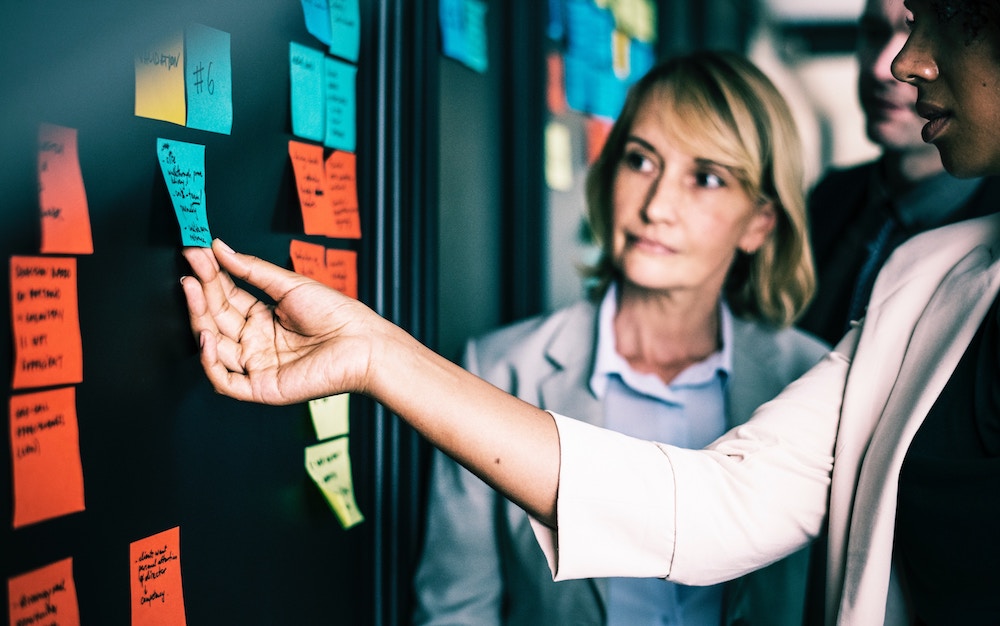 For example, an e-commerce business may track a user's journey from the first visit, choose the right products and move to the checkout process since that flow converts into a sale.
3. Create a tracking plan
The next step is creating a task tracking system that allows you to track each user's path through your app or website. By doing that, you can see where they come from and what actions they take along the way. You can use this data to determine which areas of your product or service need improvement and how best to do so.
However, tracking all data types is not a good idea since too much information can clutter the analytics process and hide valuable insights from your organization. For instance, when collecting data about viewers' watching history, the organization needs to pay attention to multiple properties concerning the event, such as movie title, genre, actors, and actress.
Companies usually develop a tracking system to organize data in one place using spreadsheets, databases, or even an app. No matter what forms are used, a tracking plan should be scalable and easily updated when there are changes in the operational process.
Additionally, all internal departments – marketing, IT, and product – need to be involved in planning the tracking system. Understanding how the tracking stage is executed will enable them to run reports and read results across different channels.
4. Conduct research to understand behavior across platforms
The omnichannel buying experience is in high demand these days since the average attention span of customers is becoming shorter than ever. Customers expect digital products to be presented on multiple platforms, which might hinder the possibility of tracking unique users and interpreting their behaviors. At this point, organizations must research using their identifier (emails or browser plugins) to determine specific customers and connect the touch points across places.
This information will help you identify gaps in your current approach and ensure there are no gaps in user behavior. Your behavioral analytics platform also should have a persistent identifier to fortify the tracking and understanding of customers' behavior patterns over time.
5. Implement analytics and start tracking
Once you finish all the preparation stages for your behavioral analytics software, you can start operating and embedding it into your products through SDK or API. Again, make sure the system is scalable so you can scale up both the tracking plan and the analytics service along the way.
Before you start tracking your users, the system needs to be tested to ensure it is operated properly and effectively. If the testing results are positive, you are ready to start your journey with real-time data analysis.
Key Metrics To Use For Behavioral Analytics
Metrics are the objective measurements used in behavioral analytics tool. They are fundamental since they reveal whether your users are satisfied with the buying experience you offered or not. Good metrics allow you to make data-driven approaches toward your business's goals. Here are some important metrics that are worth considering:
Feature usage: Building a feature package based on the data collected about the customer's demand. You need to know which feature is in higher demand and which is not so you can build or remove it to optimize your website.
Active users: This number highlights a typical period that your customers come online, which is actionable insight. Knowing the number of active users at a time will help you tailor appropriate content or activate promotions and special offers.
Dwell time: It is the time your customers spend on your website and acts as an indicator of engagement. The longer they stay, the higher chance of sale conversion is.
Adoption rate: The percentage of customers using your service/products
Returning rate: This metric reveals how many customers return for your product and service. It is significant as it carries their satisfaction and loyalty to your brand.
Drop-off during activation: Providing patterns of people abandoning shopping carts on your website. This exposes the potential issues you're having and triggers proper adjustments for improvements.
Referral rate: Refers to the recommendation rate of products/features from your customers to others.
Churn rate: The number of customers you might lose along your business journey. This is normal in running a business and can be mitigated through unified management.
These metrics are important pieces to a complete picture of how users are interacting with your platform. The indicators mentioned can significantly grow your business and revenues.
Top 10 User Behavioral Analytics Tools
In the world of user behavioral analytics, there are many tools available provided by different vendors. The behavioral analytics tool also fall into various categories following:
A/B testing
Session Replay tool
Heatmap tool
Feedback analytics tool
Cohort analytics tool
You may find it overwhelming to choose the one fitting your business objectives. A wide range of questions would be raised: which one is worth investing in? Which one can deliver desired outcomes? How can you handle the technical level? Etc.
These metrics are essential pieces to a complete picture of how users are interacting with your platform. The indicators mentioned can significantly grow your business and revenues.
1. Mixpanel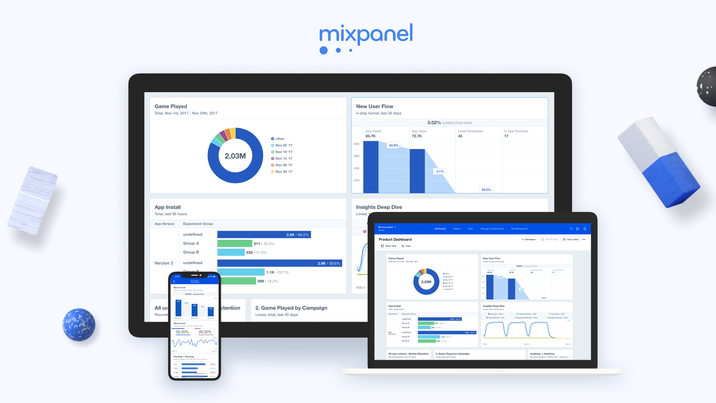 Mixpanel is a leading product analytics software company helping businesses understand how customers interact with their products/websites. Their event-based tracking solution enables product teams to gain actionable insights into how to acquire, convert, and retain their users across multiple platforms.
Main features:
Interactive reports
Data visualization and Alerts
Segmentation
Group Analytics
Pros:
The setup is clear and manageable, going with top-tier documentation
Live View – monitoring your active users in real-time
Affordable and cost-effective tool for small businesses or startups
The funnel is organized and can work on past events/properties
Easily filter actionable insights on any cohort or attribute
Cons:
There might be delays when tracking a huge volume of data
Although occasionally, users might encounter duplicate and missing data problems
The auto-save feature is not on the dashboard side
You might need to dig deep into the documentation part for the initial configuration
Pricing:
Free with 100k monthly tracked users
Growth: starting at $25/month
Enterprise: customizable
2. Amplitude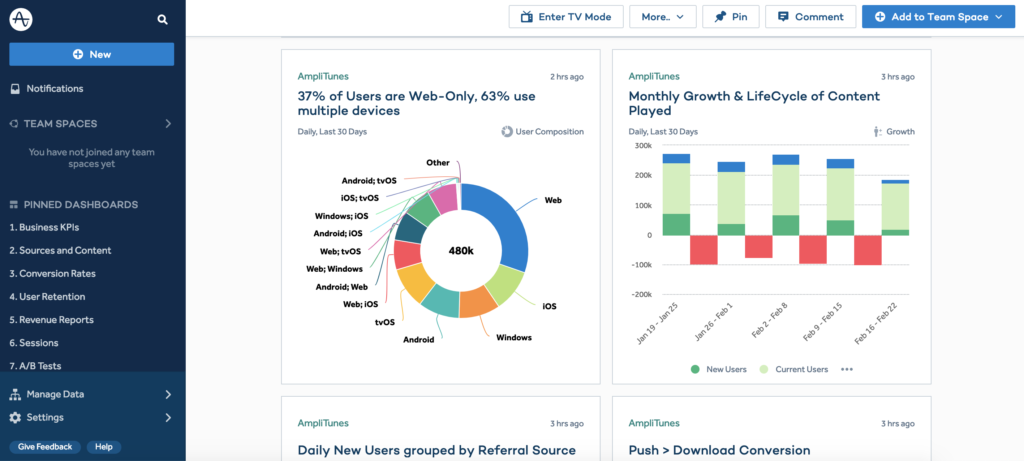 Amplitude is a tool that allows marketers to track how their customers engage with their business. It's ideal for learning more about the effectiveness of your content marketing efforts and identifying areas where you could make improvements to boost conversions and sales.
Main features:
Instant query results
360-journeys
Root cause analysis
Behavioral targeting
1:1 Recommendations
Pros:
Data visualization
The analysis is shareable via a link.
Amplitude tracks "events," such as click volume on a CTA button and blog, instead of following their movement across the website
Cons:
High cost for additional functionality
Pricing:
Free: start with 10M events per month
Growth: contact sales
Enterprise: contact sales
3. Heap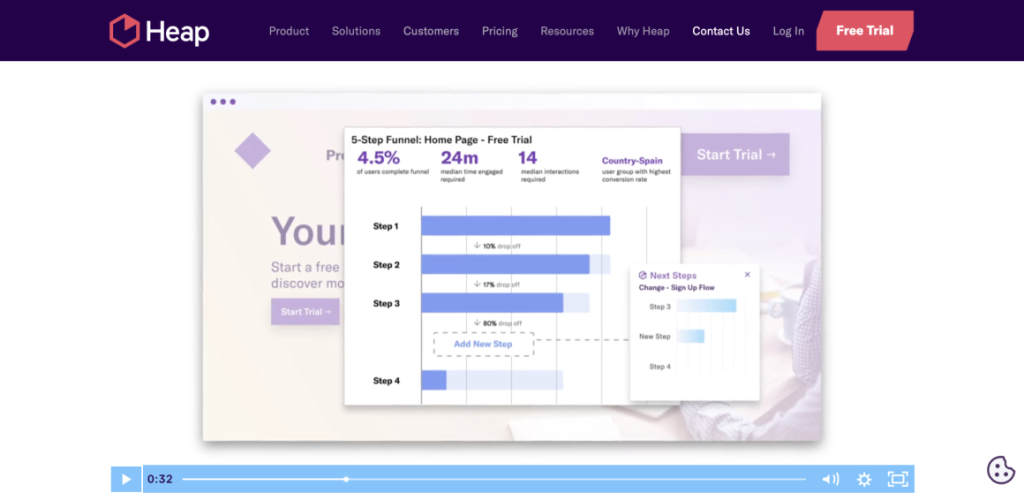 Heap is an analytics tool that measures user behavior across multiple platforms, devices, and operating systems in real-time. It is used for tracking website performance by gathering data about what users do on your site over time (such as how long they spend on each page), which gives you insight into which pages perform well and which don't quite get the job done.
Main features:
Segments
Data visualization
Playbooks
Pros:
Retroactive analysis – Heap allows you to track past events and conversions.
Real-time reports – automatically capture events in real-time.
Cons:
Path reports are limited to 5 steps.
There is no auto-naming feature for events to save time.
It doesn't support personalization as it only tracks aggregate data (data in one place)
Pricing:
Free: up to 10K monthly sessions
Growth: contact to get an estimation
Pro: Custom session or MTUs
4. Hotjar
Hotjar is a successful startup in the analytics field, helping businesses interpret how users behave and what they feel strongly about, so organizations can deliver real value. Their missions are to discover product opportunities, consolidate qual and quant, and communicate user needs. Hotjar works on the compelling challenges of large-scale web traffic and analytics on a product that has a real impact on thousands of users worldwide.
Main features:
Data capture
Analyzing the underlying recordings and heatmaps
Filter and segment data
Analyzing performances
Offer Surveys on website
Pros:
Real-time visitor recordings: the journey of visitors and users on your webpage is actively recorded, which helps you detect any possible problem and mitigate its harm to your performance.
Heatmaps: Hotjar uncovers where are the user's touch points, what is attracting them, and what is not
Cons:
Hardly can separate elements clicked on for deeper insights
There is still room for improvement when it comes to mobile apps
Pricing:
Free: 35 daily sessions
Plus: 100 daily sessions and start with $32/mo
Business: 500 daily sessions from $80/mo
Scale: customizable
5. FullStory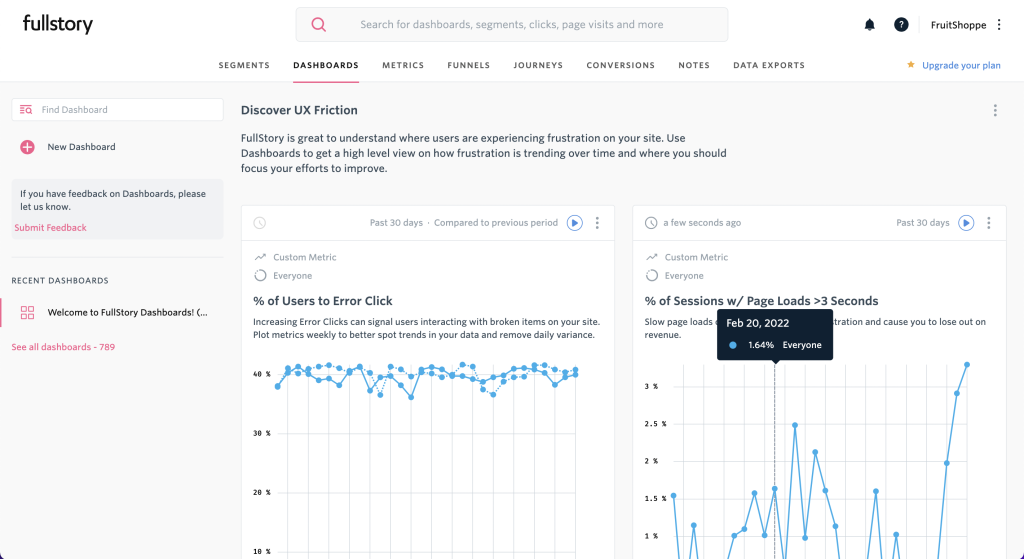 FullStory offers digital experience intelligence, on-the-fly conversion funnels, advanced search capabilities, video-like replays of actual user sessions, and robust debugging and developer tools—all while integrating with leading software-as-a-service (SaaS) products.
Key features:
Complete data capture
Product analytics: frustration signals, funnels & conversions, journey mapping, dashboards, and user segments
Session insights: session relay and heatmaps
Pros:
FullStory effectively provides conversion optimization and content marketing information
Timely update the user feedback to figure out what is preferred
Its implementing stage is easy and doesn't require any technical background
Cons:
No custom for the dashboards
Selecting the fitting session might be a riddle
Pricing:
14 days free trial
Enterprise: contact for details
Business: contact for details
6. CrazyEgg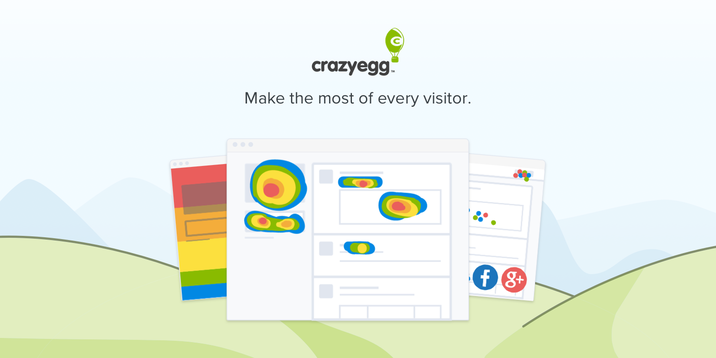 Crazy Egg lets you effectively visualize your website's visitors. The platform provides a heat map – an easy way to understand what users want, care about and do on your site. They visually represent user clicks- the most vital indicators of visitor motivation. A Crazy Egg heatmap allows you to collect more than 88% of the traditional eye-tracking data.
Key features:
Heatmaps
Recordings
A/B testing
Traffic analysis
Errors tracking
Surveys
Pros:
Portrait a clear picture of the way users interact with your website
Identify problems in website design and suggest improvements
Detailedly presenting user engagement with scroll map, confetti, overlay, and heatmap
Cons:
There is still guessing work since the context is not embedded in the data
No the funnel analysis feature
Pricing: free 30-day trial
7. Smartlock
Smartlook is a qualitative analytics solution for web and mobile, helping businesses of all sizes and industries answer the "whys" behind users' actions. Smartlook gives you a look into user behavior at the micro level through an impressive feature set. Automatic event tracking empowers you with the data of customers' browsing history and digital footprints. At the same time, conversion funnels take those events and show you how much success you're having with conversions.
Key features:
Session recordings
Heatmaps
Events
Funnels
Cross-platform analytics
Mobile app analytics
Pros:
It is cost-effective and easy to use
It provides a wide range of analyzing options for customers browsing data
Customizable dashboard
Identify customers through names and personal emails
Cons:
Some of the tracking features offered might be misleading sometimes
Extra cost for app integrations
Pricing:
Free: 1,500 sessions/month
Startup: 5,000 sessions (upgradable) – $39/mo
Business: 15,000 sessions/month (upgradable) – $111/mo
Ultimate: Custom – contact sales
8. WVO
VWO is one of the world's leading web testing and conversion optimization platforms that enables growing businesses to optimize their web experience across electric devices to deliver a unique experience.
Key features:
Traffic allocation
A/B testing
Segmentation and Targeting
Session recording
Pros:
WVO allows you to group tests so the interactions between tests can be seen while running simultaneously
Cons:
Tagging options are limited which may be challenging to identify the one you need while running multiple tests
Pricing: request pricing directly from their website
9. Tableau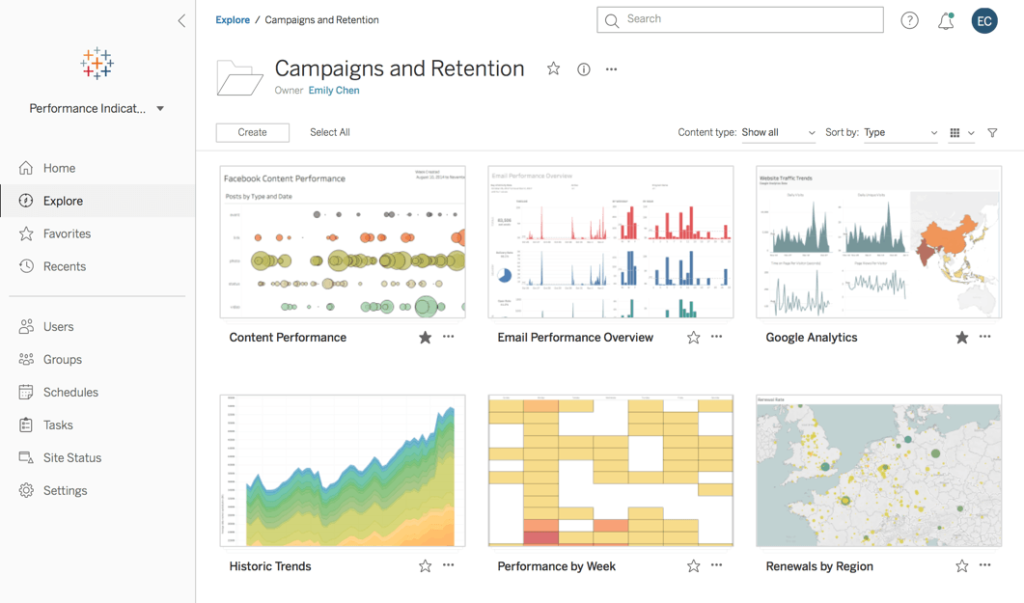 Tableau's self-service analytics platform empowers businesses of any skill level to work with data. From individuals and non-profits to government agencies, thousands of customers worldwide rely on Tableau's advanced behavioral analytics capabilities to make impactful, data-driven decisions.
Key features:
Tableau cloud
Tableau data management
Tableau desktop
Tableau prep builder
Pros:
Offer various options for types of charts, interactive features, and effective performance
Cons:
The pivot table usage is limited on this platform
Pricing: starts with $70/mo billed annually
10. Google Optimize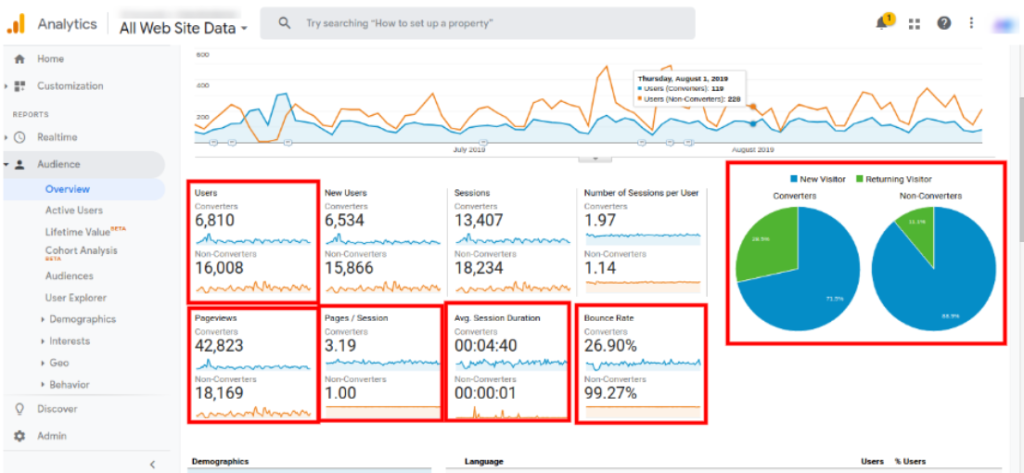 Google Optimize is a website experiment platform that integrates with Google Analytics and allows you to conduct A/B tests, multivariate analysis, and redirect tests. You can first use Google Analytics to determine the page needs improving and then apply Google Optimize to test changes and launch a new fixed version for a better user experience.
Key features:
Split URL testing
Multivariate testing
Standard visitor segmentation
A/B experiment testing
Pros:
Quick data track as connecting with Google analytics
Easy interface to use
Free
Cons:
Not applicable for app testing
The audience divisions in groups can be misleading sometimes
The number of concurrent tests is limited to only 3 tests
Pricing: free
Tips To Choose The Best-suited Tools
A good behavioral analytics tool is flexible and easily embedded in the business with the entire stack of compatible features with your business scale. They need to meet your present and future demand, whether digital products or mobile applications. The best tool has a user-friendly interface enabling teams to quickly adapt to the technique and get the results at no time.
Switching to another behavioral analytics software along the way is not a good idea since it can occupy much time and cost. Therefore, choosing a tool with outstanding scalability is necessary if you want to save your resources and allocate them to the proper channels. Research must be carefully conducted to determine the best-suited solution for your business.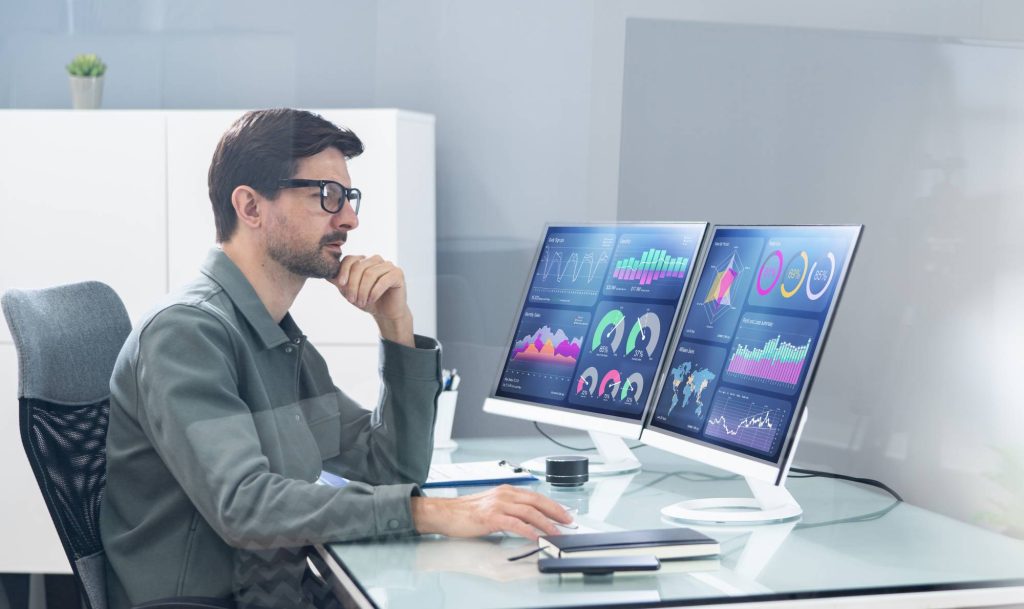 Other than that, the most important thing is your goal and your intention with the chosen tool. You need to decide how the behavioral analytics software will support your business. Start asking yourself these questions before being on board with any vendors:
What do you want to know about your users? Which insights matter to your business's growth?
How can you leverage your web analytics data by analyzing customers' behaviors?
Can you precisely segment your reports according to particular needs over time?
Once you get the answers to those questions, you move to the stage where a comparison will be made among available software providers. Opt for the user behavior analytics tool that can:
Perform practical features
Automatically collect and update user data in real-time
Timely query data in various ways
Effectively build reports based on current data
Make automated notifications and recommendations
Visualize data in a clear context
Watch Out For Common Mistakes With Behavioral Analytics
While you're getting support from vendors when using a behavioral analytics solution, there is a chance that your implementation goes wrong.
Look out for these common user behavioral analytics mistakes to make sure you get the best of it:
Utilizing too many features at one time
Managing analytics features can take a lot of work, and having it done effectively requires proper resource allocation. Launching too many features simultaneously can create too much workload and mess up the whole operation efficiency.
Ineffectively setting the governance rules while collecting data
The governance rules are the core of success in analyzing user behavior data to avoid instrumenting disparate events and properties. The rules need to be well-set and clear for the data to be organized so you can export quick and accurate reports.
Tracking too many events at the beginning
If you don't want to handle the same scenario resulting from the above mistake, you should initially concentrate on the key events which make transparent impacts. Instrumenting an acceptable range of events aligned with your capability to get the most favorable outcomes.
Lacking compatibility among teams in analytics usage
Every department (UX/UI design, sales, marketing, supporting, leadership,…) in your organization needs to have access to behavioral analytics tools, as understanding data analysis will allow the business to run smoothly. Every team contributes to the best user journey where potential barriers are timely removed.
Conclusion
With the available behavioral analytics tool, you are in front of the doors to better understand users' online behaviors. However, getting the right one for your demand and scale can be challenging. Synodus would help to provide you with consultation and even execution so you could save time for other matters.
Our experts armed with expertise and experience would work along with you to develop a coherent strategy to gain valuable insights from customers' behaviours and level up your business!
Follow us on LinkedIn, Twitter, and Youtube to be informed about the latest news and information about Data Analytics!
We are sorry that this post was not useful for you!
Let us improve this post!
Tell us how we can improve this post?