4
minutes read
NFT exploded, became the focus, and now is no longer a strange term worldwide. Thousands of projects have recently entered the NFT market, so introducing an information centralization tool is obviously an undisputed consequence. Let's read the article below to learn more about the NFT marketplace aggregator, including its advantages and some of the best platforms so far.
1. What is NFT Marketplace Aggregator?
An aggregator can be a statistic, website, or piece of software that compiles facts or information from different sources and presents it to the user cleverly and practically. The NFT Marketplace aggregator is a standard statistical tool as well.
NFT Marketplace Aggregators is a platform that aggregates basic information on NFTs from various markets. These aggregators make it simple for traders and investors to get data and trade NFT collections from many marketplaces without visiting those markets in person.
These aggregators perform the function of an all-in-one aggregator by bringing together NFT information from many marketplaces and providing a comprehensive and in-depth picture. Investors can typically use NFT Marketplace Aggregator to compare NFT pricing, gas fees, royalties, and other crucial aspects to gain a complete market picture. They are making it easier for users to identify and stakeholders to buy and sell NFTs.
Investors can save time by searching and filtering information without exploring several markets. Market aggregators can also make unified purchases so investors can buy NFTs from several sources in a single transaction, in addition to the advantages mentioned above.
2. Benefits of NFT Marketplace Aggregators
NFT buyers and sellers can easily take advantage of the NFT marketplace aggregator. Here are some benefits of NFT Marketplace Aggregators:
The NFT market aggregator provides data that is comprehensive and multidimensional. This application helps to assure consistency and seamlessness by displaying stocks from many NFT marketplaces in a single interface, eliminating the need for users to transfer between different markets when trading NFTs.
Personalized recommendations
The NFT Market aggregator is like a source that covers all the necessary data a user wants to find. You can find the data according to your needs as an NFT investor or a new user.
This tool provides technical data presentation, including recommendations of content according to user search trends (personalization) and special NFT wallets, to create a unique user experience.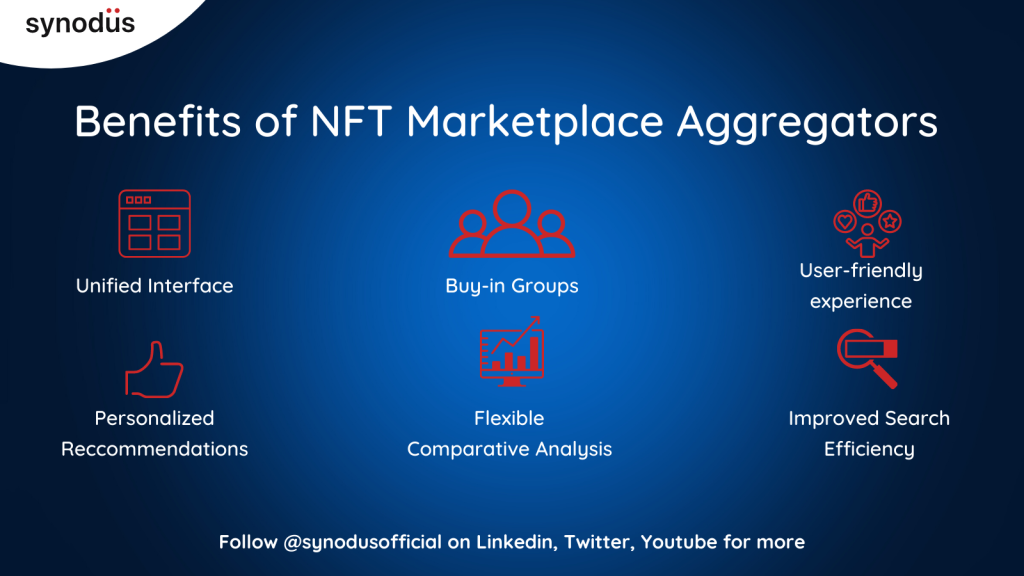 Improved search efficiency
The NFT Market aggregator functions as a one-stop shop for all the information a user needs. Whether an NFT investor or a first-time user, you can locate the data that suits your needs.
This technology offers specific data display, including personalized content recommendations based on user search patterns and exclusive NFT wallets, to produce a distinctive user experience.
Flexible Comparative Analysis
NFT Marketplace Aggregators provides customers with accessible data analysis capabilities and presents the most comprehensive data. Users may easily compare coverage to differentiate various NFTs based on market volume, number of holders, etc.
The tool will be left in the market sooner or later, no matter how wonderful it is to overlook user-friendliness. A large selection of NFT and Defi products offer significant returns, but the common user often finds it difficult to learn and master complex trading across various platforms and protocols.
In a nutshell, the NFT aggregator compiles NFT data in a single location, enabling consumers to enhance their NFT experience. Users would need to visit each NFT market, register, and become familiar with this to identify and investigate the NFT they want if there weren't an aggregator. NFT Marketplace Aggregator will open the door to the world of NFT for everyone, whether you are a novice who wants to learn more about it or an expert who requires in-depth data to evaluate this market.
If you wish to purchase numerous NFTs on most of the current NFT markets, you typically have to do so one at a time. Users can carry out multiple bulk transactions at once using NFT aggregators like Gem.
3. How do NFT Marketplace Aggregators work?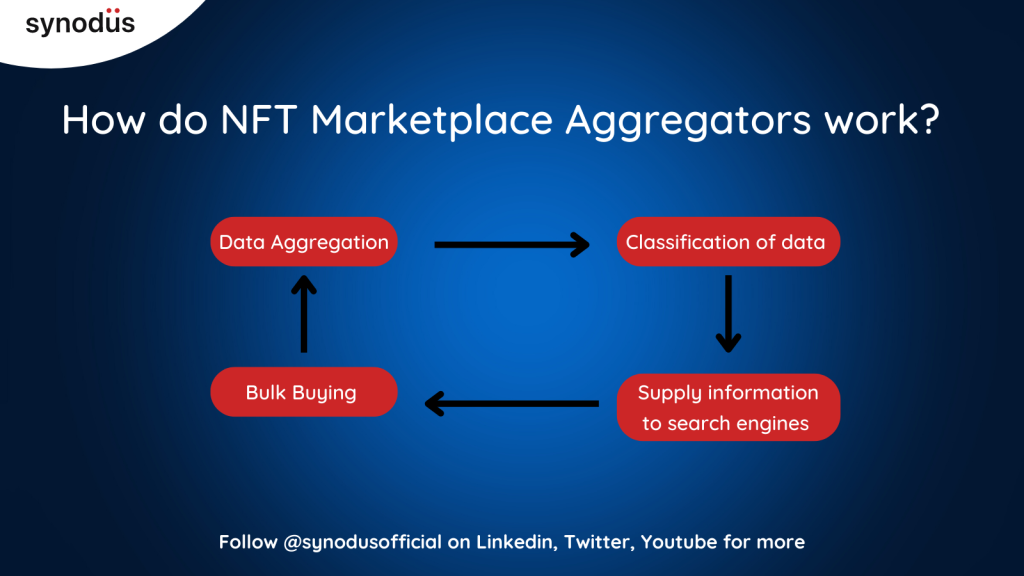 Typically, data at NFT market aggregators is split into categories based on relevancy and user preferences after being aggregated from various sources. The associated stages which are employed at NFT Marketplace Aggregators, include:
This process entails gathering a variety of NFT trading data from various markets. This collected data is the foundation of every market aggregator.
To develop a single access point for the platform, aggregate data is collected in a single source or interface. This single-entry point allows for smooth data access when data is queried.
This procedure categorizes aggregate data using particular metrics or characteristics, such as rarity, time, price, rank, etc. This makes data analysis seamless for potential buyers or investors.
Supply information to search engines
The gathered information will be given to search engines on the platform when the aforementioned three processes have been implemented effectively so that users can simply trace them to their preferred NFTs.
The ability to purchase several NFTs from various markets in a single transaction is one of the key features of the NFT market aggregator. By purchasing in bulk, additional gas fees that would otherwise be incurred for each transaction involving the relevant NFTs are avoided.
Consider the scenario where you wish to purchase 30 NFTs and pay 30 distinct transaction costs. However, using this bulk purchase feature will only require a single transaction cost for all NFTs.
4. Most popular NFT Marketplace Aggregators
Uniswap (previously known as Genie) is the first NFT market aggregator. It was developed and formally released in late 2011 under the name Genie. Earlier this year, Genie has already acquired by Uniswap Labs.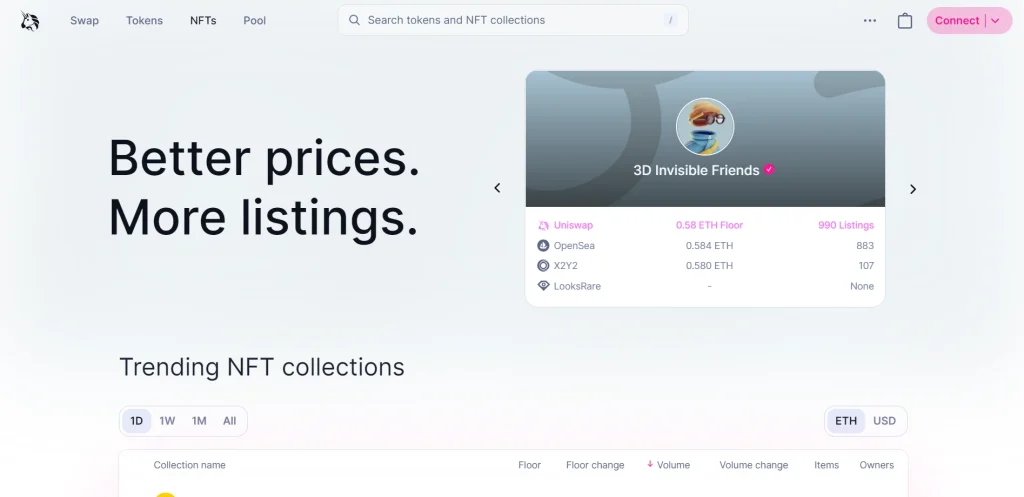 Users can access a library of NFTs through the Uniswap aggregator, enabling investors to trade NFTs on most of these platforms. These marketplaces include OpenSea, Rarible, LookRare, and others. Among its other advantages, Uniswap allows users to purchase up to 60 NFTs from several markets in a single transaction, saving them up to 40% on gas fees.
Additionally, you can sell your NFTs using Uniswap, which increases your visibility by listing your NFTs on OpenSea and LookRare. The platform supports the Coinbase, mobile, and MetaMask wallets.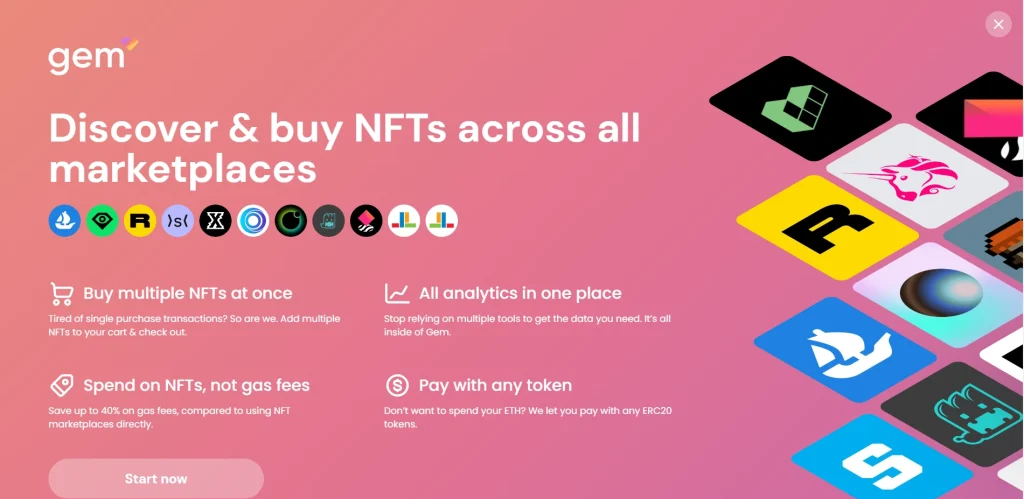 It's easier to discuss an aggregator by bringing up Gem. An NFT marketplace aggregator that provides "A to Z access to the whole NFT market" is what they are currently developing. As a top NFT market aggregator, the company has existed since early 2022. Then it was acquired by OpenSea in April of that same year. With this aggregator, you can:
Purchase several NFTs in one transaction.
Sweep the collection floor
Save a ton of gas fees by paying with any token (or several tokens) as opposed to making your purchase on the main Gem website.
Gem's primary features are a shopping cart, rarity, flash bot, and whale buy notifications. These capabilities keep Gem's consumers up to date on the most popular NFT market movements without charging any fees, allowing them to benefit during critical periods.
Gem is an Ethereum-based platform aggregating NFTs from well-known markets such as OpenSea, LookRare, Rarible, Sudoswap, Xmarket, X2Y2, NFTX, and others. It, like Genie, offers NFT minting and selling and lets users save up to 40% on gas fees. Wallets like MetaMask, WalletConnect, and Coinbase are supported on the platform.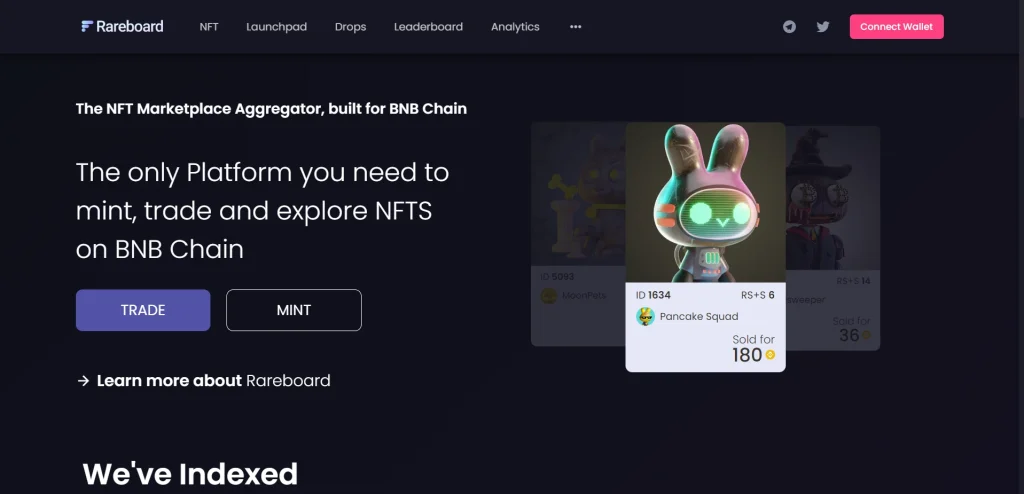 Rareboard is a Binance Smart Chain NFT market aggregator that collects some of the major markets on the BSC (old BSC) network. As the name implies, it provides real-time statistics on the rarity and costs of NFT collectibles, which are displayed on its rarity dashboard. Rareboard has integrated the BNB Chain network's ten largest NFT marketplaces, including BinanceNFT, NFTKey, PancakeSwap, Galler.io, NFT Trade, and others.
Besides, Rareboard also includes a rarity dashboard for NFT as well as price inventory for NFT across several markets.
Rareboard allows users to mint and list their NFTs, and it supports MetaMask, WalletConnect, BitKeep, and Binance Chain wallets.
With more markets to be added, the platform aggregates data from OpenSea and LookRare. Users can arrange their NFT experience in the platform's custom folder according to their preferences. This allows users to receive real-time notifications anytime their favorite wallets, collections, or post-NFTs are for sale.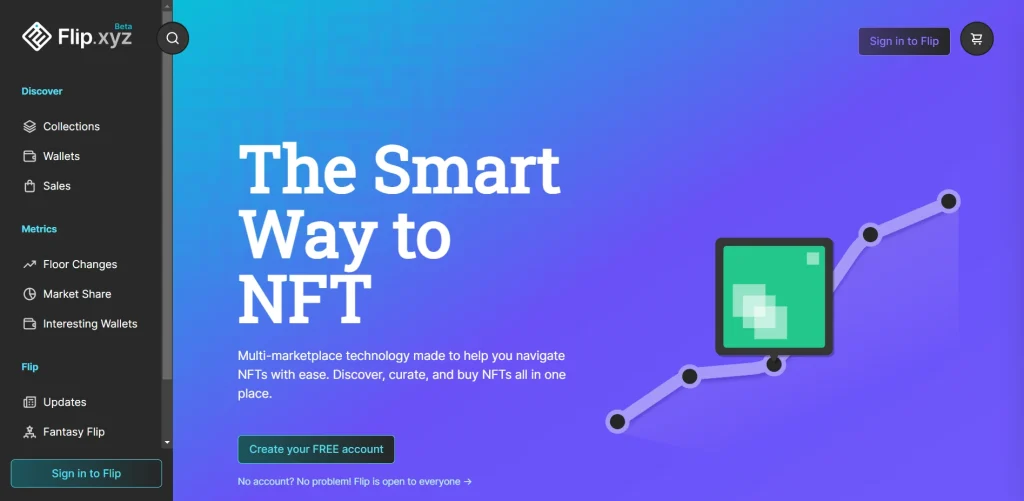 You may sign up on the site with your wallet, Apple, Google, Twitter, or email. And it supports the MetaMask wallet, in addition to others (such as Ethereum or the ENS name) that can be added.
5. Final Thoughts
Leveraging the power of the NFT marketplace aggregator, you can leap with your core market knowledge, trade better, and gain buying experience with high efficiency. Follow Synodus for more interesting blockchain-related topics.
And just in case you would like to build an NFT Marketplace Aggregator, contact us right.
---
More related posts from Synodus you shouldn't skip:
We are sorry that this post was not useful for you!
Let us improve this post!
Tell us how we can improve this post?