6
minutes read
NFT Analytics Tools are the best ones for not only NFT individual investors but also for businesses in recent years. This is because when it comes to NFT investment, you should know the market performance daily, which are making the best profits and which are the rare ones for collection.

However, suppose your chosen analytics tool isn't fit your preference. In that case, this can cause serious results, including updates of non-related tokens that may not benefit your investment. Knowing the needs of creators to have the best tool, here are the top 15+ NFT Marketplace Analytics tools that investors – like you – should use in 2023.
Why should you use NFT Marketplace Analytics Tools?
Many NFT projects are being minted regularly, so it may be hard for you to keep pace with the trends without using an automatic, computer-generated analysis tool to choose the best collection. Moreover, these tools may satisfy the obsession of NFT enthusiasts – who may be eager to check the dashboards regularly.

Also, when it comes to bidding on the right asset for your business, you have to see if it is under or overpriced, so you won't have to compensate for the future consequences. Therefore, NFT Marketplace analytics tools are the only solution for the time being to easily track, see and assess whether the chosen token is favorable to your intention.
Having an analysis tool on the world of NFT means you are entitled to dig deeper into the world of blockchain and NFT. This is because those tools offer a deeper insight into each asset being listed on the marketplace, besides the primary sources of information such as crypto news, DeFi (decentralized finance) sections, and NFT drops.

What's more, the analytic tool for NFT marketplaces can indirectly offer a new path for users to find the best web3 properties for investment, check and follow real-time prices and trends of NFT assets. Therefore, traders and businesses can form a proper tactic for bidding and selling on the marketplace. This can be done on the proper platform that generates real-time, high-quality, and trustable dashboard analysis.
Top 15 NFT Marketplace Analytics Tools In 2023
After understanding the sole importance of having an NFT marketplace analytics tool, it's time to take it up a notch and see the best analytics tools out there. This list is highly crucial for those who want to track a day-to-day data basis and get the latest news on the market and NFT drops.
Support a variety of tokens on the blockchain technology and is widely famous for its analytics dashboard, Dune Analytics is without a doubt one of the best NFT marketplace analytics tools on the internet. This tool can be considered "the favorite child", as it alleviates the payment process and aids the users in managing floor prices, people's liking and the availability of the assets.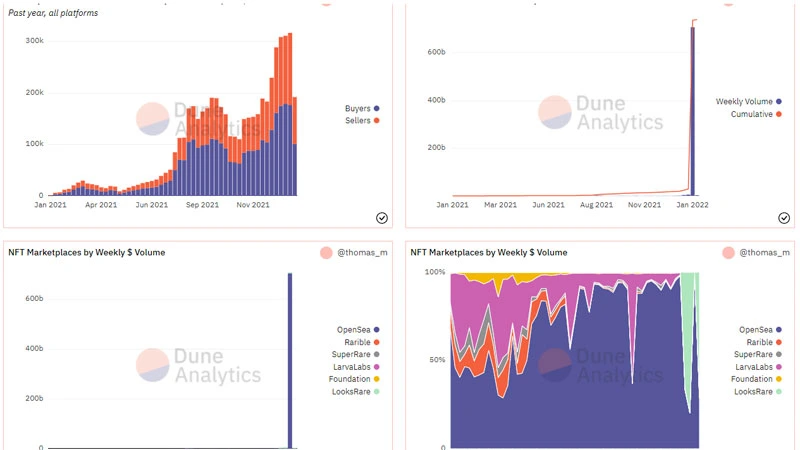 Dune Analytics has the feature of creating your own dashboard, but this is optional – it depends on which investing intention may float your boat.
Some notable features:
Analyze and support loads of different blockchain platforms: Ethereum, Polygon Gnosis Chain, etc.
Smart contract data management and support
Visualize data in real-time
Key metric analysis for NFTs, Defi and other crypto-related topics.
This is highly suggested as your go-to NFT market analysis tool, as it is an established data aggregator for all things NFT. Information that existed on this platform is in real-time, and totally transparent for investors.
Besides, the project database is updated 24/7, so NFT enthusiasts can track and assess the floor prices for consideration. Alterations of sales, asset changes and the latest NFT drops can also be tracked by having this tool in your pocket. Regarding the pre-release time, investors can place a time setter for the quickest update.
Some notable features:
Day-to-day blockchain data on NFT sales
NFT ranking for sales
NFT ranking for collections
By combining the elements of market direction and NFT activity insights, Nansen has its own reputation for users to acknowledge. Besides, this NFT market analysis tool can place a rank for collections and assets based on their rarity, which indirectly shows the potential of competitive NFTs.
Moreover, this platform can also provide users with the data-driven from the wallet addresses. Actions, including transactions, bidding options, and other related ones, are listed and ranked in a specific order – usually ascending order, so you can track precisely where your investment may go on the right assets.
Nansen, however, only offers a free trial for a short period of time. Therefore, you must compensate for the subscription plans, from $399 to $9000, respectively.
Some notable features:
Detail-oriented data analytics
NFT rarity ranking board
History of smart transactions
Data-driven wallet addresses
Being such a game-changer in the NFT world, Ninjalerts is an NFT market analytics tool that helps investors become aware of the latest NFT trends, NFT drops, popular auctions, and exclusive minting deals in real-time. By using this tool, you can stay ahead and be notified about the best collectibles possible out there or track the newest activities of competitors.
This excellent tool can also track and showcase your wallet activities and token balances like a mini bank. Moreover, this comes as a mobile app with pop-up notifications integrated, so you can stay updated whenever you go without checking the dashboard every single time.
Some notable features:
Single-purchase license for a lifetime access
Detailed wallet tracking
NFT collectibles previews
This can be considered one of the best and most friendly NFT marketplace analytics tools on the internet, as both veterans and newcomers can fit in perfectly on using this platform. Icy Tools provides users with real-time data tracking in volume data, sales and floor prices. Also, trending collections are listed in ascending order, so investors can see the overview to make the best decisions.
Icy Tools offers a lifetime subscription at a lower price compared to Nansen. In other words, if you are low on budget and want to access enough information in the world of NFTs, this is one of the best choices.
Some notable features:
Real-time data tracking: volume, sales and floor prices
Wallet transaction history
NFT rarity ranking dashboard
User-friendly data visual
Pop-up notifications
NFTSea is one of the ultimate tools for tracking and sniping the latest NFT trends, NFT tools, and token analysis. It has robust features and tons of user-friendly functions that support multiple blockchain-related projects and showcases the latest price drops on the market.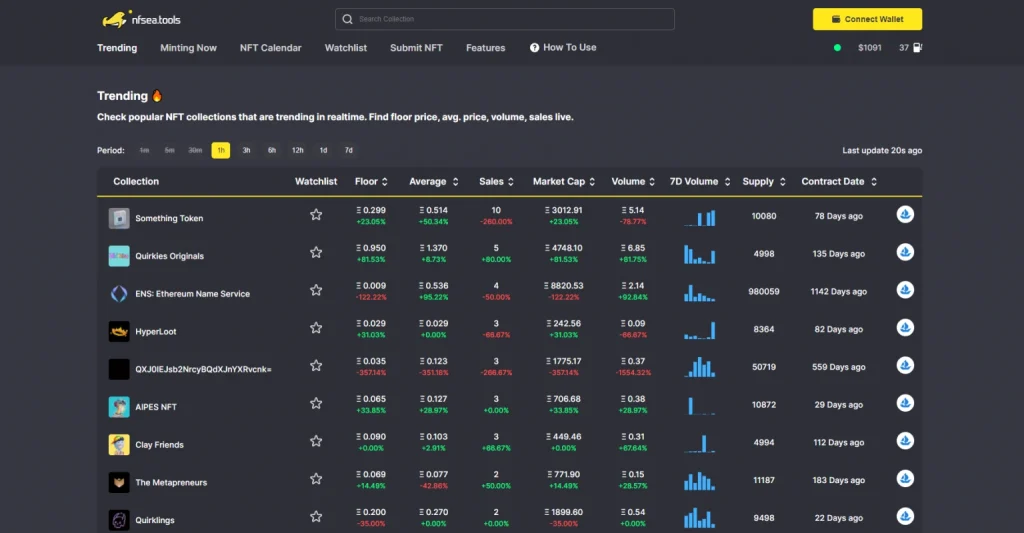 This analysis tool can also help you track the real-time data that should benefit your decision of investment, namely sales volume, floor prices and token supply. The rarity of each NFT is also an important feature that NFSea has, which assesses the collectibles with price and rarity.
Some notable features:
NFT dashboard
NFT assets previews
Ranking the rarity of NFTs
Pop-up notifications
Real-time data tracking
This comes as one of the NFT marketplace analytics tools that directly have a connection to artificial intelligence. NFT OnChained uses AI to review, analyze and drive out a report from real-time transactions and NFT figures on the marketplace. Therefore, investors can make out the most profit-worthy bidding options instead of the best-performance ones for each of the collections they want to follow up on.
For newbies, NFT OnChained can help reduce the cost of purchasing unnecessary fees without losing the chance to have rare NFTs. With a ranking dashboard based on prices and rarities, traders can make a better decision on which one to invest, and when will be the perfect time to mint the chosen collections.
Some notable features:
AI-powered data analysis
NFT ranking dashboard for price and rarity
Visualize underpriced NFTs for contract negotiation
Portfolio customization
Key metrics for branding and asset value
Compass Art is an awesome analytics tool that can help NFT enthusiasts keep track of their portfolios, be updated on the latest NFT news and airdrops, and get direct access to the real-time wallet and mint tokens. Therefore, investors can make better decisions and invest in profitable assets at the right time.
Some notable features:
Have early access to the latest NFT assets and collections
NFT rarity sniping
Portfolio management
Dashboard of NFT sales, volume, and other activities
Pop-up notifications
BitDegree is the pioneer in educating students based on the world of blockchain technology. Therefore, learners can apply for a digital scholarship and enroll in online courses encrypted with a smart contract. Revenues will be driven and converted into cryptocurrency as a result.
Recently, BitDegree has expanded itself to become one of the most effective NFT analysis tools on the internet, with an inventory of over 352 NFT collections from 3 different blockchain protocols. This may lead to one guaranteed successful, seamless project that users can invest in and track on a daily basis.
Some notable features:
NFT collections' metrics in ascending order
Over 350 NFT collections to explore
Portfolio management
Dashboard of NFTs market value and monetizability.
Working as a double-time portfolio manager and wallet tracker, this is one of the best Ethereum-based tools for NFT enthusiasts who are minting and trading NFTs on the Ethereum blockchain. Moreover, Rainbow Wallet also helps users to stay updated on the NFT trends and sharks' declarations, so they can diversify and integrate their portfolio to the perfect state.
Some notable features:
Ethereum-based wallet tracker
Portfolio manager
Lasting on the NFT marketplace for a long time, Dapp Rader has made its own reputation to become one of the few NFT analytics platforms that can both host the Defi applications and cover the extensive tunnel of the NFT world.
Also based on the Ethereum blockchain, Dapp Radar can notify users of the latest NFT trends and airdrops, as well as the time and date for the upcoming ones. Also, with a user-friendly interface and low downtimes, you can toggle the functions to see metrics like floor prices, sales volume and preferences.
Some notable features:
Portfolio management
Real-time data analytics on sales and volumes
This may be the only few – if not the only one – that has a straightforward interface for users to see everything related to NFT metrics. Simply put, NFT Stars provides users with just enough information about each collection that they may need for their future investment such as floor prices, sales volume and insights, all with a single find-and-click.
Therefore, this NFT analytics tool is perfect for new users who have just discovered the existence of NFTs, as it can analyze and showcase a newbie-readable report and indirectly help the users on deciding to invest the right asset.
Some notable features:
Data visualization of NFT volume of sales
NFT rarity ranking dashboard
User-friendly interface for NFT readability
Uniq is one of the best tools for beginners so far, as it offers data and insights on a free platform. Its major focus is on data-driven dashboards, where metrics like sales and sharks' actions are listed.
The prime insight of Uniq is data, and data-related resources only. From sales volume to collections insights, from popular minting NFTs to the less-known ones, Uniq has them all for users to be concerned about and choose the best one to invest in and make a long-term strategy.
Some notable features:
Having more than 25k collections in the data pool
Real-time data analysis
NFT insights integrated
Transactions and sales history
NFT collection tracker
One of the few all-rounded marketplace analytics tools for NFTs on the internet, Azyd features a user-friendly, free-to-use data dashboard for tracking sales volume, updating news and ranking collections. Moreover, this platform can support users in checking trends by having a drop calendar that is updated on a day-to-day basis.
The NFT databases on Azyd are huge and contain a variety of options. This is crucial for both veterans and newcomers to check and track the value and popularity of the chosen collectibles.
Some notable features:
NFT collection metrics on a large scale
Metaverse compatible
Notifications of NFT trends, events and releases
All-in-one dashboard
Daily-updated NFT drop calendar
Another all-in-one NFT market analysis tool for users to explore and analyze the most profit-worthy collections, NFTGo has some important functions, including upcoming NFT releases date and time, NFT trends, NFT airdrops and sharks' interactions.

Moreover, this platform can indirectly help improve your portfolio by showcasing the best investment within your budget. The rarity dashboard of NFTGo runs in a special protocol that gives users enough information about the rarity of each asset.
Some notable features:
Real-time data analysis
NFT collection ranking dashboard
NFT rarity tracking
Follow-up news on sharks
Transaction management from over 15 marketplaces
How to choose your suitable NFT Marketplace Analytics Tools?
Having an in-depth understanding of the market is now more crucial than ever, necessitating the optimal use of the NFT Analytics Tools mentioned above. As for tools, there are free & premium tracking & analytics tools out there, but bear in mind that the free ones will limit your search and data, making it difficult for you to track the overall trend or obtain the full details.

We recommend that you opt for paid tools as you can get full access to NFT Marketplaces' insights and latest trends. Thanks to that, you could do proper research and then make better decisions based on sufficient information & knowledge.

Moreover, do not just rely on NFT Marketplace Analytics & Tracking tools only, be more active in conversations on Twitter, Discord, and Youtube, where NFT enthusiasts spend most of their time. You also could read reviews of real customers on different NFT analytics tools for marketplaces before choosing the right one.
Wrapping Up
As we believe, you can invest in the right assets if you do not have enough data. Therefore, those NFT marketplace analytics tools and platforms above would be a big help for any investors to understand how NFT markets work on a day-to-day basis, and then come up with wiser decisions and more profitable investments!
If you are happy using any other tools that are not listed above, please comment down below. Synodus would love to check them out and add on the list for better recommendations.
---
More related posts from Synodus you shouldn't skip:
We are sorry that this post was not useful for you!
Let us improve this post!
Tell us how we can improve this post?