3
minutes read
Following in the footsteps of bitcoin as the center of digital currency, NFT aspires to be a great heir to the world of collectibles and digital art.
NFT became a new gold mine, bringing in thousands of dollars in revenue for digital artists with this platform.
So how does NFT Marketplace work? Let's explore the nature of NFTs and all the noise around them!
What is NFT?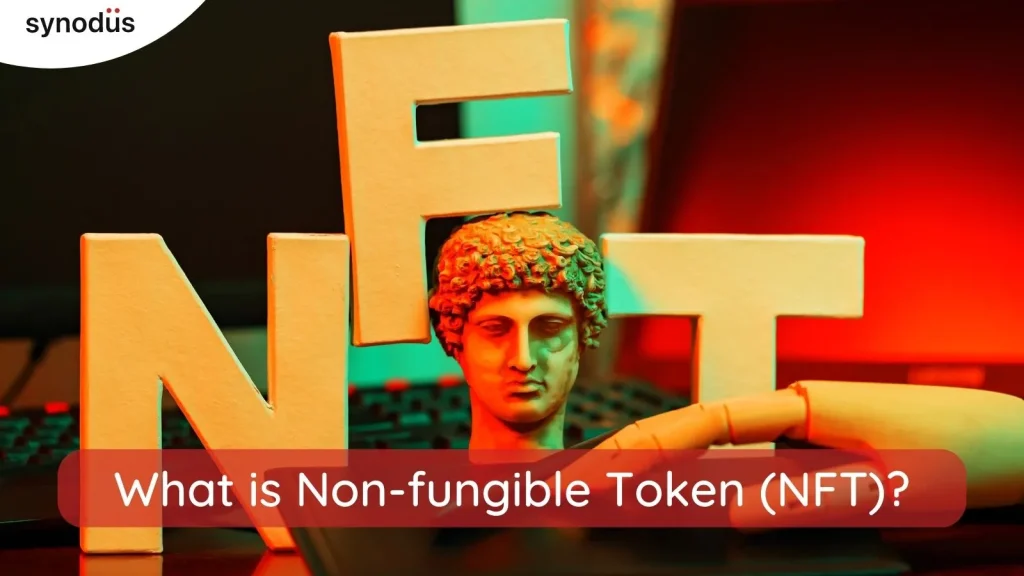 NFT (short for non-fungible token) is a tokenized asset based on the logic of blockchain technology. They are completely different and unique from the previous account types in the world, existing in the form of unique identifiers and metadata.
In terms of their irreplaceable or unique property, the term "NFT" clearly shows that. The fact that NFT is a digital asset—which can be a piece of art, music, or even a game—with blockchain technology at its core is another intriguing aspect of it. The exchange will take place on a different platform.
What is NFT Marketplace?
NFT Marketplace is the place for NFTs trading, buying, selling and minting, where it serves as an eCommerce transaction platform. To give it a familiar understanding, the NFT marketplace showcases its assets just as regular platforms like Amazon, Etsy or eBay list their goods directly onsite.
However, NFT Marketplaces can be distinct from the usual eCommerce ones, as they have a lot of variables and features related. These differences can be found right here: What is NFT Marketplace and How does it work?
Because NFTs are unique to the absolute, the market related is booming with pricey transactions. The first tweet converted into an NFT is sold for a price of $2.9 million, just for the sole ownership of the words. A $69 million worth of art – "Beeple's Crypto" – exists on the internet – which has never happened before in real life.
Even an internet meme like Doge, by converting it into an NFT, has just recently been sold for a pricey 4 million bucks. Every day, there are at least 15k – 50k transactions of NFTs formed on every marketplace, with $2.5 billion worth of trading all around the globe. Therefore, NFTs are making themselves on the map, and creating a brand-new world.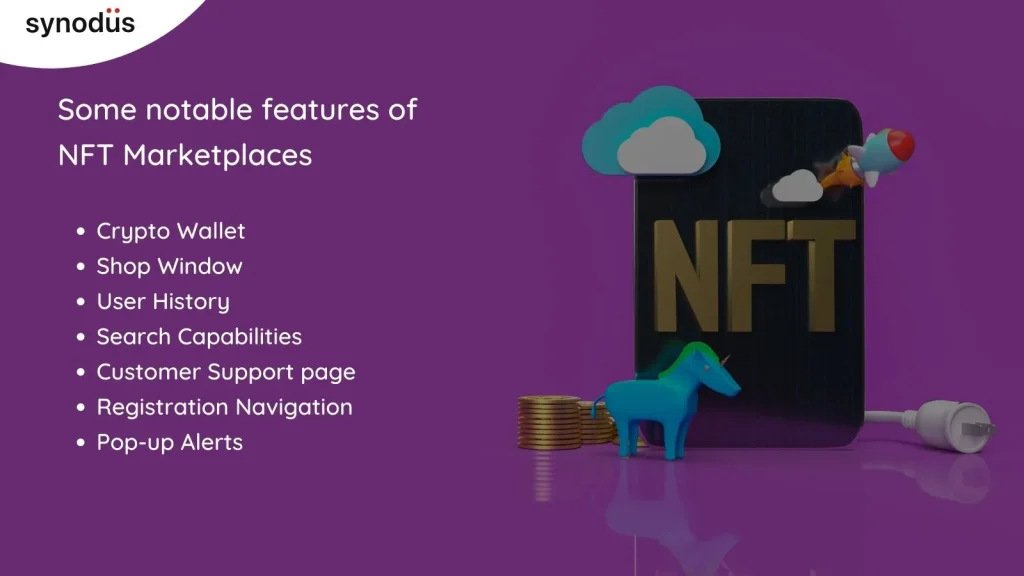 Some notable features of an NFT Marketplace:
Crypto Wallet
Shop Window
User History
Search Capabilities
Customer Support page
Registration Navigation
Pop-up Alerts
Find out more about the features of an NFT Marketplace here: Top 8 Must-have NFT Marketplace Features.
How does NFT Marketplace work?
A brief understanding of how NFT Marketplace works can be comprised into 10 steps:
Creating a new account on the marketplace
Linking that account to your Crypto wallet
The ability to create NFT directly onto the marketplace
Configuring that NFT
Listing that NFT for sale
The marketplace and listing of those NFTs – called collections – are modified
The appearance of that NFT on the market
Investors might put their bid on that NFT
The highest bidder won that NFT
The marketplace takes control of the after the transaction to the crypto wallets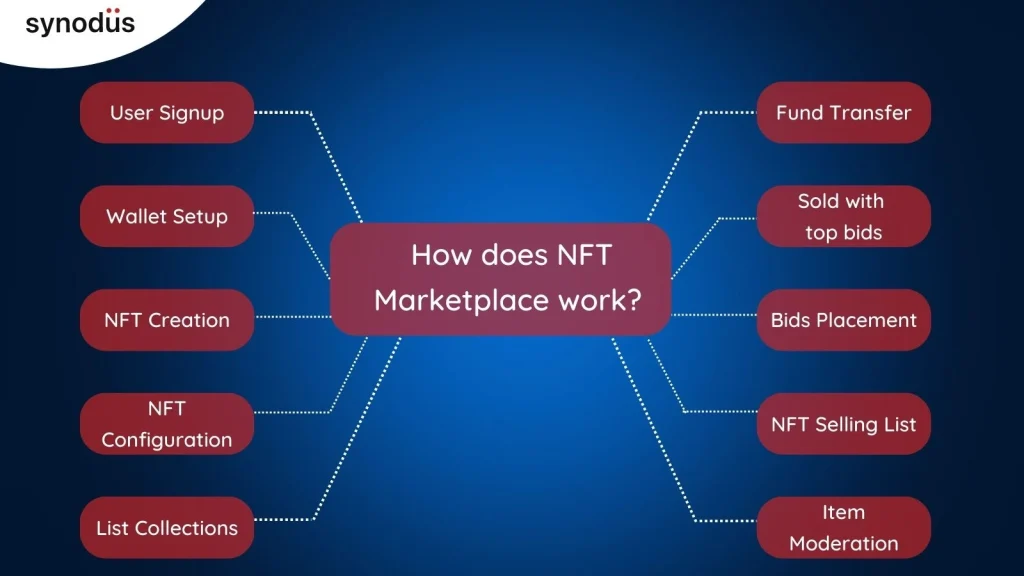 Those steps are the basis to know the process of running an NFT marketplace and how NFTs are transacted. To give a more specific understanding, NFT marketplace actions can be put onto these main phases:
Signing up
It's quite similar for each marketplace to have a sign-up page, which consists of everything a marketplace may need for the user's information. Just create an account, and link your crypto wallet to that account on the chosen marketplace (with password confirmation) and you are set to enjoy the platform. The sign-up button is usually located on the top-right side of the homepage – as to easily navigate.
Buying NFTs
NFTs, as mentioned earlier, are transacted through the bidding process. So, when you want to buy an NFT, it's like joining an auction: everybody gets to see and pay the desired price, but only the highest payment is accepted. However, buyers can negotiate for a better price by sending the owners a ticket for price alterations.
Selling NFTs
Buying is easy, as you only have to be the bidder and get the desired digital assets. However, things are a little more complicated when you become the host of selling NFTs. Particularly, if you want to create and sell your own NFTs, you may have to pay attention to these steps:
Upload your chosen digital collectibles onto the marketplace with a first-fixed price, and place them in the bidding section.
The marketplace then will verify your assets to judge their originality. If approved, then they will be listed on the market.
Bidding acceptance is made by the owners, and the marketplace handles the transaction between the buyers and the sellers.
Minting NFTs
The process of uploading, buying and selling is called "minting", which means you can sell your own NFTs, or sell your NFT collectibles acquired from the auction process. By minting an NFT, you may have to pay a "service fee" through your crypto wallet. Also, there are a lot more hidden costs that come from the act of minting NFTs, so you should have some investments to begin with.
We recommend you choose Ethereum as the starting point for creating your first NFTs. Ethereum supports a variety of different assets, and it's also fairly easy to get acquainted with. Your wallet must support the token ERC-721 (the standard token of Ethereum nowadays). Some wallets can be considered: Coinbase Wallet, MetaMask and Trust Wallet. Also, you will have to top up your wallet with at least $50 to cover the fees.
Once done these steps, you can have access to any marketplace that existed on the internet. Most NFT platforms will have a "Create" button on the top-left or center of the homepage for you to begin minting your own NFTs.
Frequently Asked Questions
1. How does NFT Marketplace make money?
In short, the way that NFT marketplaces can make a penny is through the usage of these fees: commission fees, service fees, royalties, and sometimes subscription fees. Also, minting fees – to create an NFT, and listing fees – to put those NFTs on the market, can be considered as the way marketplaces can make money.
2. Does it cost money to put an NFT on the market? 
Yes, it does. It is called listing fees – the price users pay to put an NFT on the marketplace for trading and for promotion.
3. How much does it cost to start an NFT Marketplace?
For new users, in order to start an NFT marketplace, you have to invest at least $50 – $100 in your wallet – just enough to cover some major fees out there. The costs may vary depending on your need for selling NFTs on the marketplace, and it could skyrocket to at least $500 – if you are starting a business.
4. Which NFT Marketplace is the best for beginners? 
For newcomers, OpenSea and Rarible are some of the best ones to start, as they support a variety of tokens, and their interfaces are user-friendly. They are also cost-efficient and eco-friendly, so you won't have to invest much in the market.
Closing Thoughts
The NFT marketplace is certainly a term that businesses and individuals may consider when joining the world of blockchain. Throughout this article, we hope that you can get a grip on understanding the definition of an NFT Marketplace and have an answer to the question of how does NFT Marketplace work. Find out more interesting blockchain-related articles on Synodus now.
Also, if you're troubled about setting up an NFT Marketplace, Synodus is always here for you.
We are sorry that this post was not useful for you!
Let us improve this post!
Tell us how we can improve this post?