NFT Marketplace Royalties are the crypto payments (typically a percentage of the sale price) given to the original NFT creators each time digital assets are sold on a marketplace. Generally, the NFT royalties may range from 2,5% to 10%, but it varies based on the percentage set by NFT creators themselves.
The question might arise whether NFT royalties are designed to help artists gain more money or be a marketing activity to attract more creators to join NFT marketplaces.
Find out how NFT Royalties work and how to earn from them. Let's begin.
What are NFT Marketplace Royalties?
NFT Marketplace Royalties (or NFT Royalties) are payouts that compensate for a cut of sales for the artists and content creators every time their secondary sales occur. The original creator of digital collectibles usually sets royalties in NFTs at the time of minting, and then those royalties are coded into the smart contract's platforms.  
The average percentage of sales may vary from 2,5% to 10%, typically around 6%. Please note that not every NFT could make money, as it depends on many factors, such as the market demand and how many buyers would love to purchase your works. Yet, some creators have already earned millions from sales.
Some NFTs with the highest sale value you might want to check out so you can approximately estimate how much money the creators of those NFTs could earn through NFT Royalties:
The Merge was purchased not by an individual but by a group of more than 30,000 collectors at $91.8 million.
Everydays: The first 5000 days ($69.3 mil)
CryptoPunk #7523 ($11.75 mil)
CryptoPunk #3100 ($7.67 mil)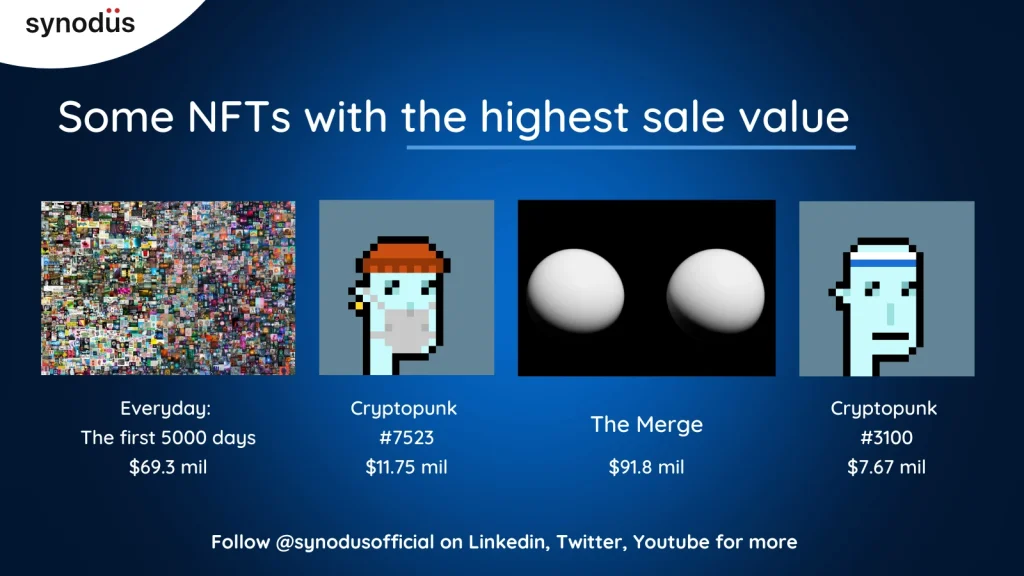 Benefits of NFT Marketplace Royalties
NFT Marketplace Royalties create a win-win opportunity for artists and content creators to keep earning more from their hard work. They now have another revenue stream from secondary sales, which was previously unavailable to them.

As of now, NFT creators could get paid in perpetuity, which means they would keep gaining and earning more for every new transaction being made.

With NFT Royalties, NFT creators could gain as much as a sports star based on their popularity and the demand for their NFT collections.
Furthermore, NFT creators and artists could sell their work as tokens, yet they can still keep the copyrights under their name. They could even sell some portions of their rights to others if they want. New owners can tap into the royalties and earn some from this again.
Who Gains From NFT Royalties?
Musicians, content creators, artists, you name it, are those who are capable of gaining from NFT Marketplace Royalties.

An example of artists taking advantage of NFT Marketplace Royalties is Jaques Green, an electronic musician. He minted one of his music tracks and gained around $27,000 in royalties. Another example is Mike Winkelmann, an early adopter of this trend as he already set 10% royalties from each subsequent sale.

Together with Steve Aoki, Ozuna, and Kings of Leon, Jacques Green and Mike Winkelmann are just examples of artists actively joining the trend.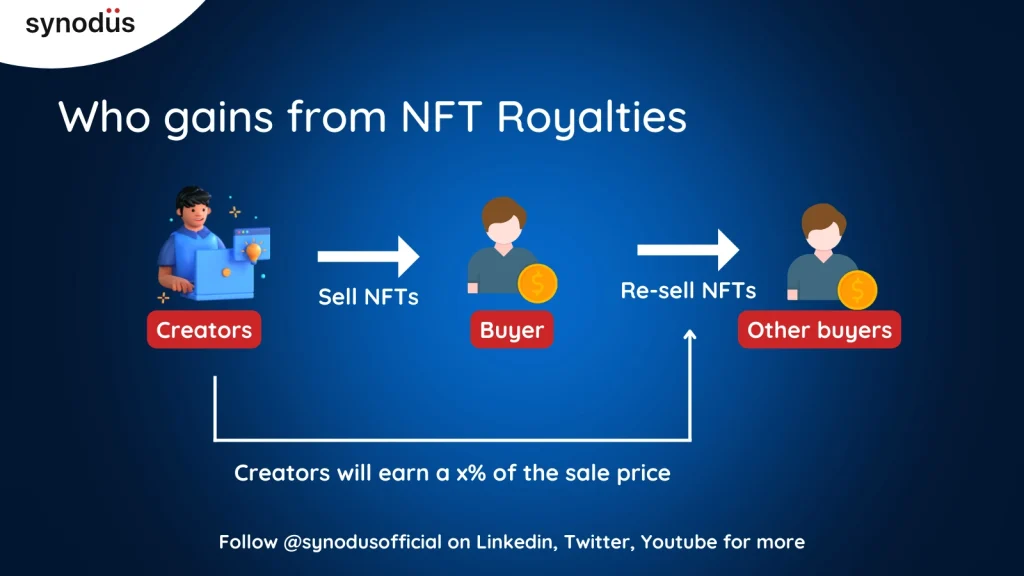 Buyers of each NFT collection could decide whether they would like to resell it or not. If yes, they could still even generate an extra revenue stream from re-selling activities.
Long story short, when an NFT Marketplace accepts NFT royalties, at least two sides gaining benefits from this: the original creators and the buyers. Not to mention that as of more users participating in the platform, NFT Marketplaces would also grow in popularity, and obviously make more money from that.
How do NFT Marketplace Royalties Work?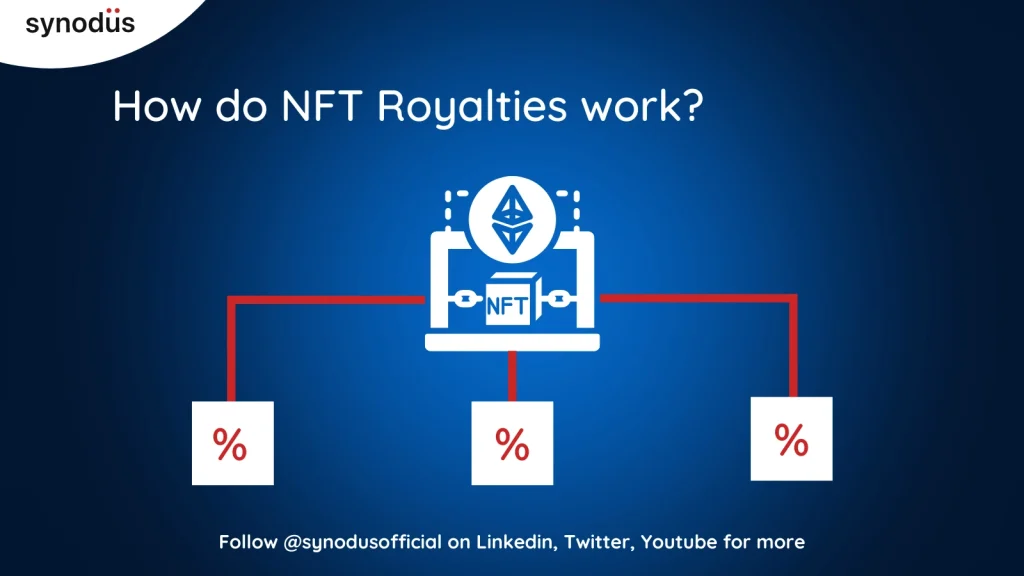 Imagine that you have created an NFT artwork on SuperRare, let's say it is your latest music track. On the primary sale, a fan of yours buys your track for 10 ETH. So you have made 8.5 ETH. On SuperRare, NFT creators get 85% of the sale price and SuperRare takes the remaining 15% for commission fees).

During the minting process, you determine that you will get 10% of the proceeds anytime a secondary sale occurs. Now your music track again is resold on the market at a higher price, for say 200 ETH. Presumably, your reputation in music has grown so well that a lot of people would love to own that track, and your fan decides to sell it for 200 ETH. As you already set 10% of NFT Royalties, the smart contract platform will automatically send you 20 ETH for this sale. That means you eventually receive 28.5 ETH, approximately four times more than the initial amount.

And in some cases, the new buyer decides to sell it over again, at even higher prices. And obviously, you would get a 10% of the new sale price again. Thus, you will constantly receive passive income as you deserve it.

You could imagine the process like that: The creator would set the number of NFT Royalties before minting based on some factors such as: how much money they want to earn more, and how attractive the demand might be. And then in most cases, the smart contracts platforms would be automatically responsible for payments.

So the way royalties work is that when an artist or an NFT creator finishes setting the collectibles up on the NFT Marketplaces, they then would add the royalty percentage to smart contracts. Once the secondary sale happens, they would receive a percentage of sale price based on the number they initially set.

One thing to keep in mind is that NFT Marketplace Royalties do not need any intermediaries. It is all coming down to blockchain technology and the automatically efficient operation of smart contracts. Hence, there is no need for sellers to pay the fee for middlemen.
The Future Of NFT Marketplace Royalties
Unfortunately, the trend in NFTs during the upcoming years could be the elimination of NFT Marketplace Royalties among different marketplaces and platforms. For example, Magic Eden, a leading Solana NFT Marketplace, announced they would no longer regard NFT royalties as compulsory enforcement but more than an optional choice.
Frequently Asked Questions (FAQs)
1. Do you get royalties for NFT?  
The answer is: It depends. Some NFT Marketplaces would offer NFT royalties, ranging from 2.5% to 10%, yet some do not. For example, Makerplace is an NFT Marketplace built for artists and musicians. This site offers 10% royalties for each secondary sale proceeded. Meanwhile, the leading NFT Marketplace like Opensea is planning to eliminate the NFT royalties policy out of their site.
Make sure you check carefully the policies of each NFT Marketplace you intend to join .
2. How much royalties should I put on my NFT? 
It's up to you. When you list your NFT collections, you set the royalties before minting your NFTs. To set a percentage of NFT Royalties, it depends on the community you are launching and whether this is high or low ticket NFT. The percentage of NFT royalties might vary, ranging from 2.5% to 10%.
3. What does royalty mean on NFT? 
Royalty means the percentage of sale price that an NFT creator is paid every time a secondary sale proceeds. Keep in mind that not every NFT yields royalties, so it is really important to read FAQs carefully and choose the most suited NFT Marketplace for your NFT collections.
Wrapping Up
NFT Marketplace Royalties has benefited many artists out there and for some, this is another promising stream of revenues.
And you? Wait no more! Let's start with leveraging blockchain technology! If you are an NFT creator, don't hesitate to list your proud NFT collections into any NFT Marketplaces you want. Don't forget to set NFT royalties if you are allowed. If you are an investor, there is a such no better time than now to invest in NFT Marketplace Development. Synodus are here to help you build the next big thing.
---
More related posts from our Blockchain blog you shouldn't skip:
We are sorry that this post was not useful for you!
Let us improve this post!
Tell us how we can improve this post?