8
minutes read
As NFTs have been in the limelight during the past years, NFT Marketplaces have become more vibrant than ever. This is translated into a booming rise in the value of how much money investors have put into different kinds of NFTs and a wide range of marketplaces. Artists now could generate more revenue than ever as they are continually paid for each artwork they sell on art NFT Marketplaces.

This is such a good sign as artists finally get what they deserve for all of their hard work, creativity, and talent. If you are an artist and want to earn more money by selling your artwork on NFT platforms, this blog is helpful for you. We will give you a guide on how to sell your artwork exclusively on art NFT Marketplaces and include the top 15+ best art NFT Marketplaces for your choice.
What are NFT Marketplaces & Types of NFT Marketplaces?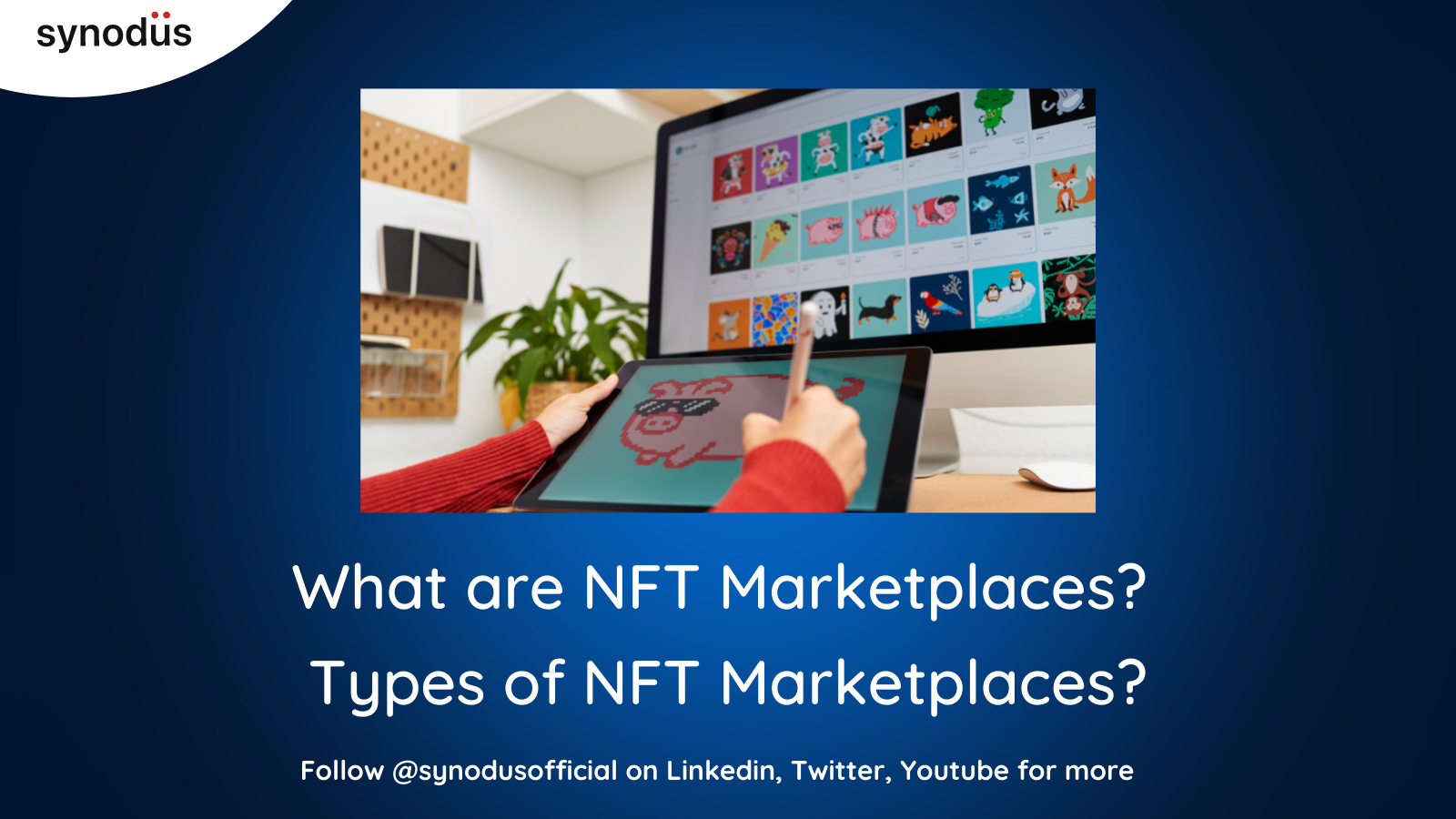 NFT Marketplaces – A Brief Definition
NFT Marketplaces are where sellers and buyers communicate, trade, and purchase digital assets. As anything could become digital assets, music tracks, writing essays, your paintings, you name it, NFT Marketplaces also have different types for different focuses.
Open Sea, for example, is currently one of the biggest NFT trading platforms. This leading marketplace has a record US$12.5 billion trading volume in 2021, which accounts for approximately 8% of the global trading volume in total, according to DappRadar (Source).

This marketplace is compatible with various NFTs such as art, music, domain names, virtual world, trading cards, digital collectibles, and sports assets,… and also with many blockchain networks: Ethereum, Polygon, Klaytn, Solana. Hence, somehow it explains how big this marketplace is, as buyers and sellers joining OpenSea can find what they want to buy and list what they want to sell without any obstacles.
Unlike Open Sea, Foundation is regarded as the best option for artists to showcase their works, as it is mainly focused on digital artwork and privately built for digital art enthusiasts. Noted that this is an invite-only and art-focused NFT Marketplace, making Foundation become an excellent place for artists to find people with the same taste and eventually close the deal with buyers.
Types of NFT Marketplaces
Open Sea and Foundation are two examples of different types of NFT Marketplaces. Therefore, you could classify NFT Marketplaces into Exclusive NFT Marketplaces (Foundation), General NFT Marketplaces (OpenSea), and Specific NFT Marketplaces.
Meanwhile, there is more than one way to categorize NFT Marketplaces. NFT Trading Platforms could also be classified as Open NFT Marketplace, Curated NFT Marketplace, and Self-owned NFT Marketplaces.
Why should artists choose Art NFT Marketplace to publish their artwork?
Starting something new always seems complicated and scary. Yet undeniably NFT Marketplaces have really opened up a new door for artists to trade their works on a global scale: Higher accessibility with lower barriers, not to mention the monetary benefits they could gain.
Here are the four main benefits that artists could maximize when selling versions of their work on art NFT Marketplaces:
NFT Marketplaces allow anyone to create, mint, buy and sell NFTs. Some popular NFT Marketplaces even do not charge you any when setting up and making transactions. This means lower barriers to inspire artists to bring their art before a large base of consumers, which are not limited to countries' borders anymore.
Artists now could join any NFT Marketplaces, create their digital artworks, and sell them to an increasing number of buyers. This number is unsurprisingly huge. Additionally, all the transactions supported by the blockchain network could be a matter of seconds. This also means you could earn money in perpetuity.
Traditionally, to be recognized, artists often open an art gallery to invite art enthusiasts to come, see and make money from each artwork they could sell. Needless to say, a painting can be worth money, yet they only paint and own one. Selling their painting means they do not have any ownership of this anymore.
Now, NFTs can be made directly from your home with very less expense, and smart contracts empower the ability to trace the history and verify ownership and authenticity of any artwork. And artists could decide themselves to auction that art piece or not.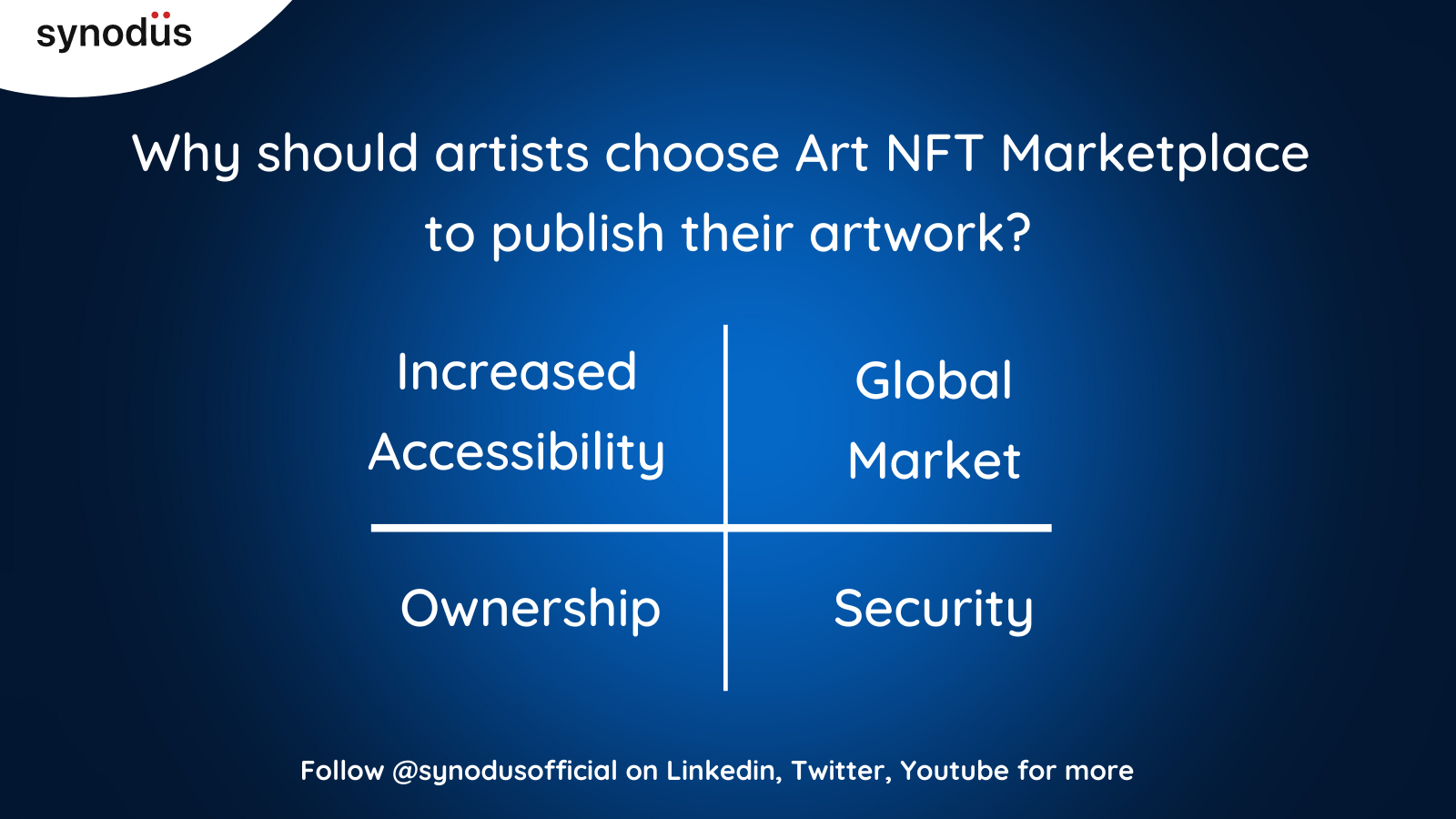 It is undeniably a massive benefit as buyers, sellers and creators could get access to NFT Marketplaces. Artists' works now could virtually come a long way to the global market and be traded without difficulties. In what concerns traditional artworks, only a small community gets access to the pictures, which are mostly sold at auction houses.
Now, NFT art is globalized and accessible to everyone, provided that they are interested.
As with NFTs, artists now could make, display and sell whatever they want. Previously they needed to depend much on galleries and museums for management or helping them do some marketing activities to attract clients. They even could eliminate further costs of displaying in galleries as they could function on their own terms.
Moreover, NFT platforms offer NFT Marketplace Royalties, allowing artists to gain passive incomes each time a secondary sale proceeds and to retain ownership from being the original creator of the works.
One of the unique characteristics of blockchain is a non-fungible record of authenticity, so the connection of NFT marketplaces is at a higher level of security.
Compared to traditional art markets, which may have some transparent risks, this NFT marketplace, on the other side, operates in a much more regulated way.
Furthermore, as artists take the whole responsibility for their artworks, this also means they could fully control their art's sales.
NFT Art Marketplace's Growth & Volume
According to the report from Statista, the number of art-segment NFT sales during the period from April 15, 2021, to November 15, 2022, has significantly fluctuated. On April 15, 2021, it has been witnessed that approximately 28.4 thousand art NFTs sold just during the previous 30 days. Fast forward to November 15, 2022, the number of sales recorded on different blockchain networks (Ethereum, Ronin and Flow) was 30.4 thousand.
Within only a year from 2021, the size of the NFT Art marketplace grew to $41 billion. Jefferies, an investment bank, has predicted that it would keep growing and reach far beyond $80 billion by 2025. It is also a sign that NFTs will keep shaking the community in the years to come.
Factors to consider the most suitable Art NFT Marketplace for Artists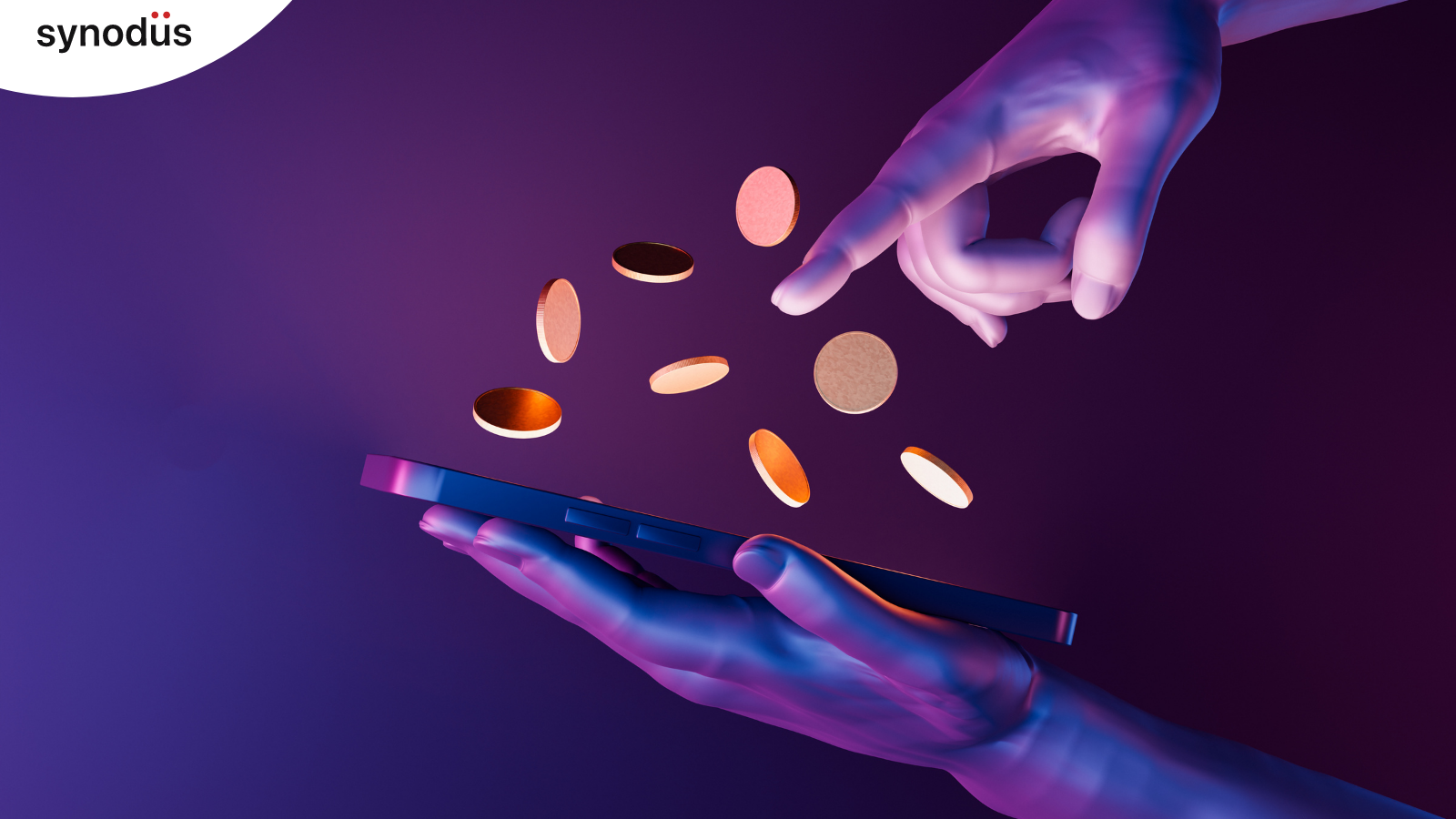 Liquidity is a crucial factor in determining whether you should enter this marketplace but not others. Liquidity means the number of buyers and sellers on the marketplaces that really make transactions. This also explains why artists typically opt for some general NFT Marketplaces rather than niche-focused ones.

For artists, their artworks might be better suited on one platform and not so suited on another. It's absolutely recommended that artists browse all the sites and decide which one fits best. For example, Nifty Gateway and SuperRare are examples of curated art NFT Marketplaces. Meanwhile, there are also some sites exclusively suited to a specific type of art. We will list down in the next part. Keep reading!

Audiences and Fees are the following factors that you should take into consideration. Obviously, you could list to as many marketplaces as you can. Yet it would not be efficient if you did not target the suitable customer base.
Top 15+ Best Art NFT Marketplaces for Artists
OpenSea – the most established NFT Marketplace

This is one of the largest and most established NFT Marketplace powered on the Ethereum blockchain. Open Sea is an easy-to-use and non-exclusive platform. You could set up fast, mint your NFTs and immediately start selling.
As a seller, artists have 3 listing options including setting at fixed prices, declining listing prices, and auctions. This NFT Trading platform also offers NFT Marketplace Royalties for NFT creators for each secondary sale.
The biggest drawback of Open Sea is the high gas and carbon fees. If you have just prepared to list your first artwork, you need to pay two kinds of fees. One is the compulsory setup fees, and the second one is the optional fee, which you only have to pay if you mint you NFT via smart contracts, not Open Sea platforms.
Specifications:
NFT Type: Art, Music, Collectibles, Sports Assets, …
Blockchain Network: Ethereum, Polygon, Klatyn
Reasons to join:

Cover all types of digital assets
Over 150 cryptocurrencies accepted
Very easy to use

Reasons to avoid
Rarible is a community-owned NFT marketplace, designed to sell both single pieces of art and collection. It uses its own token, RARI, and the platform's users have the right to vote on any platform's updates.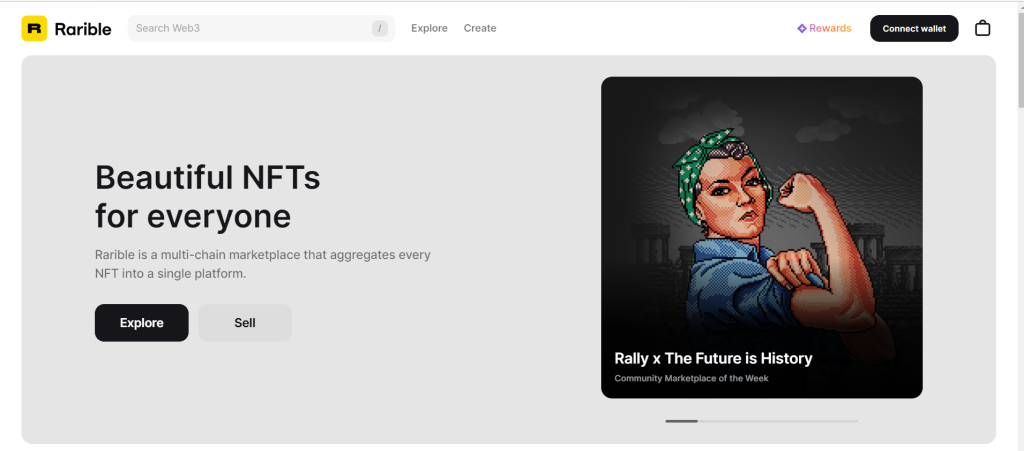 Specifications:
NFT Type: Art, Gaming collectibles, Photography
Blockchain Network: Ethereum, Flow, Tezos
Reasons to join:

3 blockchain networks to choose
A community-owned platform
Offer lower carbon and gas fees

Reasons to avoid

Can be dominated by big giants.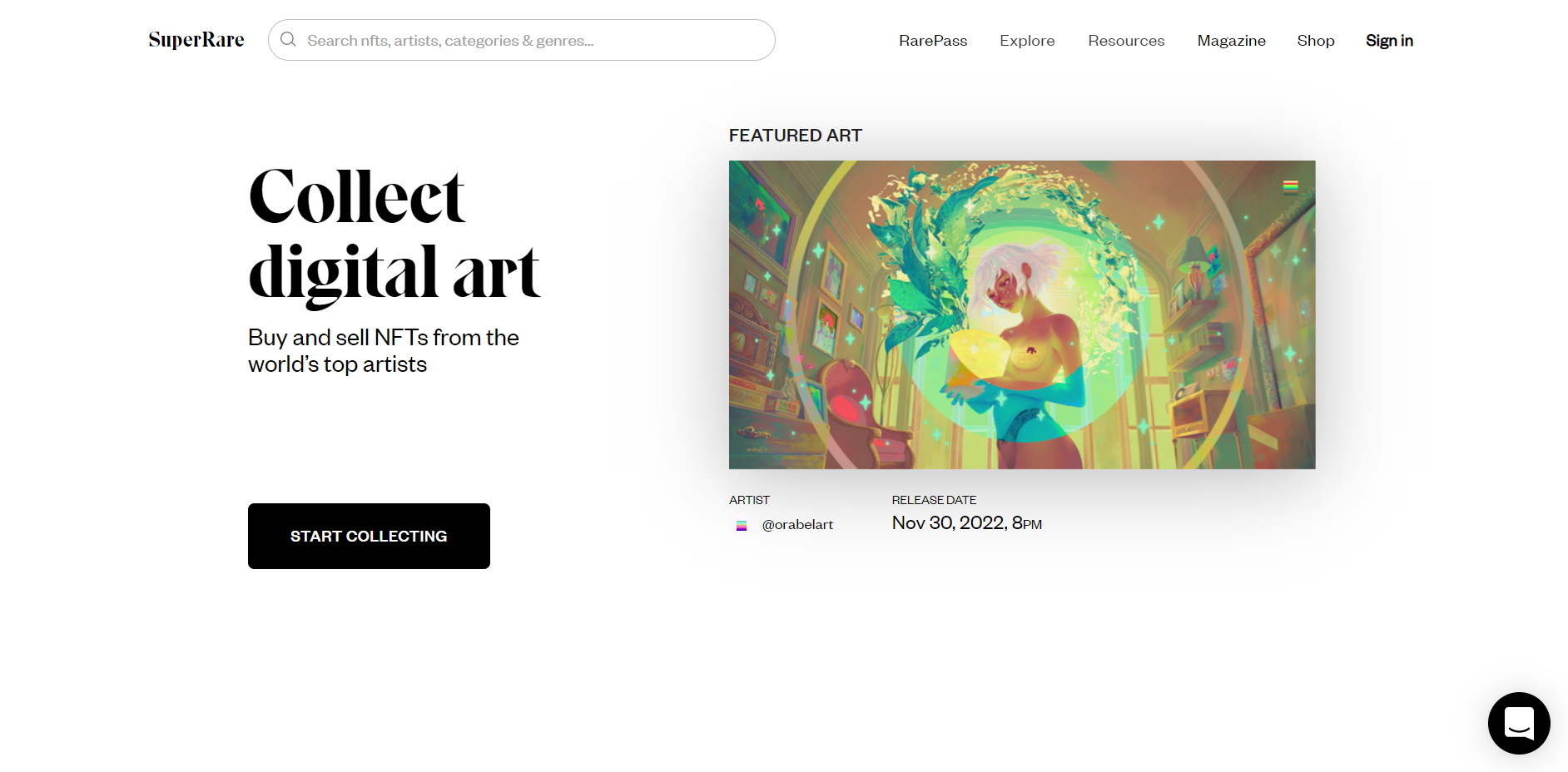 SuperRare is an NFT Marketplace that brings the vibe of art most. It's an art-focused NFT Marketplace that puts the artwork's credibility and creativity above meme-friendly art. This NFT trading platform reportedly accepts 1% of the artists who apply, which means if you get accepted, you get higher chances of showcasing your artwork for those interested.

This specialized approach makes SuperRare feel like an exclusive NFT Marketplace. And this NFT Marketplace is highly recommended for serious artists.
Specifications:
NFT Type: Digital Art
Blockchain Network: Ethereum
Reasons to join:

Curated and rare
A NFT Marketplace with an art gallery feel
A list of fantastic blog articles.

Reasons to avoid

Accepts low number of applicants
Foundation is an artist-owned and invite-only NFT Marketplace. In order to list NFT, you must be invited by a creator who has already published their work on this platform. This has less exposure than others but consists of a focused customer segment. For beginners, Foundation has less competition for creators, so that it would be easier for creators to get their artwork listed and purchased.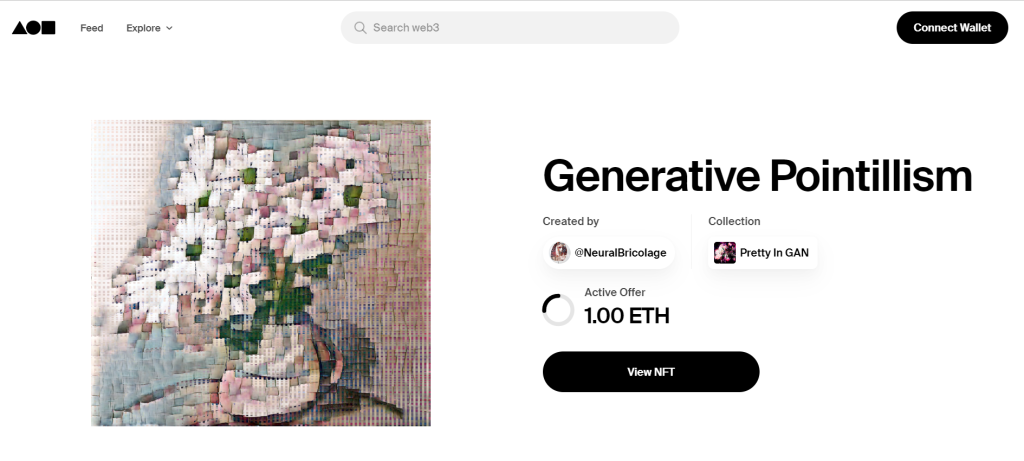 One thing worth mentioning is that the transaction fees are pretty high, as Foundation charges you 5% whether on the primary or secondary market. This number is only 2.5% on leading NFT Marketplaces such as Rarible and Open Sea.
NFT Type: Digital Art, Fine Art, 3D Art, Photography
Blockchain Network: Ethereum
Reasons to join:

Curated and rare art projects
An artist-owned NFT marketplace
Exclusive pieces of art and projects

Reasons to avoid:

Only accept a limited and exclusive list of artists and creators
Atomic Market is a platform where users can easily create their NFT collections. Also, this NFT Marketplace is a shared liquidity NFT market smart contract used by various websites. This means if you list your art collection on one market, your artworks would automatically be listed on other markets. Hence you save up a lot of time and efforts.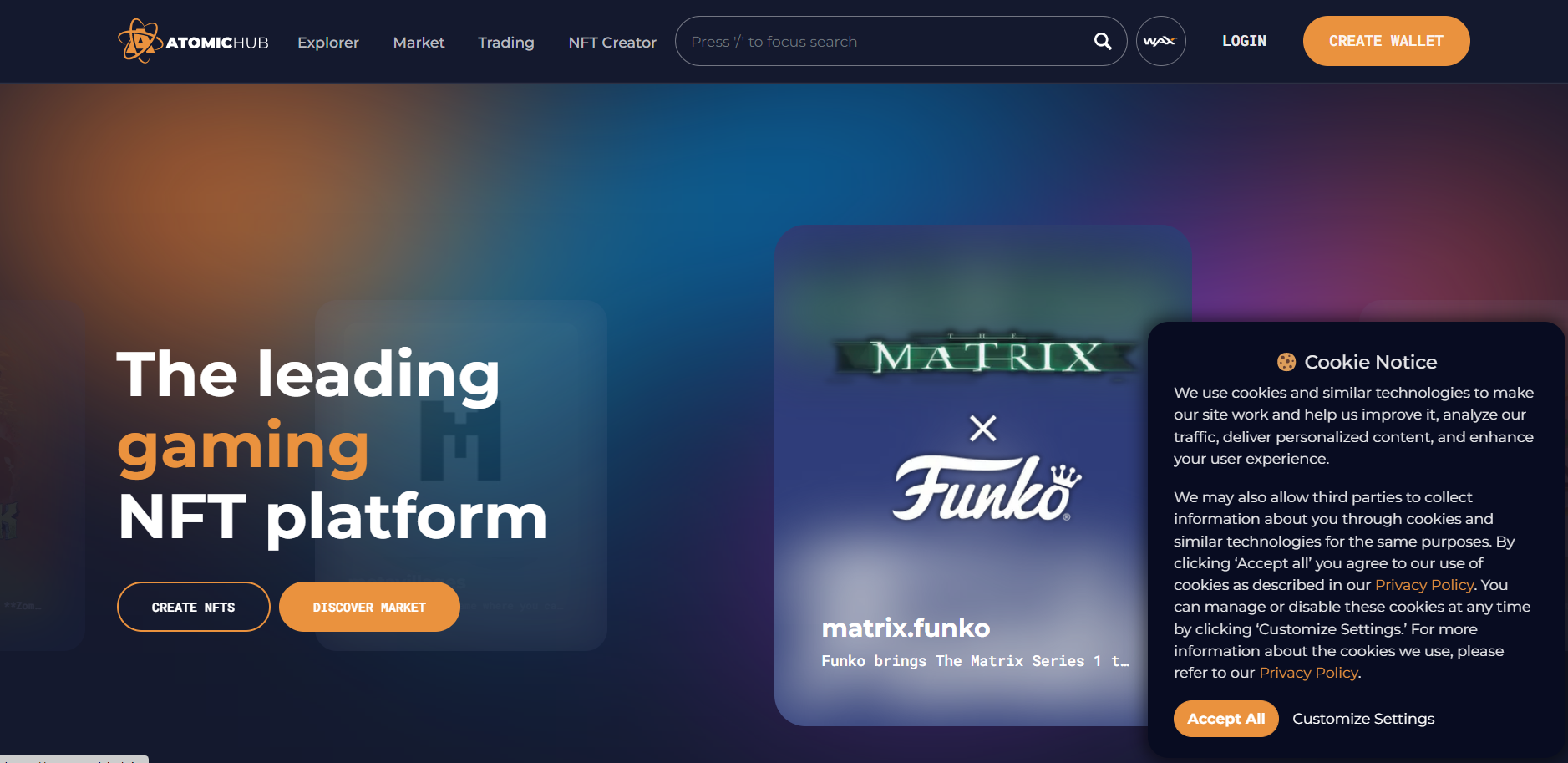 Specifications
NFT Type: Digital Art, Fine Art, 3D Art, Photography
Blockchain Network: Ethereum
Reasons to join:

Shared liquidity
Verification checkmark
Flexibility

Reasons to avoid

Only accept a limited and exclusive list of artists and creators
Myth Market
Myth Market is a series of 4 sub-markets, which are Shatner.Market, Pepe.Market, Heroes.Market and GPK.Market. This umbrella marketplace enables users to create, sell and trade NFTs in these four markets.

Specifications:
NFT Type: Trading cards, stickers, memes, packs,…
Blockchain Network: WAX blockchain
Reasons to join:

Easy-to-use interface
Robust and highly secure wallet
Admins of Myth Market are supportive
Offering personalized options

Reasons to avoid:

Only limited collections could be on sale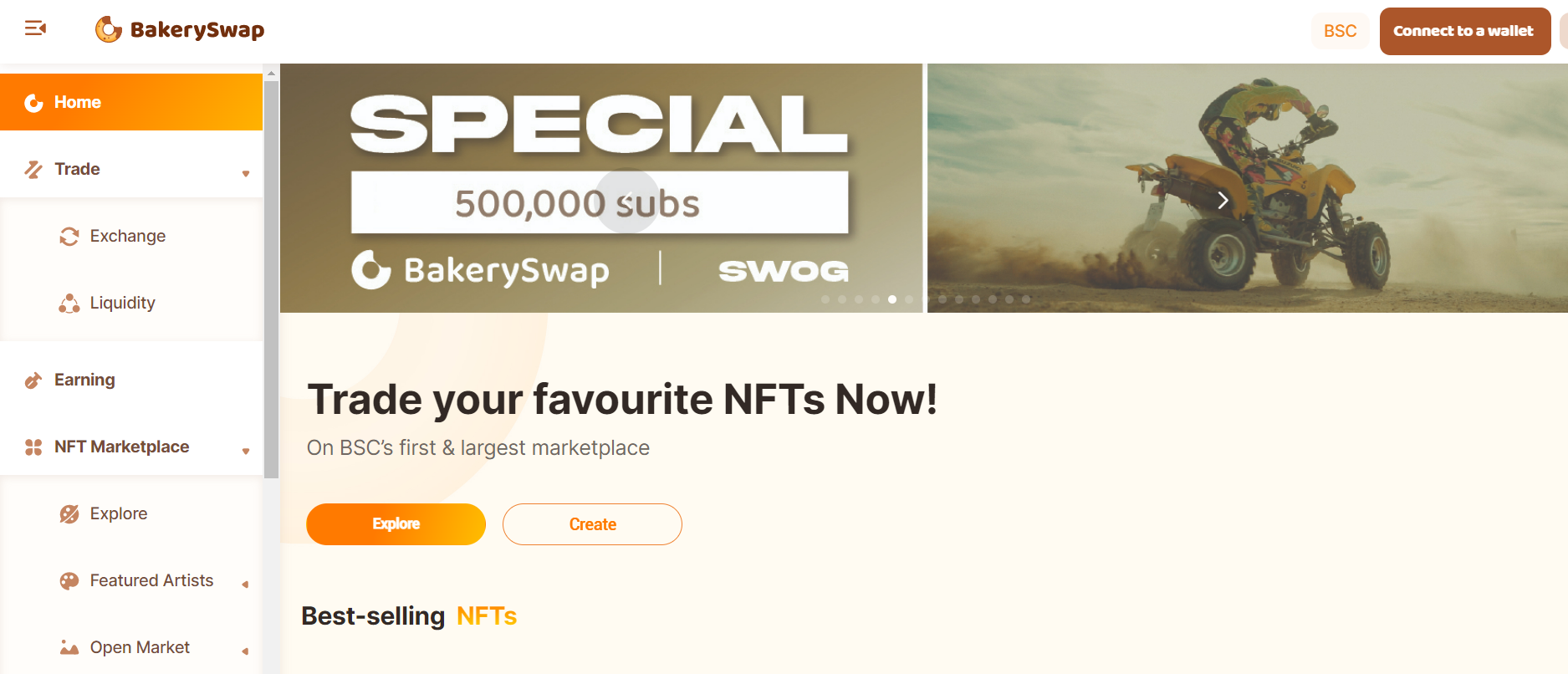 This is a very small marketplace, but the unique feature of BakerySwap is the gamification reward program.
The NFT Marketplace hosts art and meme collections and supports a broader range of content. This NFT trading platform is very easy-to-use for beginners.
Specifications:
NFT Type: Art, Game Assets
Blockchain Network: BSC, BAKE
Reasons to join:

Take advantage of Binance Smart Chain Exchange
Support a variety of content

Reasons to avoid

A very small NFT Marketplace
KnownOrigin is classified as an exclusive Art NFT Marketplace, supporting limited and high-quality artworks. This is also one of the oldest NFT Marketplaces, using Ethereum to mint.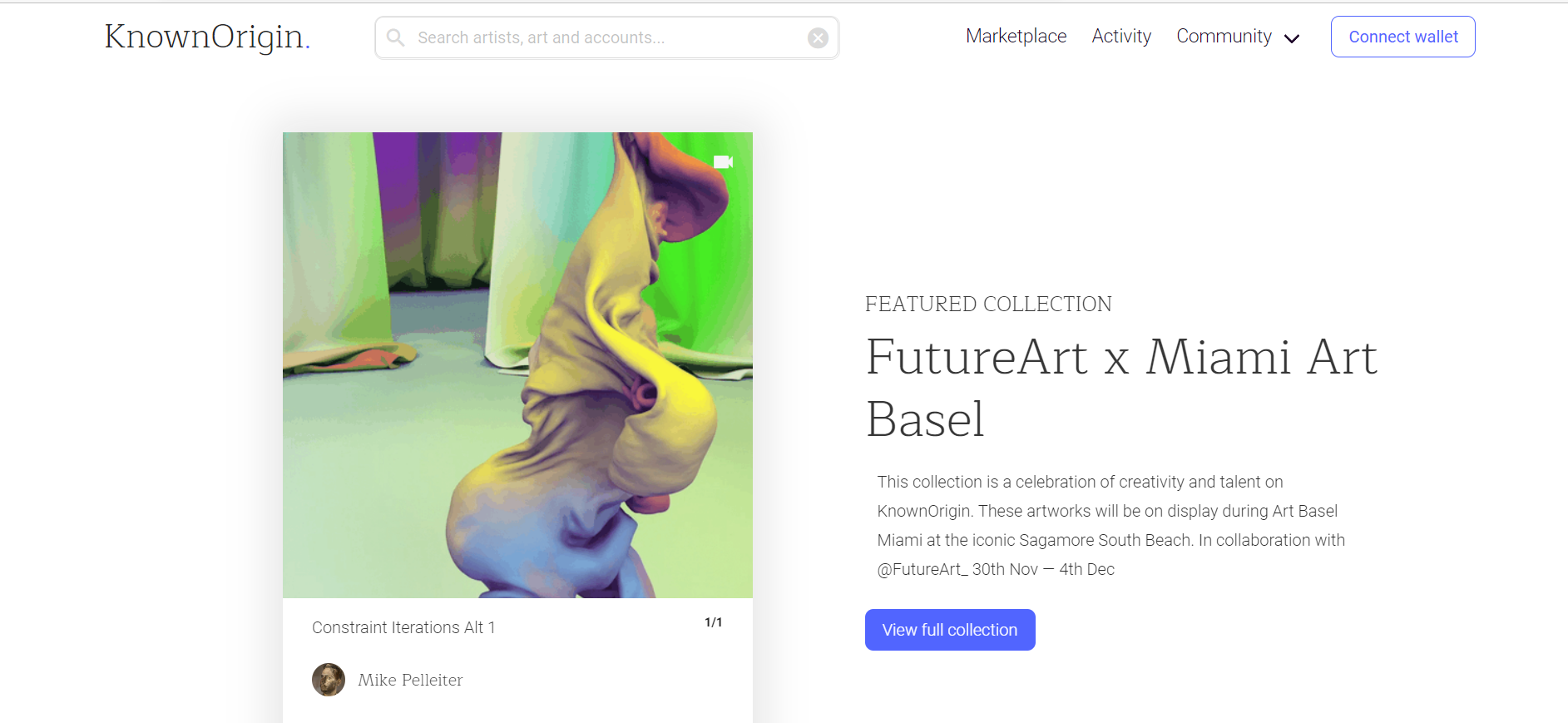 As KnownOrigin allows artists to control the number of artworks released, this creates scarcity and the chances of bidding the price higher than it is.
Specifications
NFT Type: Art, Photography
Blockchain Network: Ethereum
Reasons to join:

Curated NFT Editions & limited NFT drops
Easy to use

Reasons to avoid
Since its beginning, Enjin NFT Marketplace already positioned itself as a global and specific NFT marketplace, rather than an open NFT trading platform. This NFT space has evolved more into social gaming platform, yet there are still art digital assets available to trade on this site.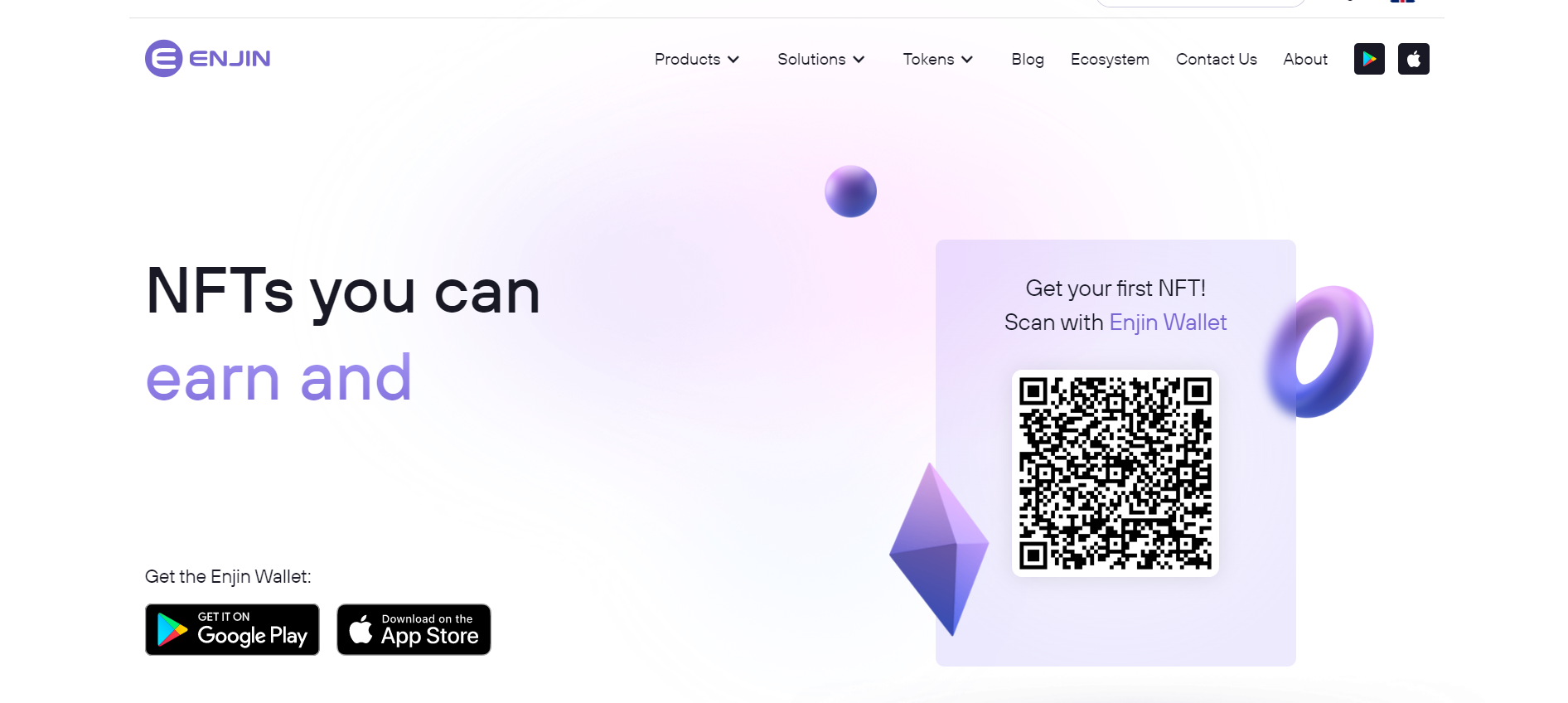 One of the biggest drawbacks of Enjin is that every activity occurring on this site is powered by Enjin's instrinsic coin, so other cryptocurrency wallets could not be allowed to initiate trading.
However, if you are looking for a cybermarket with robust and advanced features, Enjin NFT Marketplace would not let you down. This site often prioritizes listing rare NFT collections and prompts users to engage, buy, purchase or trade.
Specifications:
NFT Type: In-game assets, digital collectibles,…
Blockchain Network: Ethereum
Reasons to join:

Complete ownership
Trading a metaverse of NFTs
Generating a shareable link to share with others (even they do not have accounts on the platform)

Reasons to avoid:

Enjin coin only, no other wallets allowed
Best for gamers, there are still some limitations for other NFT creators.
Portion is such an online platform that connects artists and investors to sell, invest and purchase art collectibles with transparency. This site also hosts a global community for artists and creators to set more promising partnerships in the future.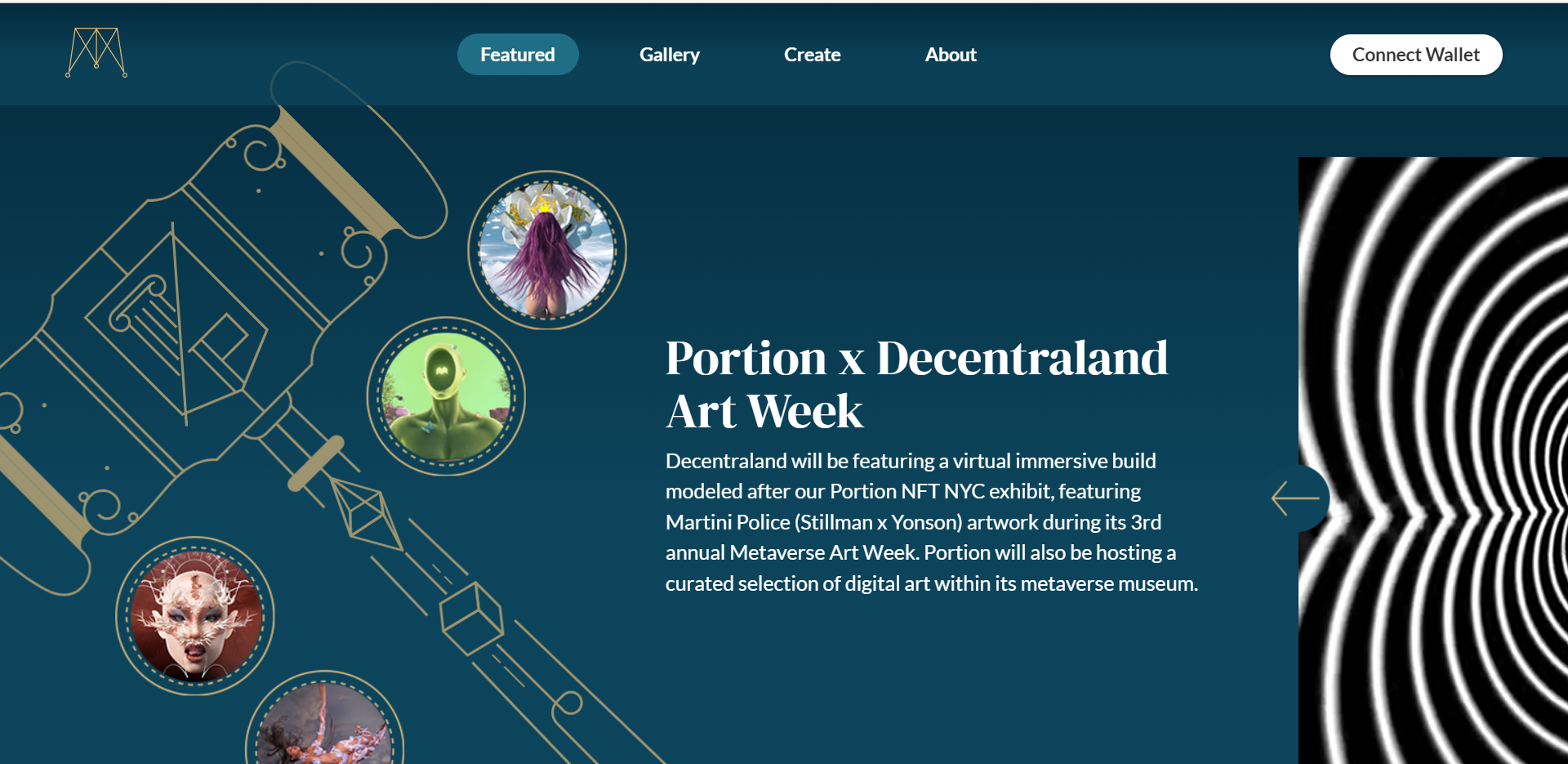 Specifications:
NFT Type: Programmable art
Blockchain Network: Ethereum
Reasons to join:

Supports multiple creators and owners
Diverse art

Reasons to avoid

Advanced NFT knowledge required
Async Art have positioned itself as an NFT Marketplace exclusively for programmable digital art. As of April 13, 2021, there were 1,400 different artworks listed on this site, including both single and bundled pieces of art.
Although art and music is preferred, this NFT trading platform also welcome other NFT types. Currently, Async Art is a home of more than 10 different NFT genres on its platform.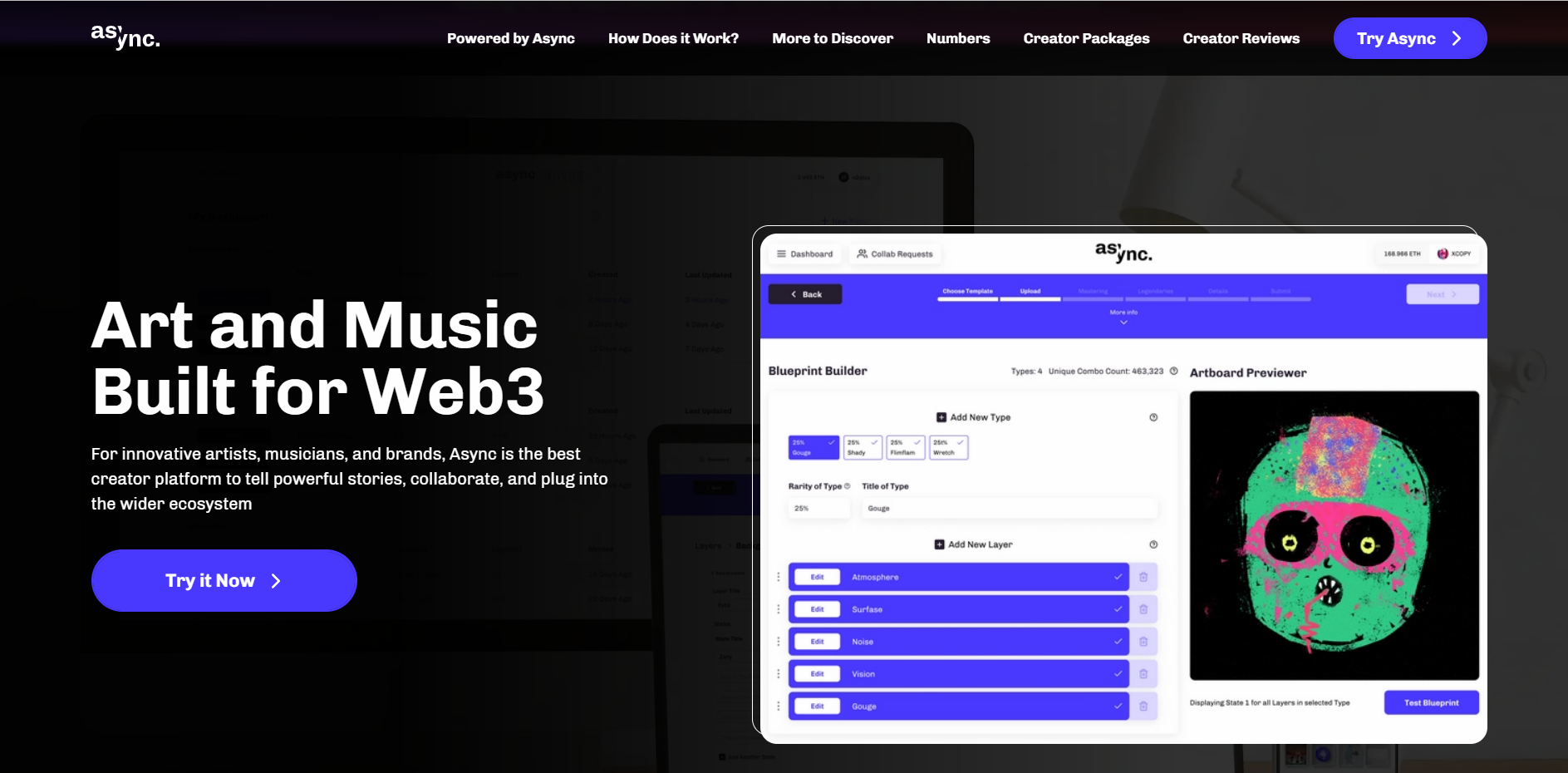 Specifications
NFT Type: art assets, digital music,…
Blockchain Network: Ethereum
Reasons to join:

An ideal place for musicians and artists
Creation tool is unique
Fees standard and NFT royalties included

Reasons to avoid

Not so popular, newly joined artists might get little exposure.
No mobile app supported
Fiat not supported
Nifty Gateway is another exlcusive art NFT marketplace, which has already sold digital collectibles for celebrities and artists such as Beeple, Pak, Daniel Arsham. This marketplace is also regarded as a high-end marketplace because it has already collaborated with famous brands and creators.

NFT Gateway is some of the NFT marketplaces that offer NFT Marketplace Royalties, which allows creators to receive a portion of the sale price for any secondary market sales. This NFT marketplace also shows support for any technical errors.
Specifications:
NFT Type: High-end Artwork
Blockchain Network: Ethereum
Reasons to join:

NFTs sold are created by famous artists.
Easy to access
Easy to use

Reasons to avoid
Makersplace is a very supportive site for artists, musicians and NFT creators with its own special tool to empower and sell art digital NFTs exclusively This for their fans and collectors.
This site is accessible by everyone, offering a very simple yet effective approach to sign in, create, buy and sell NFTs. For every secondary sale, this NFT would pay for NFT creators a 10% of NFT royalties, which is higher than most NFT Marketplaces.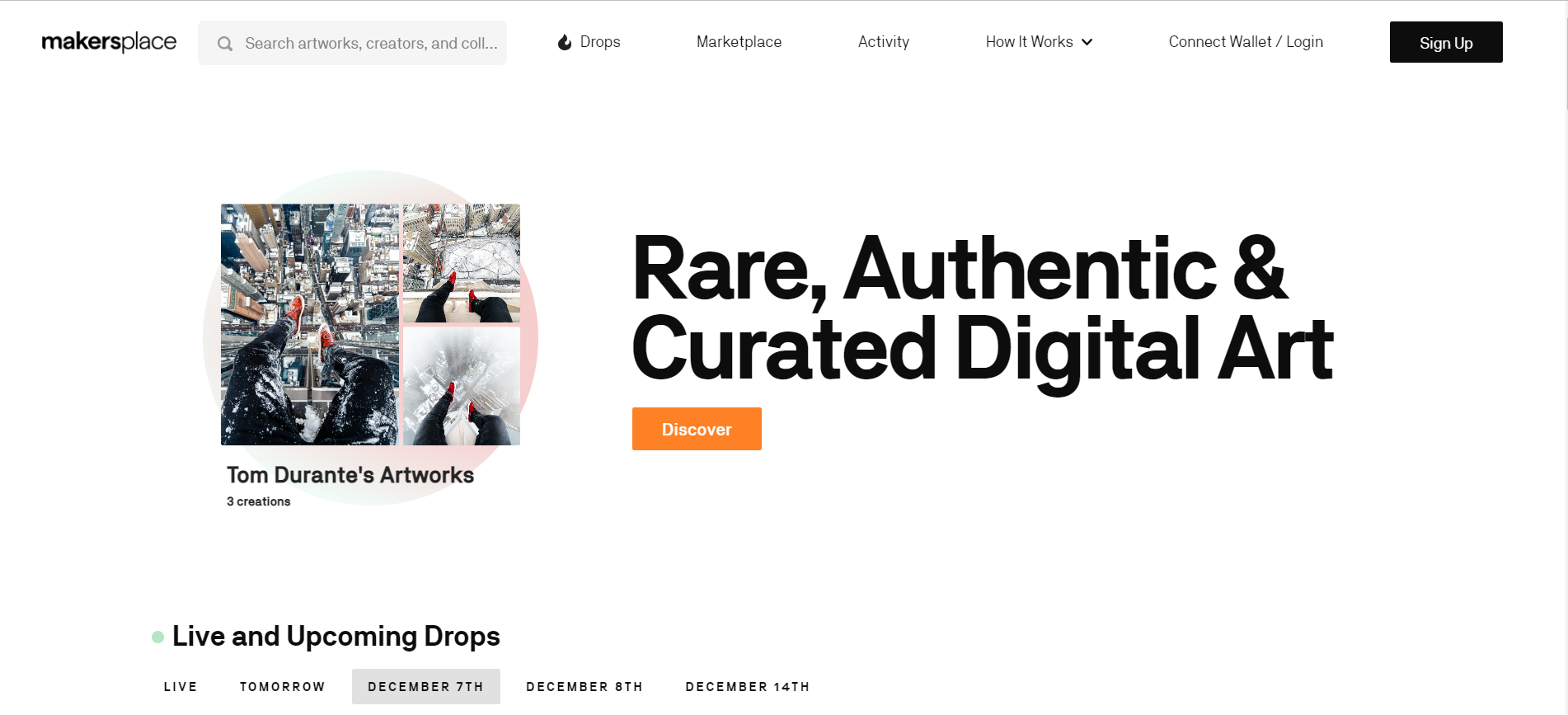 Specifications
NFT Type: Programmable art
Blockchain Network: Ethereum
Reasons to join:

Exclusive art
Very high NFT Royalties
Credit Cards allowed

Reasons to avoid
This NFT Marketplace first came to the market as an invite-only art NFT Marketplace, just like Foundation. Now it has opened to broader audiences. This means that everyone can access Zora.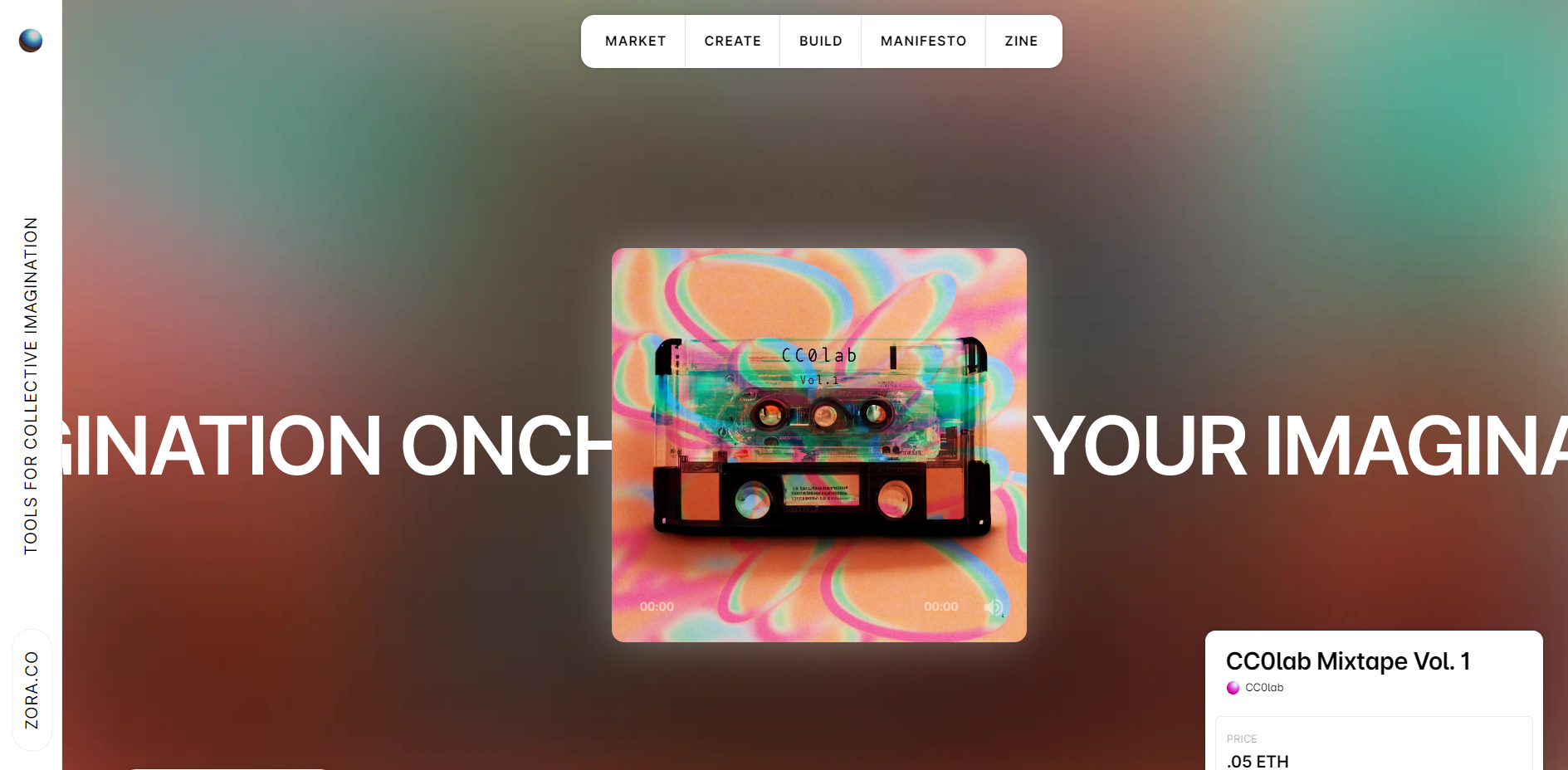 Till now, Zora has evolved into a good place for music and art NFTs, and closing the gap between the actual and digital worlds. For serious artists, you should consider this NFT trading platform carefully, as Zora is such a supportive NFT marketplace for artists and creators.
Specifications:
NFT Type: Art, Music, Animation, Web, Text,…
Blockchain Network: Ethereum
Reasons to join:

Very supportive of every user.
Enables to buy NFTs of real-world collections

Reasons to avoid
There is a saying that if OpenSea is Amazon, Mintable would be Etsy. This NFT Marketplace is easy to use, especially for beginners. You do not need to have advanced NFT knowledge of NFTs, crypto wallets or blockchains to manage and navigate.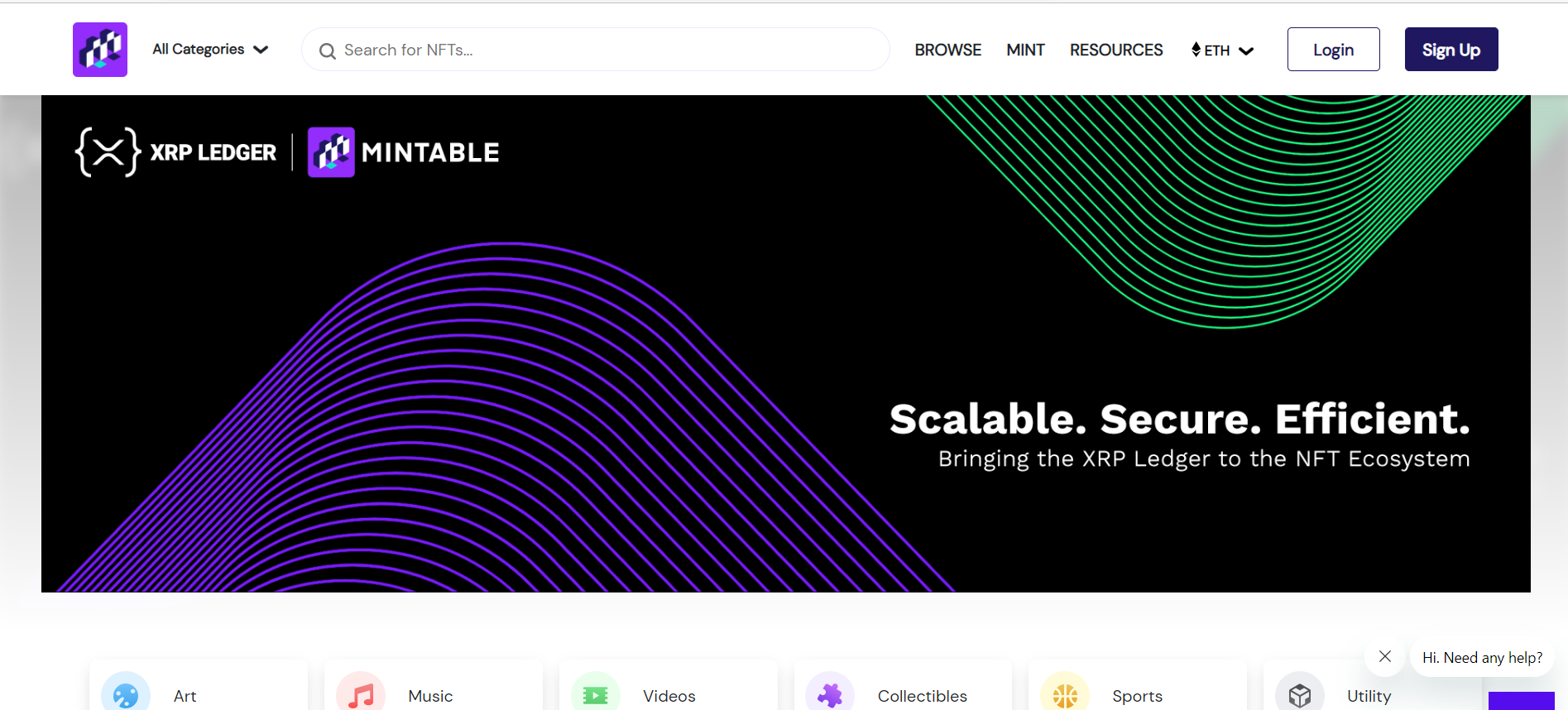 You can create an NFT from nearly every digital file, from images, gifs, and audio to text documents and much more. Mintable even opened Mintable University, which offers free resources for crypto enthusiasts to learn more and improve at NFTs.
Specifications:
NFT Type: Art, Music, Animation, Games, Video,
Blockchain Network: Ethereum, Immutable X
Reasons to join:

Easy to navigate, especially for beginners
A broad selection of NFTs

Reasons to avoid

The quality of artwork might be unstable
Frequently Asked Questions (FAQs)
1. What makes a good NFT Marketplace for Artists  
Liquidity, audience segments, and fees are some notable factors that you should pay attention to when choosing NFT Marketplaces. You can still join as many NFT Marketplaces as you want, but it is recommended that you explore various art NFT marketplaces to see which one best suits the kind of artwork you create.
2. How many NFT Marketplaces should artists list on?
As mentioned above, you could list your digital artworks on every NFT Marketplace you could think of. There is no limitation to that. However, keep in mind that listing on various NFT Marketplaces does not guarantee that you could sell your artwork. Be mindful!
3. Why should artists list their artwork on one NFT Marketplace over others? 
Even though listing on NFT Marketplaces, in most cases, is totally free. But artists should consider carefully where to list to make sure that there are chances that their artwork could be seen and purchased. Some questions that you should ask to find the best NFT Marketplaces include the following:
How much fee will I be charged?
Which kind of art could be sold on these NFT Marketplaces?
Does this kind of art sold on these platforms match my style?
Other technical-related issues, such as which blockchain network and crypto wallet will be used?
4. Can I avoid the gas fee?  
Definitely YES. There are several NFT Marketplaces out there offering gas-free mintings, such as OpenSea and Raible. Before minting your artwork, please look into the fees for your information.
Wrapping Up
Art NFT Marketplaces have definitely opened a new income stream for artists. They could finally get what they are deserved for their talents. Therefore, We are hopeful that this guide could help you find the best Art NFT Marketplaces to list your proud artworks on. Follow Synodus to get latest news and helpful tips related to NFTs, cryptocurrencies and blockchains.
---
More related posts from Synodus you shouldn't skip:
We are sorry that this post was not useful for you!
Let us improve this post!
Tell us how we can improve this post?