3
minutes read
Data analytics is like solving a puzzle. Raw data is a clue while data visualization is like a graphic sketch to analyze and find an answer for that puzzle. Data visualization helps turn complex information into intuitive and easy-to-understand data images. Hence, businesses can identify trends, threats, and opportunities. In this blog, we will introduce four books that help you learn more about Data Visualization.
What is Data Visualization? Why do we need to visualize data?
Data visualization is known as the graphical representation of information and data. Users can identify trends, outliers, and trends in data via visual elements such as charts, graphs, and maps, data visualization tools.
Get advice from Data Visualization expert!
Benefits of Data Visualization
Data visualization can deliver data efficiently by taking raw data, modeling, and providing it to the data storage.
Visualized data is used to deliver universal, fast, and practical information. Therefore, companies can identify which areas need improvements, which factors affect customer satisfaction and dissatisfaction, and what to do with specific products.
Visualized data promotes stakeholders, business owners, and decision-makers to predict sales volumes and future growth.
Four books map your road to master visualization
1. Storytelling with Data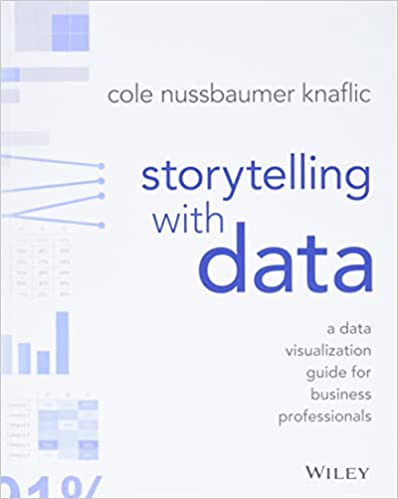 Author: Cole Nussbaumer Knaflic
Storytelling is not an inherent skill, especially in data visualization. This book teaches you to create an engaging and informative story with your data instead of conventional ways. Storytelling with Data writes about the fundamentals of data visualization and how to effectively communicate with data. The lessons are based on theory but use numerous reality examples. Specifically, you'll learn about:
The importance of context and audience
The appropriate type of graph for each situation
Recognizing and eliminating the clutter clouding your information
Directing your audience's attention to the essential data parts
Utilizing concepts of design in data visualization as a designer.
Leveraging the power of storytelling to help your message approach your audiences.

Reading this book, you can turn your data into high-impact and visual stories that attract your audience. Get rid of ineffective graphs and one 3D pie chart. Storytelling with Data will give you the skills and power to tell your own story.
2. Avoiding Data Pitfalls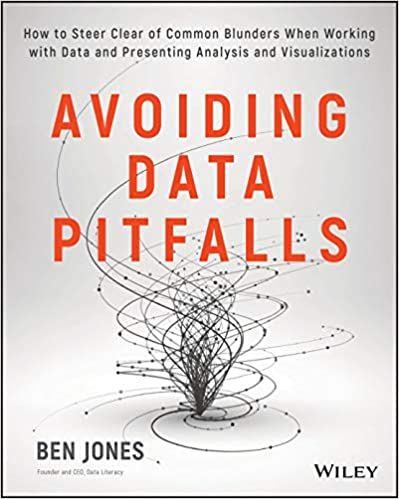 Author: Ben Jones
A reputation-saving handbook is designed to help you avoid common mistakes in data analysis, data visualization, and presentation. If you are confused among plenty of data tools and data visualization books, this book walks you through the entire data visualization process, from calculation and analysis to accurate, helpful presentation.
This book points out common blunders to show you how they appear and how to avoid them. Most businesses expect to analyze and present data effectively, even with little or no formal training. With this book, you can have a complete walk-through of the process such as:
Dig deep into the "data-reality gap" that grows with our dependence on data
Learn how the data visualization process is arranged by the right tools.
Discover and avoid common mistakes in data analysis, especially data visualization.
Create and present clear, accurate, compelling data visualizations
In today's data-driven world and costly mistakes, don't rely on "catching" errors. Discover and avoid them with expert instruction in Avoiding Data Pitfalls.
3. Fundamentals of Data Visualization
Author: Claus O.Wilke

Effective data visualization is the best way to communicate information from increasingly large and complex datasets in the natural and social sciences. However, while visualization software is developing, business analysts are confused to consider among the data visualization options.
This book shows you plenty of commonly encountered visualization problems and provides guidelines on how to turn extensive datasets into clear and compelling figures. Author Claus O. Wilke points out the most critical elements to successful data visualization, including:
The basic concepts of color to highlight, distinguish, or represent a value
The importance of redundant coding to ensure you provide essential information in multiple ways
The graphical guide of using common types of data visualizations
Extensive examples of good and bad figures
How to employ figures in a document or report effectively to tell a compelling story
"What visualization type is best for your story? How to create informative figures that are visually pleasing?" and all the related questions are written in this book.
4. Good charts: The HBR Guide to Making Smarter, More Persuasive Data Visualization
Author: Scott Bernatto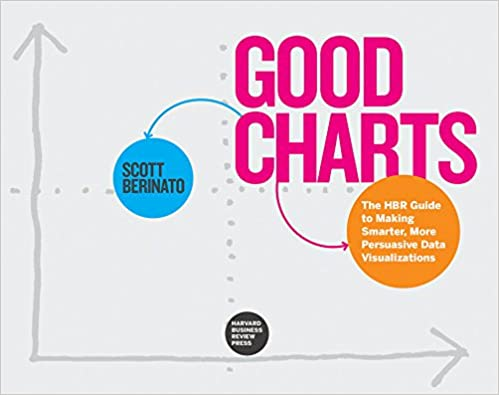 A good data visualization can communicate the nature and potential impact of information and ideas more powerfully than any other form of communication.
For a long time, specialists—data scientists and professional designers were responsible for data visualization. However, new tools and massive amounts of available data make it easy to create visualizations effectively instead of traditional generic spreadsheet charts.
In Good Charts, Scott Berinato provides an essential guide to how data visualization works and how people use this new language to impress and persuade their audience. The book lays out a system for thinking visually and building better charts through the process of talking, sketching, and prototyping.
This book is not only a set of static rules for making visualizations, but it also taps into both well-established and cutting-edge research in visual perception and neuroscience. Moreover, it shows the emerging field of visualization science, so readers can identify good and bad charts. Besides, Berinato also tells you many engaging vignettes of dataviz pros and illustrates the ideas in reality and practice.
Good Charts will help you turn simple, boring charts into intelligent and compelling visualizations that clearly convey ideas to your audience.

Conclusion
Hope that this blog is helpful for your choice of data visualization book. There are still a lot of interesting blogs related to data analytics that will be regularly updated, don't forget to check them out!
Subscribe and follow Synodus for more upcoming blogs!
We are sorry that this post was not useful for you!
Let us improve this post!
Tell us how we can improve this post?